Indy Gaming: Nevada sportsbooks headed toward a record year even as more states legalize the activity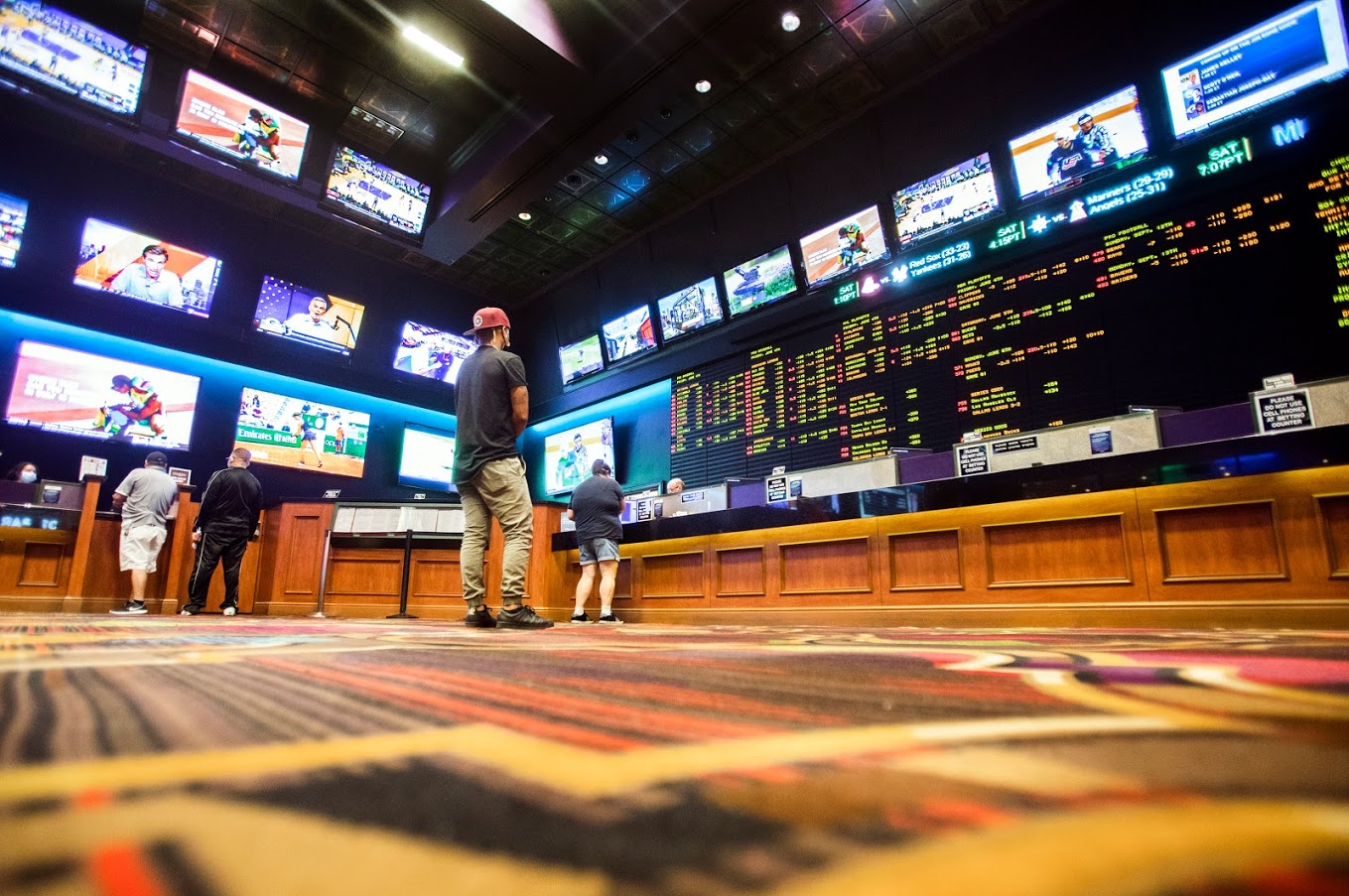 Good morning, and welcome to the Indy Gaming newsletter, a weekly look at gaming matters nationally and internationally and how the events tie back to Nevada.
If a colleague or associate emailed this newsletter to you, please click here to sign up and receive your own copy of Indy Gaming in your inbox.
---
Sports betting is legal and regulated in more than half of the U.S.
But despite the competition, Nevada's sports betting industry has thrived.
If the first six months of 2021 are an indicator, Nevada sportsbooks are on pace to shatter the state's annual records for wagers and revenues that were recorded in 2019. Through June, sportsbooks collected $3.3 billion in bets, an increase of 32 percent compared to 2019. Total sports revenue of $207 million is already 56.2 percent ahead of the 2019 total.
Only three states – New Jersey, Pennsylvania and Illinois – have recorded higher sports betting revenue figures than Nevada through the first half of 2021. Only New Jersey has seen higher sports wagers with $4.1 billion through June.
Eilers & Krejcik gaming analyst Chris Grove said the growth of legal sports betting nationally in the last three years, following a 2018 ruling by the U.S. Supreme Court opening the activity to states beyond Nevada, could be similar to the expansion of poker in the last decade.
"It's possible that increased interest in sports betting will grow the national revenue pie sufficiently to allow Nevada to grow alongside states where sports betting has recently been legalized," Grove said. "That, of course, relies on the state's casinos continuing to build and expand one-of-a-kind sports betting experiences."
In 2019, Nevada sportsbooks took in $5.319 billion in wagers, the 10th consecutive all-time state record. Revenues collected by the books from those wagers totaled a record $329.1 million.
The COVID-19 pandemic caused the state's first annual decline in sports betting in more than a decade. Total wagers fell to $4.3 billion in 2020, and revenues dipped to $262.8 million.
But last week's release of the state's monthly gaming revenue figures by the Gaming Control Board confirmed the state's sports betting industry is back on track.
Twenty-two states and Washington D.C. have legal and regulated sports betting. Another 10 states could launch as soon as this year in time for the college football and NFL seasons.
California voters will consider a referendum in 2022 to allow tribal casinos and racetracks to offer retail sportsbooks. In Florida, an agreement between the governor and the Seminole Indians could bring sports betting to the tribe's casinos. However, several groups are contesting the legality of the revised compact.
Grove said it was inevitable that Nevada sports betting figures would be eclipsed by New Jersey and other jurisdictions, because of the state's relatively small population. Sportsbooks at Northern New Jersey racetracks and the state's approval for remote mobile sports wagering draws business from populous New York City.
"There's little to suggest that the growth of sports betting in other states is causing a decrease in Nevada's sports betting revenue," Grove said.
Record high sports bettings totals in 2021 have also been assisted by the changed calendars for several sports leagues pushing games into 2021 and benefiting sportsbooks. The result was a record for June in both wagers ($545.2 million) and revenues ($29.2 million).
"The strong monthly totals were bolstered by an unusual sports calendar that saw NBA playoffs action, which typically ends in early June, throughout the entire month," Grove said.
Mobile sports wagering has accounted for more than 60 percent of all the sports bets placed in Nevada this year. Global Market Advisors Partner Brendan Bussmann suggested mobile wagering would grow if Nevada gaming regulators allowed remote registration, an effort opposed by Station Casinos.
"One of the biggest opportunities for Nevada to drive additional sports betting revenue is to remove the in-person requirement," Bussmann said. "Technology continues to provide advancement for knowing your customer and anti-money laundering initiatives. Geolocation for sports betting and iGaming in other states have surpassed Nevada's current regulatory structure. It's time for us to push forward."
The absence of DraftKings and FanDuel is another dynamic in Nevada's sports betting universe.
The companies, which jumped into legal sports betting following the Supreme Court ruling, are considered the nation's top two sports betting operators. DraftKings is in 14 states and FanDuel is in 10 states, which includes a partnership with Las Vegas-based Boyd Gaming Corp. in Pennsylvania, Illinois, Indiana, Iowa, and Mississippi.
The companies gained a larger national presence in April when they were selected as official sports betting partners of the National Football League along with Caesars Entertainment. The designation gave the businesses exclusive rights to utilize NFL trademarks within their operations and engage with fans through NFL-themed free-to-play games.
Prior to 2018, the companies operated as daily fantasy-centric businesses and had trouble gaining acceptance from the traditional sports betting community. In October 2015, Nevada gaming regulators told DraftKings, FanDuel, and other daily fantasy suppliers they had to be licensed as sports betting operators if they were to continue providing the activity in the state.
Neither has made inroads into Nevada's casino market. DraftKings maintains a large office presence in the Town Square complex on south Las Vegas Boulevard for its nationwide back-of-the-house support services. Boyd has a 5 percent ownership stake in FanDuel, but the partnership doesn't include the company's 10 Las Vegas-area casinos.
In April, Boyd CEO Keith Smith was non-committal concerning a potential move into Nevada for FanDuel in connection with the company's casinos in the Las Vegas Valley and downtown.
"It's a possibility in the future, but for now the relationship is with the non-Nevada properties," Smith said following Boyd's quarterly earnings conference call. "The reason we did the deal is that we knew they were a winner, long term."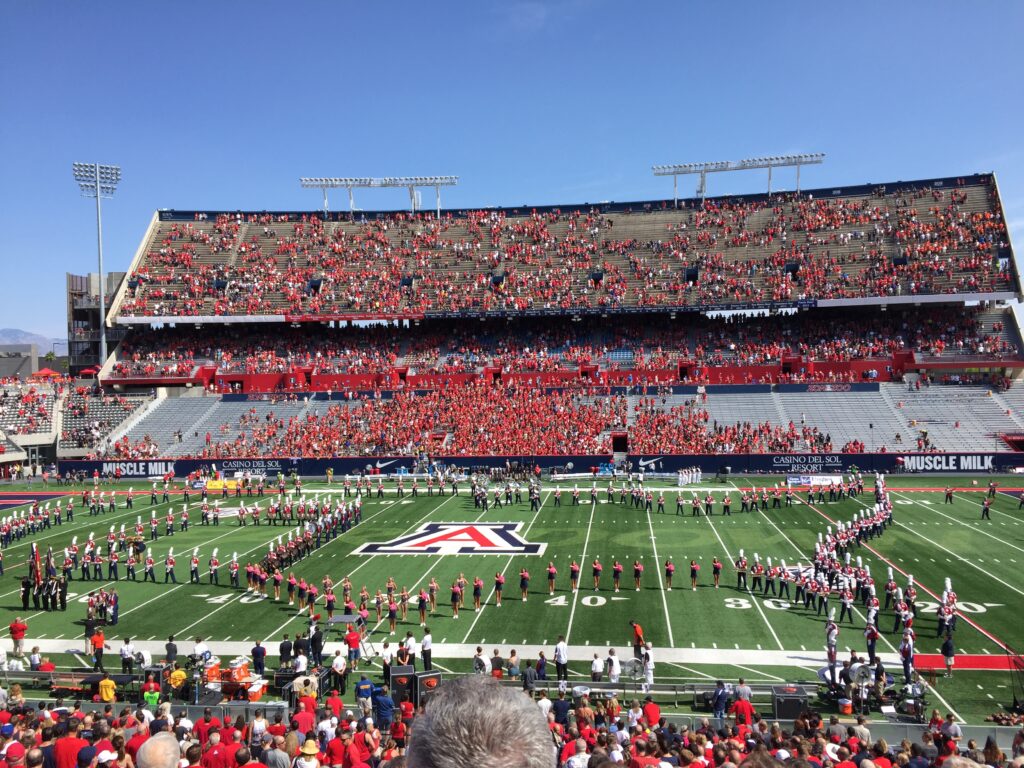 College football bowl game naming rights is a new outreach for sports betting
Barstool Sports, a digital media platform that serves as the sports betting extension for regional casino operator Penn National Gaming, has a new business venture – name sponsor for a college football bowl game.
The announcement last week that the Arizona Bowl in Tucson will be renamed the Barstool Sports Arizona Bowl starting Dec. 31, marked the first time a sports betting brand was being paired with a college bowl game. Terms of the multi-year deal were not announced.
"The Barstool and Arizona Bowl partnership is a first of its kind collegiate-level opportunity to integrate content and a sports betting brand," said Maryland-based sports betting consultant Sara Slane. "It is a creative way to blend the two without doing a direct deal with a college team. I expect additional cutting-edge integrations as NIL (name, image, likeness) college modernizations continue to progress."
According to the Arizona Daily Star, Barstool founder David Portnoy said sponsoring a college football bowl game "has always been a dream of mine."
The New Year's Eve game between teams from the Mountain West and Mid-American conferences will be played at the 57,400-seat Arizona Stadium on the campus of the University of Arizona and broadcast on Barstool's digital streaming platforms.
Barstool's personalities produce hours of sports-related videos, podcasts and social media posts covering news, lifestyle and gambling information for various digital outlets. Portnoy said the group would be in Tucson for the game.
Penn National, which operates 42 gaming properties in 20 states, spent $163 million in January 2020 to acquire 36 percent of Barstool to utilize the brand as the company's sports betting venture for both retail and online operations.
With more than 66 million followers, the Barstool demographic was viewed as a way to attract a younger demographic to Penn, whose customer base is predominantly an older audience.
Penn National operates M Resort in Henderson and two small casinos in Jackpot near the northeastern Nevada border with Idaho.
At the outset of the pandemic last year, Penn sold the Tropicana Las Vegas, which it has owned since 2015, to Gaming and Leisure Properties. The real estate investment trust leased the Strip resort back to Penn, but the operations are in the process of being sold to Bally's Corp.
Penn is expanding the Barstool sports betting presence to 10 states, but Nevada is not part of the growth plan.
The Barstool mobile wagering app is live in four states – Illinois, Indiana, Michigan and Pennsylvania. Other deals in the pipeline, including Arizona, where Penn National signed a deal with the Phoenix Raceway to build a Barstool sportsbook at the track and launch mobile sports betting throughout the state.
Nevada has a connection to the Arizona Bowl through UNR, which is the only school to have twice played in the contest. The Wolf Pack won the first Arizona Bowl in 2015, beating Colorado State 28-23. In 2018, UNR beat Arkansas State, 16-13.
Other items of interest: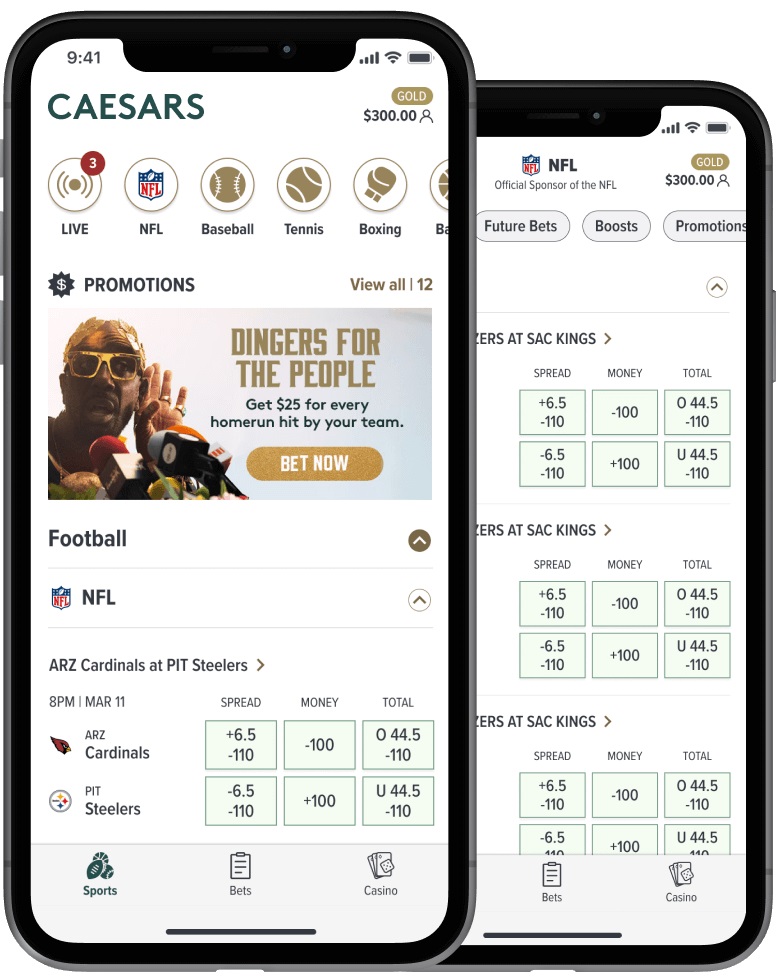 Caesars Entertainment has rebranded its sports betting operation as Caesars Sportsbook and unveiled a new mobile sportsbook app under the same name. The change was expected after Caesars paid almost $4 billion in April to acquire United Kingdom-based William Hill. Caesars plans to sell William Hill's non-U.S. operations. Caesars already owned 20 percent of William Hill U.S. through a previous transaction. The Caesars Sportsbook mobile app is now live in eight states (Colorado, Indiana, Iowa, Michigan, New Jersey, Tennessee, Virginia and West Virginia), with three states (Arizona, Maryland and Louisiana) pending regulatory approval.
In Nevada, Illinois and Washington, D.C., where customers are required to be at or near a Caesars sportsbook retail location to register, bettors will have access to the Caesars Sportsbook by William Hill app. A Caesars spokeswoman said Nevada sportsbooks operated by William Hill outside of Caesars-owned resorts will remain under the William Hill brand and the William Hill Nevada app will remain active.
Macau gaming revenues hit $1.1 billion during July, well below the region's pre-pandemic numbers of roughly $3 billion a month. Las Vegas Sands, Wynn Resorts, and MGM Resorts International are the only Nevada casino operators in the Macau market. Macau's Gaming Inspection and Coordination Bureau said on Aug. 1 the figure was down 66 percent compared to July 2019 and 29.2 percent from two months ago. Through the first seven months of 2021, Macau gaming revenues are down 67 percent compared to 2019. During 2020, Macau experienced six straight months of 90 percent gaming declines. Stifel Financial gaming analyst Steven Wieczynski said he was encouraged by visitation trends during periods of less restrictive travel mandates to and from the Chinese Special Administrative Region. But that hasn't resulted in gaming revenue increases. "At this point we believe investors just have to write off 2021 and start to focus on 2022. With additional virus lockdowns probably coming, we believe any material recovery is now a 2022 story," Wieczynski said.
Bet MGM and online news network Cheddar News are launching Cheddar Bets, a weekly program that combines sports betting and the financial markets. Airing Thursdays at 1:30 p.m. P.T. beginning August 19, Cheddar Bets will look at the sports calendar through a sports betting perspective and how the action could influence Wall Street. BetMGM oddsmakers will appear on the program. "Through Cheddar Bets we'll provide informative and entertaining programming to engage new audiences," said BetMGM Chief Revenue Officer Matt Prevost.
San Jose Sharks forward Evander Kane denied allegations this weekend that he bet on NHL games, including against his own team. The charges, which the NHL said they would investigate, were made on social media by his estranged wife. Kane, writing on Twitter, said, "I have NEVER gambled/bet on Hockey, NEVER gambled/bet on a Sharks game, NEVER gambled/bet on any of my games and NEVER thrown a hockey game." Kane was the defendant in a 2019 lawsuit filed by the Cosmopolitan of Las Vegas over alleged non-payment of $500,000 in a line credit he received from the Strip resort to gamble at the property. The lawsuit, which was dropped by the casino, led to some "only in Vegas-style" taunting by Vegas Golden Knights fans when the Sharks played at the T-Mobile Arena. During the game, when Kane took to the ice, fans chanted loudly, "Pay your markers."
The Reno City Council agreed to sell two downtown land parcels to Jacobs Entertainment after the owner of the Sands Regency increased the purchase price of the sites and offered the city a profit-sharing agreement. According to the Reno Gazette-Journal, the parcels will be part of the Reno Neon Line, a mixed-used development proposed by the company to renovate a rundown area of the downtown corridor that will include housing, retail, lodging, dining and gaming.
Quotable:
"Being part of the BetMGM family is dope and an honor. Plus, with ambassadors like Barry (Sanders), (Wayne) Gretzky and Jalen (Rose), I think da' kid is in good company, ya know what I mean?"
-Former NFL running back and new BetMGM brand ambassador Marshawn Lynch in a statement released by the company
The Nevada Independent is raising $200,000 by Dec. 31 to support coverage of the 2024 election.
Tax-deductible donations from readers like you fund this critical work.
If you give today,your donation will be matched dollar-for-dollar.
Give + Get Matched
Featured Videos