Indy Gaming: Newsom says California will spend $12 million to 'temporarily' resolve I-15 backups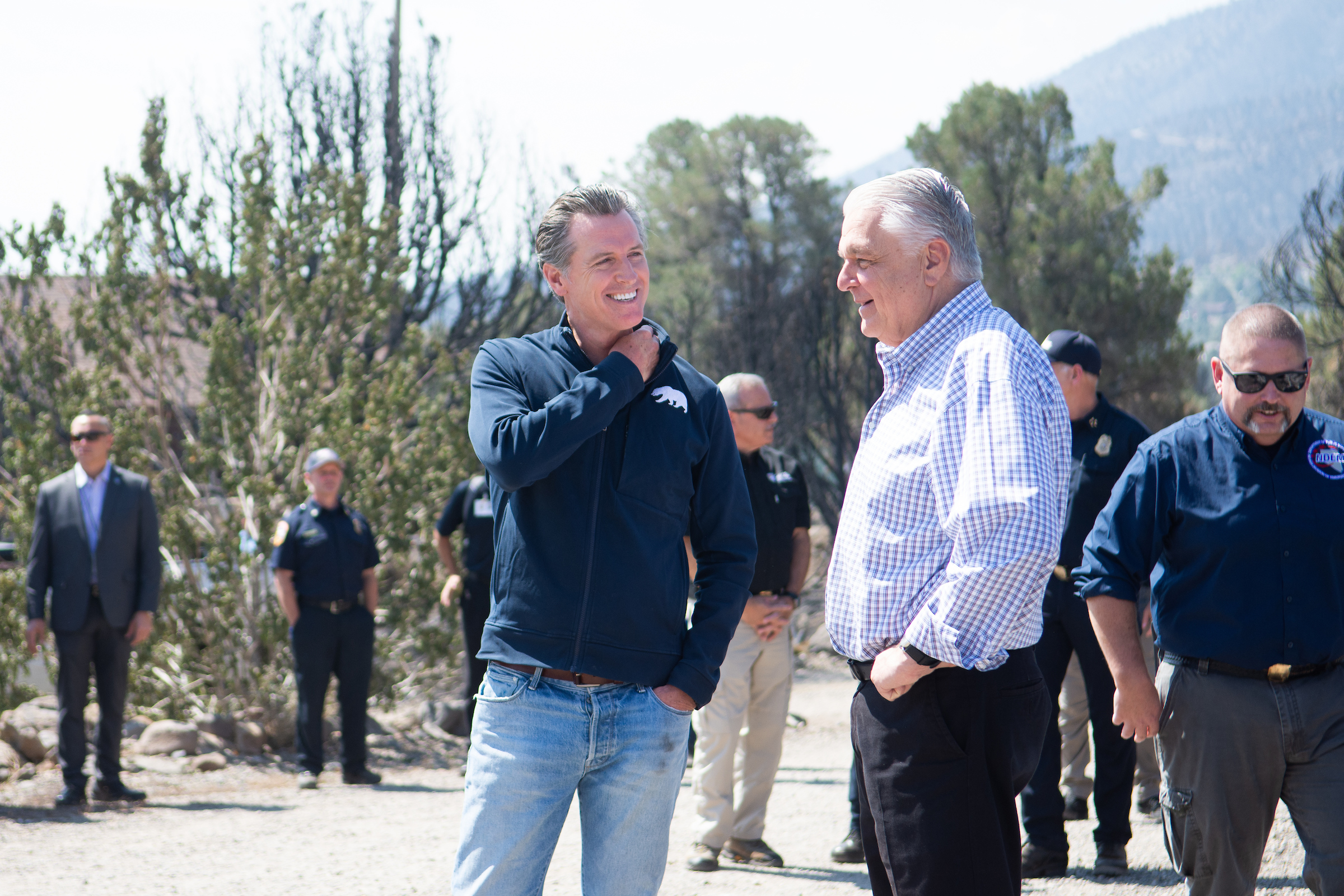 Good morning, and welcome to the Indy Gaming newsletter, a weekly look at gaming matters nationally and internationally and how the events tie back to Nevada.
If a colleague or associate emailed this newsletter to you, please click here to sign up and receive your own copy of Indy Gaming in your inbox. - Howard Stutz
---
California Gov. Gavin Newsom was recognized by a Las Vegas hotel employee as "a politician" when he checked into his room Saturday.
Newsom was asked a pointed question about what he was going to do to "fix" I-15's constant traffic issues between the two states.
"I said 'I am literally out here to make an announcement tomorrow about it,'" Newsom recalled during a press briefing Sunday with Gov. Steve Sisolak just south of Primm. He said the state will temporarily expand a troublesome five-mile portion of the busy interstate highway connecting Las Vegas with Southern California.
Cars and trucks sped past the two governors along I-15 on the non-holiday weekend morning.
"The person works on the Nevada side, but goes back and forth to California to visit family and friends," Newsom said of the exchange with the casino employee, who complained about the "hours and hours and hours" of traffic back-ups.
"She can't take it anymore. You guys are covering this issue every holiday weekend. I get that," Newsom told reporters.
Interestingly, the hotel worker's message echoed Sisolak, who called Newsom about the I-15 situation a few weeks ago. "Enough is enough," Sisolak recalled telling Newsom.
The governors announced a $12 million plan that will temporarily add a third travel lane along southbound I-15 between the Nevada border and a California agricultural inspection station, where the majority of congestion occurs.
Newsom said California would fund the project, which includes repaving, restriping and using the shoulder of the highway as a travel lane during peak hours, primarily Sundays and Mondays.
Nevada's side of I-15 offers three lanes in each direction. California has just two lanes.
Both Newsom and Sisolak agreed to work toward a longer-term strategy. They said Sunday that future discussions would revolve around adding additional permanent lanes on I-15, as well as assisting with the planned Brightline West high-speed train project running the 260 miles between Las Vegas and Southern California.
"Gov. Sisolak told me California needs to step up. We need a better partnership to address the congestion, to address the environmental issues, to address the economic burdens, to address the supply chain issues," Newsom said. "Candidly, this had not been addressed for years and years and years."
Sisolak added that he was hopeful the states could find "more long-term solutions."
"This temporary solution will prove very meaningful and provide relief in the next few months," he said.
Newsom said the temporary fix would begin in the spring and be completed by summer 2022. Making a third lane permanent would take additional time and require input from additional state agencies, as well as Nevada.
Sisolak and tourism leaders said passenger traffic along I-15 provides more than a quarter of Las Vegas' annual visitation, which topped 42.5 million tourists in pre-pandemic 2019. But the traffic back-ups coming out of Las Vegas during peak congestion often stretch 25 to 30 miles at the state line. In a statement, the governors said the average travel times southbound on Sundays and Mondays between the state line and Barstow can range from three to five hours for the 113 mile stretch.
In an emailed statement, Caltrans Public Affairs Division Chief Matt Rocco said ahead of the temporary lane expansion, workers would "need to install new signage and restripe to prepare for the shoulder's use during peak hours, as well as design a dirt shoulder next to the paved shoulder being used for the pilot (project)."
Las Vegas Convention and Visitors Authority CEO Steve Hill said the added temporary lanes "would be helpful at some level," but he was more encouraged by California's general willingness to help resolve the multi-state issues.
"I really think this is an opportunity to really get into a deeper conversation with our partners," Hill said in an interview Monday. "We are going to be in a conversation with California about this, and that is maybe the best news. Obviously, (Nevada) benefits here from the roadway being a little less congested."
In an interview with The Nevada Independent in August, U.S. Secretary of Transportation Pete Buttigieg said Nevada and California needed to work together on any I-15 solutions.
"We're always best able to support projects when there is alignment among the states," Buttigieg said.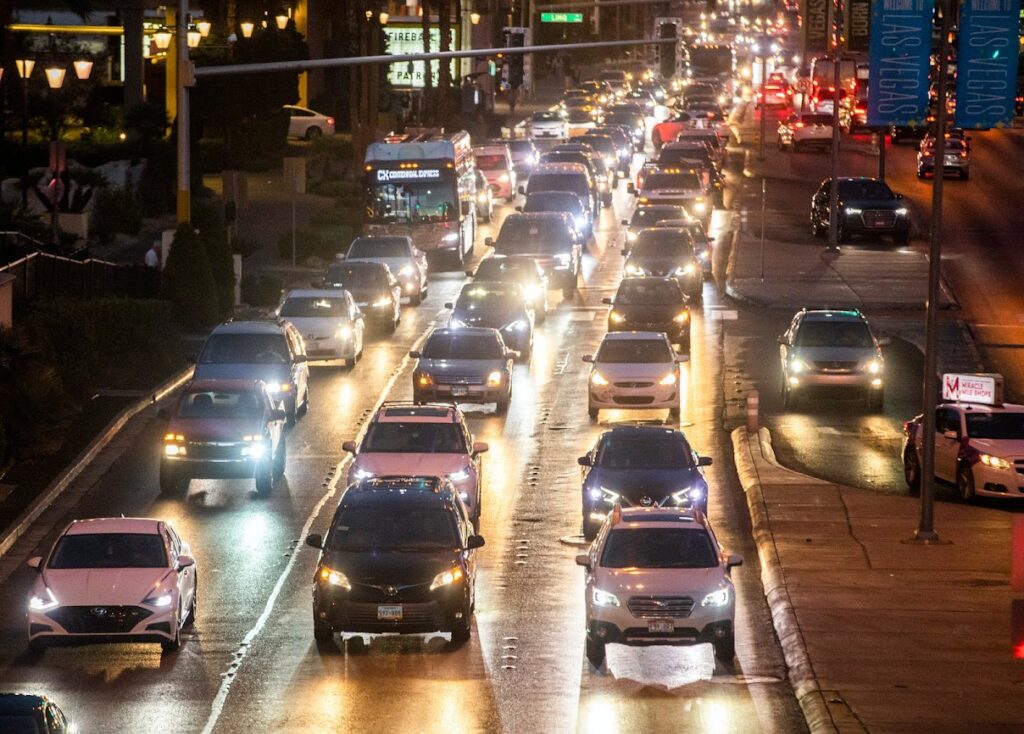 Strip resort operators declined to comment on the announcement.
Nevada Resorts Association President Virginia Valentine said a single solution won't resolve the I-15 challenges, but anything that helps reduce the bottleneck benefits Southern California customers and is welcome news to Strip and downtown casino operators.
"We're grateful and it's a positive step in the right direction," Valentine said. "We are encouraged the project is getting help from the state of California."
Truist Securities analyst Barry Jonas said the pandemic showed the importance of the drive-in leisure customer to Las Vegas.
"Any infrastructure improvements to help alleviate peak I-15 traffic congestion could be a real long-term positive for the market," Jonas said.
Hill said the Nevada Governor's Office of Economic Development (GOED) was putting together a state infrastructure plan that is largely based around rail, which could move the transportation of freight off of I-15.
"Solving congestion is good for the environment, good for tourism in Las Vegas and good for the cost of moving freight," Hill said.
Newsom was complimentary toward Sisolak for "rather than complaining, picking up the phone and calling and asking what we can do to help."
The governors spent time this past summer discussing the Northern California wildfire issues that threatened Lake Tahoe and parts of Northern Nevada.
"We've developed a good partnership on this and other shared priorities for Californians and Nevadans," Newsom said.
---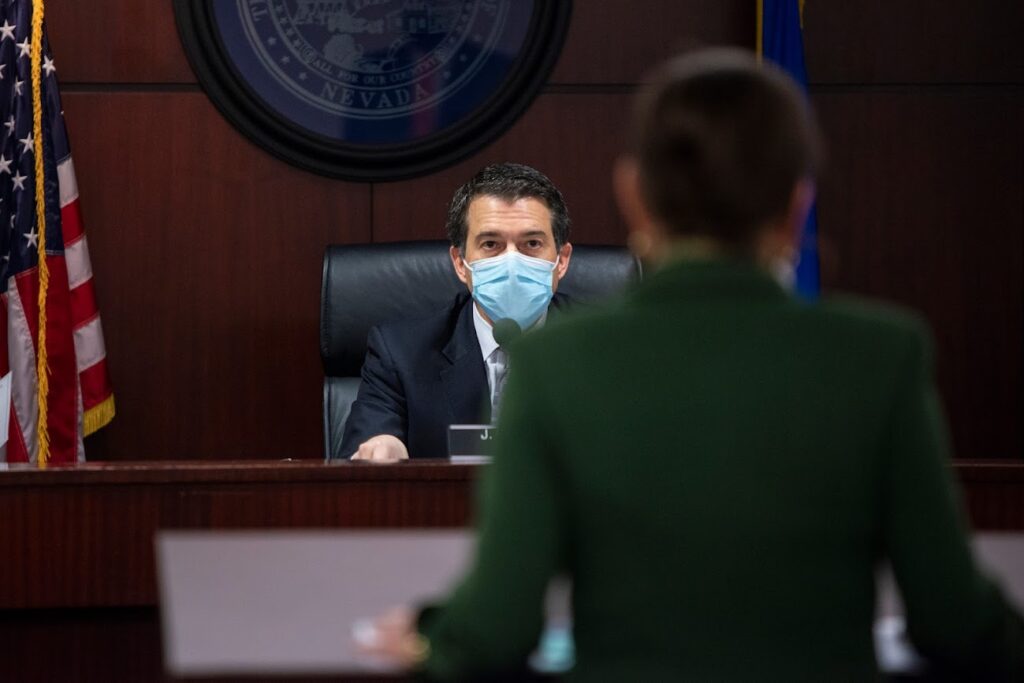 GCB chair wants information from Penn National on Barstool founder
Barstool Sportsbook isn't licensed in Nevada. But that's not stopping the state's Gaming Control Board from asking its casino partner, Penn National Gaming, about recent events surrounding the founder of the irreverent online media operation known for its focus on sports, gambling, pizza reviews and borderline R-rated videos.
Control Board Chairman Brin Gibson said last week he requested information from the regional casino operator about an article last month in Insider.com, which detailed accusations against Barstool founder Dave Portnoy of various sexual harassment and misconduct allegations. Portnoy denied the claims in the lengthy article, taking to social media and various channels to blast the publication, the article's author and the Germany-based owner of the website.
Penn National is licensed in Nevada where it operates M Resort in Henderson, two casinos in the northern Nevada community of Jackpot and is in process of ending its stewardship of the Tropicana Las Vegas. The company, which operates 41 casinos in 20 states, acquired 36 percent of Barstool for $163 million in January 2020.
Penn launched its digital gaming operations under the Barstool brand last year, and the company's mobile sports betting app is now in 10 states while also re-branding several of its retail sportsbooks in the Midwest as Barstool-themed operations. In November, Penn National CEO Jay Snowden said the company is focused on sports betting opportunities in Canada following its $2 billion acquisition of theScore gaming platform.
Nevada has never been mentioned by Penn National executives as a potential Barstool sportsbook location, nor is Portnoy or any other Barstool executive licensed by any state gaming regulatory body. The Barstool app is available in Arizona, where the company is the title sponsor for college football's Arizona Bowl in Tucson on Dec. 31.
Gibson, however, still wants Penn National to answer a few questions surrounding the accusations.
"I want to make sure that you understand that I am concerned with Barstool Sports," Gibson told Penn National Chief Financial Officer Felicia Hendrix during her licensing hearing in Las Vegas. "I've sent your company a request for information on the vetting of those issues by your compliance committee. I'd like to see the report by the date that I noted. I would appreciate that."
Hendrix, who was unanimously recommended for a license by the Control Board, said she would follow up on the matter. Her attorney, former Control Board Chairman A.G. Burnett, told Gibson that Penn National was "working" on his request.
"I think you will receive a response to that soon," Burnett said.
Barstool Sports claims a loyal following of more than 66,000 million viewers to its various social media and internet channels, with much of the content now devoted toward sports betting. Portnoy and other Barstool personalities often discuss their own personal wagers made on the Barstool app, which is allowed as they are not licensed as Penn National key employees.
Earlier this year, Portnoy helped save the historic Reading Terminal Market in downtown Philadelphia, which had been hit hard by COVID-19 lockdowns. He raised more than $250,000 for the location through a promotion in which Penn donated $100 for every new Barstool Sportsbook app activated over a 24-hour period with a deposit of $100 or more.
In late 2020, he started the Barstool Fund, which to date has raised more than $41.6 million to help bolster small businesses across the country damaged economically by the pandemic. To qualify, businesses had to have paid their staff throughout the pandemic, even while operating under COVID-19 health and safety protocols. To date, the program has funded 443 businesses.
But Portnoy can also be a lightning rod.
Last year, when Penn National's stock price was tumbling, Portnoy used his social media channels to chastise gaming analysts critical of the casino operator, notably Deutsche Bank gaming analyst Carlo Santarelli.
---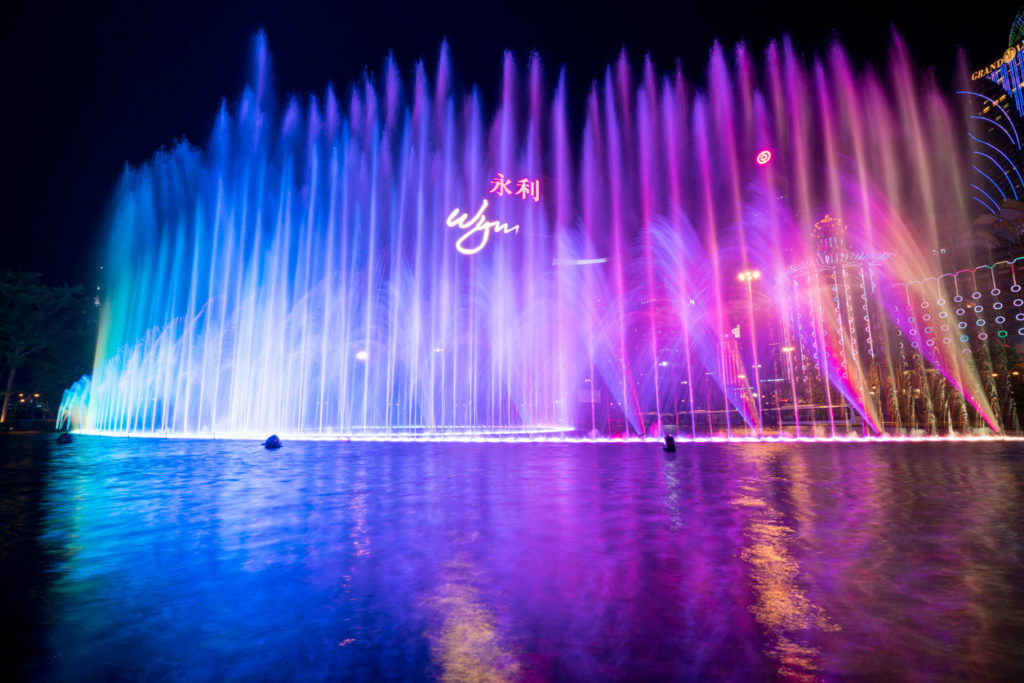 Junket operator's arrest adds to Macau's growing list of issues
As if Macau's casino industry hasn't had enough problems – nearly two years of COVID-19 lockdowns and restrictions and a confusing gaming concession renewal process – more negative news came last week when the chairman and CEO of its largest junket operator was arrested by Chinese authorities on illegal gambling and money laundering allegations.
Casino operators, including Las Vegas Sands, Wynn Resorts and MGM Resorts International, quickly ended their relationship with Suncity, the company that controlled upward of 50 percent of the revenues produced by junkets, which oversee high-end gambling rooms inside Macau casinos. Junkets bring big-spending players to the properties and earn a share of the revenues.
Suncity, which is traded publicly on the Hong Kong Stock exchange, closed its rooms in Macau after company Chairman Alvin Chau resigned following his arrest.
"What we don't know is if this is an isolated incident for Suncity, or a broader crackdown on the junket system as a whole and what the potential spill-over impact (is) on the premium mass segment," J.P. Morgan gaming analyst Joe Greff told investors in a Dec. 1 research note.
On the same day, Macau's Gaming Inspection and Coordination Bureau said the region's casinos generated $877 million in gaming revenue in November, 71 percent below pre-pandemic November 2019.
The bad news left investors in Las Vegas Sands, Wynn Resorts and MGM Resorts shell-shocked, with shares tumbling amid a broader market sell-off. The events in Macau are more challenging for Sands and Wynn, which pre-pandemic collected up to 65 percent to 70 percent of their quarterly revenues from the Chinese gaming market.
MGM Resorts has less exposure to Macau, with the vast majority of the company's revenues coming from Las Vegas and regional markets.
"Seriously, what else could go wrong from here?" Stifel Financial gaming analyst Steven Wieczynski asked in a research note following Macau's gaming revenue announcement. "We believe investors fully understand the market remains in disarray given the uptick in virus cases on the Mainland as well as the increased temporary travel restrictions that remain mostly in place."
On Monday, Macau gaming stocks rebounded from last week's losses as early data from South Africa suggested the COVID-19 Omicron variant would result in fewer hospitalizations and deaths than other variants, especially among the vaccinated population.
But the dynamic in Macau remains fluid.
Las Vegas Sands is in the process of selling its Strip holdings for $6.25 billion to focus its efforts on Macau, where the company operates six properties along with the Marina Bay Sands in Singapore.
Las Vegas Sands Chairman and CEO Rob Goldstein, during the company's third quarter conference call in October, said he was confident the Macau operations will "return to a strong positive cash flow" as COVID-19 restrictions are lifted. The company has spent some $15 billion in developing casinos in the market, including properties themed on Paris and London.
Macau was once considered the world's largest gaming market in terms of revenue, producing $45 billion in 2013. The pandemic damaged the region's casino industry, which was making a slight comeback after dealing with years of Chinese economic issues. Macau ended 2020 with its lowest revenue total in 14 years: $7.56 billion.
Through the first 11 months of 2021, Macau gaming revenues are down 71 percent versus 2019, but up 49.9 percent versus 2020.
"Macau's November gaming revenue came in at the lower end of expectations," Jefferies gaming analyst David Katz said. "The sector is close to the bottom, with the new Omicron variant outbreak likely to delay travel restrictions easing."
Many analysts said the legal issues surrounding Suncity could lead to a renewed focus in Macau's recovery toward the mass market casino customer and non-gaming activities.
Greff said casino operators may reconsider their relationships and association with junkets, given that they wouldn't want issues in the relicensing process.
In September, Macau released various requirements surrounding the extension process for all six Macau casino licenses—the three concessions and the three sub-concessions— which expire in June 2022.
Casino operators are being encouraged to spend more on non-gaming projects, both in Macau and on neighboring Hengqin Island as a consideration for a license renewal. Also, Macau plans to post a government representative within each license holder, in order to directly "monitor and control day-to-day operations and protect the interest of society."
Greff characterized the license renewal conditions as "potentially restrictive" to casino operators.
---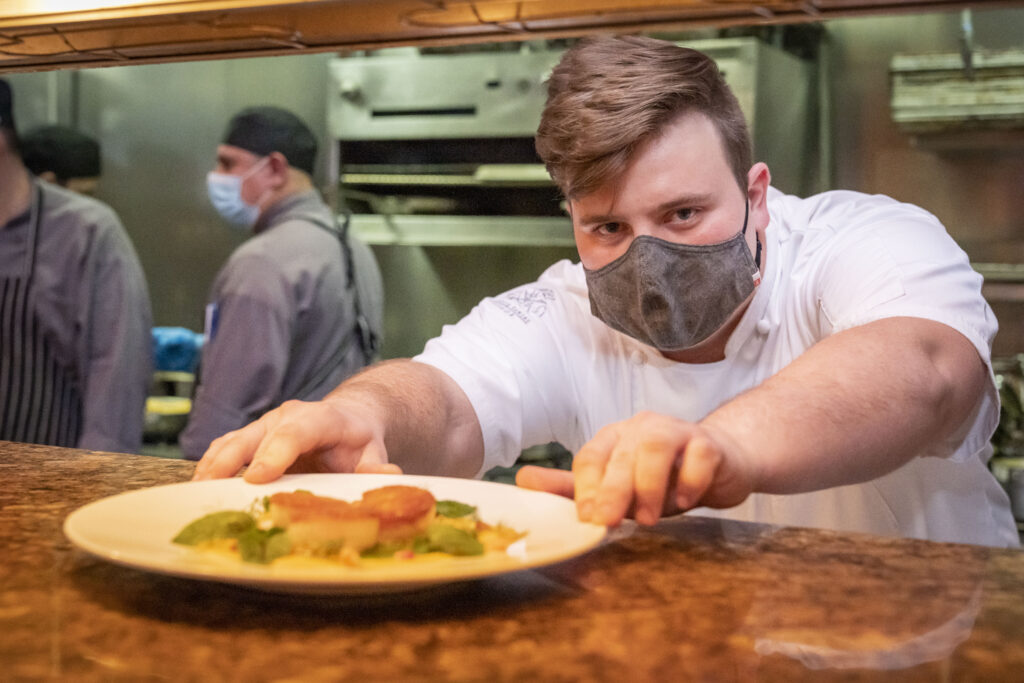 Other items of interest
Gaming and Leisure Properties (GLPI), the real estate investment trust that owns four casinos in Nevada, announced Monday it was buying the three Live! casino properties operated by Maryland-based Cordish Companies for $1.81 billion.
After closing the purchase for Live! Casino & Hotel Maryland near Baltimore, Live! Casino & Hotel Philadelphia, and Live! Casino Pittsburgh, GLPI will lease the operations back to Cordish through a 39-year lease starting at $125 million a year. The lease will have a 1.75 percent annual escalator.
Pennsylvania-based GLPI owns 50 gaming resorts across 17 states. In Nevada, GLPI owns Tropicana Las Vegas, whose operations are being acquired by Bally's Corp.; Tropicana Laughlin, which is operated by Caesars Entertainment; and M Resort in Henderson and two casinos in Jackpot, which are operated by Penn National Gaming.
To help fund the transaction, GLPI is selling 7.7 million shares of stock.
"In addition to the real estate transaction for the three properties, we are excited to partner with Cordish on a range of future strategic opportunities that can leverage the financial and real estate development strengths and resources of both companies," GLPI Chairman and CEO Peter Carlino said in a statement.
The American Gaming Association wants the Department of Justice to crack down on illegal gambling machines that have proliferated in various states, competing with legal and regulated games in those markets.
Nevada has not seen the proliferation of games resembling slot machines but are not approved by regulators.
The AGA provided an analysis on the proliferation of games last week to the Justice Department, which was seeking commentary concerning the Gambling Devices Act of 1962, often referred to as the Johnson Act.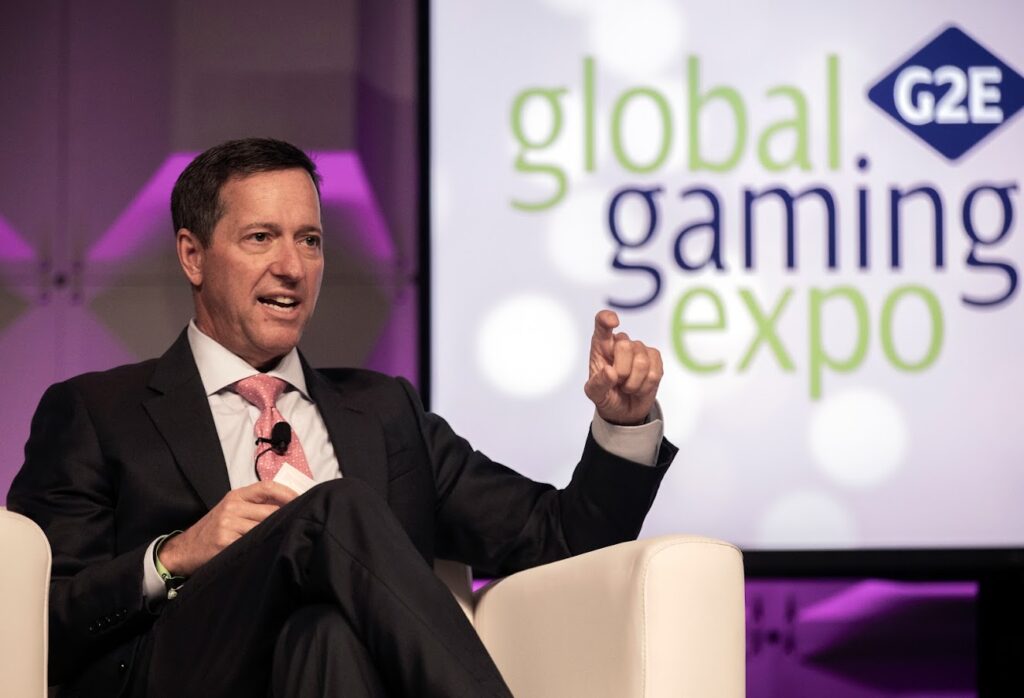 In a letter from AGA CEO Bill Miller, the Washington D.C.-based trade association called on the Justice Department to investigate and prosecute illegal machine manufacturers.
"These illegal and unregulated machines put consumers at risk," Miller wrote in the letter to the Justice Department. "While regulated gaming machines undergo rigorous testing to ensure game integrity and fairness, there is no such oversight for these illegal or unregulated games. Nor do the machines comply with anti-money laundering or cybersecurity standards established by relevant governing bodies."
Miller said states and tribal gaming jurisdictions have laws to regulate legal gaming companies and have worked to remove illegal or unregulated gambling operations. However, "oftentimes federal support is necessary to effectively eliminate illegal actors."
Trenton Garvey finally has his dream job on the Strip. It's been almost two years since the Missouri resident was declared the winner of the Fox Television reality competition series, "Gordon Ramsay's Hell's Kitchen."
The series was filmed in Las Vegas during 2019 before the pandemic but was aired this year. Garvey became the head chef at Gordon Ramsay Steak inside Paris Las Vegas last week. The restaurant is one of 11 eateries that Ramsey's company operates in the U.S., most of which are located at casinos in partnership with Caesars Entertainment.
Garvey won the competition, which featured cooks aged 24 or younger.
To celebrate his new position at the Strip resort's restaurant, Garvey unveiled a new menu item, "The Trenton Garvey Diver Scallops." The dish is made with seared scallops, brown sugar glazed carrot puree, pickled petite carrots, pomegranate seeds and dill oil, and will be served exclusively at the location inside the Paris.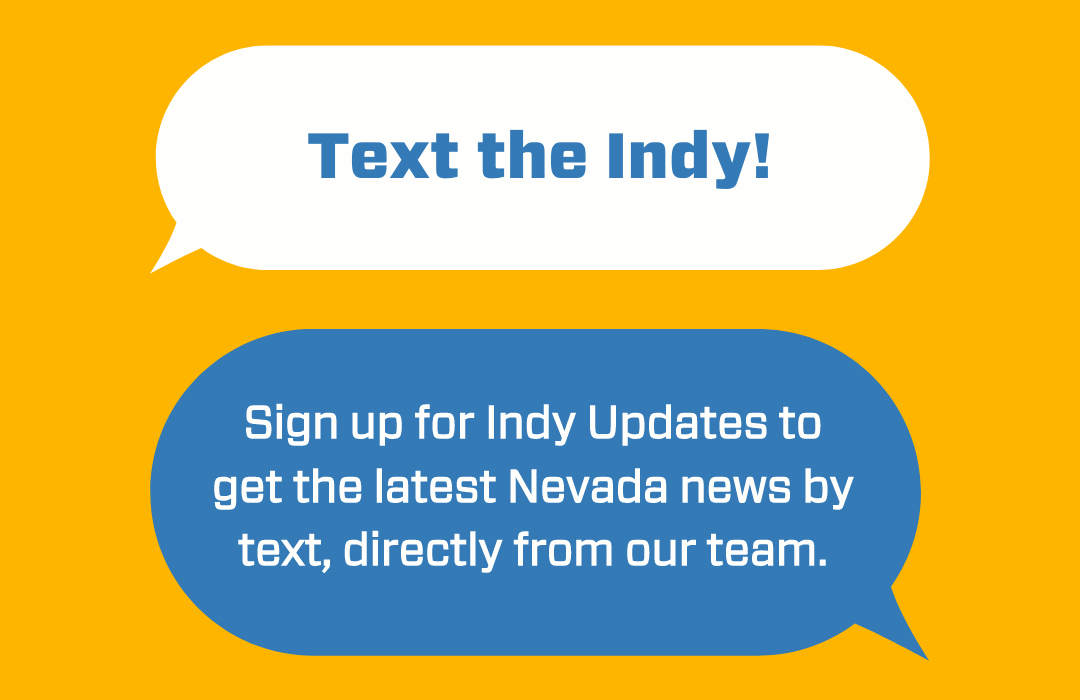 Featured Videos
Comment Policy (updated 4/20/2021): Please keep your comments civil. We reserve the right to delete comments or ban users who engage in personal attacks, use an excess of profanity, make verifiably false statements or are otherwise nasty. Comments that contain links must be approved by admin.