Indy Gaming: What's underneath? That's the question awaiting developers of the Vegas Loop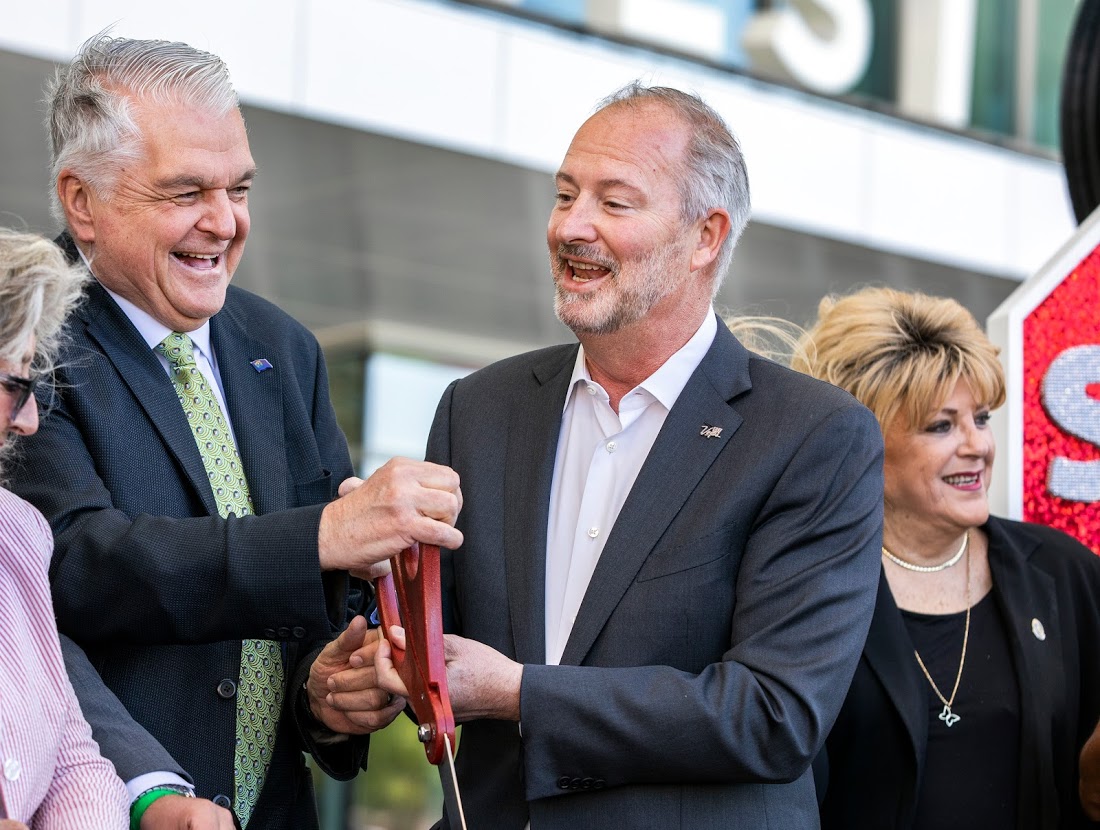 Good morning, and welcome to the Indy Gaming newsletter, a weekly look at gaming matters nationally and internationally and how the events tie back to Nevada.
If a colleague or associate emailed this newsletter to you, please click here to sign up and receive your own copy of Indy Gaming in your inbox. - Howard Stutz
---
It will be a while before riders can hop into a specially-built Tesla vehicle and take a 29-mile futuristic underground trip around the Las Vegas resort corridor — from the Las Vegas Convention Center to downtown and all the way south to Allegiant Stadium and McCarran International Airport.
The work will involve finding out what's underground before Elon Musk's The Boring Company sends its multimillion-dollar drilling equipment far beneath the Las Vegas Strip.
"Theoretically, there are drawings for everything that's been built," said Las Vegas Convention and Visitors Authority (LVCVA) CEO Steve Hill. "However, the end result may not be the same as the drawings."
The Clark County Commission last week unanimously approved a special use permit and a franchise agreement with Boring to apply for and receive building permits to construct the proposed twin tunnels for the Vegas Loop.
The 50-year franchise agreement allows the company to operate the system, collect fares and oversee advertising and partnerships. Boring also needs a separate franchise agreement with the City of Las Vegas for that area of the transit line.
"I think big portions of the system will be in place in two-and-a-half to three years," Hill said. "Everything that was submitted and approved is probably up and running plus or minus four or five years from now."
Hill and the LVCVA are proponents of the system, having opened the initial eight-tenths-of-a-mile loop earlier this year some 40-feet underneath the Las Vegas Convention Center. The route connects the north, south and west conference halls with a less-than-two-minute ride. By foot, the walk takes about 25 minutes. The LVCVA system cost $52.5 million. A cost for the entire Vegas Loop has not been determined. Boring will pay for the development and construction and make its money back through fares paid by users of the system.
The LVCVA views the Vegas Loop as a way to alleviate traffic congestion in the resort corridor and offer Las Vegas visitors a unique transportation experience.
The Convention Center system theoretically allows up to 4,400 convention attendees per hour to move about campus. Tourism officials had the loop in place for the World of Concrete trade show in June.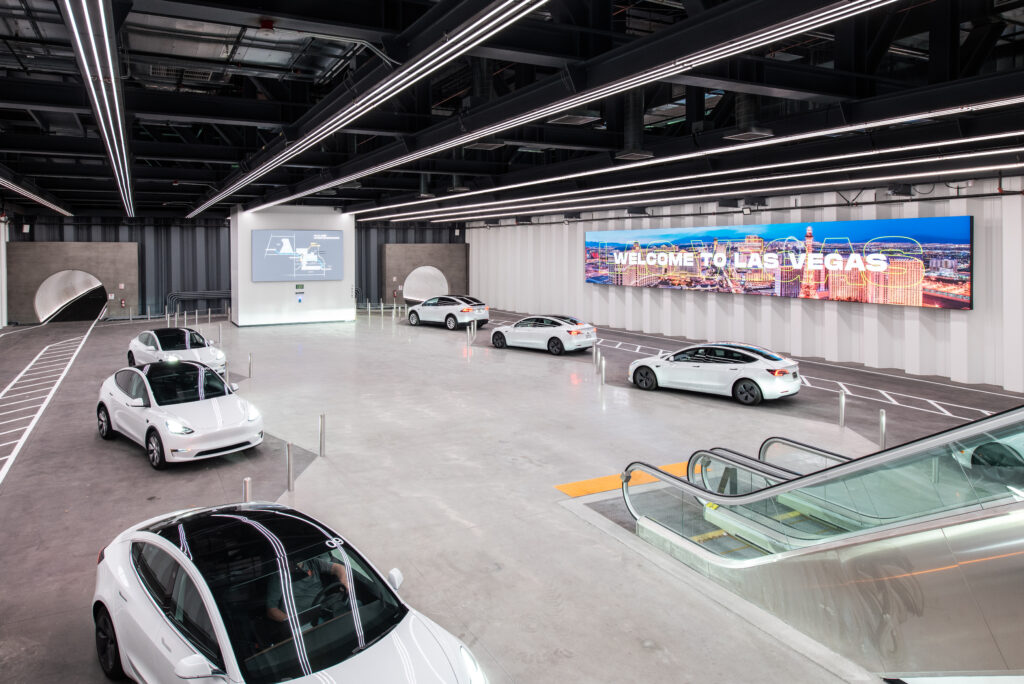 Hill said that while people "loved" the system, the real test will come next week during the Specialty Equipment Market Association (SEMA) Automobile Trade Show, which will be using the entire Convention Center campus.
"Generally, everybody who comes (to the Convention Center) ends up trying the system or using it," Hill said.
The next step is extending the footprint. Tunnels connecting the Convention Center with Resorts World Las Vegas are already underway.
In a statement provided by Resorts World, General Counsel Gerald Gardner said the property will open the first Boring Company station at a Strip resort "within a few months."A spokeswoman said in an email the station would be at the property's southeast corner near the retail and dining area.
Gardner said the commission's vote was a "step in the realization of the larger vision of the planned loop and the uniquely Las Vegas transportation experience."
Hill said The Boring Company still has to obtain building permits for every part of the system they plan to develop, including the tunnels, the ramps to and from the stations and the enclosed stations.
Construction for the stations and the ramps will be funded by the corresponding properties. Currently, the Vegas Loop system calls for 51 stations along the Strip and other locations.
After Resorts World, the Vegas Loop's next stop is still to be determined. Wynn Resorts said in October 2020 it would connect Wynn Las Vegas and Encore to the loop.
"I'm not certain about what and where the next locations are, however, our connection (to the Vegas Loop) is still on track and scheduled to open by mid-summer next year," Wynn Resorts Chief Communications Officer Michael Weaver wrote in an email.
Hill didn't offer a preference for the next destination, though he said the process will take time to complete.
"They can start doing all the work that it takes to actually put plans together to submit to the building department," Hill said. "You have to dodge all the utilities that are underground or move some of the utilities that are underground. That's somewhat unknown at this point so the timeframe because of that is a little bit up in the air."
Meanwhile, Hill said the Convention Center has seen an uptick in usage by the Las Vegas Monorail, which the LVCVA acquired last November out of bankruptcy for $24.26 million. However, Hill said the costs and upkeep make it highly unlikely the LVCVA will extend the system beyond its current 3.9-mile elevated transit line.
That gives The Boring Company a clear path if it wants to extend the Vegas Loop to the airport.
"Just comparing the cost of extending the Boring Company system versus the monorail is probably less than a tenth of the cost per any length per mile or whatever," Hill said. "And I think The Boring Company system is going to ultimately render the monorail obsolete. We talked about that when we bought (the monorail)."
Beyond the cost of extending the monorail is the additional price tag to repair or replace the trains, which Hill suggested could wear out over the next decade.
"It's a $200 million-plus cost to replace those nine trains," Hill said.
It's far cheaper to line up a fleet of Tesla vehicles, he said.
---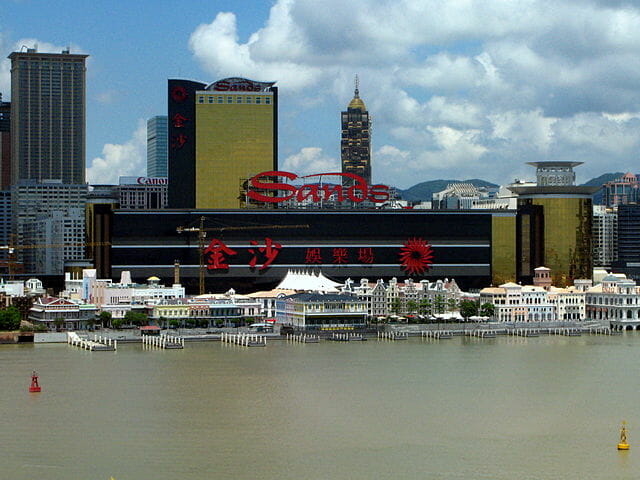 Sands CEO says 'no chance whatsoever' the company will leave Macau 
The confusing gaming concession relicensing process in Macau unveiled last month has left the investment community with more questions than answers.
In turn, Stifel Financial gaming analyst Stephen Wieczynski posed a pointed question to Las Vegas Sands Chairman and CEO Rob Goldstein last week during the gaming company's third-quarter earnings conference call.
"Do you guys see a scenario out there where you are not operating any casino assets in Macau at some point in the near future?" Wieczynski asked.
Sands, along with Wynn Resorts and MGM Resorts International, waited more than a year for the Macau government to explain the extension process for all six casino licenses — three concessions and three sub-concessions — which expire in June 2022.
"I'm sorry to be so blunt," Wieczynski continued, "but it's a question I think a lot of investors are pondering right now given (what) has come out of the Chinese government about what they're actually looking for."
Goldstein was equally as blunt in his response.
"I do not. I see no chance of that whatsoever," Goldstein said of the company having to divest itself from Macau. "No. I don't believe that's a possibility."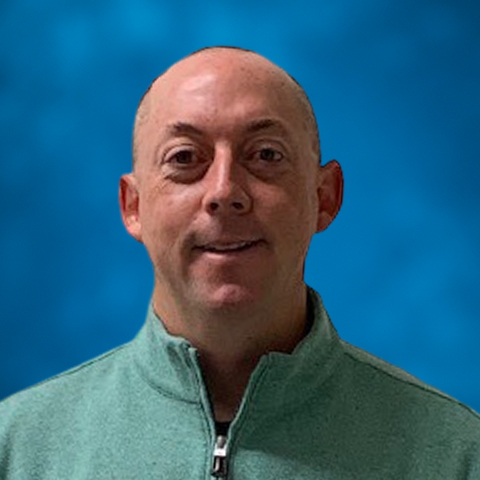 Las Vegas Sands is in the process of selling its Las Vegas operations for $6.25 billion and will focus on its six casinos in Macau and the Marina Bay Sands in Singapore.
Goldstein told the investment community that the company, which was the first to open an American-owned casino in Macau back in 2003, would not end its efforts. He credited Sands founder Sheldon Adelson, who died in January, with leading the creation of Macau as a gaming destination, which produced $45 billion in casino revenue in 2013 before economic woes and the pandemic sank the market to a 15-year-low in 2020.
"We have (an) unparalleled track record … One guy did that, and it's Sheldon," Goldstein said, touting the company's investment of more than $15 billion into Macau over the past 20 years.
"We have been stellar with our employees," he said. "So I remain beyond confident that we'll be operating Macau. I don't think (there is a) chance whatsoever that we wouldn't be. I'm not saying that rhetorically … every indication we have gotten is to the opposite."
Macau's government suggested a tightening of regulatory oversight that included a stricter control on capital, recommending license holders only distribute profits to shareholders after getting pre-approval from the government.
Macau also plans to appoint a government representative for each license holder, in order to directly "monitor and control day-to-day operations and protect the interest of society." The entire review process, which began at the end of September, is expected to take 45 days.
In a research note to investors following the conference call, Wieczynski said Las Vegas Sands executives needed to take "a major stand" in telling investors why they believe in Macau's future. The company is currently spending a combined $5.5 billion to upgrade its properties in both Macau and Singapore.
"Investor appetite for Macau-centric names remains almost zero," Wieczynski said. "For the most part, we believe longer-term investors won't pay attention to these names until there is either more clarity around how the concession renewal process plays out or the Macau market actually stabilizes and starts to show growth for an extended period of time. The problem that exists is that the exact timing of knowing when either of those two events will take place is impossible to predict."
Wieczynski said his outlook for Las Vegas Sands was "extremely risky" but could entice investors focused on a longer time frame.
Goldstein said the Macau government should acknowledge the company's long track record for development.
"I think the government recognizes we've been hopefully a good licensee and partner," he said.
---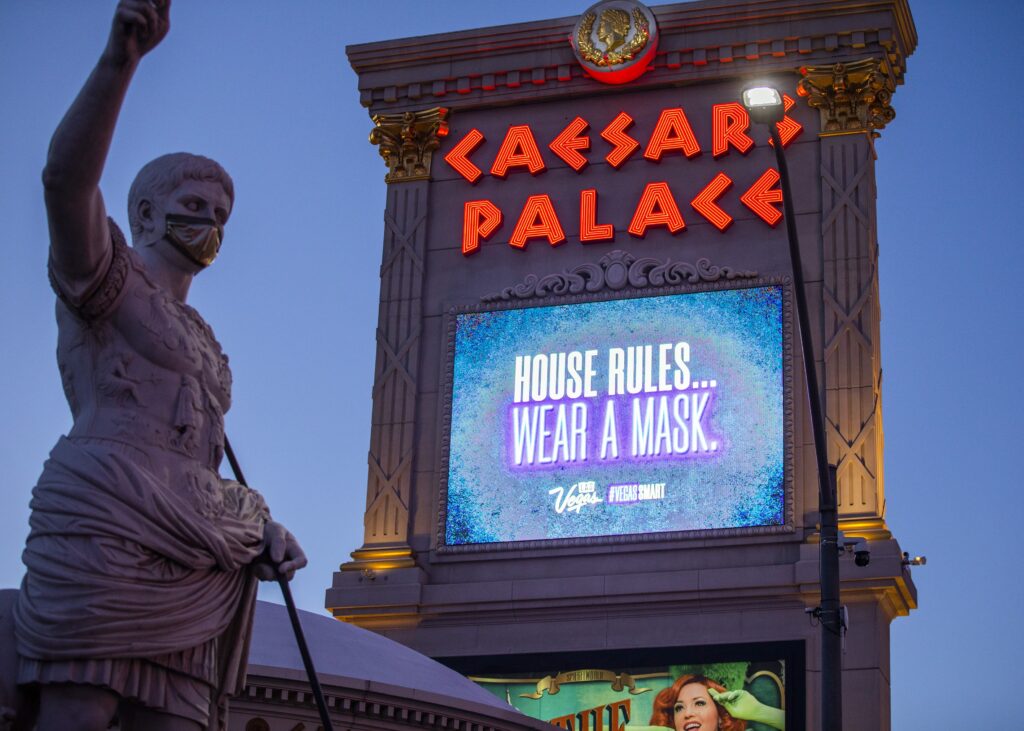 Ex-GCB chairwoman lands board seat with Caesars Entertainment
Former Nevada Gaming Control Board Chairwoman Sandra Douglass Morgan had a busy week.
Three days after joining the board of Allegiant Airlines, the Las Vegas attorney was named to the board of casino giant Caesars Entertainment last Friday.
Pending regulatory approvals, Morgan becomes the 10th member of the Caesars board. The group includes Jan Jones Blackhurst, who spent more than 20 years as a Caesars executive and is a former Las Vegas mayor; and Frank Fahrenkopf, a veteran Washington D.C. insider and Republican power broker who was the first CEO of the American Gaming Association.
"Sandra is rooted in the gaming industry in a way few others could be," Caesars Executive Chairman Gary Carano said of Morgan, who also served as a member of the Nevada Gaming Commission before Gov. Steve Sisolak appointed her as the second woman and first African American to chair the Control Board.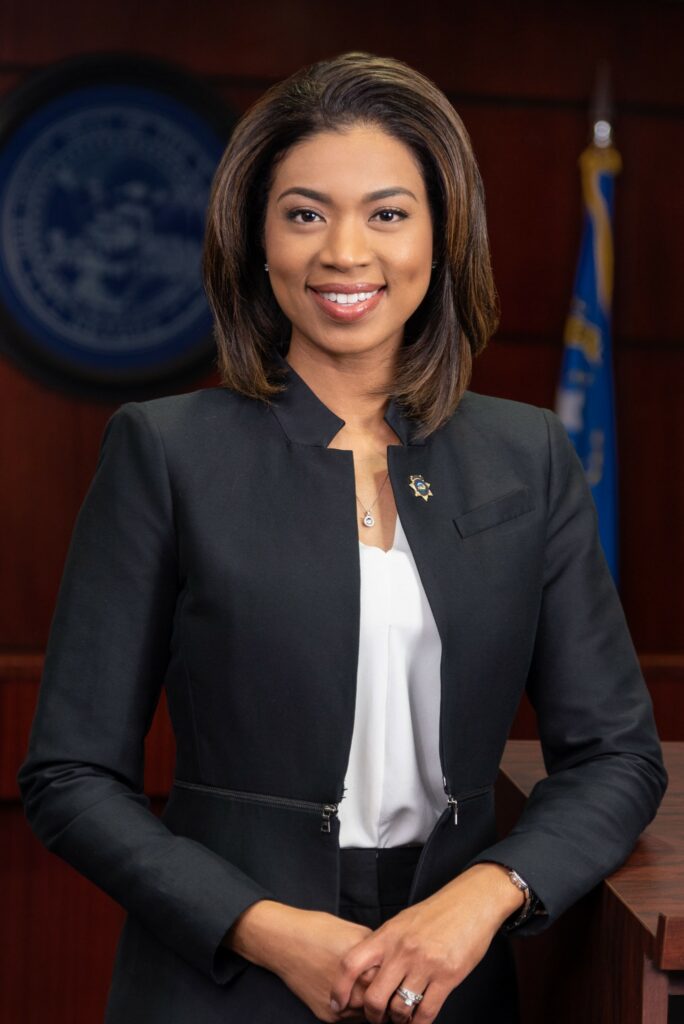 Morgan, 43, has held legal and government relations positions with MGM Resorts International, the city of North Las Vegas and AT&T Services. She currently operates her own legal consulting firm.
"Her leadership as an attorney for gaming corporations and government entities adds another lens through which she has developed a unique perspective which will help our company continue to move forward as the gaming landscape evolves and grows," Carano said.
In July 2020, Morgan chaired a special hearing in which Nevada gaming regulators approved the $17.3 billion merger between Eldorado Resorts — the purchasing entity — and Caesars.
She resigned from the Control Board in October 2020 to join the board of Fidelity National Financial, Inc., where she is chairing a special litigation committee for the Florida-based company. Bill Foley, majority owner of the National Hockey League's Vegas Golden Knights, is Fidelity's chairman.
During her tenure on the Control Board, Morgan advocated for the passage and implementation of cashless wagering regulations and the adoption of regulations that ensured all Nevada gaming licensees had policies prohibiting discrimination and harassment. She also steered the gaming industry's response to the COVID-19 pandemic.
Morgan is also a member of the board of Cerbus Cyber Sentinel Corp.
In a Securities and Exchange Commission filing Friday, Caesars said Morgan, as a non-management member of the board, would receive "the compensation paid to non-management directors for service on the board and its committees." The company did not disclose the amount.
---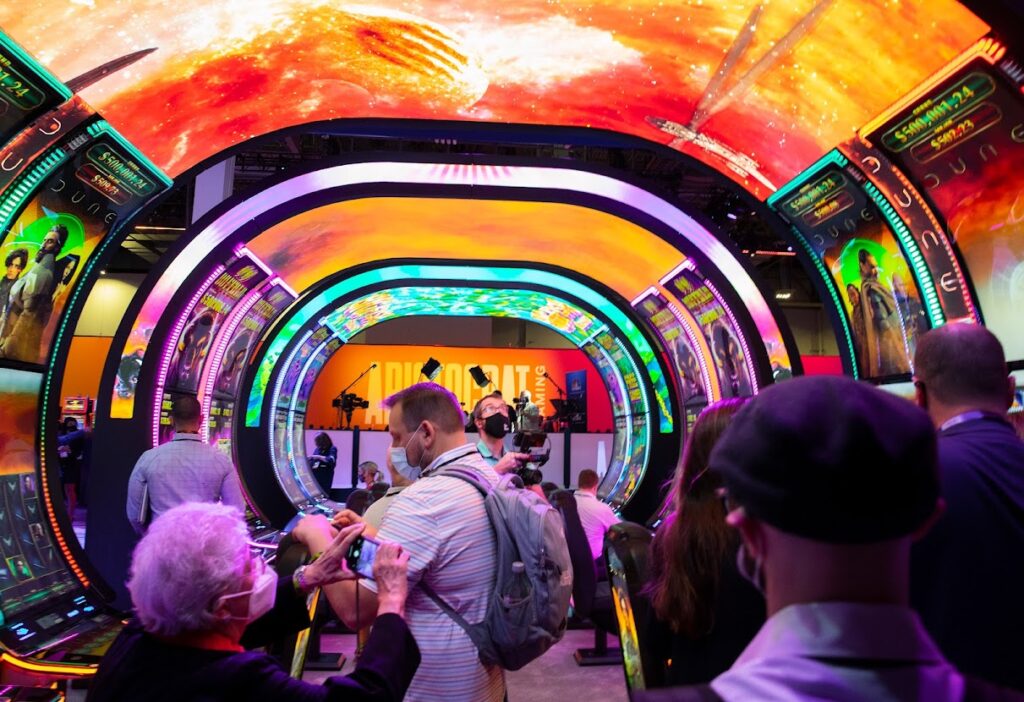 Fitch analyst says G2E was a positive sign toward a Las Vegas recovery
The Global Gaming Expo solidified the view of Fitch Ratings Service that Las Vegas is on the path to recovery. Chief analyst Colin Mansfield and his team wandered through the tradeshow floor and found the major slot machine suppliers had an upbeat attitude heading into 2022.
Mansfield, in a report to investors distributed following the three-day conference at the Venetian Expo and Convention Center, said Fitch remains positive on the Strip's recovery to pre-pandemic revenue levels.
"While the August data confirmed that an exponential exit to pre-pandemic levels was unrealistic, the positive trend remains," Mansfield wrote in the report. "Slot volumes remain above 2019 levels and table drop pulled back month-over-month to just under 2019 levels, both healthy in our opinion."
In October 2020, Fitch predicted the nation's largest gaming market would experience a slower than anticipated recovery that would carry into 2024. Mansfield revised that outlook in July following the opening of $4.3 billion Resorts World Las Vegas. He suggested Las Vegas could return to the 2019 pre-pandemic levels by 2023.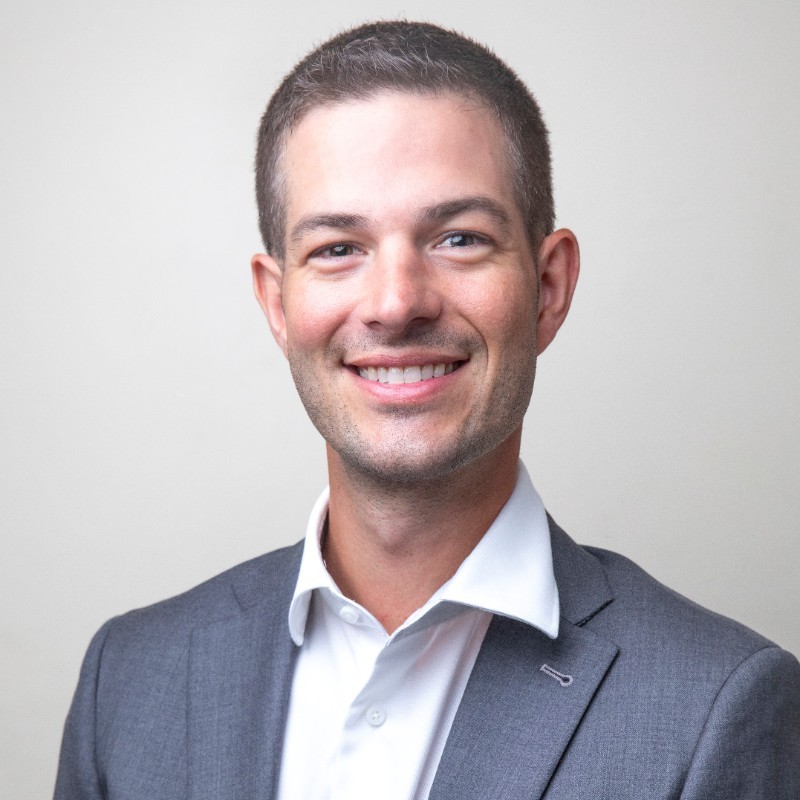 "The energy at the G2E convention and noticeable leisure demand across the Strip is making us incrementally more positive on Las Vegas' recovery," Mansfield wrote.
While G2E was noticeably smaller — producers said the conference drew more than 13,000 attendees, less than half of the 27,000 who attended the 2019 event — Mansfield said there was an "overwhelming energy of participants" doing business. The 2020 G2E was canceled because of the pandemic, but show organizers held a virtual event.
"It was promising to see crowded restaurants with group events occurring each night and busy table games up and down the Strip," Mansfield wrote.
As for the slot machine manufacturing sector, Mansfield said gaming equipment suppliers were looking to capitalize on established and successful games by leveraging them into other platforms and new form factors.
"iGaming and sports betting remained prevalent, as suppliers home in on strategies to offer a full suite of products and services to the hyper-competitive digital operators," Mansfield wrote.
He pointed to three major equipment providers — International Game Technology, Scientific Games and Everi Holdings — offering mobile wallets and other digital products that prove, in his words, that "competition in the cashless space is really ramping up."
However, Mansfield still urged some caution.
"Jurisdictions have been very slow in adopting this new technology and player adoption has also been slow, so cash isn't dead yet," he wrote.
---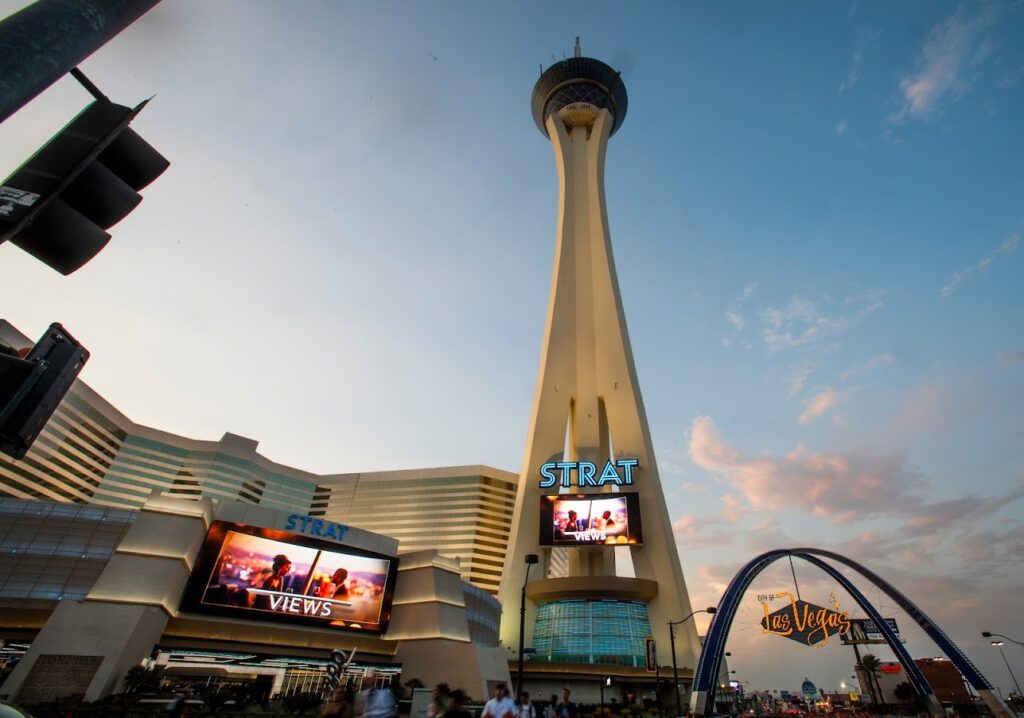 Other items of interest
J.P. Morgan gaming analyst Omer Sander gave Las Vegas-based Golden Entertainment high marks when he initiated coverage of the Las Vegas-based casino operator a week ago. Sander said the casino company and slot route operator was "a structurally better business post-COVID-19 with a better balance sheet and valuation that has not kept up with peers."
However, he voiced some concern over recent Strip and regional gaming market transactions that involved real estate investment trusts (REITs). Sander said the deal set a "valuation floor" for companies like Golden that own all their real estate. He suggested the $5.65 billion deal for The Cosmopolitan of Las Vegas and the $6.25 billion transaction for Las Vegas Sands' Strip holdings represent "increased demand for Las Vegas real estate, and directionally should be indicative of higher values for Strip real estate."
Golden's properties in Nevada are not on the Strip. The STRAT Hotel, Casino & SkyPod is located on the downtown side of Las Vegas Boulevard while the company's other Nevada casinos are in the Las Vegas neighborhood market, Laughlin and Pahrump.
"We share the view of management and peers that Nevada real estate is undervalued, though we note that mergers and acquisition activity has not made its way to off-Strip Nevada markets," Bender wrote in his research note. He said the "transactional activity has to expand beyond the Las Vegas Strip" to get a full understanding of the value.
Station Casinos is closing one of its small Wildfire-branded casinos on a temporary basis for a renovation project. Unlike three of the company's Las Vegas-area casinos that have been shuttered for more than 17 months, the Wildfire Lake Mead in Henderson is expected to reopen by the end of the year.
In a statement, the company said the location would close Monday to allow for a renovation of the casino area, which will include new slot machines, electronic table games and a sportsbook. The restaurant will also receive a makeover that is expected to be completed in early 2022.
Station Casinos, the operating subsidiary of Red Rock Resorts, has six small casinos in the Las Vegas area that operate under the Wildfire brand.
Station Casinos has yet to reopen four casinos — Texas Station, Fiesta Henderson, Fiesta Rancho and Palms Casino Resort — after last year's 78-day shutdown of gaming due to the pandemic was lifted. The Palms has since been sold to Southern California's San Manuel Indian Tribe for $650 million.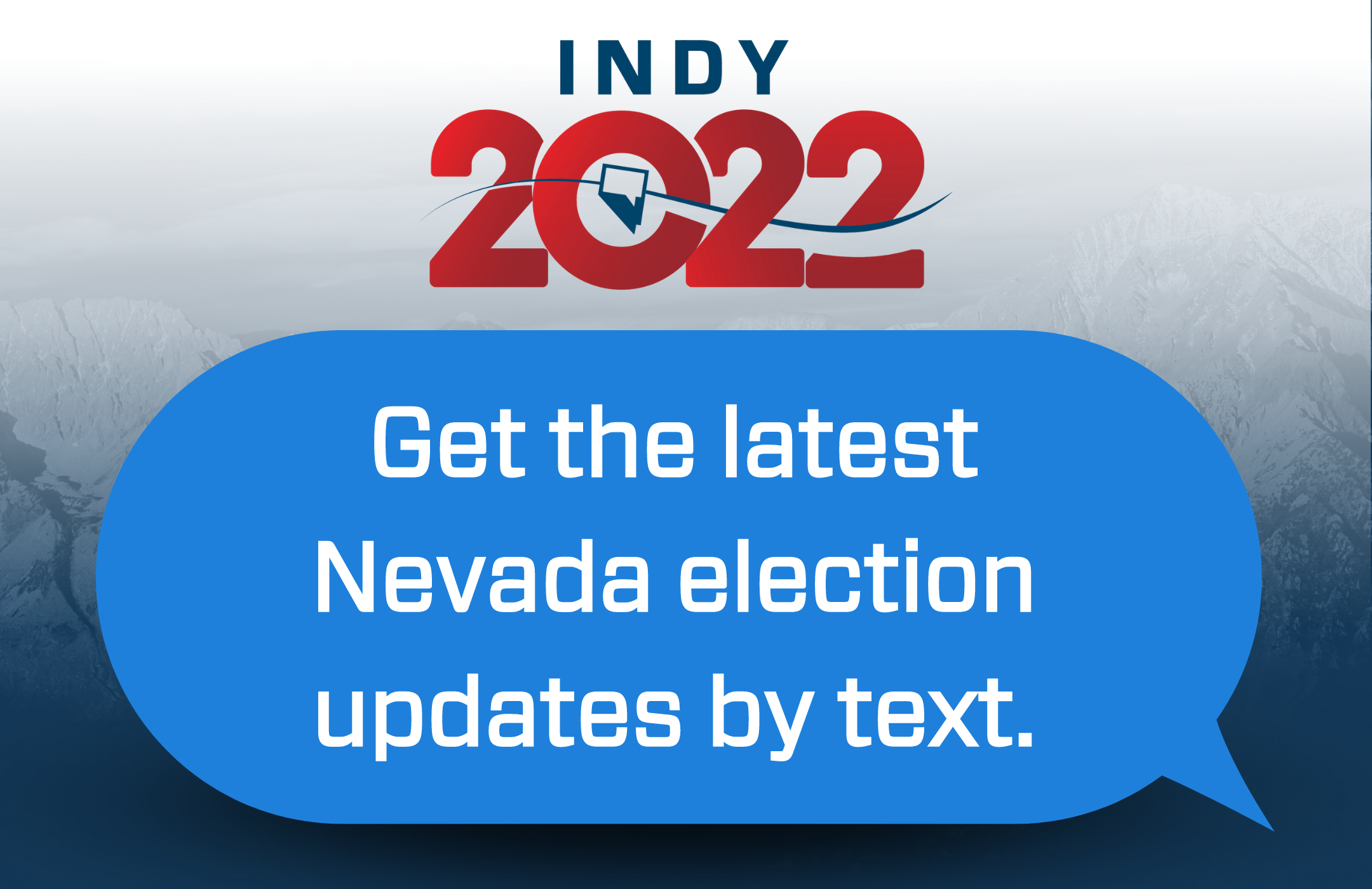 Featured Videos
Comment Policy (updated 4/20/2021): Please keep your comments civil. We reserve the right to delete comments or ban users who engage in personal attacks, use an excess of profanity, make verifiably false statements or are otherwise nasty. Comments that contain links must be approved by admin.