Indy Q+A: Chief of Staff Michelle White reflects on service to the governor during one of Nevada's darkest periods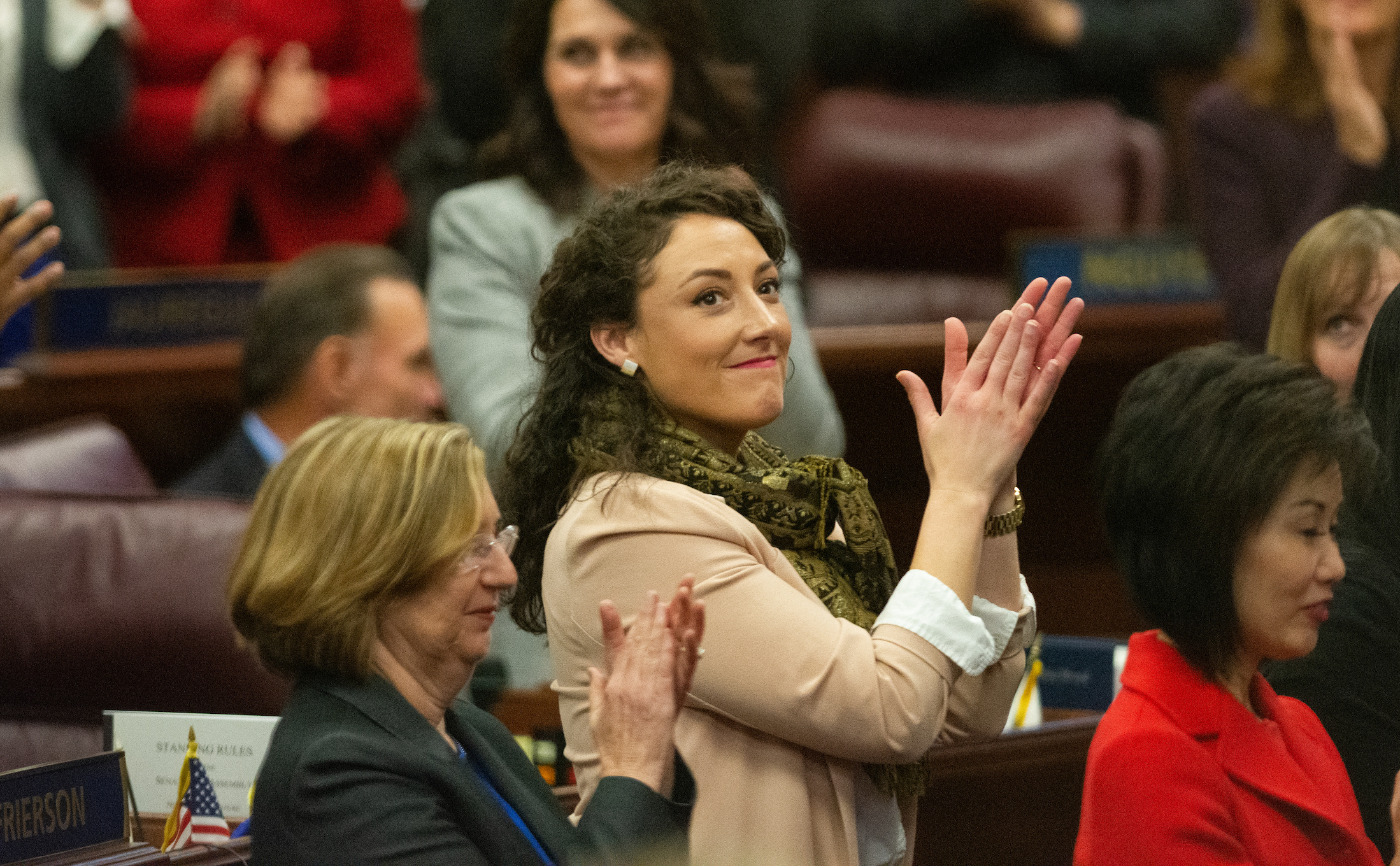 Heartbreaking, gutting and awful are among the words Michelle White, Gov. Steve Sisolak's outgoing chief of staff, used to describe the last year and a half.
As Sisolak's right hand, White helped shepherd the state through one of the most difficult periods in its 156-year history as it grappled with not only a global pandemic that has claimed the lives of thousands of Nevadans and sickened hundreds of thousands more but record unemployment rates, an intense period of political division and a nationwide racial reckoning. On Friday, White left her position after nearly three years of service to the governor.
"I feel really immensely honored that I had the opportunity to be by his side and help just be a little bit part of this," she said in an interview with The Nevada Independent.
The years haven't been easy: White said there were times she thought about quitting, and her regrets are many. She wishes she had the hindsight she does now on the state's COVID-19 response. She wishes there was more she could have done to support the state's response team as they struggled to keep the state — and its residents — afloat during some of the pandemic's darkest days.
"A million mistakes," she said, asked about her regrets. "You always want to do things better."
But she described her role helping Sisolak navigate the last year and a half as both a privilege and an honor. White said the honest conversations she has had with the governor in his office hashing out difficult decisions have also been some of her favorites.
"I've been reflecting a lot and thinking a lot about what crisis leadership means. To me, it's the ability not just to yell from the mountaintop and to say a lot of things, but it's the ability to actually make decisions when no one else wants to make them because they're all unpopular," White said. "They are going to all be lose-lose. The options could be crap, and the information you have in front of you is so limited, but you know you've got to move fast."
The road to recovery before the state is long. It includes economic diversification, bolstering state systems, including unemployment, that failed at critical moments in the state's emergency response, and strengthening the small state government's overall capacity, she said.
But White believes Sisolak's new chief of staff, former state Sen. Yvanna Cancela, will be able to help the state on that road to recovery in a way she wouldn't be able to after a year and a half of being so laser-focused on the state's pandemic response.
"I'm so in that world, it's been a part of my life for so long, so it's kind of hard to see outside of it sometimes," White said. "For Yvanna, and why it's so exciting to have her there, is she brings us new energy, this new set of eyes on things the governor is going to really benefit from."
The Nevada Independent sat down with White last week before her departure over Zoom to talk about the last three years, including her highs and her lows, and what is next for her after leaving the governor's office.
This interview has been edited for clarity and length.
You came into this position as a political operative. But winning campaigns and outmaneuvering Republicans in the state Senate is very different from being a governor's chief of staff. How did that background prepare you for this position?
What was helpful is that while I did come from campaign world, political operative world, I also had the opportunity — because I worked for legislative caucuses — to be a part of the legislative process. I got to see up close in an intimate way the inner workings of state government when it comes to the legislative session and had exposure to that and some familiarity with that. That was incredibly helpful walking into it, understanding not just how a bill becomes a law, but how does a bill really become a law? What are all the players involved, and who needs to know what? What could be some of the challenges getting it through this committee versus on the floor? Those things, I think, were really valuable, but there was certainly so much catching up to do.
I always think of my predecessor, Mike Willden, [chief of staff to Gov. Brian Sandoval], who spent his career, an incredible career, in state government public service — someone I look up to and admire a whole lot — and what a different role that was for him with his immense experience. Right out of the gate, it was accepting the fact that myself, or really many other people in the state of Nevada, will never match Mike Willden's experience and institutional knowledge, but what are ways that I can learn as quickly as possible? What are some things that I can take from my previous experiences and try to make them work here that can be beneficial and maybe haven't been tried before?
There's something about starting out as an organizer. I came here on my birthday, the day I turned 22. I had never been west of the Mississippi. I didn't even understand what I was walking into. It was the Shirley Breeden state Senate race against Joe Heck. They didn't teach us much about actual ground game organizing in political science in college, so you learn to be really scrappy and come up with solutions with no manual and no guide. It's adjusting to the situation you're in and figuring out how to reach certain people. I really believe the scrappiest, most solutions-oriented people I've ever worked with have been organizers. That experience of having to find solutions when you're in a jam, knowing that you can't always call 12 people to help you, that you just have to figure it out in that moment, was vital for this role.
I remember during the transition reading [about the role of chief of staff from the National Governors Association], just trying to consume all that I could. It talked about the two kinds of sets of chiefs of staff that governors typically have, one being a tons of state experience, policy-based experience versus having someone who comes from the political world and the pros and cons of both.
I knew walking in that would be both a positive for me and also an obstacle that I'd have to get over because so many people knew me from that world and probably had, rightfully so, some concerns about, "Will she be able to do it or will she make this too political?" I was always, and remain, very cognizant of that.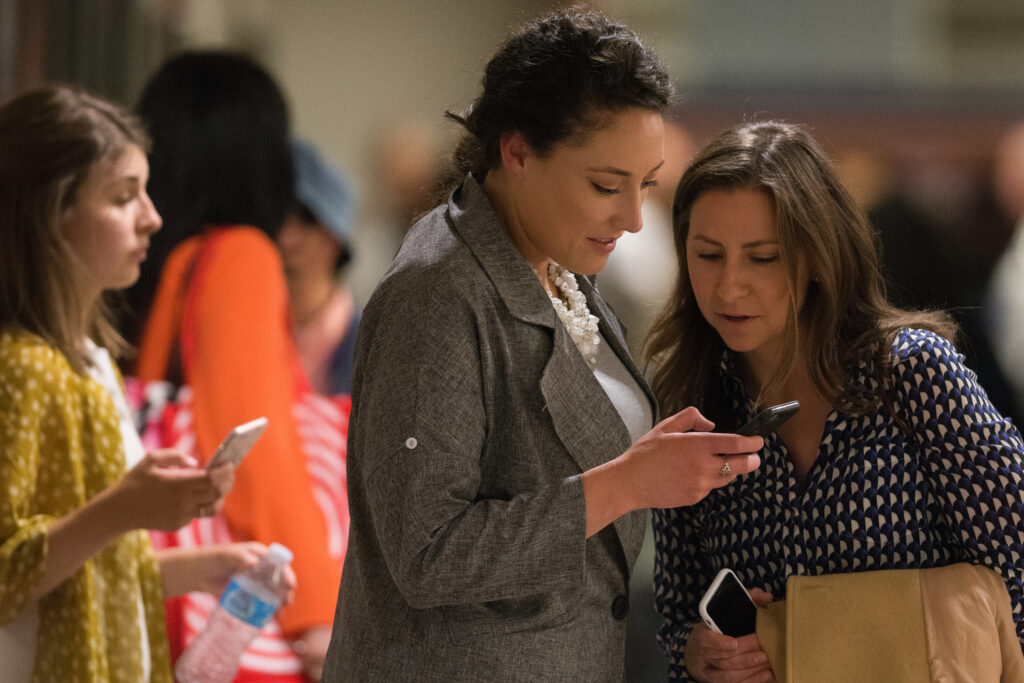 Did being chief of staff change your mindset or approach?
Every single day. I look at issues now in such a different way. I work through problems in a different way. On campaigns, the solution can sometimes be so obvious. Then you get into actually putting these ideas and thoughts into action and the challenges you run into, or just the obstacles you didn't know about in statute, or whatever it is. It's like, "Oh, man, it's going to be a lot harder than I thought it would be."
I actually think I'd be a buzzkill now on most campaigns, because I'd be like, "Well, it wouldn't go through that agency." I am much more grounded in the reality of state government. That doesn't mean it's become pessimistic at all, it's more just understanding how things work and how hard it can be to implement, and that's been an incredible lesson for me throughout all this.
How did you balance the politics and policy? Were those two things at odds?
What helps there is you find a way to make sure they're not at odds. It's not saying, "We'll never be at odds with the governor's political party" or things like that. That's not the case. It's saying that when you boil things down to their essence, what we're really trying to do is probably what people on both sides really want to do, which is help improve education, help make sure that that kids have more opportunity in this state, that people have jobs, that people can have some dignity and go to work every day and bring home a paycheck and provide for their families. Those aren't Republican or Democratic issues, those are issues I think everyone cares about, and so really keeping it focused there.
A lot of days, we'd be sitting in the office going through these policies and it was so grounded in the outcome for Nevadans. I often wish people could see what those sessions look like. We have had people from across the political spectrum in the office over the time that I've been there, and their viewpoints and experiences are so different and varied and what they bring to the table really helps in that conversation. It is truly based in, "How is this really going to help people? Or is this going to harm people? Is this going to have a bad impact?"
Balancing those things actually became so much easier than I even imagined at the beginning because when you work really hard to try to have that focus on what is the right thing to do for the state, everything else kind of falls in line.
Before you were asked to take on the position, did it ever cross your mind that you would want to work in state government and work in this capacity? When you were asked, was it an immediate "yes"?
I didn't grow up being like, "One day I'm going to go be a chief of staff or serve in a big leadership position in government." I didn't even know that was a possibility. My dad just retired from the train yard in Boston, and my mom was a waitress most of my life and now works at a local bank. They can't believe their kid is out there doing this.
I look at the people who served in the governor's offices before, whether it was Mike Willden or Michon Martin [Sandoval's general counsel] and folks like that who I just have such immense respect for and have idolized from a distance for so long. Sometimes, you convince yourself you'll never be at that level.
When the governor came to me, I was definitely a little bit shocked. I hate to even admit this, but it's important to talk about: This is a big generalization, but from talking anecdotally to my friends and colleagues, I think I did what a lot of women, particularly young women do, and I immediately thought of all the ways that I would be disqualified, that I'm not ready, or I can't do this — "What if I don't have enough experience?" — and I came up with a whole list in my head of all the reasons why I couldn't do something, instead of coming up with that list that said, "I can do this, and I am qualified."
It was through conversations during that time where I thought about it and got to talk to some of those folks who really helped me realize that I can do it. We have to break the very hard habit of convincing ourselves that we can't do things, because not everyone's like that, and it holds us back so much. The contributions that we would be able to bring to the table will not occur if we don't convince ourselves that we are able to do things, we are able to lead, and we are able to take on big jobs.
I'm so glad I did it because I feel like I have been able to contribute and hopefully be a good leader and make a little bit of change.
As you look back over the last year and a half, what was the most difficult part of navigating the state's COVID-19 response?
I hope it is the most challenging thing I ever have to do in my career. I hope that that's the peak, because every day was massively challenging. Every day was so full of obstacles, and sometimes you just feel like you're getting kicked in the teeth. It's just so hard.
It's not even a personal, like, "This is so hard for me." It was so hard for the state. One of the hardest parts, when I look back the last year and a half, is that we were surrounded by all these incredible public servants. I always think of Caleb [Cage], Candice [McDaniel], Julia [Peek], General [Ondra] Berry [adjutant general of the state of Nevada, the highest ranking officer in the Nevada National Guard], all these folks who are trying so hard to help all the people they see in need, and there are so many needs out there: highest unemployment rate in American history, people are losing their jobs, kids are home from school, we're seeing kids try to access internet at like Wi-Fi hotspots at fast food restaurants. It's one thing after the other, and the images really tell the story and. It's heartbreaking. We're seeing this every single day, on top of the public health crisis and rising cases and deaths and hospitalizations, etc. It's so incredibly overwhelming. The amount of the problems were so overwhelming in just a single day throughout the last year and a half.
I think the biggest challenge was looking around at this group of people who were so personally impacted by what they were seeing. There was no callous disregard. There was zero that I saw even for a second in state government over this last year and a half. If anything, it was people who were going home at night carrying these stories and these experiences on their shoulders and trying to figure out, "How do we fix this?" Day after day, you're making a little bit of progress, but then an antiquated system crashes, and people go without getting their UI [unemployment insurance], and in order to replace that system, it's going to take two years. It's those kinds of setbacks.
It's when you work so hard on a big announcement on a policy and, because we don't have the technology in our office budget to actually have a professional camera and tripod, the internet goes out or someone's phone dies that we're streaming to Facebook on. Thank God, we've made a lot of improvements. But that's such a hard experience because you know people are going to have more confidence in the governor when he is delivering this message and there's not all those distractions of it looking unprofessional.
It's a lack of capacity not just in this office but throughout state government. We have a relatively small-sized state government and infrastructure, and the problems are bigger than any other state.
It was the daily challenge of having to accept that we can't fix everything as fast as we want to fix everything. We can't help everyone we want to help today. That was really hard, because, like I said, every single one of us took those things home with us. The first thing we thought about when we woke up was, "How do we help more?" The challenges that come with being in a crisis, and then being in a state that lacks that capacity, it was tough. It was heartbreaking.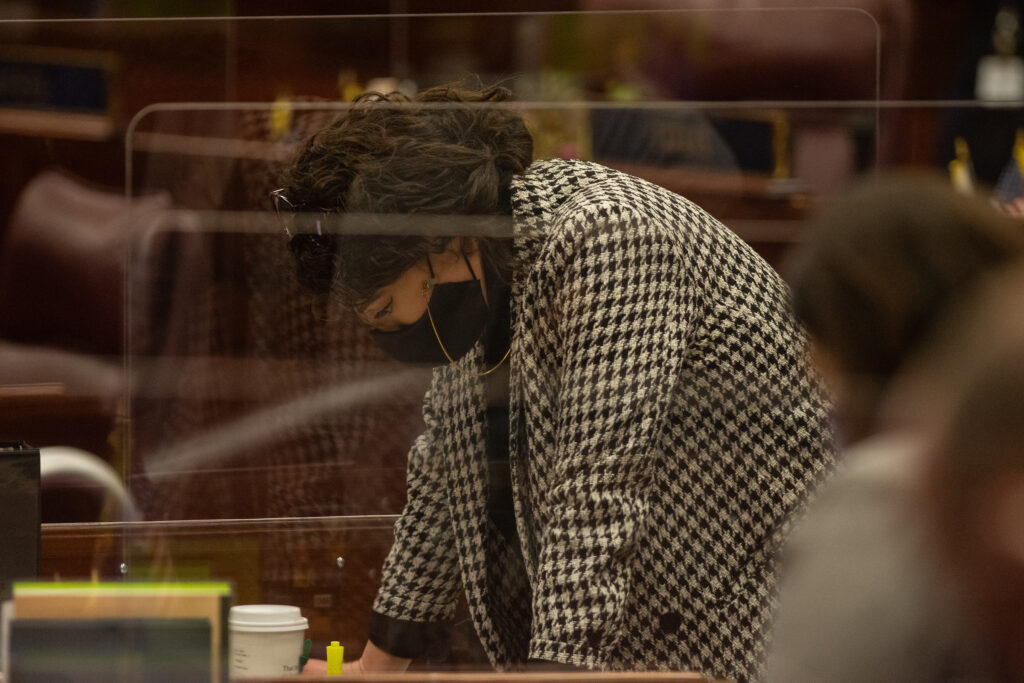 Where does the state need to build capacity and improve its infrastructure so that another chief of staff isn't facing this same situation with, God forbid, another pandemic or another kind of emergency 10 or 20 years down the line?
We do need more capacity in some of these offices. That's absolutely the truth. I don't just mean the governor's office, I mean in certain agencies. We need to really be taking a hard look at what those structures are and where we could make some improvements. We need to make sure that folks across agencies are talking to each other in a really collaborative way during the sunny days, because then, when a crisis hits, it's going to be so natural for those collaborations to continue.
Technology and systems are so important to look at. It is really easy in the good times to look at the systems we have and say, "It's probably not the best, but it might be okay. It might get us by," because you can never prepare for what you don't think could ever happen until it happens. UI is a great example, but there's so many systems. We were building so much of this from scratch and wanting to do it faster and faster and faster.
We need to continue investing in areas that's going to help have data-driven policy decision-making in government, and then we need to tackle these systems that, if tested too much, they're going to break. They will not handle the load. I don't know that any system would ever be able to handle the load of hundreds of thousands of claims being filed in a night, but I bet it would have done better.
It's getting to the place where we're not reactive, we're proactive.
Because it is under-resourced in a lot of ways, Nevada can be very reactive. Do you think the state can continue operating as it does now, trying to operate on this shoestring budget and be scrappy and fix things as they come? Or is there something that needs to be done to make life more sustainable?
I love this line the governor said in the office one day, and I think it's worked its way into a few of his remarks: "I'm sick of this state having to be so damn resilient all the time."
We are so resilient. We are so scrappy. We are survivors. We are fighters. My gosh, we claw to get it done. But wouldn't it be so great if we didn't have to do that all the time? He says it all the time as well: Wouldn't it be so great if the next time there's a national crisis, Nevada wasn't number one on the list of hardest hit? Wouldn't that be just the best?
When it comes to those hard conversations about investments, it truly is that balance of we need to first ensure the funding and budgeting we are doing now is meeting the needs of this moment. I think that's what the governor really strove to do in that first special session and then this last session as well, being really thoughtful, being incredibly careful of wanting to be financially responsible for Nevadans in this time.
When we get this federal funding [through the American Rescue Plan], we're going to do what Nevadans are doing. We are not just going to spend. We are going to pay down our debt. It's the lesson our parents teach us: pay off your credit card, put some money aside, refill the rainy day fund. We figured out that it rains sometimes. We needed that. I can't imagine how much worse it would have been if we didn't have a good rainy day fund. Savings was a huge priority for him.
Then, as we go to spend, let's make investments, and let's try to be smart about it. I think he's really taking that approach with the federal funding. We have to really be strategic and smart to have this money hopefully be transformational. I also think it needs to come with a larger conversation about what those goals are for the future, what that management will look like of those funds and how to be smart with it in the long term.
Federal funding is a perfect example of it: We have this money coming in, but the structure to handle that money is still the same as when there wasn't that money there. It's still small. It's still really hard to do. As a state, the first step should be taking a step back and having that conversation about — whether it's federal funding or anything else — how do we manage this in a way that can make that dollar either grow or stretch even further, so that we're not just spending to have another Band-Aid, that we're actually fixing a problem so we don't have to spend more in 10 years. That's how to do it.
Nevada always seems very willing to consider these big, flashy proposals when it comes to economic development, Blockchains being the most recent iteration of that. Is this a sustainable approach to building a more stable economy, or does something else need to be done?
It's the grand question of Nevada's approach, and it's the question of the chicken and egg. Folks can say, "Better jobs, higher paying jobs, more quality jobs aren't going to come here because we need to improve education, we need to improve our health care system, we need to get some of these things together, and then we can attract the jobs and then we won't have to offer so much in our economic development deals." Maybe that's true. I think in a lot of ways that could be accurate. I think there's also the argument on the other side that says, "If we don't get more folks to come here, get better jobs and get more investment, how are we ever going to improve education and our health care system?"
It shouldn't be a binary choice. Let's try to do both at once. Let's try to get more jobs to this state, and let's also try to improve education. Let's also have conversations and take actions to improve our health care system all at the same time so we're improving quality of life, while we're bringing in companies that can provide jobs and can provide further investment.
Nevada absolutely needs to diversify its economy. We've seen what happened in Northern Nevada as a result of their economic diversification. They were not hit as hard, and that's awesome, that's great, that's a success story. It's not to say they weren't hit, but Vegas was the hardest hit in the country. It's not a secret. We all know it. We've talked openly about it, and we love those jobs and that industry has provided so many jobs and benefits to so many families, but it also gets hit really hard.
This obviously depends on the outcome of the election, but, if he remains in office, how do you see the governor and the Legislature tackling taxes next session?
The governor has not been shy about being honest and open about all of these conversations and options. He is a governor who, in his first term, after some of the best economic numbers that Nevada has experienced ever, was, fast forward, cutting a billion dollars from a budget in critical services. There was so much in this term thus far focused on making sure we can protect as many of the people as we can who are going through hell and cannot afford another hit.
As a leader, he has been very open about the need for fiscal responsibility and management. That includes at every level at every level — making sure that when money goes somewhere, that it is going to be spent efficiently, that it's going to go where it's supposed to be directed to, that it's going to be managed well, and that there's accountability there. I think that's going to be a big part of the conversation, and I think that needs to be a big part of the conversation. No one wants to have any of those conversations unless they know that there's going to be accountability there and fiscal management and responsibility.
The things to come, I'm not sure, but I can say that I have full faith that he will be grounded in that kind of fiscal responsibility that he has really led with so far.
The pandemic quickly became political. How did that complicate the job of responding to the pandemic, even for someone with a background in politics?
It was terrible. It remains really difficult. It belongs so far away from politics. It has been awful.
I was on a call this morning with state and local health officials. A health official who works outside of Clark County and outside of Washoe County was just talking about how demoralized they are feeling. They are being attacked on a regular basis.
These are folks who care about nothing more than making sure that families and kids are healthy and safe. There's no such thing as hanging up your hat at the end of the day. They live it and breathe it. They love it, they're passionate about it, and they're also part of their communities. It's gutting and completely heartbreaking to hear the pain that these folks are going through and how they're being ostracized by their neighbors and attacked. So much of it is rooted in the political vitriol and gamesmanship that has been on display since the beginning. I think it is obvious where that originated from, and I hesitate to even dive into that because the last thing I want is to even indicate that this should be political. Even by diving into that it can make it more political.
That's the challenge here. Sometimes you want to call it out and say, "Look at what you've done to create distrust in our health officials and doctors who are crying for our help." Doctors and medical workers are begging Nevadans to please help them. They cannot do this much longer, and public health officials can't either. They are begging us for help. I want to absolutely yell sometimes, like, "Please listen to them." But, unfortunately, politics has played such a big role in this. It's been really harmful and unfortunate and made getting through this stuff much harder.
Thinking back over the last nearly three years of working for the governor, are there any regrets you have?
Absolutely. 100 percent. A million mistakes. You always want to do things better.
Working with this incredible team and really wanting them to get them more of everything so they could do their jobs even better was hard. Sometimes the things were not there to help them do that. I knew I was in the position that if anyone could figure it out, it was going to be me, and then sometimes you still run into obstacles.
We talked about it before when we talked about COVID response, but there were a million times that you look back on on any of those decisions and say like, "Yeah, definitely, in February [2020], I wish were wearing masks at that big meeting we had on COVID in a conference room that was packed," but we were making decisions based on the information in front of us.
You just make those decisions based on all the information you have in front of you on that day and then you move on from there, and then as you get more information, you remain flexible and you switch gears if you need to, and you move on. You don't have the time to dwell.
You just have to go with what you've got, and then adjust as necessary.
Was there any time in the last year and a half that you thought about quitting?
Oh, yeah. I say that as like the most honest answer ever. I think that if everyone was going to give you an honest answer who has worked on this response in the last year and a half, the answer is going to be, "Yeah."
But I feel like the biggest privilege of this job, the biggest honor and something that I'll never forget in my life, was sitting and watching the governor go through these really hard decisions when we're laying out every option we could possibly think of. He can barely talk about shutting down the Strip to this day. He tries to, but he can barely get out those words.
I've been reflecting a lot and thinking a lot about what crisis leadership means. To me, it's the ability not just to yell from the mountaintop and to say a lot of things, but it's the ability to actually make decisions when no one else wants to make them because they're all unpopular. They are going to all be lose-lose. The options could be crap, and the information you have in front of you is so limited, but you know you've got to move fast.
Having a leader who makes decisions, it was so inspiring. Seeing him do this day in and day out, quite frankly, was the reason why I think we all rallied at the end of every day, or at least the next morning. I know it kept me going in a lot of ways.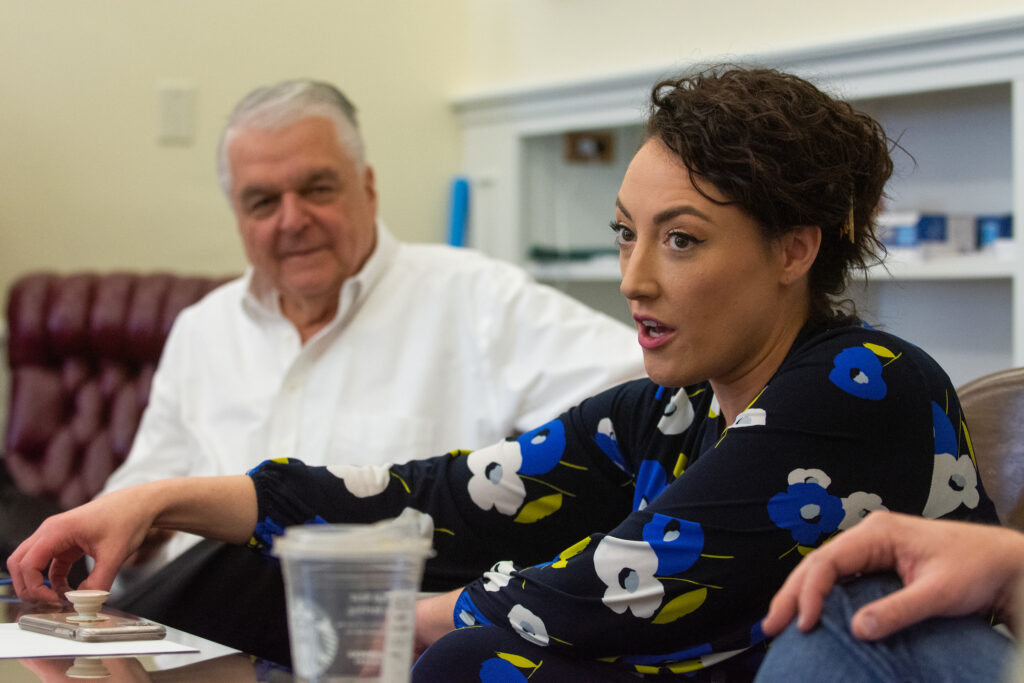 The governor, throughout his career, has earned a reputation for not being the easiest person to work with. As chief of staff, your role is to help the governor make the best decisions that you possibly can, and that sometimes means pushing back on him. How have you navigated that relationship?
I'm trying to think of another way to say it, but all I want to say is like, I love this guy so much.
I had heard those things before I joined the transition, and I remember going home and being like, "I just don't see it." It was like waiting for the shoe to drop, and I just didn't see it.
He is absolutely the most appreciative boss I've ever had. There isn't a day that goes by that he isn't going around telling the staff they're doing a great job, he knows we're tired, keep it up — including getting lots of snacks for the office, which sounds like a small thing, but is actually a really huge thing because we don't leave to go to lunch ever.
He has certainly become like family to me, and we all know that when it's like family, you can have honest conversations. You can say, "I don't know if that's going to work," or, "I don't know if that's the best thing to do," or, "Maybe we should do it like this."
We've absolutely had those conversations, I'm sure like every chief of staff and governor ever have had to have, and those have been some of our best conversations where we're in his back office, and we're talking it out and getting his perspective and mine and really going through it and navigating it.
He really listens. He is incredibly respectful about the opinions of folks in the office, and I think what's been really great and refreshing is he wants to hear those viewpoints from people who are not him in the office, who do not look like him, who are not his age, or not his skin color, or not his gender, or not his background. He's made a really intentional effort seeking the opinions and perspectives of people who, again, do not look like him and who, who will likely have experienced different impacts of certain policy decisions.
Is there anything you feel like the governor's office had to push aside because of COVID that you wish you would have accomplished during your time as chief of staff?
We rolled out the governor's family-centered government plan in January 2020, meeting with our cabinet, putting together sub-cabinet working groups under each issue area, and it was incredible. It was so exciting. It was a policy dream, for folks who are into that, to be part of those groups and really thinking about how we take Nevada forward. It's disappointing when that concerted effort has to kind of go to the side because shortly after we were in the middle of COVID, and that's where we've been.
But the focus has remained the same. The focus has remained on the same families and people and kids that we were trying to help under the governor's direction, when we rolled this out.
When he walked into that office, he made very loud and clear to this team that that's the people that we were going to be fighting for, working class Nevadans, these folks who've never been given the opportunity to succeed, we have to get to every kitchen table and make their lives a little bit better. They got hit the hardest by this. I just think all the time, what would it be like if he wasn't in that position to help this state get through it? I believe that if this was going to happen, then there's a reason why he was there. I feel really immensely honored that I had the opportunity to be by his side and help just be a little bit part of this. I'll never forget that for the rest of my life.
As you prepare to hand the reins over to incoming Chief of Staff Yvanna Cancela, what are the biggest hurdles she faces, and is there anything you wish that you had known coming into the position that you have shared with her?
I've tried to share everything I can possibly think of as far as what are those things I wish I knew about. I was like, "Here is a list of all of the boards, here's what they do, and here's how often they meet, and here's what briefings look like." There's those things that are just part of the office structure.
Luckily, Yvanna is an accomplished leader here. She was a legislator here, so she's so familiar with so many folks and has great state government experience. Many of the agencies loved working with her in the Legislature and had such great experiences. That's going to make the transition a million times easier.
The big things: We had multiple hours of briefings on COVID, on response, on things like this. But I always said to her, "My goal is to do whatever I can in this transition to set it up so that your next year and the governor's next year doesn't look like the last year where this office is so engaged every day in COVID response."
This office will always play a huge role in COVID response, the biggest decisions will come down to the governor and his direction and guidance. But being in every conversation at every level on every response effort, I think is going to be a challenge, and it is going to be a challenge to get out of that, but I think that's actually where she's going to be incredibly successful. It was a really big challenge for me and would remain one if I never decided to transition because I'm so invested, I'm so in it, I'm so in that world, it's been a part of my life for so long, so it's kind of hard to see outside of it sometimes.
For Yvanna, and why it's so exciting to have her there, is she brings us new energy, this new set of eyes on things the governor is going to really benefit from, and the office is too. I think all the teams and all the agencies will have renewed focus on other areas. Let's talk about recovery in a much bigger way. Let's talk about getting back to some of those goals that we were talking about beforehand. Let's talk about federal funding. That is going to be the biggest added value to the governor and to this state is having someone who's going to have a renewed focus on those things.
Will there be challenges? Absolutely. I mean every day ones that none of us could ever predict. But she's got this energy and this vision to really make sure we're handling the pandemic and empowering all those great leaders that have been identified over the last year and a half to really own these things and and building those teams out so that the governor and this office can focus on all these other great things like recovery.
Final question: What is next for you?
That is a great question. That is the question, and people always think I'm lying when I say this, but I don't know.
The God's honest truth about all this is this has been a dream job. I love this job so much, no matter how hard it was. It has been the most rewarding, fulfilling experience, even in the most challenging times, and working for the governor has really been the most rewarding experience.
These have been, gosh, 15-hour-plus days every day for probably the entire time and certainly last year and a half. I know and recognize that I need to take a break and this office deserves to have someone who's going to be really invigorated and excited about the next chapter.
I'm so excited to get a little bit of rest and be home and spend time with my family and then figure out my next steps in my next chapter and and have a little bit of a clear head when I do it.
Comment Policy (updated 4/20/2021): Please keep your comments civil. We reserve the right to delete comments or ban users who engage in personal attacks, use an excess of profanity, make verifiably false statements or are otherwise nasty. Comments that contain links must be approved by admin.