Indy Q&A: Steve Sisolak on ramping up testing, releasing prisoners and requiring masks in public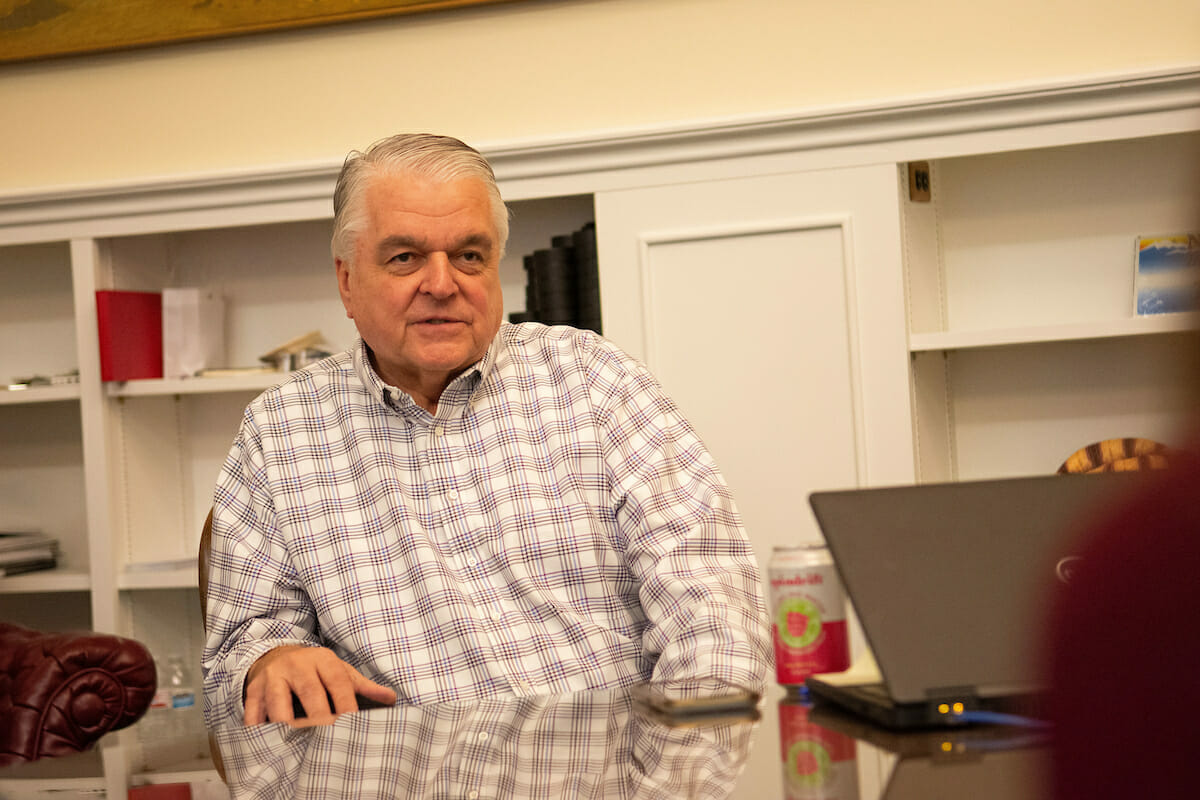 Gov. Steve Sisolak said that to reopen the economy, the state needs to significantly ramp up testing — two or three times the roughly 1,000 tests currently conducted daily — although he denied that he had ordered county health districts to reach specific numerical testing benchmarks.
In an interview with The Nevada Independent on Friday, the governor also gave more details as to how the state plans to analyze COVID-19 related data that will be used to determine when Nevada can move to a "Phase 1" of limited business reopenings that he detailed in a press conference on Tuesday.
He also hinted that stricter requirements on wearing facial coverings while out in public may be in the cards, while saying the state would likely make it mandatory for grocery and other "essential" store workers to wear masks while on duty.
The governor also explained why he hasn't convened the pardons board to discuss releasing inmates early, and weighed in on an unemployment insurance call center staffed by contractors that some say is unhelpful because its authority to fix snags is limited
Here are highlights from the conversation:
Testing capacity and business re-openings
While Washoe County Health District Officer Kevin Dick told reporters on Friday that Sisolak's office was requesting that they perform 1,000 tests a day by Monday — something he called a "stretch goal" and not possible with limited resources — Sisolak said he has not given state health offices specific benchmarks for increased testing.
"I didn't give a specific number, I just need them 'ramped up considerably' is the language I've used," he said.
The governor said the state was running about 1,000 tests a day, but would need two and a half to three times that amount in order to get to an "adequate" number.
During a press conference earlier this week, Sisolak said the state would need to see consistent decreases in positive cases and hospitalizations over 14 days before moving to a "Phase 1," where some businesses could begin slowly opening their doors and operating again.
Sisolak said during the interview that he would be looking at broader trends in testing as opposed to day-by-day analysis in making those determinations, saying that he was focused more on a rate of positive tests as opposed to raw numbers of positives because of issues with inconsistent reporting from state and local health authorities from day to day.
The governor said he understood the frustration of not having a solid reopening date for people and businesses to look forward to, but reiterated that moving too quickly could lead to a second spike of cases and additional stress on the health care system.
"I don't want to have two weeks on the front end here for people to say, 'Look, the governor let us off the hook if you opened up this business and that business and I'm happier for two or three days while it's that way'," he said." And then three weeks later I get this massive, massive spike again. It's a circle, let's shut it all back down, and we undid all of the good that we've done for the last six weeks."
Facial coverings
As some counties and states with high rates of COVID-19 infection have begun requiring individuals to wear masks or face coverings while out in public, Sisolak said he was "seriously considering" requiring and not just asking store owners and employees to wear masks while working.
But the governor said he was more hesitant to mandate the general public wear face masks, saying he was hopeful that individuals would comply with the recommendation without making it an official order from the state.
Still, Sisolak said he found it frustrating to see images of protesters not wearing masks or congregating en masse without six feet of separation, saying that ignoring those recommendations would likely continue spreading the virus and possibly open the door to stricter directives.
"The right to protest is extremely important to me," he said. "People have a right to protest and I have no problem with that whatsoever. I just wish that they would follow the protocols that have been set in place. If they don't, we're going to have to make a decision in terms of whether or not we want to strengthen that."
Prisoner releases
Asked about whether he would convene the powerful Board of Pardons Commissions he chairs to continue discussing the possible early release of prisoners, Sisolak said he had not made a decision and was waiting on more concrete recommendations from the Sentencing Commission — an advisory body comprising 23 people in the criminal justice field — before proceeding.
"They've given me no definition thus far. I've got no recommendation from the Sentencing Commission," he said. "I'd like to know what their recommendations are because they're there for a reason."
The Sentencing Commission had voted at a meeting April 13 to recommend the pardons board, which has the power to commute sentences, convene itself. But skeptics on the commission argued that commission members weren't providing much actionable information on whether reducing the prison population was an effective response to the pandemic.
Sisolak echoed that thought, saying he didn't want to schedule a meeting if the Sentencing Commission might decide the pardons board doesn't need to meet on the issue. He said he might make a decision after the Sentencing Commission meets on Wednesday and continues the COVID-19-related discussion.
"I think you have to take it step by step, and the first step is to get those recommendations," he said.
Some lawyers have raised doubts about the accuracy of the statistics coming from the Nevada Department of Corrections that indicate eight staff members in the agency have tested positive for COVID-19 but no inmates have. The agency has declined to say how many inmates have been tested, and critics wonder how many people have been screened or isolated on suspicion of having the virus.
"I'm confident that the numbers that they give me when I get them are accurate," he said. "I'm not getting a daily update on NDOC procedures, tests and positives. I mean it's not part of the review that I get every day as relates to hospitalizations, intensive care units and whatnot."
He said the situation is the same for institutions such as skilled nursing facilities, where he's given a "general view" but "it's not the specificity that you're speaking to specifically … we'll have to wait till they come forward."
Asked whether there would be quick action to depopulate the prisons if fortunes changed and inmates started testing positive, as happened last when inmates at the Clark County Detention Center tested positive, Sisolak said the jails and the prisons were different environments.
In the Clark County Detention Center, people were "sardines in there and they're really crowded in so [Sheriff Joe Lombardo] had no choice but to do (de-population)."
For prisons, however, "we do have the area where you can isolate, if that's the thing that we have to do. We have a little bit better treatment," Sisolak said.
The governor acknowledged that "you get a lot of folks that are really advocating like just, you got to cut them loose and release them and let them go." But he argued that housing, job prospects and health care are often dim on the outside.
"Are they better off where they're getting at least an opportunity, at least you know they got a place to sleep?" he said. "I don't want to put anybody in harm's way."
Asked about inmates whose family members insist they have a home to go to when they leave, Sisolak pushed back.
"Some of them say that … That family's not going to say they're going to provide health care coverage for them. It's that same family that's at the food bank trying to get food and they can't get enough food to feed the family they've got now," he said. "They put another person or two in that situation. That's the reality of it. What you're talking about sounds great, but we have to deal with reality and I'm trying to do it and I'm trying to balance it all in a responsible way."
Unemployment call center
Nevadans struggling to get a call in to the state's unemployment system saw glimmers of hope when the state announced a call center expansion that would add 100 operators. But many who have tried it reported the new operators, who can only speak generally about the unemployment system and cannot resolve specific claims, have been useless to them.
"I certainly hope it proves to be worthwhile," Sisolak said when asked if it was a worthy investment, adding that in spite of the complaints, "nobody's telling those stories about people that did get their checks and are at least able to buy groceries and take care of their families. People are focusing on the ones that didn't get through. I understand that those are a problem."
Claims that are held up often emerge because of disputes, such as an employer challenging the reason why a particular employee left — whether they were laid off or hired — and whether they can prove things with pay stubs or whether a name is misspelled
Sisolak said those hangups take up "an enormous amount of time for the customer service person to work through … And that's what's causing this delay here, but we will continue working with them one at a time to try to get through them all."
Asked if the employees with contract call center Alorica could be given expanded access to the unemployment insurance system, or whether more employees were being trained to address those technical complications, Sisolak pointed to the complexity of the subject matter.
"A lot of the information is very specific and statutory. And there's regulations that it deals with and these folks on the private side are not familiar with what those regulations and rules are," he said. "But we will continue to pursue increasing capacity, whether that's more people, extended hours, 'til we get a handle on all these claims."
The Nevada Independent is raising $200,000 by Dec. 31 to support coverage of the 2024 election.
Tax-deductible donations from readers like you fund this critical work.
If you give today,your donation will be matched dollar-for-dollar.
Give + Get Matched
Featured Videos