Lawsuits aim to block ballot questions on voter ID, mail voting rollback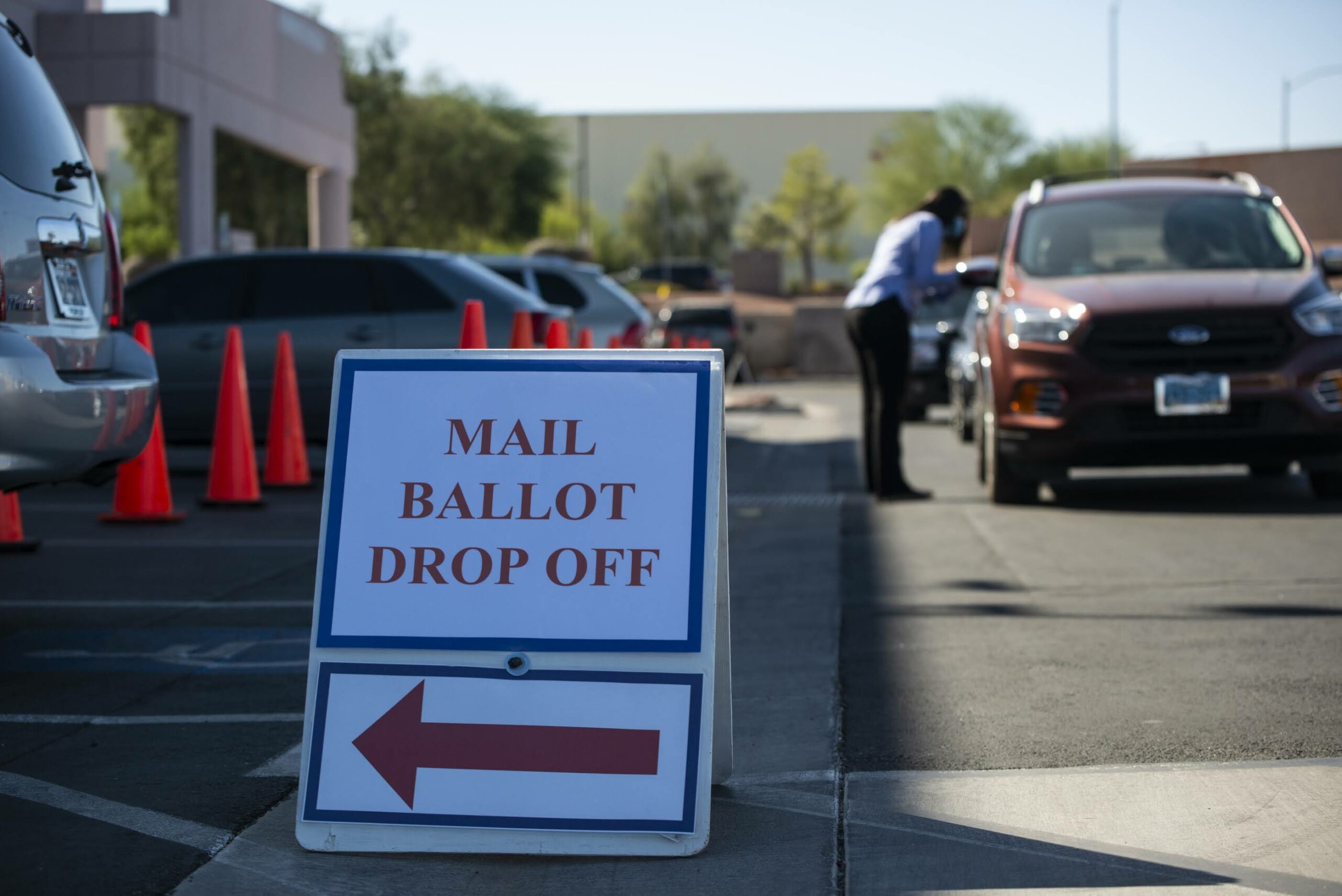 Recently filed legal challenges by Democrat-aligned activists could halt the progress of two Republican-led ballot initiatives to implement voter identification laws and repeal portions of a broad mail-in voting measure passed in 2021.
The lawsuits filed in district court in Carson City last month both allege that the descriptions of the ballot measures proposed by "Repair the Vote" PAC are argumentative, confusing and misleading, and therefore, violate Nevada law. "Descriptions of effect" are 200-word summaries included on signature-gathering forms for ballot questions, and are often challenged by political opponents.
The attorneys filing on behalf of Eric Jeng and Emily Persaud-Zamora, two progressive community activists in Nevada, are asking the court to prohibit the secretary of state "from placing the petition[s] on the 2022 general election ballot, or from taking any further action on it."
Jeng said he is taking part in the lawsuit to ensure continued voting access in Nevada.
"As a community organizer and advocate, I feel strongly about defending democracy and protecting access to the ballot box," he said.
Both lawsuits were filed by attorneys with the firms of Wolf, Rifkin, Shapiro, Schulman & Rabkin LLP and Elias Law Group LLP, both well known for representing Democratic Party candidates and causes.
The initiative petition seeking a voter ID requirement would obligate voters to show a photo identification card — such as a driver's license, passport or student ID — before receiving a ballot when voting in person. People 70 and over could show an expired ID as long as it is otherwise valid; others would have to show a current ID or one that is not more than four years expired.
It would also mandate that those voting with mail-in ballots provide the last four digits of their driver's license number or Social Security number. If the voter has neither, they could give a number assigned to them by a clerk when registering to vote. As it stands, voters who receive a mail ballot only have to sign it with a signature that matches the one on file and are not required to provide other documentation.
The lawsuit challenging the initiative argues that though petitioners characterize it as a "voter integrity" measure, the description contains no information on the measure's effect on voters' ability to cast a ballot. Attorneys added that the law's implementation would likely be costly, violating the Nevada Constitution's ban on ballot initiatives requiring the state to spend significant money without a dedicated funding source.
"The negative effects of strict voter identification laws like those the petition proposes are well documented," the complaint said. "The need for such measures to safeguard 'voter integrity' and prevent voter fraud has been widely debunked and discredited."
The other petition, also filed by Repair the Vote PAC, aims to repeal portions of AB321, a bill passed during the 2021 legislative session that makes permanent a system of expanded mail balloting used during the 2020 election cycle. The referendum focuses only on the portions that direct clerks to send mail ballots to all active registered voters unless they opt out, and that allow other people to turn in a ballot on behalf of a voter if the voter allows — a practice known as "ballot collection" or "ballot harvesting."
Again, the legal complaint says the petition uses a description that is "argumentative, confusing, deceptive or misleading." Additionally, the lawsuit alleges that the description fails to include information that the initiative "would do away with protections given to voters who may need assistance completing and delivering their ballots due to age, physical disability or the inability to read or write."
"This blatant omission prevents voters from being informed of the petition's true effects," the filed complaint said. "If repealed, a voter who cannot read or write, is physically disabled, or is over age 65, would no longer be able to obtain this assistance — and it is yet another reason the description is invalid."
David Gibbs, a former president of the Nevada Republican Club and chairman of the Clark County Republican Central Committee who ran unsuccessfully as a Republican to represent Nevada's 4th Congressional District in 2018, is leading the "Repair the Vote" PAC. In an interview Tuesday, Gibbs said signature-gathering is continuing and he and other organizers believe that the language is fine and they will prevail in court.
He called the lawsuit "frivolous" and said that while he did not have a count for how many signatures he and others had gathered so far, the move toward voter ID laws is popular.
"The courts are not going to change the will of the people. So they're going to go, 'Hey, the people get a chance to decide this, not some … D.C. elite law firm,'" Gibbs said. "[People] need to have the faith that when they fill out their ballot, it's going to be delivered and it's going to be counted."
Republican attorney general candidate Sigal Chattah tweeted that she filed two motions on Monday to intervene on behalf of Repair the Vote PAC "to preserve voter integrity in our state."
Chattah, an Israeli-born Las Vegas attorney, is best known for leading lawsuits challenging COVID-related church closures, vaccine rollout priorities, the Legislature's COVID restrictions and mask mandates for school districts.
If either proposal survives the legal challenges, backers need to collect signatures of 10 percent of voters who cast a vote in the 2020 election to make it on the ballot. That's 140,777 valid signatures, with at least 35,200 from each of the state's four congressional districts, by a June 29 deadline.
Any language changes to the proposal as it goes through the court would result in previous signatures no longer being valid, with backers needing to regather old signatures.
Referendums, such as the one seeking a partial repeal of AB321, only need to pass a statewide vote once to take effect. But if a referendum qualifies for the ballot and fails, the challenged language can no longer be modified by state lawmakers — only a direct vote by the people could further change it.
In the event that organizers have to change the description and re-gather old signatures, so be it, Gibbs said.
"If it means we've got to start all over, we'll start all over," he said.
The Nevada Independent is raising $200,000 by Dec. 31 to support coverage of the 2024 election.
Tax-deductible donations from readers like you fund this critical work.
If you give today,your donation will be matched dollar-for-dollar.
Give + Get Matched
Featured Videos