Laxalt Senate bid gets a Trump boost through 10-minute 'tele-rally'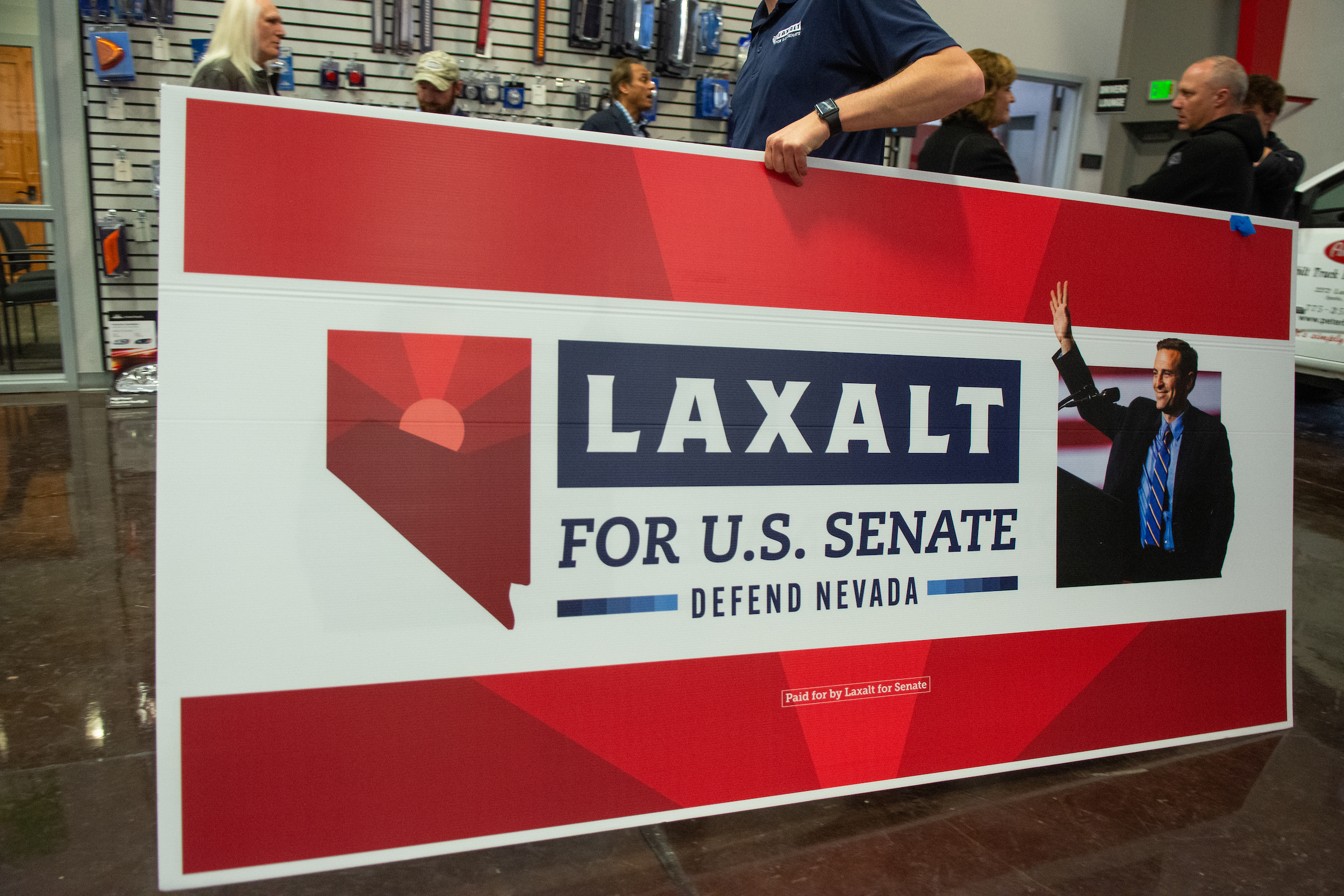 After touting former Attorney General Adam Laxalt's U.S. Senate bid for months, former President Donald Trump made a final push for Laxalt in a 10-minute long "tele-rally" with Laxalt on Wednesday evening ahead of the June 14 primary.
"[June 14] happens to be my birthday," Trump said on the call. "So if you would give me a nice birthday present — and that's Adam, give me Adam as a birthday present."
Calling Laxalt a "true warrior for conservative principles and the MAGA agenda," Trump also said the Senate hopeful "fought tirelessly against Barack Hussein Obama's unconstitutional overreach" during his one-term stint as attorney general.
During a short, five-minute-long speech, Trump also praised Laxalt's positions on the Second Amendment and called him a "rock-solid defender of the election integrity in your state where they're so corrupt."
"He stood up to the radical Democrats, where they rewrote your election laws just months before the 2020 election, which they're not allowed to do," Trump said, referencing an expansion of mail-in voting by Nevada's Democrat-controlled Legislature that summer.
A lawsuit filed by the Trump campaign aiming to undo the law was eventually dismissed in September 2020.
And in what appeared to be an oblique reference to Laxalt's primary challenger, veteran Sam Brown, Trump said that Laxalt "is the only candidate who can win a resounding victory against the terrible senator, terrible, not respected in any way, shape or form, Catherine Cortez Masto."
Taking over the call after Trump's remarks, Laxalt touted his chances in November, calling Nevada "one of the best matchups [for Senate Republicans] in America" and made reference to billionaire George Soros, one of the biggest donors for Democrats nationwide who is often at the center of far-right conspiracy theories.
"George Soros has already spent a couple million dollars in this race to try to take me out because they're deathly afraid of us defeating Senator Masto in November," Laxalt said. "This is our shot to flip our state back."
A spokesman for the Laxalt campaign did not immediately respond to a request for information on the number of attendees who called in to Wednesday's tele-rally.
Trump's appearance — though it was over the phone — marks the latest in a series of endorsements for Laxalt from the party's conservative wing, and comes as Trump himself looks to cement the power of his endorsement on primary tickets ahead of a possible presidential bid in 2024.
Trump formally endorsed Laxalt's Senate bid in December, and Laxalt has since relied heavily on that support — alongside others, such as that of Florida Gov. Ron DeSantis — in his campaign advertising.
That includes an ad buy earlier this month with a direct-to-camera ad from Trump, who gave Laxalt his "complete and total endorsement."
Laxalt served as the Trump campaign's Nevada co-chair in 2020, and was later central in both media appearances casting doubt on the validity of the presidential election with unproven claims of widespread voter fraud, and, later, in a lawsuit challenging the state's ability to clean up voter rolls.
In a debate last month, accused by Brown of having not done enough to challenge the election results, Laxalt said both that he "sounded every alarm imaginable" following the 2020 election and that he deferred responsibility on other major election lawsuits to the Trump campaign proper.
"The reality is presidential campaigns are run by the national presidential campaign," Laxalt said at the time. "It's always done that way. I was incredibly upset that action came late, but I wasn't in charge. And President Trump understands what happened. He's not happy with it."
In an unexpectedly competitive Republican Senate primary, Brown has emerged as Laxalt's chief rival. He has raised nearly $4 million cumulatively since launching his campaign last year, and in the final few weeks of the primary has sought to blanket the airwaves in a bid to boost his name recognition.
Still, he has lagged Laxalt both in broader resources, support from outside groups and in early polls. The former attorney general has brought in more than $5.8 million cumulatively, been buoyed by another $1 million in outside spending, and only as recently as last month dipped below 50 percent support in public polling.
That outside help has continued into the final days of the election, including another $100,000 on television ads bought by Club for Growth Wednesday, a group that has endorsed Laxalt.
That result came from a recent Nevada Independent/OH Predictive Insights poll, where Laxalt still led Brown by 15 points — 45 percent to 30 percent — with a 4.4 percent margin of error. Another poll of likely voters from 8 News Now/The Hill/Emerson College in early May showed an even larger 23-point lead for Laxalt — 50.1 percent to Brown's 27.1 percent — with a 3-point margin of error.