Poll: Laxalt has 15 point lead over Brown ahead of upcoming GOP Senate primary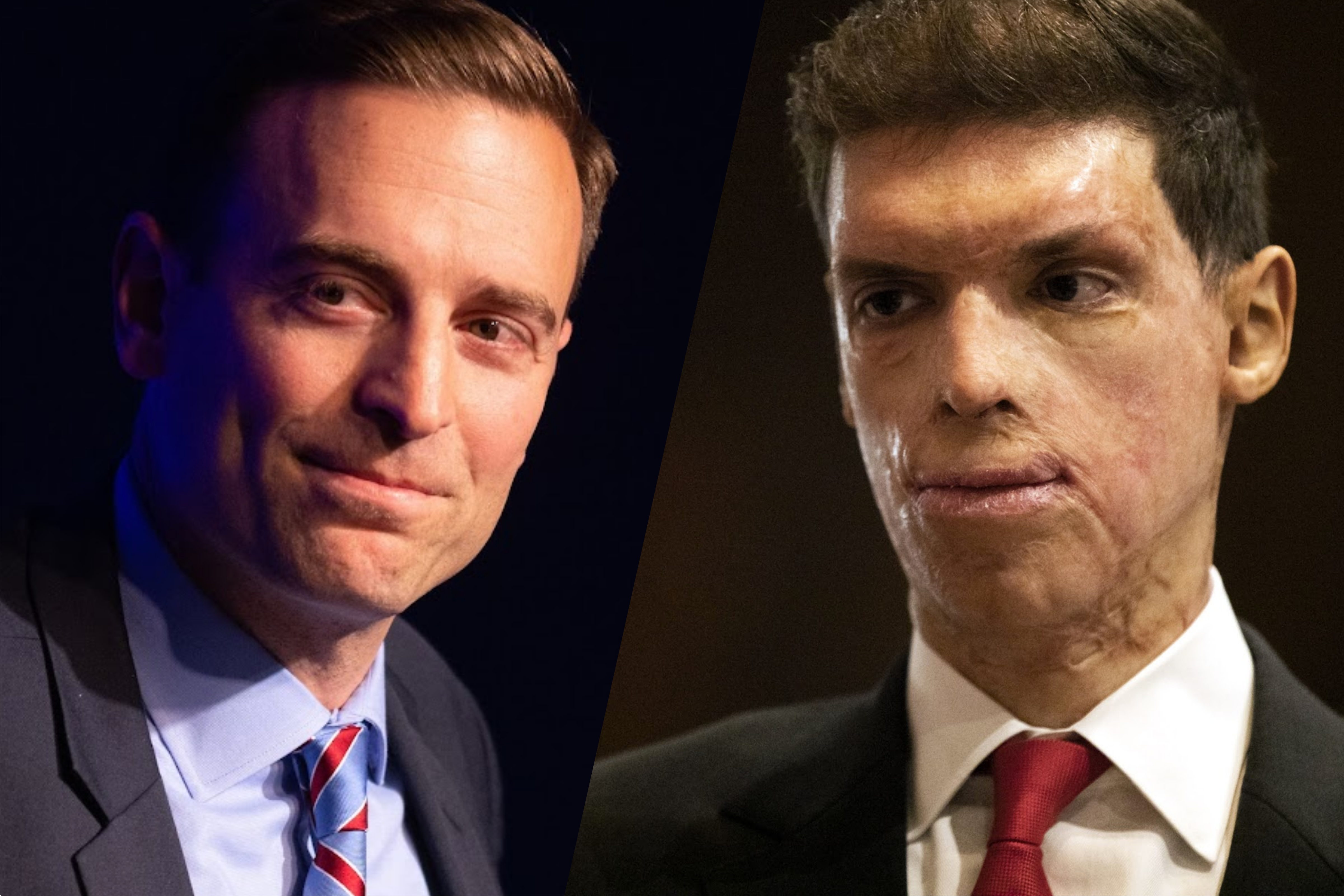 Political newcomer Sam Brown has made Nevada's U.S. Senate Republican primary a two-person race, but former Attorney General Adam Laxalt remains the odds-on favorite to win the June 14 contest, according to a new Nevada Independent/OH Predictive Insights poll.
The poll of 500 likely GOP primary voters, conducted between May 10th and May 12th, showed Laxalt winning 45 percent of voters with Brown taking 30 percent. The poll had a 4.4 percent margin of error.
"I think Laxalt is in a good position, but not in a safe position right now," Mike Noble, chief of research and managing partner of OH Predictive Insights, said in an interview.
Noble added that Brown has surprised many by becoming Laxalt's most competitive opponent, but the race still appears to be Laxalt's to lose. Having won a statewide election to become attorney general in 2014 gave Laxalt a significant advantage, along with endorsements from top party officials including former President Donald Trump and Florida Gov. Ron DeSantis. He is also the grandson of the highly influential former Nevada Sen. Paul Laxalt.
Still, the new numbers show a shrinking lead for Laxalt as compared to previous polls, and also mark the first time that Laxalt — for years one of the most prominent Republicans in Nevada following his failed 2018 bid for governor and his role in Donald Trump's re-election campaign — has dipped below 50 percent support in early primary polls.
A May 4 survey from 8 News Now, The Hill and Emerson College showed Laxalt leading Brown 50.1 percent to 27.1 percent among likely voters. Another earlier poll of likely voters, conducted by the conservative PAC Club for Growth (which endorsed Laxalt) and WPA Intelligence in March, showed Laxalt with 38 point lead (57 percent to Brown's 19 percent).
Brown has intensified television, digital and radio advertising off the back of three quarters of raising at least $1 million in campaign cash — coming close to matching Laxalt's reported totals.
But time is running out for Brown to make up ground. Mail ballots are being sent out across the state, early voting is set to begin in just nine days, and fewer than four weeks remain before election day.
"Sam Brown really needs to pull out whatever stops he can if he wants to pull off a victory come primary day," Noble said.
The primary winner will go on to face incumbent Democrat Sen. Catherine Cortez Masto, who was first elected to the seat in 2016 by a margin of 2.4 percentage points in a race against then-Rep. Joe Heck. No well-funded primary challengers to Cortez Masto have emerged on the Democratic side.
The poll showed that 11 percent of voters remain unsure of which candidate to support, and 8 percent selected "none of these candidates." Nevada has offered a "none of these candidates" option on the ballot since 1976.
Noble sees both camps as undecided voters that are still up for grabs. Historically they have broken along the existing trend lines, which would favor Laxalt.
Another hurdle for Brown is that Laxalt has the coveted Trump endorsement. The former president remains extremely popular with Nevada GOP voters — Trump is viewed favorably by 85 percent of Republican voters polled.
"Trump's still incredibly influential in the GOP primary," Noble said.
Noble compared Trump's favorability with the 73 percent of GOP voters who viewed the Republican National Committee (RNC) favorably. He said the difference reflects the schism in the party over Trump and the need for party leaders to work with the former president to galvanize GOP voters.
In addition to Trump, Laxalt has been endorsed by some of the more prominent conservative Republicans in the country, including Texas Sen. Ted Cruz, Arkansas Sen. Tom Cotton, Missouri Sen. Josh Hawley and DeSantis.
Those endorsements have already translated into support on the campaign trail, where Cruz, DeSantis and former Secretary of State Mike Pompeo have stumped for Laxalt in both Northern and Southern Nevada over the last month.
Laxalt was also the choice among those who identified as conservative, with 49 percent backing the former attorney general. About a third of conservative voters, 33 percent, support Brown.
That also augurs well for Laxalt because there tends to be more conservative voters in GOP primaries, Noble said. Of those polled, 71 percent identified as conservative, while 28 percent identified as moderate or liberal.
Similarly, Laxalt took the lion's share of votes in Clark County, the state's most populous, 46 percent to Brown's 29 percent. He also beat Brown in Washoe County, 44 percent to 31 percent, and the remaining parts of the state, including the ruby-red conservative rural counties, 44 percent to 34 percent.
Most voters surveyed (39 percent) said jobs and the economy were the state's most pressing issues, followed by immigration at 26 percent and education at 14 percent.
The figures reflect areas of criticism the GOP has focused on, including inflation, which remained at a nearly 40-year high in April. Both Laxalt and Brown have seized on the economy — especially inflation and fuel prices — as a core campaign issue, often tying Cortez Masto directly to the spending policies of President Joe Biden and congressional Democrats at large.
Republicans have also been critical of increased numbers of undocumented border crossers.
The number of encounters reported by Customs and Border Protection rose to its highest level in two decades this year, and comes as Republicans and some Democrats in Congress have railed against efforts by the Biden Administration to lift Title 42, a Trump-era policy that has largely blocked asylum seekers from entering the country.
As progressive Democrats and immigration advocacy groups have pushed the White House to act, moderate Democrats across vulnerable swing states — including Cortez Masto — have bucked Biden's plans and called for a delay on the end of Title 42.
Noble said those issues tend to follow the "national narrative" and the diet of conservative media consumed by GOP voters.
"It's mainly due to the national narrative and what mainly has been talked about, which is jobs, the economy and immigration," Noble said.
Find the poll results and crosstabs here.
The Nevada Independent is raising $200,000 by Dec. 31 to support coverage of the 2024 election.
Tax-deductible donations from readers like you fund this critical work.
If you give today,your donation will be matched dollar-for-dollar.
Give + Get Matched
Featured Videos