No clear motive in Las Vegas Strip shooting that killed 59, injured 527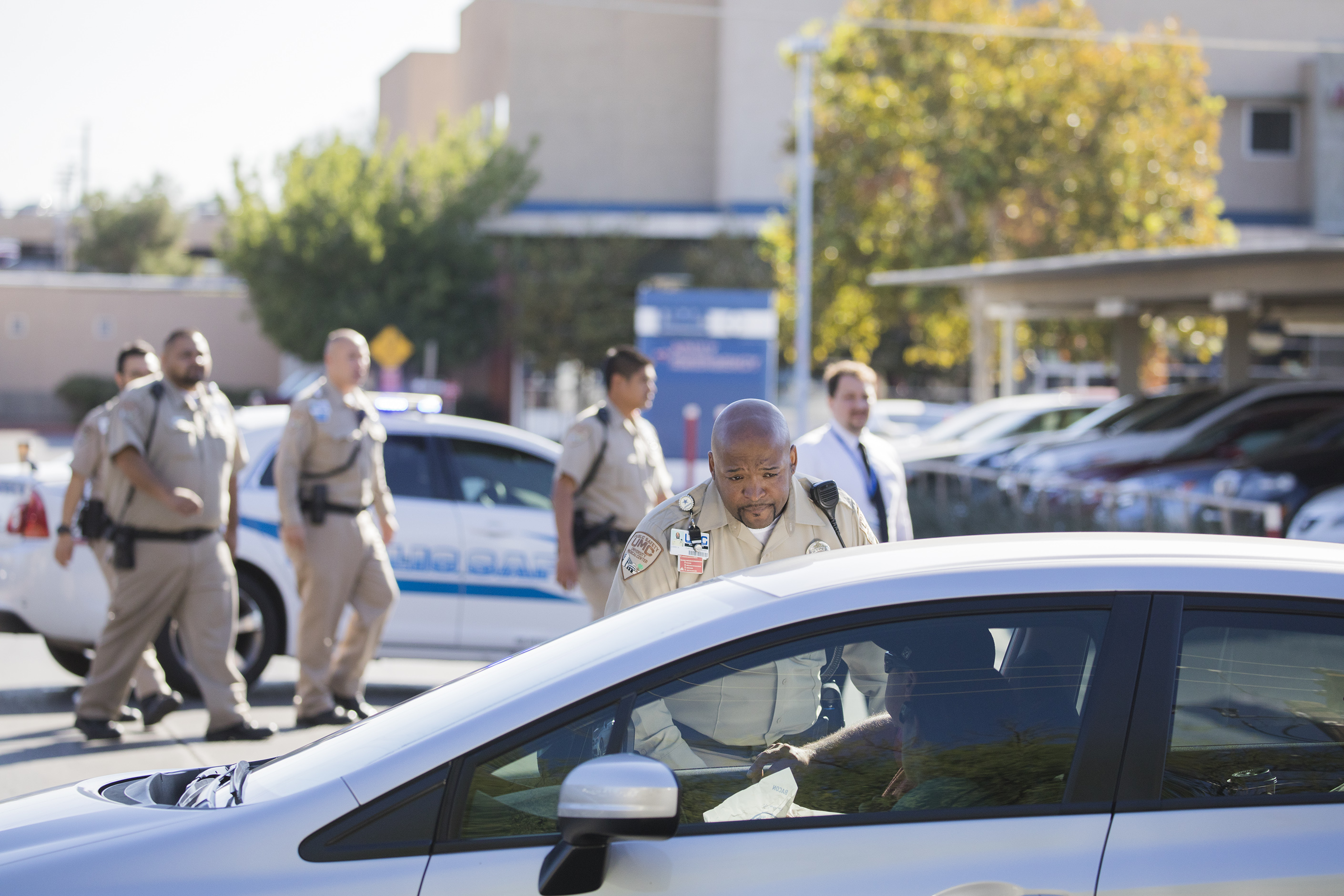 Authorities are still at a loss to explain why a man opened fire on a Las Vegas Strip country music concert Sunday night, killing 59 people and injuring 527 more in what's now the worst mass shooting in modern U.S. history.
Sheriff's officials said Monday that authorities found 23 firearms, some with scopes, in the Mandalay Bay Resort room that 64-year-old Stephen Paddock used as a staging area for the Sunday night massacre. They found 19 more firearms, the explosive substance tannerite and several thousand rounds of ammunition upon raiding his home in Mesquite.
Meanwhile, so much blood was given that police advised donors to wait a few days, and more food arrived at a center for victims' families than police knew what to do with. An online crowdfunding account had amassed $2.2 million by Monday evening, with 30,000 individual donors pitching in.
"The hate that this one individual, this lone wolf, rained down on our community … was met with an outpouring of love by our entire community and we will get through this together," said Clark County Commission Chairman Steve Sisolak.
Police said Paddock, the lone suspect, killed himself before police entered his two-room suite. SWAT teams were used when law enforcement later tried to access Paddock's Mesquite home and another residence in Northern Nevada — a precaution in case they were booby-trapped, Lombardo said.
The scene of the shooting, an open lot where country musician Jason Aldean was playing to a crowd of about 22,000 at the Route 91 Harvest Festival, was more than 500 yards from a 32nd floor window Paddock broke and shot from. Clark County Coroner John Fudenberg said bodies have been removed and taken to the coroner's office, but the area was not yet cleared enough that festival attendees could come back and retrieve personal belongings they left behind.
The death toll makes the incident the worst mass shooting in recent U.S. history, following the killing of 49 people at Pulse nightclub in Orlando in 2016. Sandoval called it an unimaginable tragedy.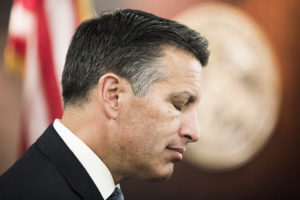 "To the families and friends and to the victims, we're sorry. We're sorry that this has happened. My thoughts and prayers are with them. My heart is broken," he said in an interview Monday afternoon. "I'm angry that this has happened. That some coward like that would do something like that and murder innocent people in the most brutal way imaginable. I'm very, very sorry."
Lombardo said police have identified a female person of interest named Marilou Danley, who was apparently Paddock's girlfriend and roommate. She appears to be in Tokyo and authorities are making arrangements to interview her upon her return to the country.
Danley was not with Paddock when he checked into the hotel on Sept. 28, though Paddock was using Danley's slot machine card, which is how police got ahold of her name, according to Sisolak.
Police have still not released a possible motive for Paddock, and said the mass shooting did not appear to be an act of terrorism. An FBI official confirmed that there did not appear to be any connection between Paddock and extremist groups such as ISIS.
Assistant Sheriff Todd Fasulo stressed that the agency had the situation under control.
"We know of no known threats in our Las Vegas area," he said. "If we did know of anything that could harm the safety of our citizens, we would tell you that and our department would act on it."
The FBI has provided authorities with the tools to evaluate Paddock's electronic devices, although that analysis hasn't been completed, according to the sheriff. No manifesto has been found, he said.
The Nevada Gaming Control Board assisted Metro Police and the FBI with the initial investigation, including at the suspect's house in Reno, and will continue to do so, officials said. The regulatory agency is gathering information about Paddock's gambling habits and dealings with gaming licensees, which will be turned over to the police and FBI.
"We will look at how the incident unfolded from start to finish (including his first visit to the property) to determine best practices going forward," GCB Chairman A.G. Burnett said in a statement. "If need be, we will issue regulatory guidance."
Two police officers were injured, including one who was recently upgraded from critical to stable condition and another who sustained non-life threatening wounds. One off-duty police officers attending the concert lost his life, Lombardo said.
Victims were transported to hospitals all over the Las Vegas area; the nearby Sunrise Hospital and Medical Center treated 180 patients overnight, with 14 victims passing away. Security guards flanked the entrances of the hospital on Monday morning as an eerie quiet descended over the hospital's exterior.
University Medical Center, Nevada's only Level 1 trauma center, took in 104 victims. Four died, and 12 were in critical condition as of late Monday morning, according to spokeswoman Danita Cohen.
Multiple people posted videos on social media Sunday night of what sounded like rapid gunfire interrupting the performance, which was being held across the street from Mandalay Bay. Aldean kept singing for a few moments as the shots rang out before stopping and scrambling from the stage.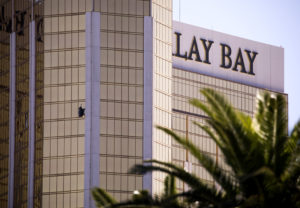 Attendees were apparently confused by the gunfire and where it was coming from, initially thinking it was fireworks. Video from the scene show people fleeing in terror, and fire department officials say victims suffered injuries from gunshots, shrapnel, trampling and trying to climb out from the venue.
Israel Cabanas, a 33-year-old performer who attended the festival, said he and other attendees broke apart metal barriers to use as makeshift gurneys to transfer the injured away from the scene.
"We were all just trying to help and save as many as we could," said Cabanas, a former corrections officer.
Authorities were tipped off to Paddock's exact location when the shooter fired at a security guard, injuring the worker. Sisolak said that police later threw a flash grenade into Paddock's hotel room and broke down the door, but he was already dead.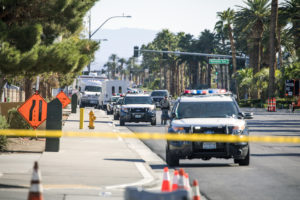 Paddock only had one minor citation and did not show up on law enforcement radar, he said. Lombardo said authorities also found ammonium nitrate, a fertilizer that's common in explosives, in the suspect's car.
Las Vegas has long prepared for the possibility of a large-scale attack or other mass-casualty incident on the Strip. In late 2015, a car mowed down dozens of pedestrians on Las Vegas Boulevard in front of the Paris hotel in an incident that was not deemed a terrorist act.
In the wake of that incident, state and local law enforcement beefed up their preparations for the city's New Year's Eve festivities, which draw about 300,000 tourists annually. Local police stepped up staffing numbers and asked people not to bring bags or strollers into the crowd.
Still, the images coming from the Strip on Sunday night elicited heartfelt and fearful commentary from Nevada residents and leaders alike on social media.
Keep us in your thoughts - its a very difficult and tragic evening for a lot of people #prayforvegas, #PrayForLasVegas #vegasshooting #vegas pic.twitter.com/7WjYRdHhx1

— Clark County Nevada (@ClarkCountyNV) October 2, 2017
October 2, 2017
October 2, 2017
Going to TRY to go to sleep. I am horrified of what I may wake up to. Who do I know that was there and hurt? Killed? #LasVegas

— Rebecca K. (@Rebeksy) October 2, 2017
Sandoval was in Las Vegas Monday to meet with law enforcement, first responders and to console victims, their families and friends. He also signed two executive orders — one to clear the way for out-of-state medical personnel to work in Nevada, and another to release state aid to the situation.
President Donald Trump said on Monday in a brief appearance that he planned to visit Las Vegas on Wednesday. White House Press Secretary Sarah Huckabee Sanders said the president would visit with grieving friends and family of the victims, offer support to the injured and thank first responders for their swift response to the incident.
Sanders shared the stories of several concertgoers who risked or gave their own lives to defend loved ones and complete strangers. Sonny Melton, a 29-year-old from Tennessee, lost his life protecting his wife, Heather, of one year.
"When the bullets began raining down from above, Sonny shielded her from danger, selflessly giving up his life to save hers," Sanders said. "They had been married for just over a year."
Other stories included a 53-year-old man who shielded 20-year-old students, a woman and her fiancé who helped ferry the injured to nearby hospitals in their pickup truck and a police officer who acted as a human shield for a woman he didn't know.
Community members quickly lined up to assist the victims, with so many offering to give blood that there were 5 to 8-hour waits at donation centers, Sisolak said. A center for families of victims was so deluged with food, water and other gifts that the commissioner said they essentially can't take any more.
Both the Church of Jesus Christ of Latter-day Saints and the bishop of the Diocese of Las Vegas offered prayers for the victims and their families on Monday.
"Our hearts go out to everyone. We are praying for those who have been injured, those who have lost their lives, for the medical personnel and first responders who, with bravery and self-sacrifice have helped so many," said Joseph Pepe, bishop of the Dioceses of Las Vegas. "We are also very heartened by the stories of all who helped each other in this time of crisis."
"To all of those affected by the horrific events in Las Vegas, we offer our deepest condolences and heartfelt prayers," the LDS church said in a statement. "We pray for those who are mourning the loss of loved ones and for those who are seeking to recover from the physical and emotional wounds they are suffering. May God bless them with the peace and comfort only He can provide in such tragic and heartbreaking moments."
This story is being continually updated.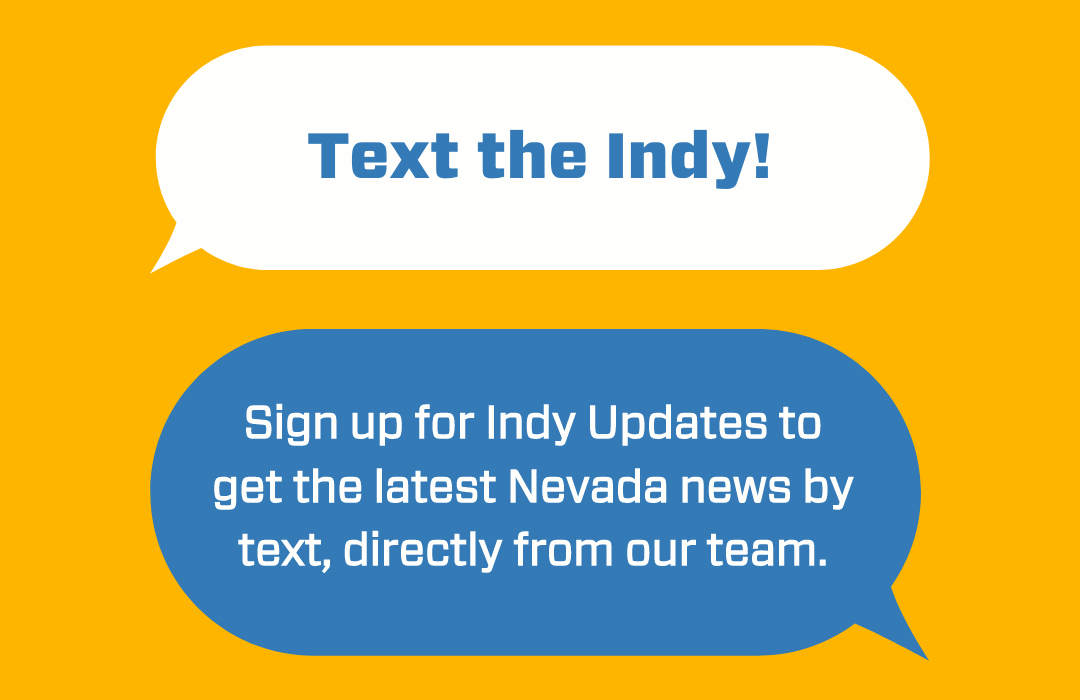 Featured Videos
Comment Policy (updated 4/20/2021): Please keep your comments civil. We reserve the right to delete comments or ban users who engage in personal attacks, use an excess of profanity, make verifiably false statements or are otherwise nasty. Comments that contain links must be approved by admin.