Congresswoman and U.S. Senate hopeful Jacky Rosen speaks at the Nevada State Democratic Convention at the Grand Sierra Resort in Reno, Nev., Saturday, June 23, 2018. (David Calvert/The Nevada Independent)
McConnell-linked super PAC up with new ad attacking Rosen over votes on stopgap spending bills
September 11th, 2018 - 7:27am
Focus: Democratic Rep. and U.S. Senate candidate Jacky Rosen
Who's paying for it: Senate Leadership Fund, a super PAC linked to Senate Majority Leader Mitch McConnell
Size of buy: $1,000,000 on broadcast, cable, radio and digital
When it starts: Sept. 11
Where it's running: Statewide
The gist: Senate Leadership Fund is accusing Rosen of voting to shut down the government in this new ad. The 30-second spot points stopgap spending measures late last year and early this year that Rosen and many other House Democrats voted against amid tense budget negotiations and an interview in which she said she would "never vote to shut down the government." However, in each vote, Rosen and her fellow Democrats opposing the measures were in the minority in voting no, and their votes did not actually help shut down the government in those instances. The government did briefly shut down in January following a Democratic filibuster in the Senate.
The ad also notes that one of those spending bills contained an extension of funding for the popular Children's Health Insurance Program (CHIP) and attacks Rosen for "holding health care funding for low-income children hostage." It also repeats a now frequent attack that Rosen missed a vote on veterans when she traveled to the southern border to visit a child detention center amid intense debate over the Trump administration's policy of separating undocumented children from their parents after being caught crossing the border illegally.
Watch the ad below:
Updated 9-11-18 at 7:45 a.m. to include additional information about the government shutdown votes.
INDY FAST FACTS
Jacky Rosen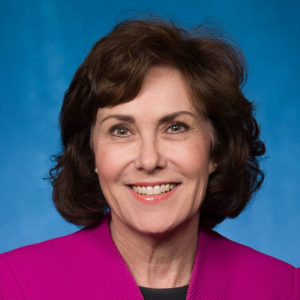 Job:
 Member of the U.S. House of Representatives Nevada's 3rd Congressional District
Party:
Democrat
In current office:
2017-present
Birthdate:
August 2, 1957
Education:
University of Minnesota, Twin Cities (B.A.)
Other public offices held:
None
Total donations: 
$
9,013,380
 (
1/1/16-5/23/18
)
Top donors:
EMILY's List $178,768 League of Conservation Voters $80,270 DE Shaw & Co $69,500 University of Nevada $40,038 Omni New York $32,400 Last Report: 6/1
1/18
Credit: Center for Responsive Politics
From the Editor
The Nevada Independent
is a 501(c)3 nonprofit. We need help to attain the elusive goal of sustainability. We depend on recurring donations from you, the readers who believe in our mission of nonpartisan, transparent journalism. I know you are busy. I know you have many commitments. But if you would take a moment to
support our work
or bump up your current donation, I would be forever grateful.
Thanks for all of your support.
Best,
Jon Ralston
get our morning newsletter,
The Daily Indy
Stars & Struggles
Take a peek into today's education world through the lens of Sunrise Acres Elementary School in Las Vegas.
@TheNVIndy ON TWITTER