Monroe-Moreno elected NV Dems chair, ousts democratic socialist incumbent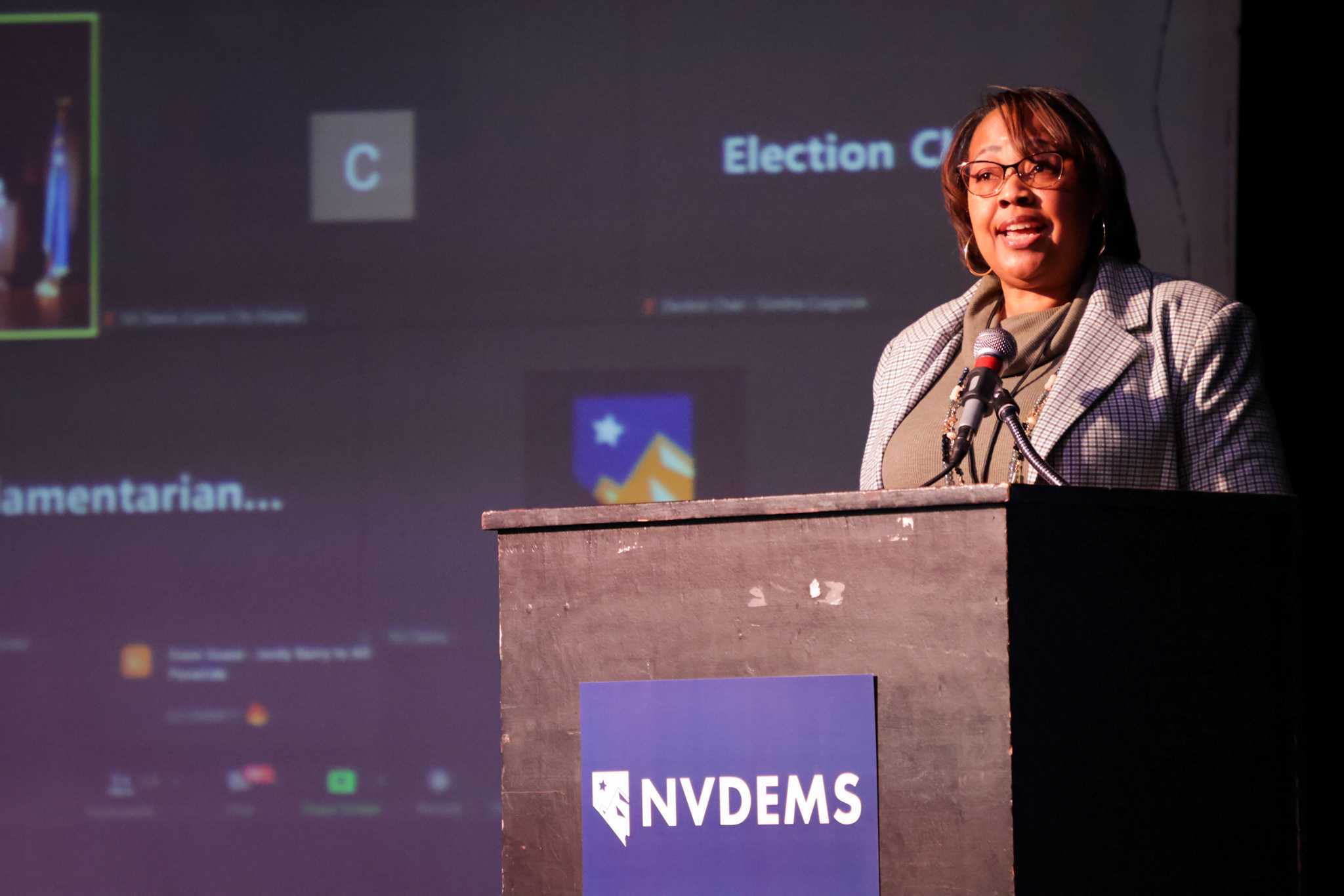 Assemblywoman Daniele Monroe-Moreno (D-Las Vegas) was elected chair of the Nevada State Democratic Party Saturday, ousting incumbent chair Judith Whitmer in a vote of 314-99 — a rebuke of Whitmer's leadership ahead of key Senate and presidential races in 2024.
Monroe-Moreno led a self-styled "unity" slate of candidates, touting a bid to re-form the party's inner workings following a split between the Whitmer-controlled state party and a separate group, Nevada Democratic Victory (NDV), in 2021. All of the candidates for party office on Monroe-Moreno's "unity" slate won on Saturday, over a competing slate of candidates led by Whitmer.
Speaking to reporters after her victory, Monroe-Moreno said that "2024 is far too important, and the division within our party had to come to an end."
"It wasn't going to do anyone any good," she said. "The 2022 election cycle was difficult. We won a lot of seats, but we did it with division and we can't continue to do that. So I ran so we can bring the family, the Democratic family, back together."
After Whitmer and a group of democratic socialists were elected to party leadership positions, chair, party staffers and consultants — many affiliated with the "Reid Machine" for former Sen. Harry Reid — quit the party en masse. Staffers also transferred a significant amount of party funds to a new organization, Nevada Democratic Victory (NDV), housed within the Washoe County Democratic Party, in a bid to work directly with major campaigns without the involvement of the state party.
Whitmer has long criticized the move, calling NDV a "shadow group" and criticizing "special interests" and "dark money" in Democratic politics. She has also defended her tenure, touting her role in bumping Nevada up to second on the presidential nominating calendar (though not first-in-the-nation, after President Joe Biden sidelined Nevada's bid in favor of South Carolina).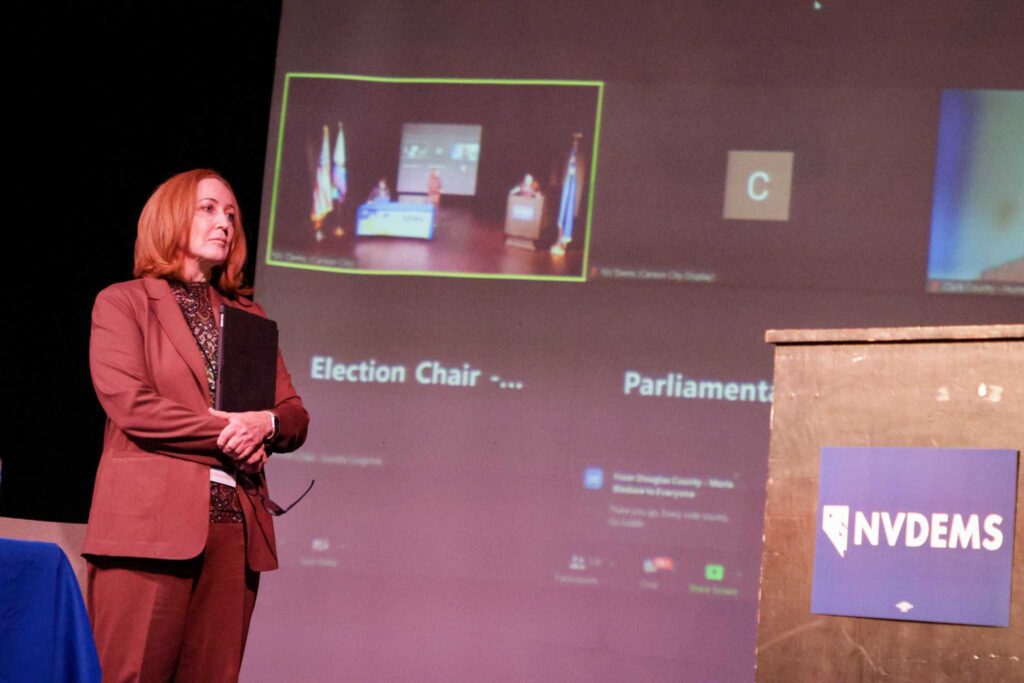 But elected Democrats have sharply criticized the party under Whitmer, including the removal of access to a key voter information database (a charge Whitmer has denied), her endorsement of a challenger to Sisolak's appointed lieutenant governor in the 2022 primary, and six-figure party contracts she awarded to personal allies.
Monroe-Moreno told The Nevada Independent last month that the "vast majority" of on-the-ground efforts that led to Democratic victories "did not come from the state party."
Ahead of Saturday's election, Monroe-Moreno's unity slate received a wave of endorsements from labor groups — including a rare direct endorsement from the powerful Culinary Workers Union — as well as a host of current and former elected Democrats.
Though Whitmer did earn the support of the Stonewall Democrats and several county-party leaders in rural Nevada, she also lost the support of the Las Vegas Democratic Socialists of America (DSA), which announced it would not endorse any candidate and called the party a "dead end."
The weeks leading up to the election were otherwise fraught, as some Democrats accused Whitmer of improperly purging more than 200 members from the state central committee ahead of the election. Whitmer denied the claims, alleging instead that the removals came as routine clean up based on mandatory meeting attendance. However, the incident — in addition to another letter raising concerns over the vote process in January — was one of several factors that led to the involvement of the Democratic National Committee (DNC), which ran the online, email-based infrastructure for Saturday's election.
The election came sandwiched in the middle of a more than three-and-a-half hour central committee meeting at Carson City's church-turned-theater Brewery Arts Center, including a voting period that was extended three times in order to account for the number of people calling for assistance with the online ballot process.
With winds whipping and steady snowfall blanketing parked cars outside, members inside the hall grew visibly anxious for news of results as the meeting reports dragged on, and briefly erupted when Whitmer prematurely adjourned the meeting before results were announced — but more than an hour after voting had closed.
The meeting continued, at which point Whitmer and Monroe-Moreno were taken out of the room to learn the results. Only after this process did the party's election chair, Sondra Cosgrove, announce the full results for every candidate through a Zoom call projected on stage.
In her last remarks during her chair's report, Whitmer defended her tenure to the in-person crowd, touting efforts at rural engagement and down-ballot campaign work, even despite being "shut out" of coordinated campaign efforts by the major campaigns.
Ahead of 2024, concerns remain within the party over both the narrow margin of 2022 victories — Sen. Catherine Cortez Masto won re-election by less than 1 percent, while Gov. Steve Sisolak lost his race by 1.5 percentage points — and a dwindling voter advantage in the once-reliable Democratic stronghold of Clark County.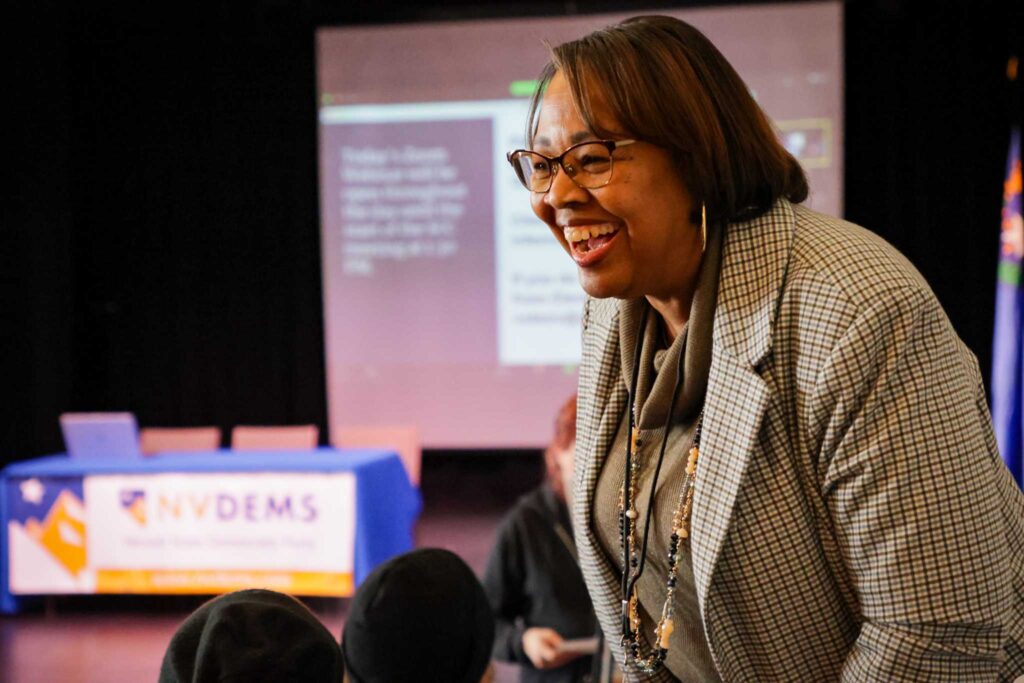 Updated: 3/4/23 at 5:50 p.m. - This story was updated to include comment from Monroe-Moreno following her victory, as well as additional details from Saturday's meeting.