Nevada launches contact tracing app to anonymously alert visitors, residents of possible COVID-19 exposures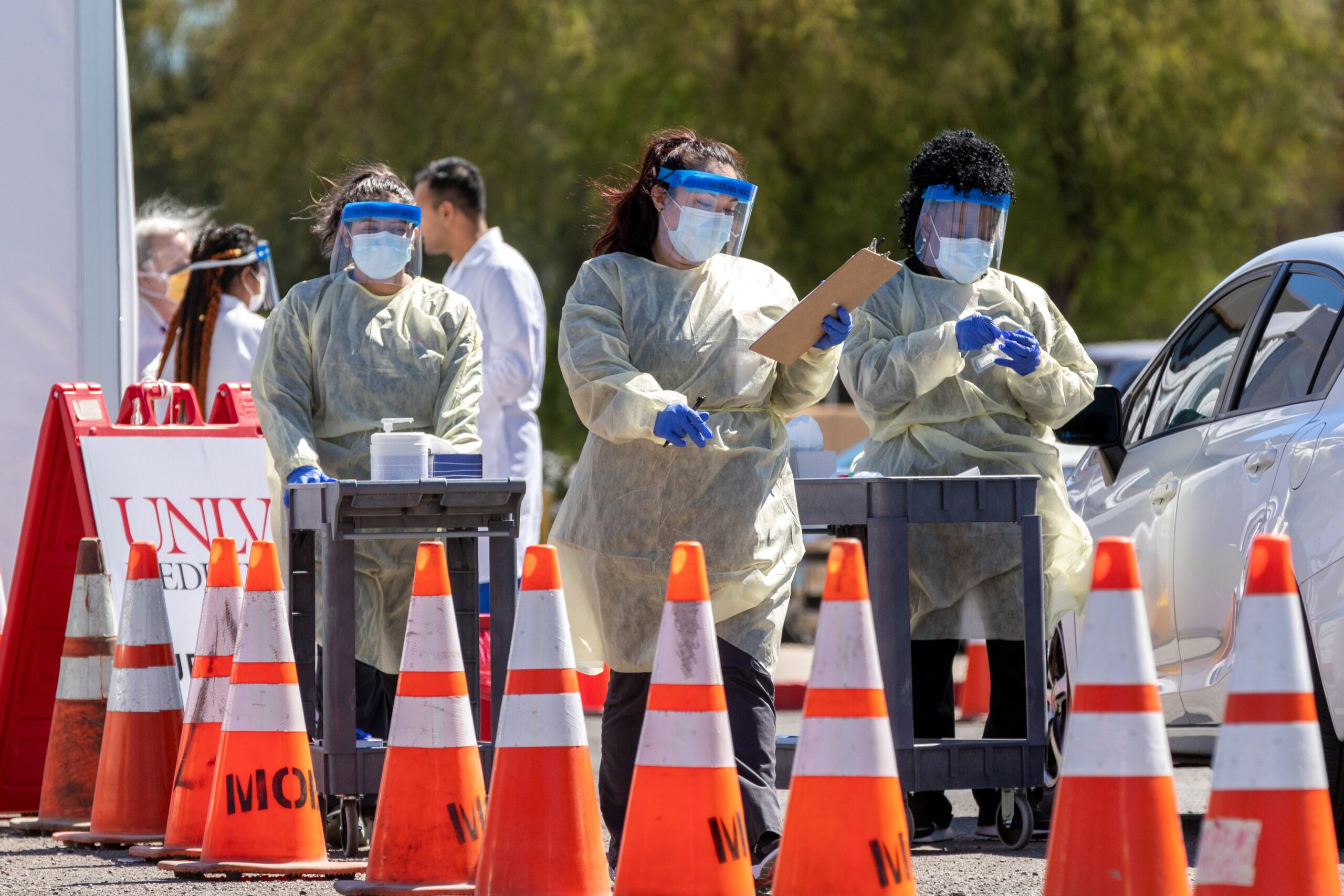 The state of Nevada is launching an app on Monday that will allow people who have tested positive for COVID-19 to discreetly notify their close contacts of a possible exposure, a potentially significant boon in a tourism-driven state that has until this point had little ability to contact trace its visitors and at times even struggled to trace all its residents.
The contact tracing app, called COVID Trace, will be entirely opt-in, meaning that not only will users have to download the app in order to take advantage of its functionality, but those who test positive for COVID-19 will have to take an additional step in the app to notify those they may have come in contact with of a possible exposure.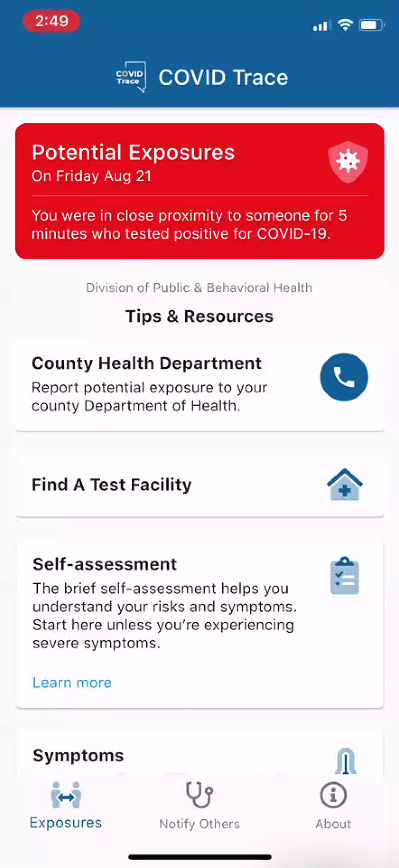 Julia Peek, deputy administrator for the Division of Public and Behavioral Health, framed the app as a key tool in helping the state combat the spread of COVID-19 during a presentation of the app to reporters on Friday.
"Please help your neighbors, friends, family, stay safe and healthy by downloading the COVID Trace and encouraging others to download it as well," Peek said. "It's an awesome opportunity for Nevadans, and our visitors to do more, one more thing to continue the fight against COVID to protect themselves and move Nevada to reopening fully again."
The app, which was developed by a team of former Google and Uber engineers, leans on underlying technology developed jointly by Google and Apple earlier this year to assist states in phone-based contact tracing efforts. It will be available for public download through the Apple App Store and Google Play Stores and will be in both English and Spanish, depending on the user's settings.
Release of the Nevada app comes on the heels of launches of similar apps in Virginia and Alabama this month.
The way it will work is this: When two phones are in close contact, they will exchange and store anonymous tokens via Bluetooth. Each person's phone will then scan the cloud continuously to see whether any of the tokens attached to someone who has tested positive for COVID-19 is a match against the tokens their phone has stored.
When Person A tests positive for COVID-19, they will receive a call from a disease investigator who will walk them through the contact tracing process and provide a unique code for Person A to enter into the app, if Person A has been using it and wants the app to notify their close contacts. Once that code is entered, Person A's phone will share their token anonymously with the cloud.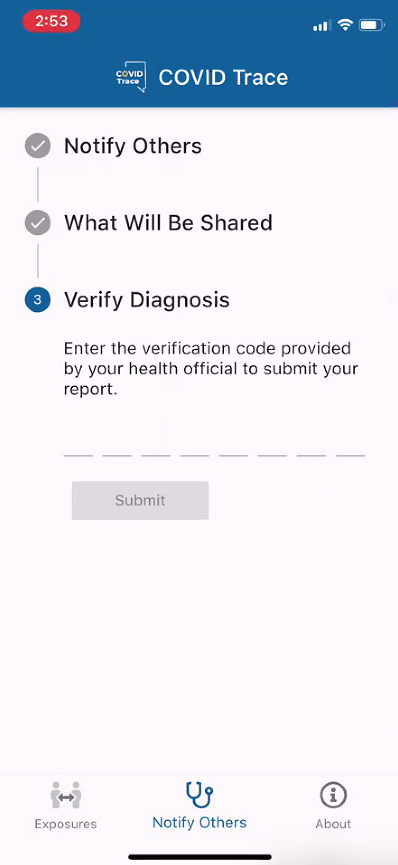 If Person B has been in close contact with Person A in the last 14 days, when Person B's phone scans the cloud and downloads the tokens of those who have tested positive, it will find a match against the tokens it has stored. Person B will then receive a notification alerting them that they were in close proximity to someone who tested positive for COVID-19 and the date of that exposure, but they will not be told Person A's identity.
In fact, app developers and state officials say the app will neither collect nor store any personal information, including a user's name, location, phone number and health information. State officials have said that the Nevada attorney general's office was involved in each step of the process of developing the app to ensure the proper consumer protections were in place.
Users will have to consent to both turning on the underlying contact tracing interface built into their phones by Apple or Google and receiving notifications as part of the process of setting up the app.
"The first thing that we want to emphasize is the privacy and really hit home the fact that there's very little of anything at all, that we know about you," said Dudley Carr, developer of COVID Trace. "We don't know your location. We don't know who you are. We don't know the contacts on your phone. That's a common misconception. Contact tracing is about touch. It is not about who your contacts are. It doesn't have any of your health information and it certainly doesn't share that with anybody else."
The app uses an algorithm to determine whether two people have been in close contact. For instance, it weighs five minutes of extremely close contact differently than it does 20 minutes of more distant but still close contact using the strength of the phones' Bluetooth signals.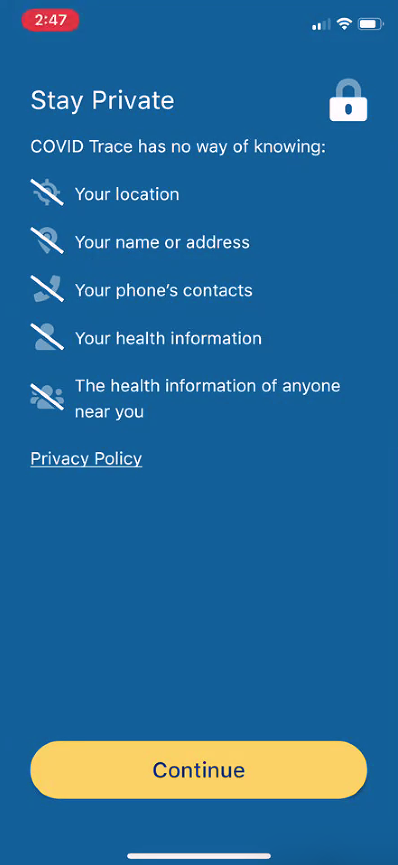 "It weights those experiences and does an accumulation of that in order to determine an aggregate of exposure of 15 minutes for the day," Carr said. "Unfortunately it's fairly complicated but what it tries to do is it says, all of these experiences together is the equivalent of being near someone with COVID-19 for 15 minutes over the course of the day, and then it alerts you based on that."
However, the success of the app will largely depend on how many people download it, as it cannot perform its contact tracing functions unless both the person who tests positive for COVID-19 and the person who is exposed to COVID-19 have the app downloaded on their phones before the exposure occurs.
Creation of the app was spearheaded by the COVID-19 Response, Relief and Recovery Task Force, which was announced by Gov. Steve Sisolak in March and has focused on mobilizing private sector interests to aid in the state's coronavirus response. PLAYSTUDIOS, the mobile slot game developer, fully underwrote the cost of developing the app.
Former MGM Resorts CEO Jim Murren, who chairs the task force, said they are talking to "large- and medium-sized employers" about the app and that "several dozen companies" across the state, including MGM Resorts and Caesars Entertainment, are going through the process of not only adopting the app but pushing information out about it through their media channels.
"They believe that not only is this important for their employees but for the community itself and so to the extent that MGM or, let's say, Caesars, who I had a robust discussion with this week have said, if we can use our media channels, our media contacts, our assets to help communicate that this is an effective tool to help the people of Nevada, we'd be honored to do so," Murren said.
Murren said that he expects to hear more about the app from many of Nevada's large employers and representatives of organized labor, as well as those in the public sector and in the sports and entertainment field.
"Stay tuned," he said. "But I could also say, no one has said no to me yet."
The app could provide a significant boost to the state's capacity to contact trace among visitors, which has so far been limited. As early as June, local health districts acknowledged that tracing all of a visitor's interactions through multiple casino properties over the course of the weekend wasn't feasible, and the data show how few cases among visitors who tested positive for COVID-19 after returning home are ever reported to the state for contact tracing purposes.
The state also struggled last month to keep up with its contact tracing efforts among residents as the state was inundated with thousands of new COVID-19 cases. Southern Nevada Health District officials said last week that they are now contacting all new cases within 24 to 48 hours of receiving their positive lab report, though they continue to work through contacting all backlogged cases from July.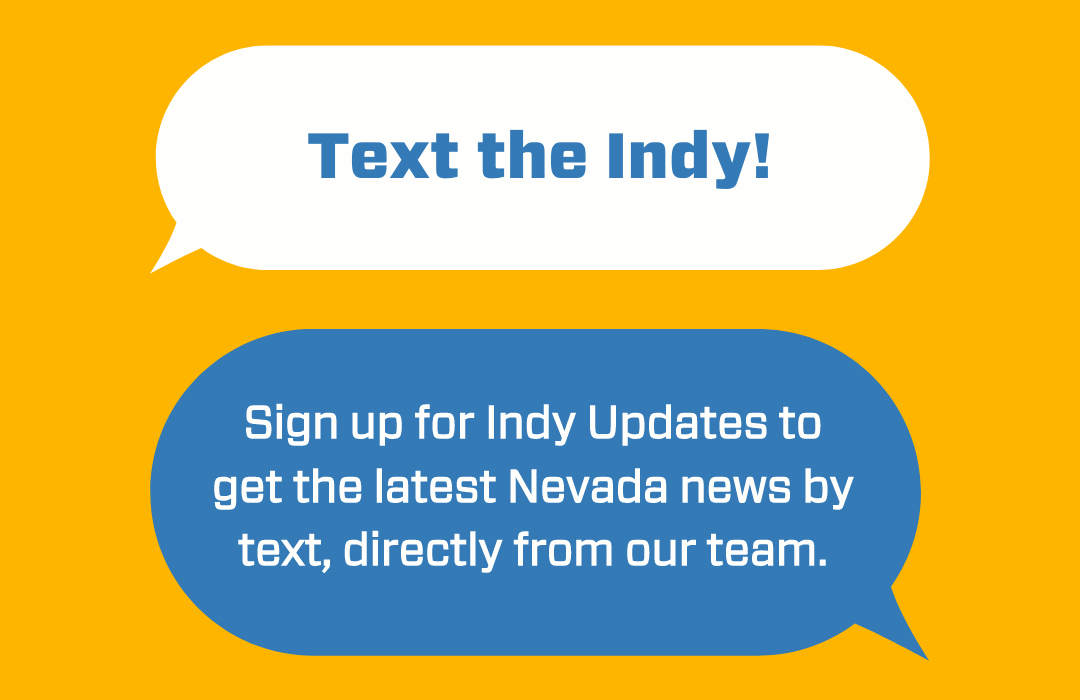 Featured Videos