Nevada likely to remain top state for most women in Legislature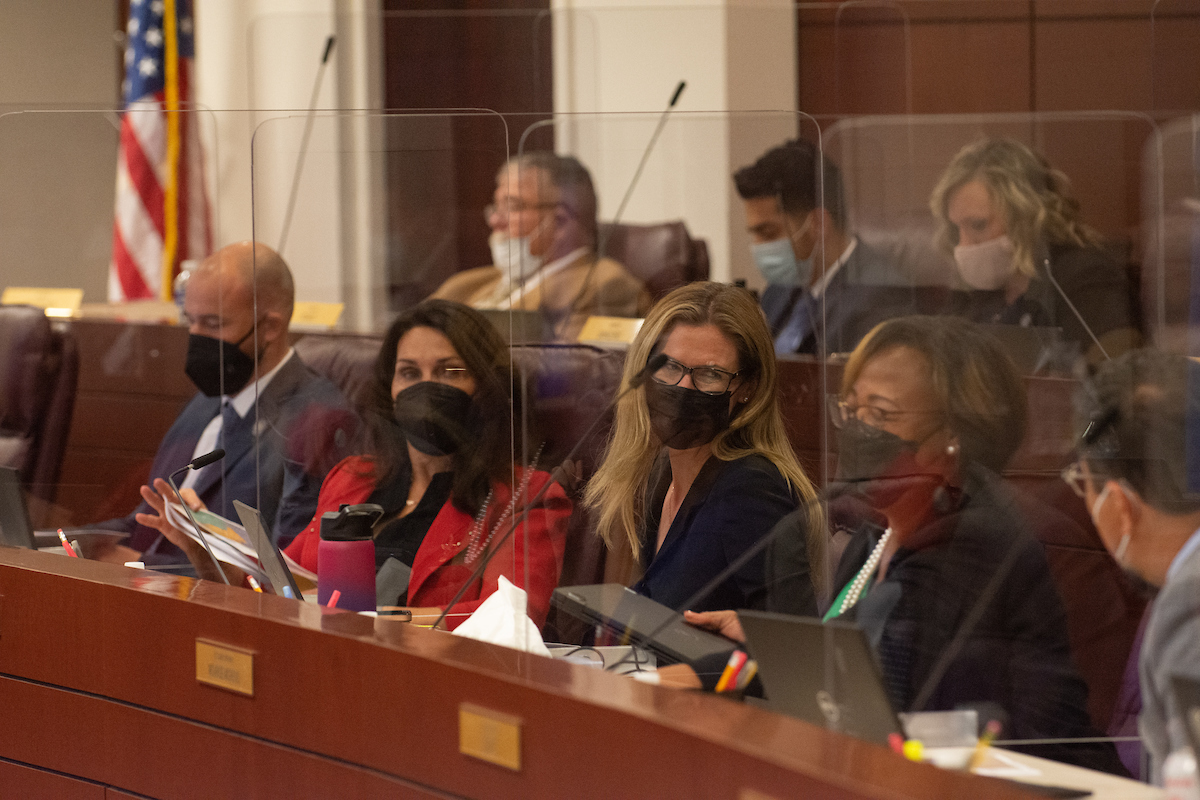 Nevada leads the nation as the state with the largest number of women in its Legislature, and that is unlikely to change by the end of this election cycle.
The Legislature — made up of the 42 state Assembly seats and 21 state Senate seats — has had more women members than men for more than three years. The percentage of female legislators has increased during that time, too, moving from 52 percent in 2019 to almost 59 percent today. It is probable that Nevada will keep its status as the U.S. state with the most women in its state Legislature, according to conclusions drawn from various reports by the Center for American Women and Politics.
Though Nevada leads in terms of female state lawmakers, the United States as a whole has seen a steady increase since 2016, climbing almost 7 percentage points in the last six years. As it stands now, women occupy more than 31 percent of state Legislature positions nationwide.
Assemblywoman Daniele Monroe-Moreno (D-North Las Vegas), who is running for re-election in District 1, said the diverse makeup of the Legislature across the board is noteworthy. She said it's important "not just to have women at the table, but to have people representing all of the diverse communities within our state at the table because you get a much better conversation."
Nevada reached its landmark moment of a female-majority Legislature in December 2018 when the Clark County Commission appointed two women to fill vacant Assembly seats. The shift made headlines then and again after the 2020 election when even more women joined the Legislature.
Republican Assemblywoman Heidi Kasama, running for re-election to represent District 2, agreed she was proud to have a female-majority Legislature, but she said candidates' values should take priority over demographics.
"It is a great thing that we [are] a majority women legislature," Kasama said. "I think women have a great sense of leading the troops as well. But I also think, most importantly, that we have the right people in the right place, and that we look for the best candidates and those that are best willing to serve for the entire state of Nevada."
Beyond the demographic considerations, Michael Bowers, a political science and public law professor at UNLV, said the increase in women serving as state lawmakers sets a powerful example.
"It is important for women and girls to see that they can be whatever they want. It is also important that women's voices are heard in the halls of government," Bowers said. "Since women make up the majority of the population, it is not surprising that they would and probably should make up the majority of elective offices."
Nevada's Legislature is seeing massive turnover as it approaches the 2023 session with nearly a third of incumbent seats up for grabs and, on top of that, three of four caucus leaders left their positions after the 2021 session. Even so, the state remains unlikely to be beat by its top three rival states — Colorado, Oregon, and Rhode Island — for the title of most women in its Legislature.
Here's a closer look at the factors that could go into Nevada maintaining that title:
Candidates
States closest to Nevada's percentage of women in its Legislature — such as Colorado (45 percent), Oregon (44 percent) and Rhode Island (44 percent) — are still far behind the Silver State.
For Nevada's percentage to dip to Colorado's level, nine of the 37 seats held by women in the Legislature would have to go to male challengers, but that appears unlikely based on the race dynamics: Eight of the legislative races feature two women from the two major political parties.
Other states could surpass Nevada's 59 percent, but that also seems improbable given that Colorado, Oregon and Rhode Island all have a lower percentage of women running for legislative seats than in Nevada this year. Fifty-two percent of candidates running for the state Assembly are women; however, women make up less than half of the candidates running for state Senate. As a whole, women make up 48 percent of all candidates running for the Legislature in the November general election.
That puts Nevada 6 percentage points above its closest contender — Rhode Island — where 42 percent of its legislative candidates are women. Meanwhile, 37 percent of legislative candidates in Colorado are women, as are 27 percent in Oregon.
On top of this, 43 percent of women running for a legislative seat in Nevada are incumbents, compared to less than 20 percent of male candidates. Research from Princeton University scholar Jessica Trounstine shows that incumbents carry a big advantage over their challengers heading into an election. Bowers said the incumbent advantage comes from the candidate having better name recognition from being in the public eye, more experience running a campaign and winning an election than their opponent (in most cases).
Incumbents typically have an easier time fundraising, too, because donors see them as already having the power to help them, according to her research.
The incumbent advantage held true this year during the primary election, when only one out of 28 legislative incumbents running for re-election in Nevada didn't move forward to the general election.
Eleven legislative races in this year's general election feature a female incumbent running against a male challenger.
Voter activity
Women are more likely than men to participate in elections — a trend that has held for decades. In 2018, for instance, 55 percent of women voted compared with a little less than 52 percent of men. The same year women led men in voter registration by 3 percentage points, according to Census data about voter trends.
Women's higher participation rate, however, doesn't indicate any particular partisan leaning or likelihood that they would cast ballots for the female candidate.
Almost 39 percent of women running for legislative seats this year are Republican. This election cycle will also see an increase in gendered ads, specifically women talking about abortion. For instance, Nevada Assembly candidate Sarah Peters has been campaigning on her history as a pro-choice advocate after the federal overturning of Roe v. Wade, which eliminated the constitutional right to abortion.
On a more national scale, Ashley Hinson, an incumbent congresswoman, used her experience as a mother during an interview with C-SPAN as a reason why she is against abortions.
The Center for American Women and Politics described their approach as "trusted messenger" rhetoric. How voters react to the messaging coming from female candidates, though, is really anyone's guess until the final ballots are counted.
And even if the votes fall in a way that gives Nevada another female-majority Legislature, Bowers echoed Kasama's sentiment, saying it's more important that the most qualified candidates are elected.
"I don't know that it is important that they make up a majority of the Legislature simply because they are women; one would hope that the Legislature be made up of the most competent individuals regardless of sex," Bowers said.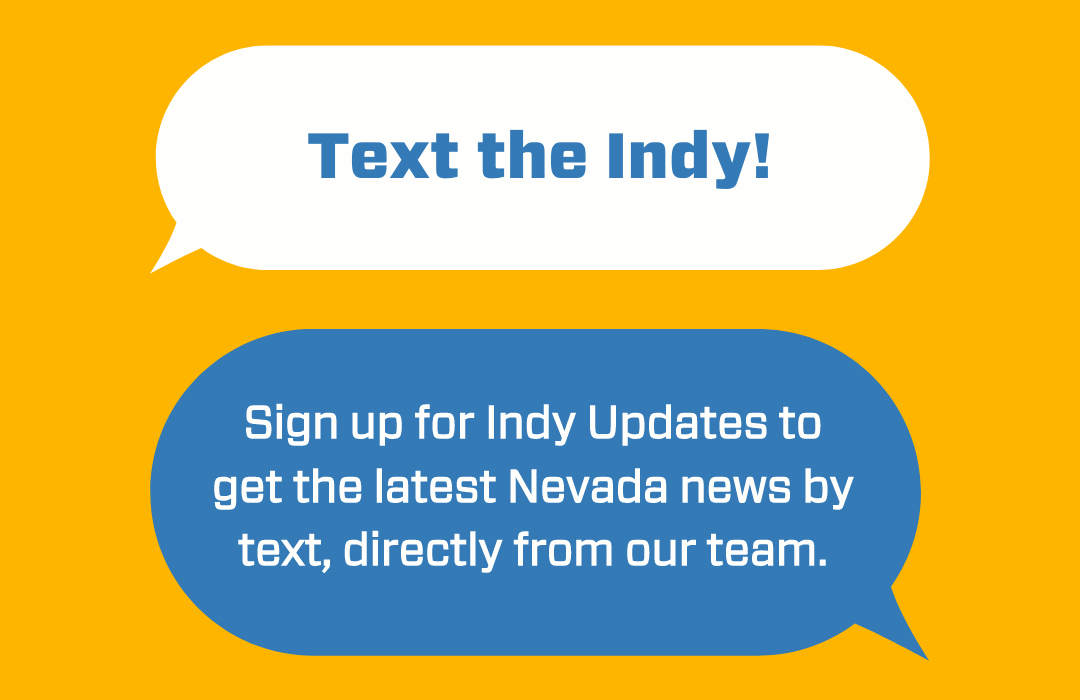 Featured Videos
Comment Policy (updated 4/20/2021): Please keep your comments civil. We reserve the right to delete comments or ban users who engage in personal attacks, use an excess of profanity, make verifiably false statements or are otherwise nasty. Comments that contain links must be approved by admin.