Nevadans hold vigil following Supreme Court decision against a pathway to permanent residency for TPS holders, call for action from Congress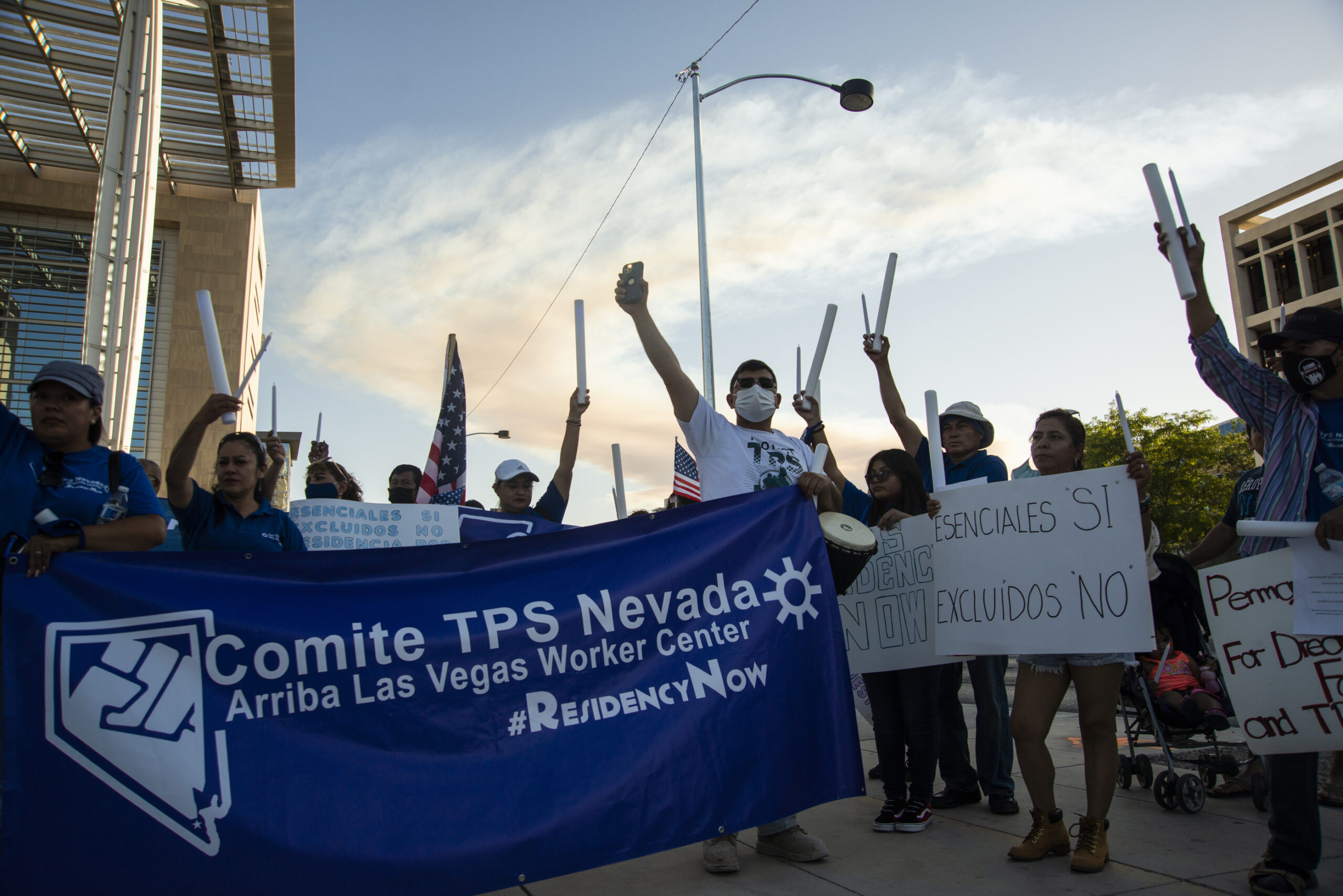 Immigration advocates, families and supporters gathered Thursday evening outside the federal courthouse in downtown Las Vegas, waving American flags and toting signs demanding legal residency for Temporary Protected Status (TPS) holders.
This kind of activism is nothing new for those protected by TPS. They continually feel on the cusp of losing their right to live in the United States. So once again — after a recent Supreme Court decision — they gathered with their allies and urged President Joe Biden and Congress to create a pathway to permanent residency for TPS holders.
"Se ve, se siente, el pueblo está presente! Se ve, se escucha, estamos en la lucha! Ni COVID, ni el viento detiene el movimiento…" the group, organized by Arriba Las Vegas Workers Center, chanted in unison in Spanish, stating that they are present, they will be heard, they are in a battle and nothing will stop them, not even the COVID-19 pandemic.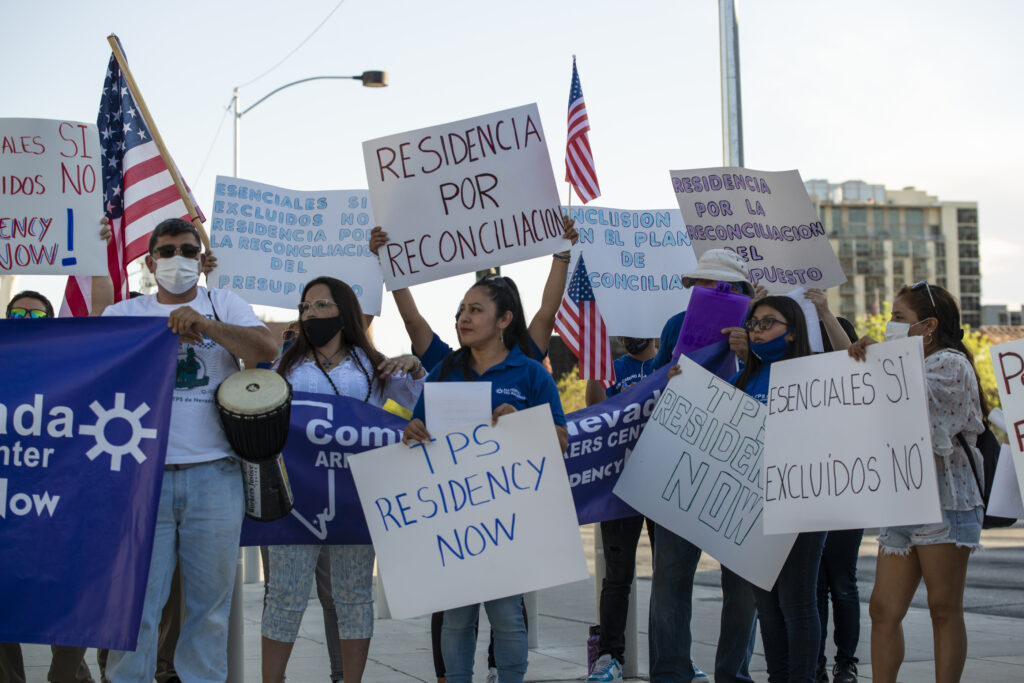 In a blow to TPS holders and advocates who have longed for a pathway to citizenship, the Supreme Court issued a ruling earlier this week that bars TPS holders from adjusting their immigration status to become lawful permanent residents, or obtain "green cards," if they entered the country unlawfully. TPS holders for years have been seeking a more stable and permanent solution to their temporary status, which must be renewed every 18 months.
The immigration status is granted to people from countries experiencing crises caused by natural disasters, war or poverty. TPS protects immigrants from deportation and grants them work authorization permits. Nevada is home to roughly 4,000 TPS holders and there are more than 400,000 TPS holders in the United States from a dozen countries, including El Salvador, Haiti, Honduras and Syria.
The ruling leaves TPS holders who were not vetted and authorized to enter the country by an immigration officer out of options as a major deadline approaches in early October, when the protected status expires for beneficiaries from El Salvador, Haiti, Honduras, Nepal, Nicaragua and Sudan. Without TPS, beneficiaries will lose legal work authorization and be subject to deportation.
"No somos uno, no somos cien, 11 millones, cuéntenos bien!" the group in Las Vegas continued chanting Thursday evening, saying that the fight is not just for one or a hundred people, and not just for the hundreds of thousands of TPS holders in the United States but for the 11 million undocumented immigrants seeking a path to citizenship.
Immigration statuses such as TPS and Deferred Action for Childhood Arrivals (DACA) do not include a route to legal permanent residency, nor citizenship, for beneficiaries.
Immigrant advocates cite the deep ties TPS holders and other immigrant groups have in their communities, as workers, taxpayers and parents to U.S.-born children as the primary reasons they believe the federal government needs to come up with a more permanent solution.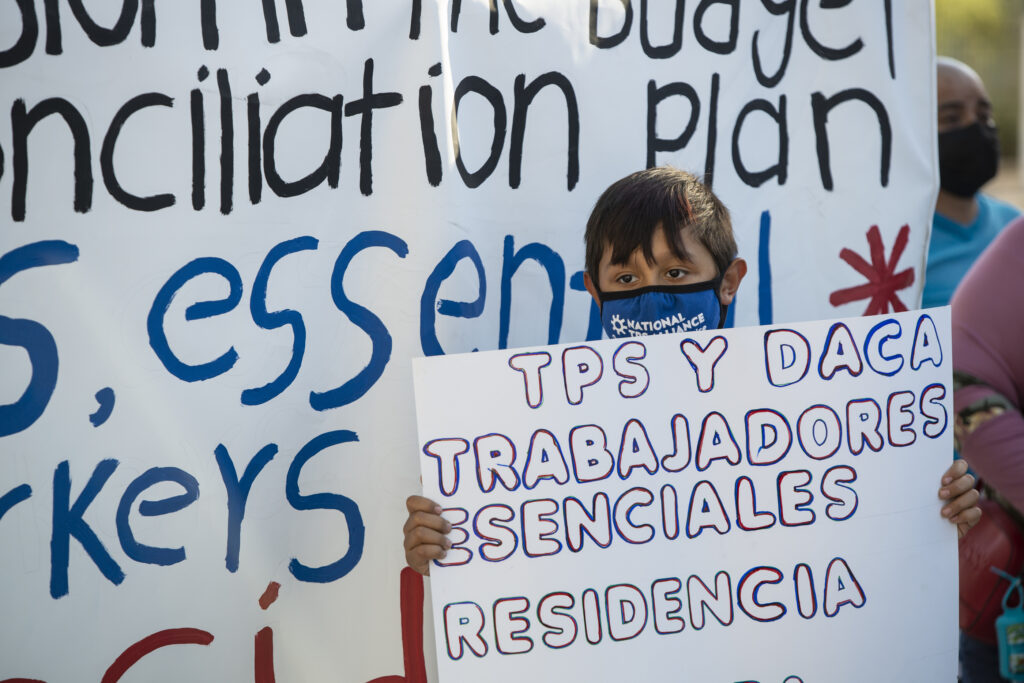 According to the Pew Research Center, more than 70 percent of immigrants in the United States in 2018 had lived in the country for more than a decade. A 2017 report from the Legal Immigration Resource Center found that TPS holders contribute billions of dollars to the nation's economy, and the Center for American Progress identified more than 130,000 TPS holders as essential workers during the pandemic.
About 450,000 U.S. citizens live in a household with a TPS holder, and about 280,000 U.S.-born children under the age of 18 live with a parent protected by TPS. Mixed-status families are at risk of being separated by deportation, or being displaced to a country they are not familiar with and where they do not have family or work ties.
The ruling shields TPS holders who entered the country in a legal manner, though. For example, if current TPS holders entered the United States with a visa, overstayed the term of the visa and were later granted TPS, they can apply to become lawful permanent residents.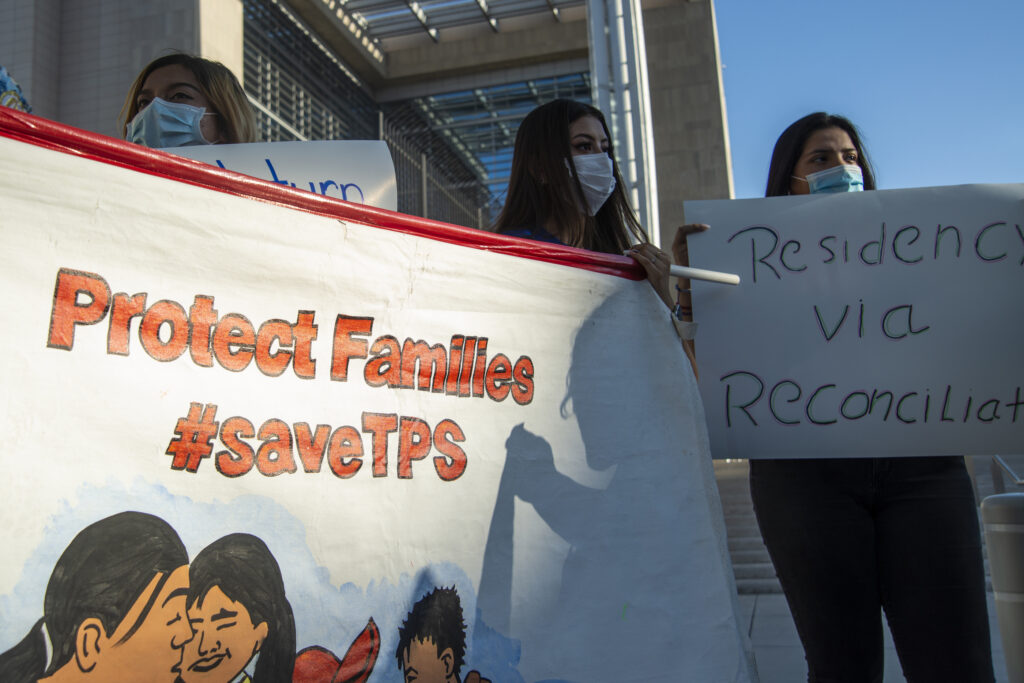 Nevada Tepesianos (TPS holders) continue their years-long fight
Walter Martinez, a TPS holder from El Salvador and Las Vegas resident, has been in the United States for more than 20 years. His mother immigrated first to escape poverty, and after graduating high school, he begged her to let him join her for better opportunities. Shortly after he arrived, he was granted TPS.
"It gave me the opportunity to have a real ID. I was able to open a bank account, learn how to drive, and honestly I felt like I was no longer in the shadows," Martinez said in Spanish at the vigil on Thursday. "I've been here for over 20 years. We have the right to a permanent residency because we understand that the program is temporary, but we have contributed to the economy and our community for so long. Most of us come to contribute to this country."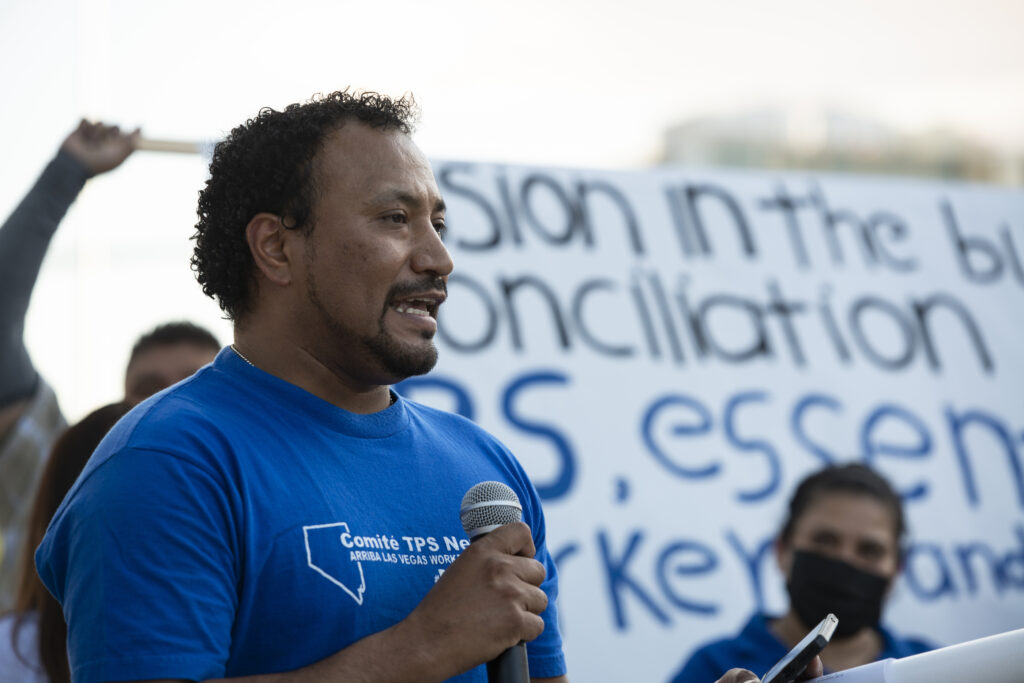 Martinez said he had hoped TPS would lead him to the opportunity to become a legal permanent resident, but years have passed as he continues to wait for immigration reform.
"I think that's what happened to many of us — we thought there was going to be an immigration reform, and it didn't happen," he said. "The next steps are really to just keep fighting."
And that is the message the group aimed to send Sens. Catherine Cortez Masto and Jacky Rosen and President Joe Biden on Thursday — that they won't give up and expect them to stand alongside all 11 million. 
An attendee at the vigil, whom The Nevada Independent is not naming because of the vulnerable nature of her immigration status, stood in solidarity with TPS holders on Thursday evening. Her husband was deported three years ago, leaving her the sole breadwinner for their three children. She has established roots in the United States over the past two decades, paying taxes, and working and raising her children, two of whom are American citizens.
While not a TPS holder herself, the woman said she fights the same battle for a path to permanent residency for herself and her oldest son, who is a DACA recipient.
"We work so hard, but we're in the shadows, we get paid low wages, we don't have a contract — sometimes even enduring abuse from our bosses," she said in Spanish. "It's not easy for us, especially with the uncertainty if the next day we'll still be allowed to be here – our kids, our lives are here. Having to go back to our countries would be like starting from zero."
She recalled how deeply her children were affected by their father being deported. No one wanted to talk or leave their bedrooms, she said. And one of her children recently admitted to experiencing a depressive episode at the time.
"Seeing their pain in their eyes is very difficult as a mom, seeing them so hurt that the family has been separated. That's what hurts most, seeing our children go through that," she said.
After her husband was deported, she couldn't make ends meet and had to move into a bedroom in a friend's home with her two younger children. She feared that her daughter wouldn't graduate high school because of the living situation, compounded by stress and the effects of the pandemic. But she said their hard work paid off, as she was able to purchase a mobile home after saving her money. Her daughter graduated last week.
"When you come to this country, you come with the dream that you're going to support your family, that your children are going to have a better life, that they won't lack anything," she said. "We all have similar fears – being separated from our children, being in a different country and not seeing them grow and succeed. That's the biggest fear."
A 'provisional situation'
Michael Kagan, director of the UNLV Immigration Clinic, highlighted the fragile reality TPS holders continue to face, typically dependent on changes within presidential administrations.
"Presidents come and go and for people to have their lives and their futures depend entirely on who won the last election is a terrible way for people to live," he said, "and, in this case, we're talking about people who have been here for longer than me. I've been [in Nevada] since 2011."
While Nevada immigrants rooted for Biden during last year's election, in the hopes his administration would be more immigrant-friendly than the Trump administration, they also sensed that immigration reform was a long shot.
The Biden administration may not be wholly responsible for delivering the ruling on TPS, but Kagan said it is not innocent either.
"The Biden administration asked for it. They could have pulled this case back and avoided this decision, but they pushed ahead with it. So that was a real disappointment to many of us. The Biden administration's hands are not clean on this decision," he said.
Kagan said TPS holders and supporters have to be hopeful the administration will — at the very least — renew the protected status before October, although that is not the ultimate solution TPS holders and supporters desire.
"But even if that happens, the problem is that it will only be an 18-month reprieve," he said. "Unless Congress were to pass a new law, this situation will just continue interminably over and over again every 18 months."
The American Dream Act recently cleared the House of Representatives on a 228-197 vote, with nine Republicans voting in support. The measure would allow TPS holders to become lawful permanent residents as long as they meet certain requirements, such as living in the United States for at least three years (from the bill's adoption) and paying a fee. The bill is limited to TPS holders who were granted the protected status on or prior to Jan. 17, 2017, and does not include the most recent designations for immigrants from Venezuela or Burma.
But the measure faces an uncertain future in the Senate, with Democrats and Republicans deadlocked. For the bill to succeed in the Senate, it would require support from all Democratic senators and at least 10 Republican senators to overcome the filibuster rule requiring 60 votes.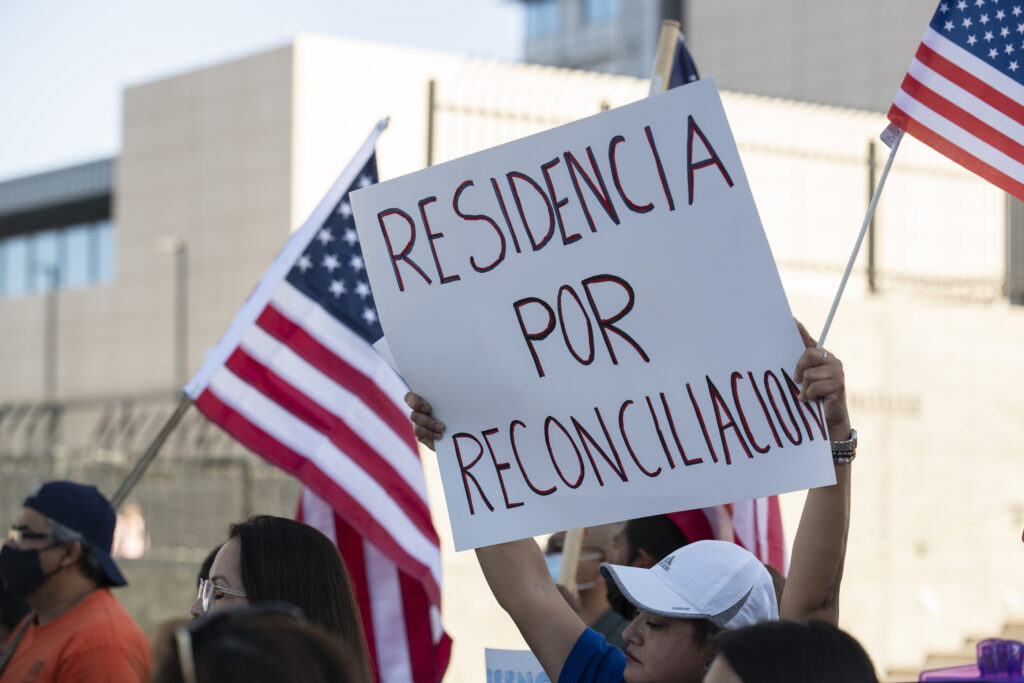 With that in mind, Nevada TPS holders are calling for Congress and the Biden administration to pass the measure through budget reconciliation, a process that allows legislation to pass with 50 votes, plus a vote from Vice President Kamala Harris.
With their fate in the hands of the federal government, TPS holders are turning to their only option — to continue speaking out and urging elected officials to stand by them. Kagan said this is an opportunity for other community members to stand in solidarity with TPS holders to effect real change.
"If no laws are passed, then the Biden administration will just be a period of ceasefire in a longer war," he said. "Then you could have another president in January 2025, who returns to what Trump was doing, and people's entire lives and families will be directly threatened again."
The Nevada Independent is raising $200,000 by Dec. 31 to support coverage of the 2024 election.
Tax-deductible donations from readers like you fund this critical work.
If you give today,your donation will be matched dollar-for-dollar.
Give + Get Matched
Featured Videos