New faces, competitive races defining three Washoe Commission seats on ballot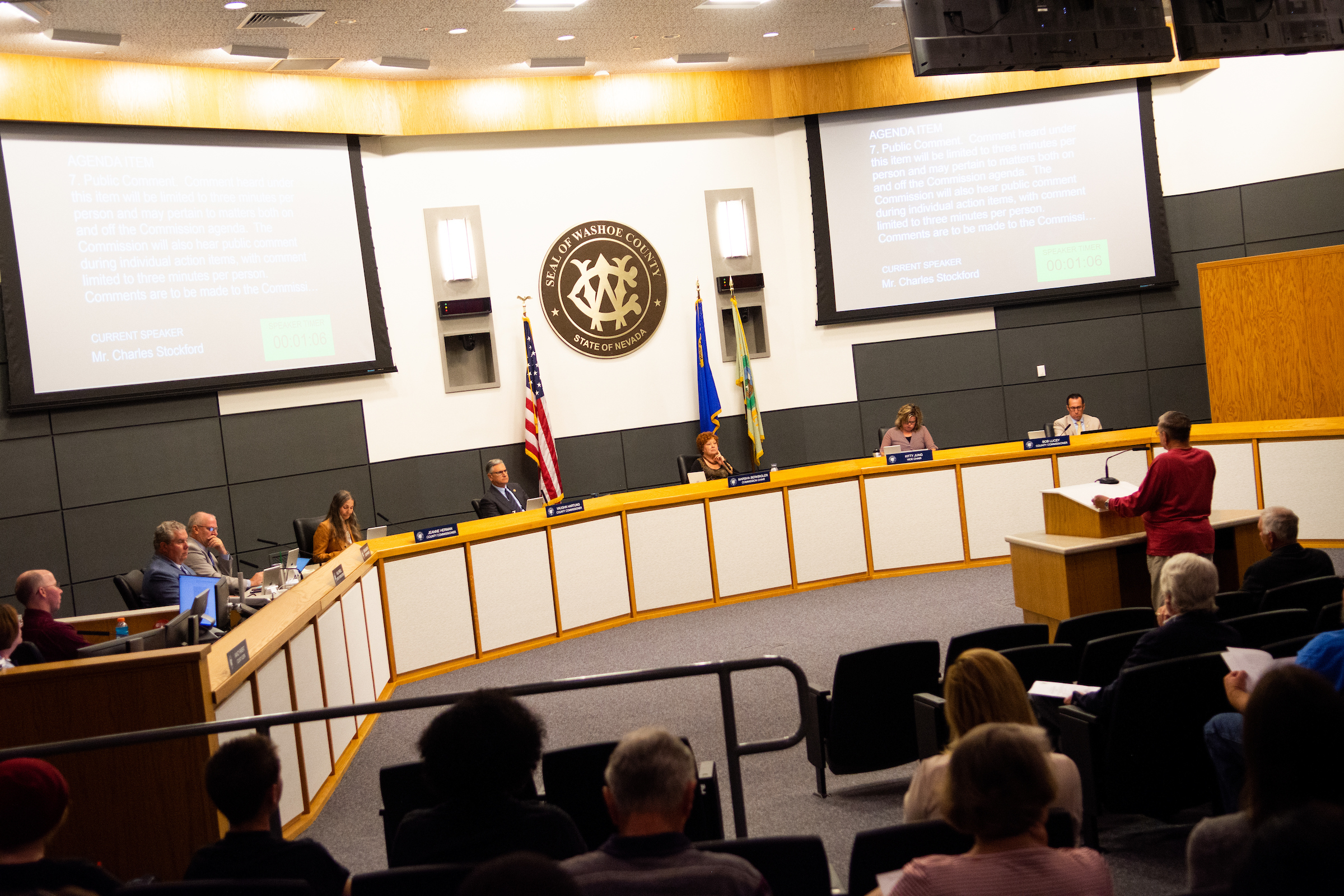 Seven candidates are vying for one of three Washoe County Commission seats this election cycle, and the races will bring at least two newcomers to the board charged with making decisions about public safety, infrastructure and election issues in Nevada's second-most populated county.
Only one race, in District 5, features an incumbent, Republican Jeanne Herman, who is running for her third and final term on the commission. District 2 incumbent, Commissioner Bob Lucey, lost his GOP primary election, while the District 3 incumbent, Democratic Commissioner Kitty Jung, is termed out, meaning the winners of those races will bring a new face to the five-member governing body.
Similar to the rest of Nevada, Washoe County — known for its outdoor recreation, natural history and gaming culture as well as events such as Burning Man and the Reno Air Balloon Races — has seen considerable growth in the last decade. Bordering California and Oregon in the northwest part of the state, Washoe County is Nevada's second-most populated county with roughly 493,000 residents, according to the latest Census estimate.
From 2010 to 2020, Washoe County grew 15.1 percent, just 1 percentage point less than Clark County's growth rate. Reno and Sparks are feeling growing pains as the cities' populations increase while surrounded by federally owned and difficult-to-develop land.
The lion's share of Washoe County residents (about 353,000) live in Reno or its next-door neighbor, Sparks. But the county includes multiple rural communities and a major Native American reservation. The county line stretches toward Lake Tahoe, encompassing Incline Village and Sand Harbor, and also includes Washoe City, which sits between Reno and Carson City.
As the county stares down development obstacles, there are political challenges as well. Former Registrar of Voters Deanna Spikula announced her resignation in July because of the stress and harassment she received from people doubting the integrity of the 2020 and 2022 elections. Spikula was replaced by Interim Registrar of Voters Jamie Rodriguez, who will be in charge of the upcoming election.
With all those issues as the backdrop, the seven candidates are campaigning to join the board at a transformative time in the county's history. Here's a closer look at each race:
District 2
District 2 lies just south of the Reno-Tahoe International Airport and extends to the southeast corner of the county in the Washoe Valley.
In the Republican primary, County Assessor Mike Clark beat incumbent Bob Lucey in the primary election with help from far-right cryptocurrency millionaire and political activist, Robert Beadles, who funded a political action committee that sent out many campaign mailers, including some depicting Lucey as Satan. Clark will face Democrat Keith Lockard and Libertarian David Michael Banuelos.
Elected as the county assessor in 2018, Clark's name has most recently been in the news after a court issued a protective order last year preventing him from going to Washoe County offices after he had sent out anonymous mass mailers containing court documents, public records and a photo of a county official in a bikini. The protective order expired in July.
"It wasn't a threat in the traditional sense of the word, although [officials] might have felt it was a threat because they didn't want that information out there," Clark told the Reno Gazette-Journal.
However, Judge Richard Glasson called the mailers "fetishistic, sexist, inappropriate" and went through with the protective order last year.
Clark then sued the county official who filed the temporary protective order against him, saying that she had lied to the court during a hearing last year. The court ruled against Clark, and Judge David Hardy ordered him to pay around $32,000 in damages. Clark failed to respond to two motions to dismiss because of a miscommunication between Clark and his attorney.
On his campaign website, Clark cites reducing homelessness, development, and transparency in government were among his top priorities if elected.
"I'm going to do everything I can to mend any kind of gaps between the political parties and just talk to people and have an open-door policy," said Clark in an interview with the RGJ.
Lockard, a retired civil engineer for the City of Reno, is Clark's Democratic opponent.
He spent the bulk of his career as an engineer in project design, construction and new development for the City of Reno. Lockard was also a part of several planning advisory committees for the city and Washoe County, including a long stint on the Washoe County Library Board, where he helped develop new branches in South Truckee Meadows and Spanish Springs and improve the existing library in Incline Village.
"Early in my professional career, I recognized a calling to public service through local government employment. And that also evolved into a commitment to our communities to government and nonprofit organization boards," Lockard said in a phone interview with The Nevada Independent.
Lockard said his previous working relationships with some of the commissioners, such as Commissioner Alexis Hill, would help him to collaborate with his fellow board members if elected. He also endorsed District 5 Democratic candidate Ed Lyngar.
"We're certainly different people in terms of who you are in our lives, and what our experiences have been," Lockard said. "But I think I could [be successful], with all the people who I have named, in developing a pathway forward for the county."
If elected, Lockard said he wants to use his experience as a city planner to develop Washoe County in a sustainable way, specifically managing water availability and improving transportation along primary routes by expanding roads and looking toward light-rail systems similar to those in Portland and Sacramento.
Lockard emphasized the importance of working together and having good communication to resolve issues.
"In my understanding of leadership, leadership doesn't mean pounding on the table as hard as you can. It doesn't mean shouting louder than the other person. It basically means talking to them, developing a common vision for the future," Lockard said.
To read Lockard's full interview with The Nevada Independent, click here.
Clark, though responsive to some emails from The Nevada Independent, did not answer phone calls attempting to set up an interview with him.
Banuelos, the Libertarian candidate, did not respond to interview requests from The Nevada Independent. He also has no campaign website and does not appear to be actively campaigning.
District 3
District 3 sits in the middle of the four other Washoe County districts, located just north of the Reno-Tahoe International Airport and extending to the southern parts of Sun Valley in Reno. It covers some western parts of Sparks, too.
Incumbent Kitty Jung is terming out of her District 3 seat, which she has held since 2007 when she was appointed by former Gov. Jim Gibbons. First-time candidate Mariluz Garcia beat two other newcomers — non-profit director Kyle Isacksen and government relations consultant Hawah Ahmad — in the Democratic primary to face Republican Denise Myer in the general election.
Garcia said in an interview with The Nevada Independent that her experience serving families as an educator in Washoe County is what inspired her to run for the District 3 commissioner seat. Garcia was born in Elko to Basque and Mexican parents, but she moved to Reno to attend UNR, where she has received a bachelor's degree in counseling, a master's degree in education and a Ph.D in equity and diversity in education.
Garcia worked as a school counselor in Reno and Sparks before taking on her current role as executive director for UNR's Dean's Future Scholars program. That program works on increasing the number of low-income, first-generation students graduating from college and entering the education field.
Garcia said her primary goal if elected is representing her constituents, particularly supporting families. She plans to do this by investing more in affordable housing, smart infrastructure and access to services.
"My primary goal is always that my constituents, families and businesses of District 3, are represented to the best of my ability," Garcia said. "I will not compromise those core values of my upbringing and my background of being humble and working hard and whenever having the … privilege to ultimately give back to [my] community."
Denise Myer has a bachelor's degree in environmental economics and a master's degree in safety and health management from UNR. She is currently an environmental, health and safety engineer for AMES, a Reno contractor.
On her campaign website, Myer's platform includes transparency in government, increasing resources for law enforcement and fixing the housing affordability crisis. In a phone interview with The Nevada Independent, Mayer said that if she could accomplish any goal in Washoe County, she would like to work on expanding the homeless shelter and improve access to affordable housing.
"I would love to see something with the CARES Campus that makes it state of the art. Right now, they're struggling terribly," Myer said. "I would [also] like to maybe see a project for affordable housing for people who are … transitioning from homeless to somebody who is contributing to society, to our community, like a larger Village at Sage Street."
Myer also noted on her campaign website that "voter integrity" is one of the issues she would like to focus on if elected.
"Voting integrity is not just one party's problem, it's all of our problems. We want to know that when we cast a vote, that it actually counts and that it's legitimate," Myer said.
To read Garcia's full interview with The Nevada Independent, click here.
To read Myer's full interview with The Nevada Independent, click here.
District 5
District 5 is by far the largest district in Washoe County in terms of land mass, extending at its southernmost border to Mogul and north to the Oregon and California borders. It makes up around 89 percent of the land in Washoe County, but is one of the lower districts in population with 94,440 residents.
The district provides a unique group of constituents to represent, from the suburban sprawl of Reno's North Valleys to the Pyramid Lake Paiute Reservation in Nixon.
Incumbent Jeanne Herman has represented District 5 since 2014 and is running for her third and final term. Herman is a licensed Realtor in Oregon, California and Nevada, and serves on two National Association of Counties (NACo) committees — the Public Lands Policy Steering Committee and the Rural Action Caucus Steering Committee. NACo is an organization of county employees who advocate for county issues to federal policymakers.
In a phone interview with The Nevada Independent, Herman said if re-elected she would like to focus on community safety by investing in more firefighters and police officers for the North Valleys, which are more prone to fires and flooding. She also wants to secure better broadband internet service for the ranches outside of Gerlach.
"[The commission's responsibility to their constituents'] safety and our protection of the people is our most important job. The health and safety of our citizens is what I took an oath to protect. And I feel very responsible for that and I want to improve it in every way we can," Herman said.
One of several candidates in the upcoming general election running on the issue of "election integrity," Herman has called for hand-counting ballots, paper ballots and stationing law enforcement at every polling station. Hand-counting paper ballots would increase the registrar's workload, be more inaccessible to voters and increase the margin of human error.
Herman was the lone vote in favor when she brought her election overhaul proposal to the Washoe County Commission in March. While some commissioners, such as Bob Lucey and Vaughn Hartung, were quoted by the Reno Gazette-Journal saying they agreed with parts, the proposal as a whole failed to pass.
Herman's efforts were supported by far-right activist Robert Beadles. She defeated two GOP primary challengers, including Wendy Leonard, who received last-minute support from an outside group affiliated with Democrats.
"I'm going to be watching it very closely," Herman said when asked how she plans to support the new registrar of voters and election process.
Herman's challenger, Edwin Lyngar, said Herman's stance on "election integrity" was a big part of the reason he decided to run.
"I'm troubled by narratives that are obviously false," Lyngar said in an interview. "I want to talk about the narrative of what really matters to us as a community. Conspiracy theories and anger and this nonstop fighting is doing nothing for anybody. My opponent, who I won't name, but you know who my opponent is, I believe that she is bad for business."
Lyngar — a Truckee Meadows Community College English professor, veteran, yoga studio owner and former freelance writer — said besides "defending democracy", he would like to improve public land management, develop more of a central area in the North Valleys similar to midtown Reno and improve public services throughout District 5.
Though Lyngar lives in Reno, he said his experience growing up in Battle Mountain, a small town in north-central Nevada, has given him insight into how to better serve the rural areas in District 5.
"I understand what is good about the rural lifestyle, I'm going to help where possible to preserve it and promote it," Lyngar said. "As far as the Native American population here [is concerned], I have a very large population in my district. I have reached out to them. I want to reach out to them more."
To read Herman's full interview with The Nevada Independent, click here.
To read Lyngar's full interview with The Nevada Independent, click here.
Correction (9/22/2022 at 1:57 p.m.): The original story said that the Washoe County Commission is a seven-member governing body. It has been corrected to say that it is a five-member governing body.
Featured Videos
Comment Policy (updated 4/20/2021): Please keep your comments civil. We reserve the right to delete comments or ban users who engage in personal attacks, use an excess of profanity, make verifiably false statements or are otherwise nasty. Comments that contain links must be approved by admin.