Signage advertising a petition to remove the Valley Electric Association board of directors as seen inside the Coyote's Den Bar in Pahrump on Wednesday, March 6, 2019. (Daniel Clark/The Nevada Independent)
'Now the rent comes due': Valley Electric board faces backlash after rate increase, office raid, arrest of CEO
March 10th, 2019 - 2:10am
They came for the petition but stayed for the burgers and fries.
It was Wednesday afternoon in the Coyote's Den, a Pahrump bar known for its bingo and karaoke. More recently, it has served as one of five locations where frustrated ratepayers could add their names to a growing list of Valley Electric Association members who want to oust the energy cooperative's board of directors for what many see as financial mismanagement. With enough signatures, the petition drive could force a special meeting and a possible board recall.
"I just don't want to pay more money, and now we are," said Darleen Beck, 75, as she nibbled on a late lunch.
Beck and her relatives, Wayne and Patti Rude, had scrawled their names on the member-driven petition before sitting down to eat. In this small desert community an hour west of Las Vegas, an energy rate increase has prompted members to take action after the county sheriff's office revealed allegations of embezzlement and using hush money to cover up alleged sexual misconduct.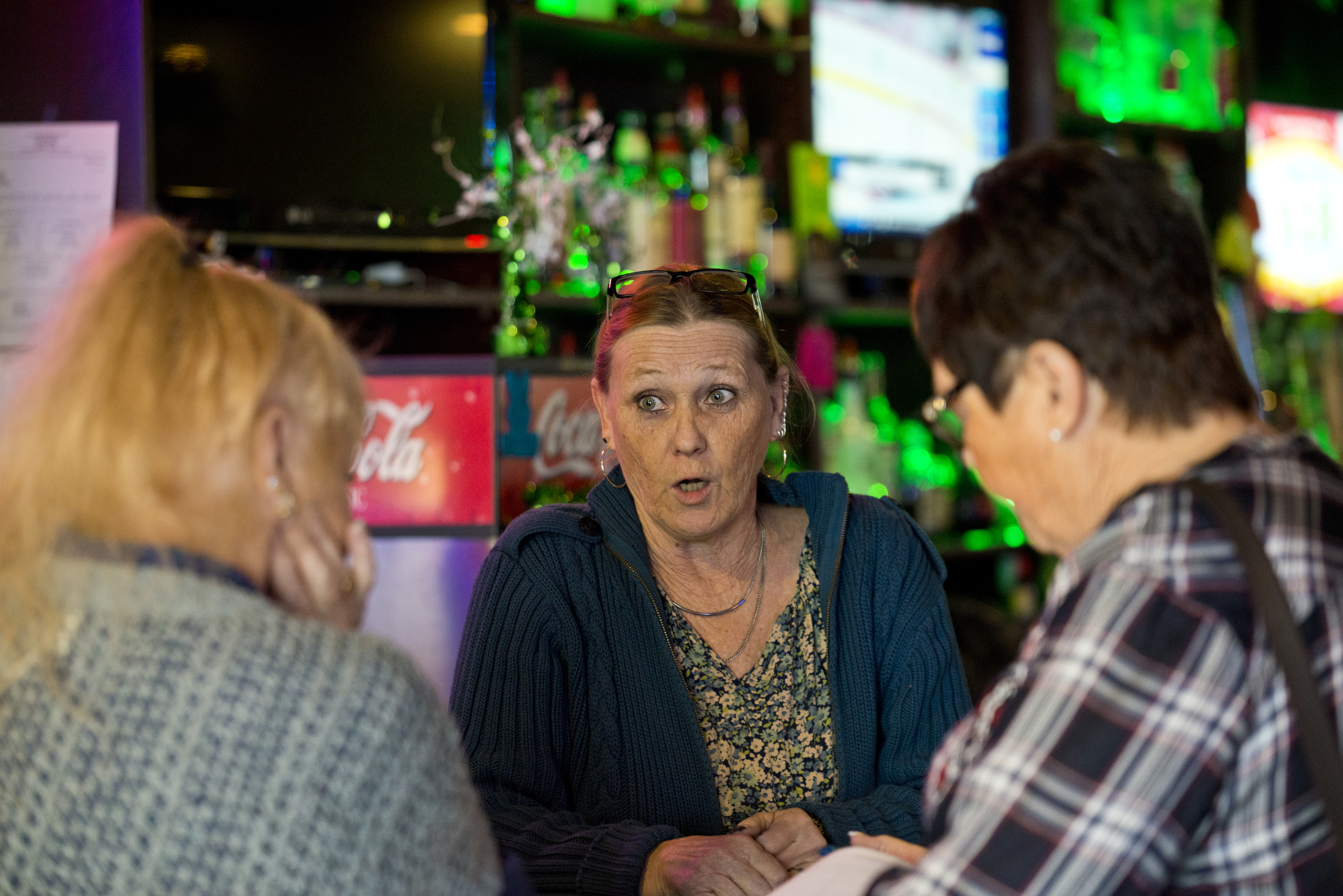 The Nye County Sheriff's Office executed a search warrant at the Valley Electric campus on Feb. 22, raising eyebrows across the co-op territory and prompting the board to send a letter that called the raid "Kafkaesque." Authorities seized email correspondence, payroll information and personnel files as part of an investigation into whether Chief Executive Officer Angela Evans and board members used Valley Electric money to cover up a possible sexual harassment incident involving former CEO Thomas Husted, who abruptly retired in May.
Four days later, the sheriff's office served another search warrant after receiving a tip that Evans had billed Valley Electric for roughly $75,000 worth of work done to power lines behind her Pahrump residence. That led to Evans' arrest on suspicion of embezzlement and another interim CEO being appointed; the cooperative's third in less than a year.
Now, two hair salons, a bar, a thrift shop and a tattoo parlor contain petitions circulated by Valley Electric Association Members for Change, a grassroots and social media-fueled movement to install new leadership at the cooperative, which serves more than 45,000 individuals across a 6,800-square mile swath of Southern Nevada.
As for the three disgruntled ratepayers in Coyote's Den, their outlook is simple.
"We're paying up to make up that difference," Wayne Rude said, referring to the financial mismanagement allegations. "It doesn't seem quite right."
Ken Johnson, a former executive at a Valley Electric subsidiary who is leading the group, called the alleged embezzlement and sexual harassment cover-up "just another brick in the wall."
"Do I think the rate increase is a direct result of the [alleged] sexual scandal?" he asked. "Nah. But the scandal is just indicative of people throwing money around and just wasting money."
"Now the rent comes due," he added.
If the member uprising succeeds, toppling the existing Valley Electric leadership, supporters said it would right the ship. But the board is far from waving a proverbial white flag.
Big ambitions
Electric co-ops, typically found in rural areas, were created to power sparsely populated areas unserved by large investor-owned utilities. The Valley Electric Association formed in 1965 to sell power to Pahrump, Beatty and the rural areas nestled on the Nevada-California border near Death Valley National Park. It's one of seven such cooperatives statewide.
The general concept behind the electric co-op is that it is self-sustaining. It procures the amount of power that its customers need in a smaller area — most cooperatives are too small to own power plants — which helps avoid expensive long-term costs and keeps rates stable.
Kevin Robison, the CEO and general manager of Mt. Wheeler Power, said his cooperative saw its first rate increase since 1993 just last year; evidence of the cooperative's focus on minimizing risk and ensuring electric rates remain stable for decades.
"We have to be very cognizant of our power supply, our ability to maintain a very stable rate structure for our members," he said. "Seventy percent plus of our residential customers are heated by electricity, so that would be a dramatic impact on our members if we let rates get out of control."
Customers often pay for that power at a lower rate than neighboring investor-owned utilities, such as NV Energy. The construction of dams in the early 1900s led the federal government to award low-cost hydropower contracts to co-ops, part of the early effort to help settle rural communities in remote areas. Valley Electric, for instance, gets a portion of its power from the Hoover Dam.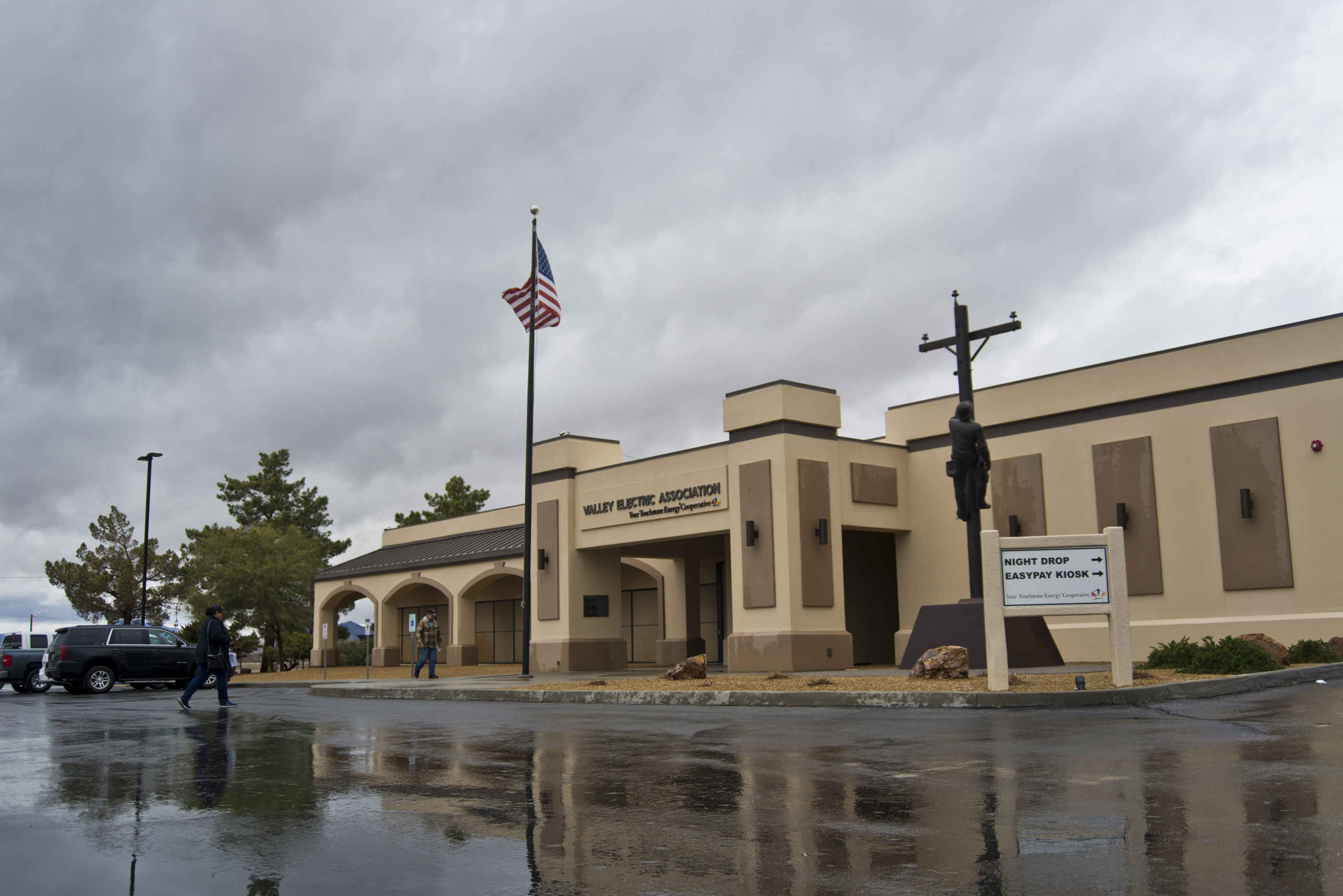 Valley Electric has charted a different course, setting it apart from other co-ops in the state.
It split from the state's trade group for rural co-ops more than a decade ago, and has branched out, opening subsidiaries for other services and actively challenging NV Energy's monopoly.
"We network very closely with a lot of the other public power utilities in the state," Robison said. "But they were just not one to come into the camp, if you can call it that."
In some cases, Valley Electric's bullish approach has paid off. The small co-op pulled business away from NV Energy in 2012 when it won contracts for electrical services at the Nevada Nuclear Security Site and Creech Air Force Base, nearby federal installations. NV Energy challenged the deals with the Public Utility Commission (PUC), which does not regulate co-ops.
The PUC dismissed the complaints, and the cooperative scored a coup when Gov. Brian Sandoval vetoed a bill that would have subjected cooperatives to PUC oversight if they entered into contracts outside their service territory. About the same time, Valley Electric joined California's wholesale energy market, giving it access to a bigger, broader energy market.
Those major decisions were driven largely by former cooperative CEO Tom Husted, who led the utility for roughly a decade before quietly and abruptly departing in May 2018.
Husted pushed for the cooperative to support the Energy Choice Initiative, a broad constitutional ballot question that would have ended NV Energy's electric monopoly and opened the state up to retail competition by 2023. Although most other rural electric cooperatives expressed concern about the ballot question — specifically how their model would exist in a retail choice state — VEA and Husted heartily endorsed the measure and contributed $100,000. "We see our position as a natural reflection of responding to what the marketplace is demanding," he said last March. "Change is inevitable. Ride that change, don't buck it."
Although the initiative passed by overwhelming margins in 2016, it failed spectacularly in 2018 with more than 68 percent of voters casting a ballot against it. The margin of "no" votes was even higher in Nye County, where more than 70 percent of voters cast a ballot opposing the initiative.
The board viewed the Energy Choice Initiative as an opportunity for the co-op. If the ballot question gained voter approval, Director John Mauer, who represents Fish Lake Valley, said it could have positioned Valley Electric to serve as a seller of energy to other parts of the state.
Husted even foresaw a situation in which the co-op could replace NV Energy.
"If energy choice becomes a reality in the state of Nevada, our goal is to become the largest energy service provider in the state," he told energy trade publication Utility Dive in 2017.
That same year, a Valley Electric subsidiary filed for an advisory opinion from state energy regulators to see whether it could operate as a provider of new electric services from the growing list of businesses that had filed to leave NV Energy's service territory. The commission ruled that the cooperative could indeed serve departing customers under limited circumstances.
Husted could not be reached for comment by The Nevada Independent.
The transmission line and rate increase
One of Husted's more lasting decisions came via the $200 million sale of the utility's 164-mile high-voltage transmission system to a Dallas-based transmission company in 2016.
Husted heralded the sale — which required and received approval by two-thirds of cooperative members — as a "landmark" day for the cooperative. With more cash on hand, Valley Electric rescinded a 9.9 percent rate increase put in place months earlier.
"We will be paying down a significant portion of our debt, and members will enjoy reduced rates, a prolonged period of rate stability, a cash premium of $579 and the largest capital credit retirement in the cooperative's history," he said, according to the Pahrump Valley Times.
At the cooperative's annual meeting in 2017, Husted proclaimed excellent financial conditions and healthy growth. He told members that the cooperate reported more than $60 million in net profits for 2017 — largely driven by sale of the transmission system — and reported that its move toward broadband was going well, with 7,180 subscribers signed up.
Everything indicated success.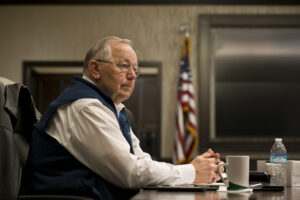 But behind the scenes, a more complicated picture was coming into focus.
Along with the defeat of the Energy Choice Initiative, the co-op's revenue stream from its broadband subsidiary fell short of projections, putting a squeeze on the overall operation, board members said.
By November, board members said it became clear the co-op needed a significant rate increase to right itself financially. Mauer said the consensus among board members was that if they were going to raise rates, they had to first look at ways to cut their internal costs.
"That's not acceptable," he said, describing the board's thinking at the time. "That comes out of members' pockets and so we need to look at doing everything internally that we can."
That mindset led to cutting what board members deemed controllable costs, such as contract work on the broadband side, followed by voluntary separations and layoffs. Valley Electric officials said 16 employees accepted a voluntary separation package and 18 others were laid off.
In a press release announcing the rate increase, the VEA board detailed that funds from the $200 million sale of the transmission system had quickly evaporated.
The board stated that nearly $83.7 million of the total was spent to pay outstanding debt on the transmission system and in closing costs to brokers and attorneys, leaving the cooperative with $117 million in net cash.
Members of the cooperative received an aggregate of $18.1 million (in the form of $579 checks to individual members) and another $5 million was set aside for a future community center in Pahrump. On top of that, more than $30 million was put aside to offset future rate increases. That left the cooperative with about $64 million .
However, the board and CEO Angela Evans also disclosed that nearly $60 million of proceeds from the transmission sale (including the $30 million for rate increases and another $29 million) went to buy down "unfavorable" long-term power purchase agreements entered into by Husted over the previous decade. The contracts were designed to keep rates stable in the short term, with costs rising at the end of the contract.
"This strategy used by the previous CEO, known as 'blend and extend', involves maintaining power at lower rates for a period of time with a requirement to pay much higher power prices in the future," VEA board members and Evans wrote. "Examination of energy prices showed that pricing using the blend and extend mechanism was no longer a good deal."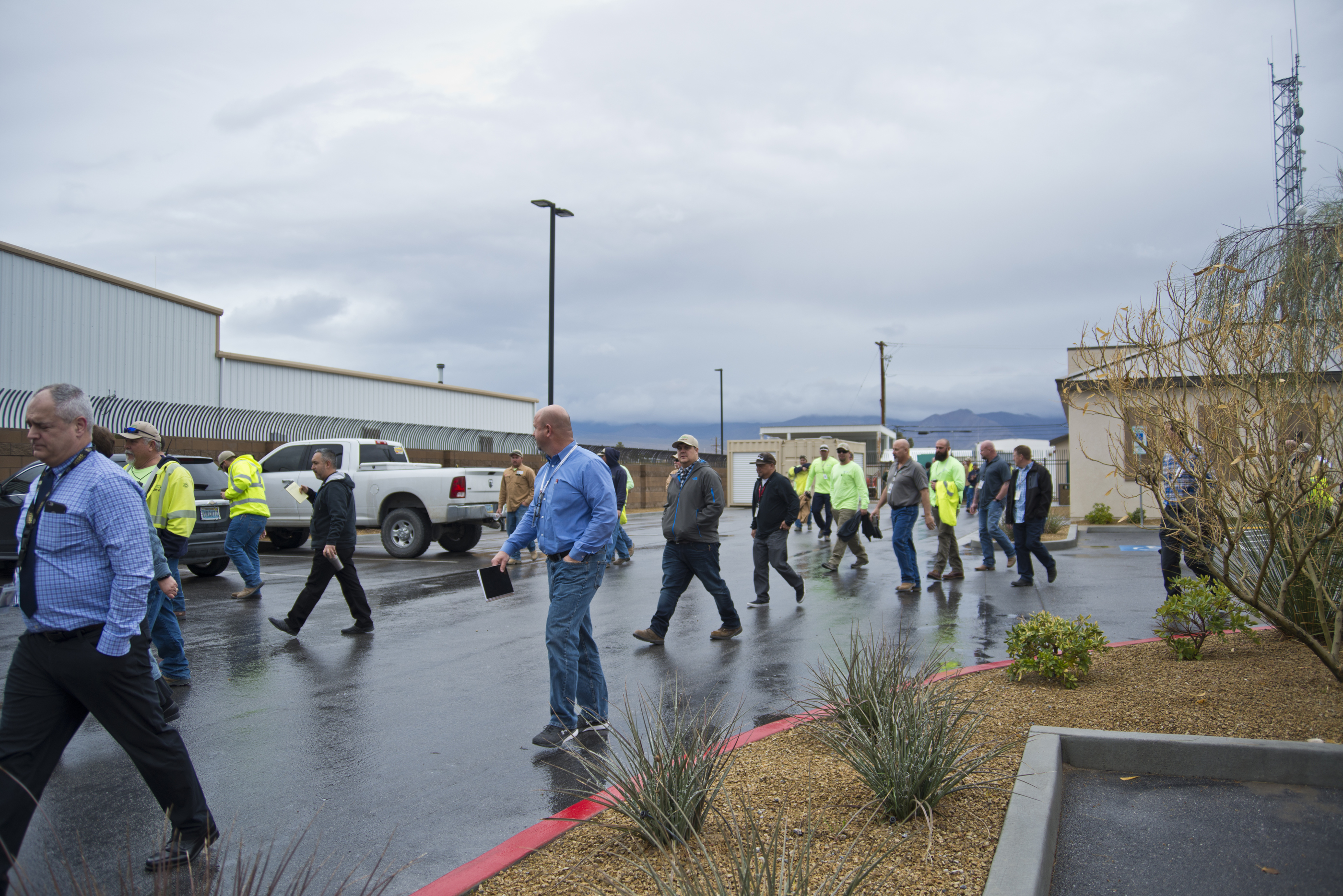 Efforts to rein in costs weren't a secret. A co-op press release in mid-December, which summarized Evans' community tours, noted that more than $5 million in annual cost-savings were implemented in the second half of 2018, with another $6 million planned for 2019.
But critics of Valley Electric have also pointed to high administrative costs, such as salaries. Husted, especially, reported compensation higher than the leaders of most other cooperatives.
A 2016 990 form submitted to the Internal Revenue Service shows Husted reported more than $643,000 in total compensation, with a base salary above $434,000 a year. By comparison, Wells Rural Electric CEO Clay Fitch reported a total compensation package around $450,000 in 2016 with a base salary of $247,981, and Mt Wheeler Power's former CEO Randy Ewell reported total compensation of a little more than $252,000 with a base salary just below $200,000 a year. Husted's salary even nearly eclipsed former NV Energy CEO Paul Caudill's base salary of $469,000 a year.
Valley Electric's board said the higher salary was because of responsibilities that extended beyond energy distribution, the primary function of most co-ops. Directors noted the co-op's foray into broadband and other projects as evidence in support of the higher base pay.
After the internal cost-cutting measures, the board determined a 9 percent rate increase was necessary based off a cost of service study done late last year. Aside from the temporary rate increase in 2017, it marked the first price jump in more than a decade.
The suddenness of the rate increase caught even those outside of VEA's service territory off guard. Robison said that Mt. Wheeler spent two fiscal quarters informing members of its pending rate increase in 2018, stressing that the cooperative wanted to give customers and businesses ample time to prepare to adjust their budgets.
"I don't think that is a period of time that we could accept as being normal," he said. "I don't want to speak to their independence and how they address things, but that would not be, in our philosophical belief, for our membership, that would not be an adequate amount of time."
As a defense, Valley Electric board members have pointed to a fiscal audit conducted by an outside firm reviewing the cooperative's finances between 2016 and 2018. The audit found "no significant transactions" lacked supporting documentation or that were unable to be verified, but noted that the cooperative lacked clear documentation for internal controls.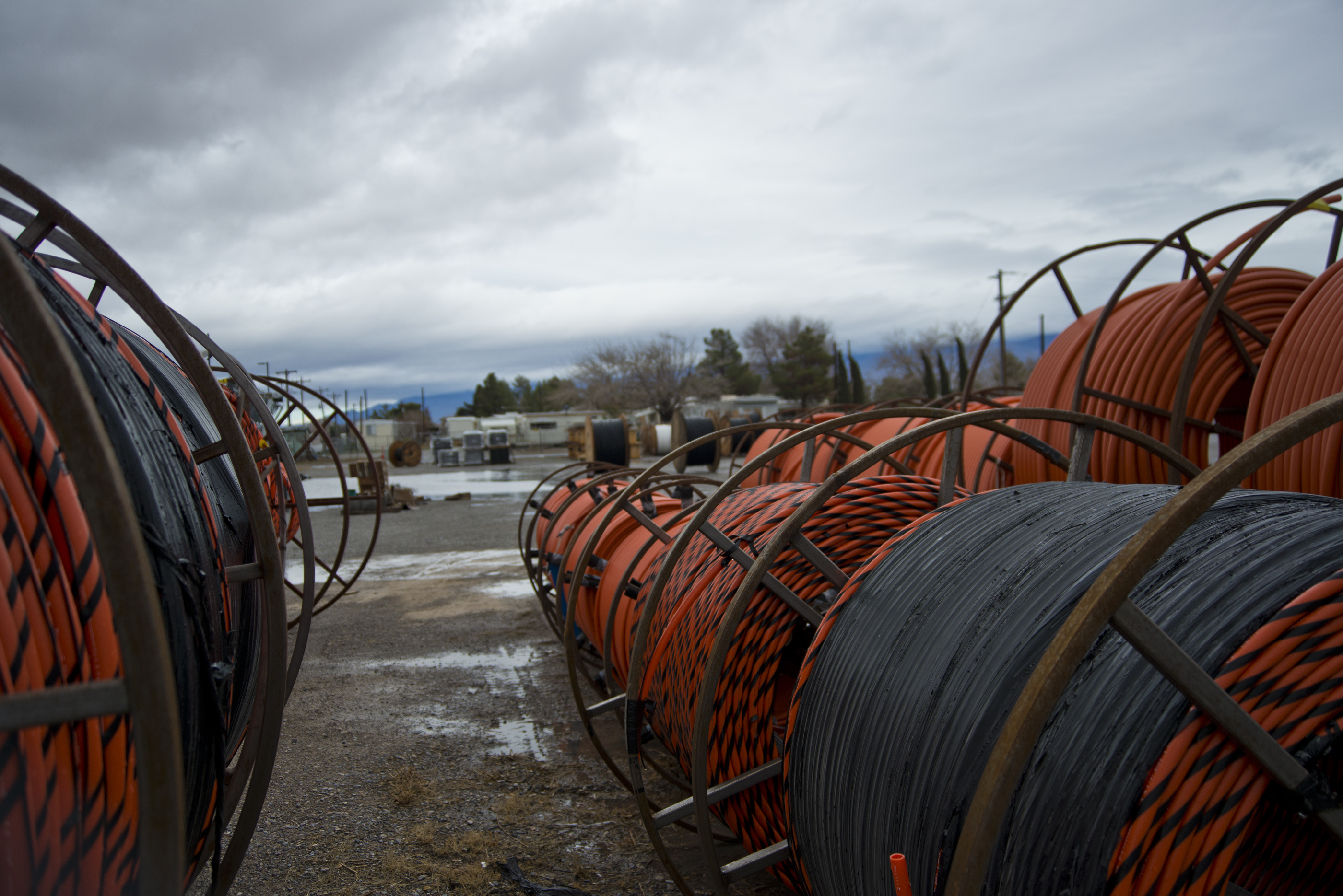 Then the warrants came
With festering anger directed at the co-op, the Nye County sheriff's office executed its warrants — announced via a video on Facebook. At the center of the sheriff's investigation is the recall effort that began with the rate hike announcement, according to copies of the warrants.
After the rate hike was announced and the recall effort began, "a resident in the community" reached out to the sheriff's office suggesting that the increase was part of "an extensive financial coverup of sexual misconduct" involving "hush money," according to one of the warrants. In follow-up interviews, the sheriff's office said it spoke to employees of Valley Electric who had received payments and signed non-disclosure agreements. The interviews, according to the warrant, revealed a belief that the total amount of payments were more than $1 million.
The warrant details interviews that the sheriff's office conducted with friends of the victim of the alleged sexual misconduct. They said that there were audio tapes to back-up the claims.
The sheriff's office, in the warrant, requested records dating back to January 2015.
After Valley Electric's offices were raided Feb. 22, the board released a statement the next Monday slamming Nye County Sheriff Sharon Wehrly's office and questioning her motives.
They said the raid was "Kafkaesque" and that the "heavy-handed manner in which the search was conducted violated Nevada law, as well as the constitutional rights of those detained."
The statement went on to say that there was "no financial cover-up" and that the "recently announced rate increase was due to the increased costs of operating the utility, and not the alleged payments of 'hush money.'" They said the sheriff's office was "all about the cameras."
"We question the motives of Sheriff Sharon Wehrly, whom we hold personally responsible for the unconscionable and unprofessional manner in which the search was conducted," the board wrote in their initial statement. "We intend to pursue all legal options."
In an interview, board members did not say whether they would file a lawsuit.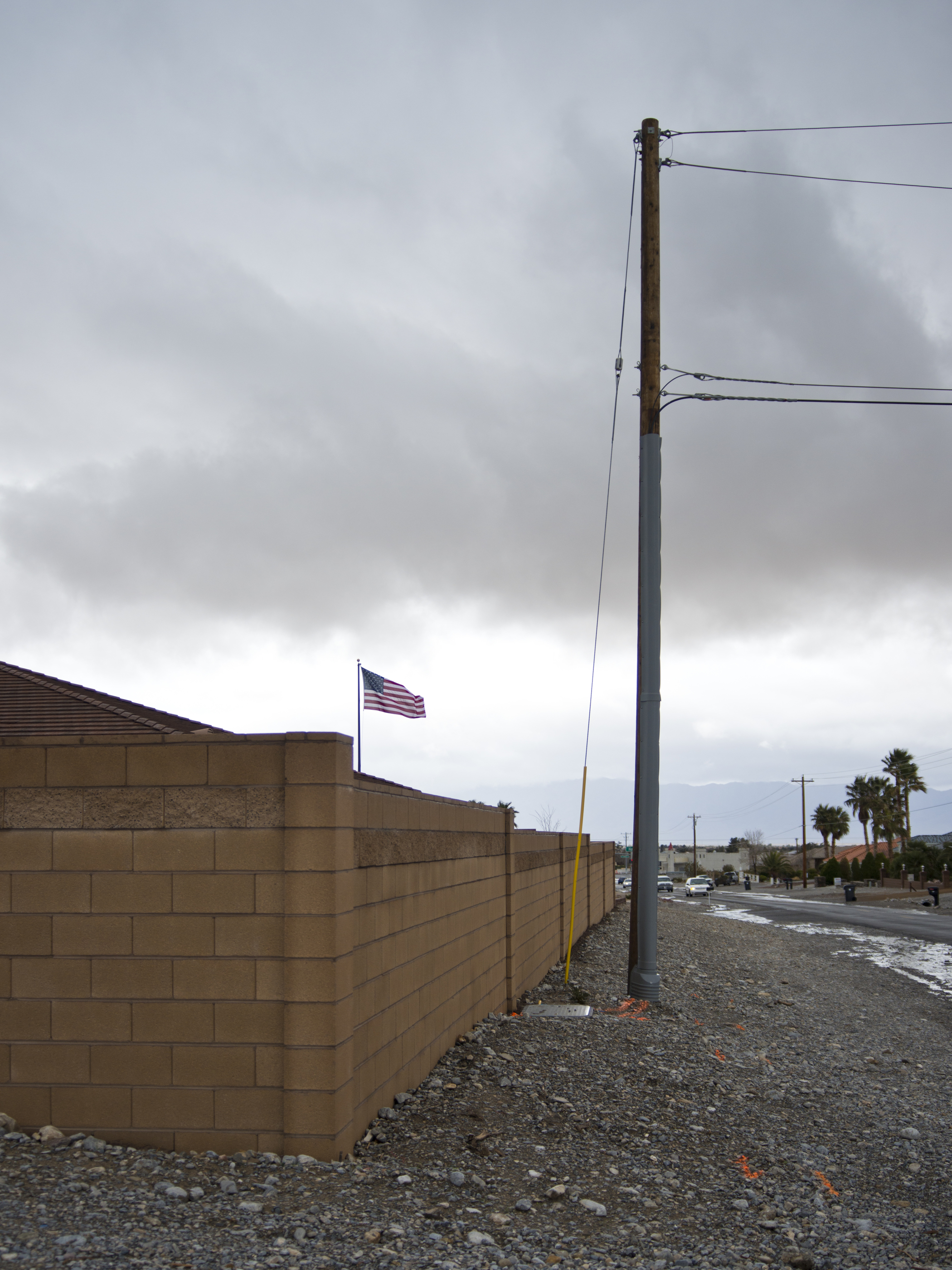 Days later, the sheriff's office executed additional warrants that contained the allegations that Evans had about $75,000 of work done at her home to bury power lines in her backyard and "the cooperative absorbed the costs." She was arrested on Tuesday, Feb. 26.
According to the warrants, Evans was interviewed as part of the investigation and said such an arrangement was not appropriate. She told investigators, according to the warrant, that she had paid for the services. The warrant said Evans added that she would fix the issue if she had not.
Even critics such as Johnson do not believe the rate increase was entirely because of the allegations of embezzlement and hush money that the Nye County sheriff's office is continuing to investigate. Most agree that the alleged $1 million in "hush money" would likely not have a significant effect on rates — especially not to the level of a 9.9 percent increase in monthly rates.
He saw the recent news as the straw that broke the camel's back. 
Upset members
The Valley Electric saga has been couched as a case of cause and effect: frustration about embezzlement allegations and a rate hike bubbled into a member-driven call for change. But Johnson, the former cooperative executive who's leading Valley Electric Members for Change, said the discontent was simmering weeks before authorities ever executed the search warrants.
Several days after the rate increase was announced in early February, Johnson said he "put out a flare" by asking his neighbors what they thought. The response, he said, was overwhelmingly negative, which led to the creation of the petition group to recall the board. The petition drive netted roughly 100 signatures in its first day.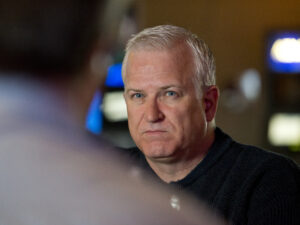 "The whole movement was just about the broken promises for this transmission sale and the deal — the contract — with the members that there wouldn't be a rate increase until at least 2024," he said. "And that was it. We knew nothing about the [alleged] sexual scandal. We knew nothing about the embezzlement."
(Johnson formerly served as executive vice president on the broadband side and had applied to be CEO after Husted departed. Johnson said he left the cooperative voluntarily at the end of 2018.)
Johnson expects the power bill for his four-bedroom, ranch-style home to increase $25 to $35 a month, along with a $20 increase to his broadband internet charge. Johnson, who now runs his own production company, said his pocketbook can handle the increase, but he's worried others — particularly seniors on fixed incomes — can't shell out more money.
"This isn't a private for-profit company," Valley Electric member Mike Burgan said. "They're doing this to their fellow co-op members."
The two ratepayers lay blame on the six-member board, which, in theory, reports to them as stakeholders. The board oversees the chief executive officer and approves rate increases.
"The real frustration is with the board of directors because had they had done their jobs, the CEOs would not have been out of control," Johnson said.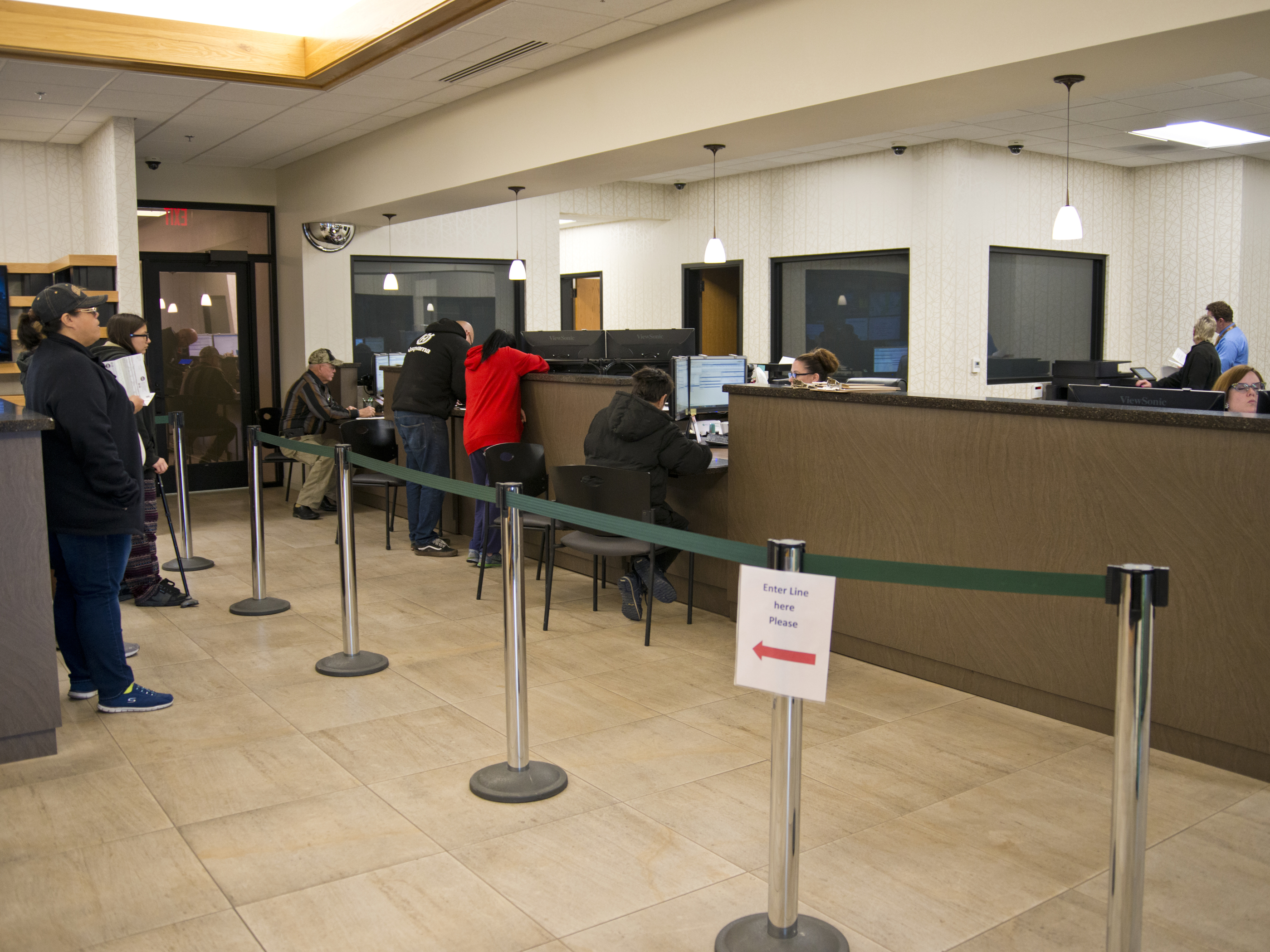 John Koenig, chair of the Nye County Commission, described Valley Electric's approach as "pie in the sky," often making a lot of promises to ratepayers that they were unable to fully deliver.
He said he would reserve comment on the warrants until the process played out. But he was dismayed by the financial situation in light of the rate hike to pay for the transmission line.
"I am extremely dismayed," he said. "When we were voting on whether to sell the transmission line, we were promised a lot of things. And we're not going to get any of those things."
Koenig, a ratepayer and Pahrump resident, said the board should be transparent.
"They should report to the people they represent and explain to the people how this happened," he said. "They are responsible to watch over the company as I am responsible to watch over the county."
Board members who participated in an interview with The Nevada Independent declined to answer any questions related to the criminal investigations. Two attorneys attended the interview and advised board members not to answer questions about whether they had any indication sexual harassment was occuring within the office or if they knew work was being done on Evans' property. They said the cooperative does have a policy banning any form of harassment, though.
The board has hired an outside firm to conduct an internal investigation. No timetable has been set for the completion of that probe.
A clerk at the Pahrump Justice Court said Evans, who could not be reached for comment, has not been formally charged. Her next appearance in court is scheduled for April 29. She remains on paid administrative leave from Valley Electric.
Board members defended the integrity of the co-op, saying the financial situation was discussed during Evans' community tours in December. Mauer said blowback didn't occur until after the rate increase was announced.
"It's unfortunate that you don't get participation in a big way until after you do something," he said.
The petition drive, however, aims to revamp board leadership. Per the co-op bylaws, if 10 percent of members sign a petition, that can jumpstart a process to remove board members. The removal of board members would be considered and voted on at a meeting of members. A special meeting can be requested with signatures from 5 percent of members.
Co-op membership changes daily, but it stood at 18,723 members as of Thursday.
Johnson said Valley Electric Association Members for Change hopes to collect 2,000 signatures. By the end of this weekend, he estimates 900 people will have signed the petition. When the group reaches the 5 percent threshold, it will request a special meeting.
As the petition effort unfolds, board members said they're focused on putting their best foot forward.
"We're going to tell our story, and let the members be the ones that decide," said Director Dave Hall, who represents Amargosa Valley.
Despite being the subject of sharp criticism, the board members interviewed for this story said they did everything in their power to control and minimize the rate increase.
"We have done nothing wrong," said Director Rick Johnson, whose district includes Beatty. "The investigation and the process that we're in right now will eventually prove that's the case, and I think we'll be exonerated. It's uncomfortable. It's unfortunate that we're having to go through this, but I think in the cycle of business that's where we stand."
Whatever the outcome, one honked-off member has a solution that he hopes will lower his power bill — solar panels. Pahrump resident Loyd Lindsey said his are already on the way.
"It's just cheaper in the long run to get solar, especially if you live in the desert," he said.
Comment Policy (updated 3/21/19): We welcome reader comments on our stories. However, in keeping with our general policy of transparency, accuracy and accountability, we do not accept comments from anonymous accounts. Anonymous accounts are those without a valid first and last name. Any such comments will be deleted, and anonymous users will be blocked from commenting further. We also will block commenters who use offensive language, engage in personal attacks or state things that are verifiably false.
get our morning newsletter,
The Daily Indy
INDYMATTERS PODCAST
CAFECITO CON LUZ Y MICHELLE
@TheNVIndy ON TWITTER