Nye County residents submit petition to put brothel ban to a vote on heels of similar effort in Lyon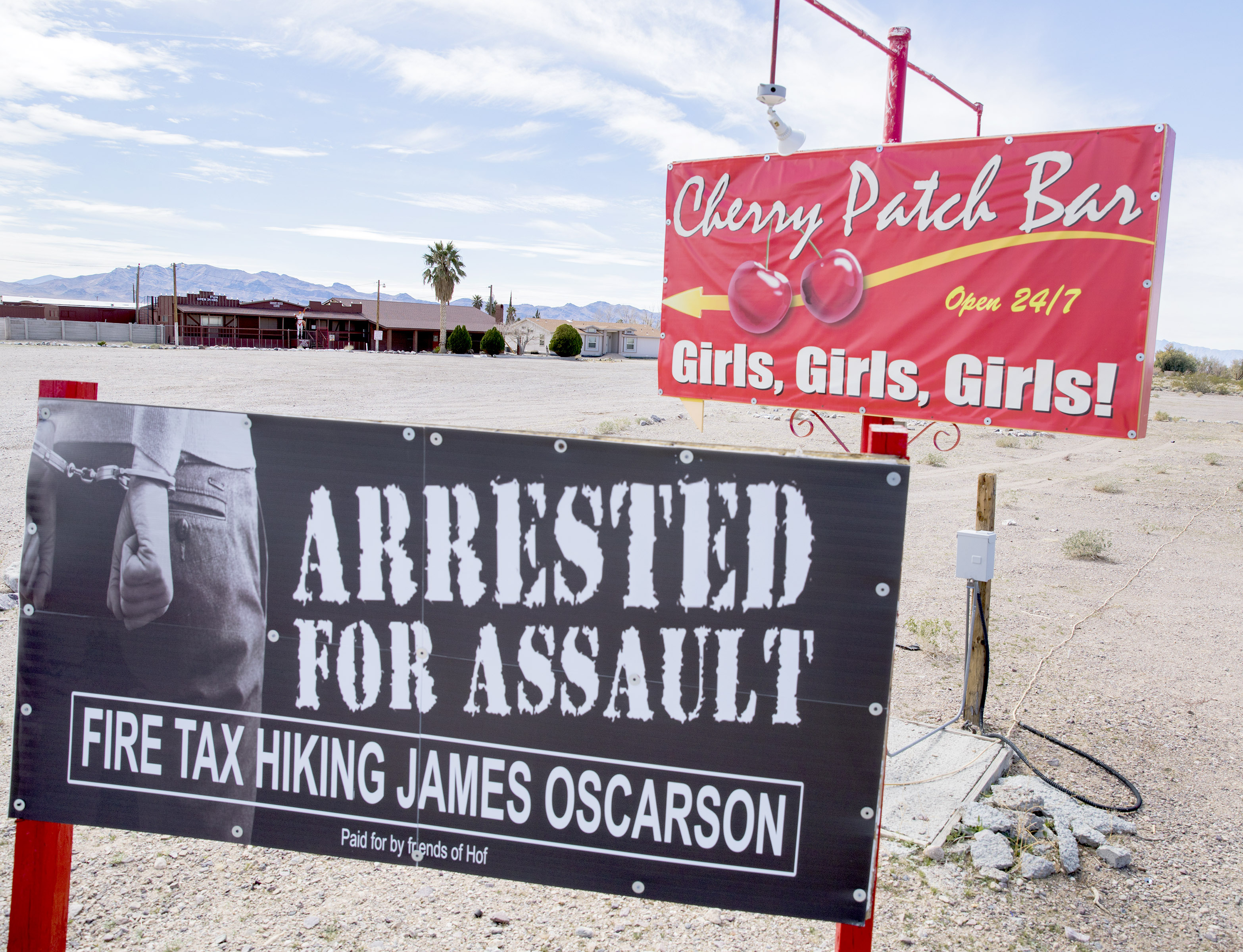 A group of residents submitted a referendum petition Tuesday morning to ban brothels within Nye County limits, inspired by a similar measure filed earlier this month in Lyon County.
The Nye measure, like the one in Lyon, will ask voters to either uphold or strike down the county's brothel ordinance, which establishes the procedure for regulating houses of prostitution in the county. The measure only needs 1,963 valid signatures to qualify for the ballot in Nye, compared to the 3,355 needed in Lyon.
Ron Fairbairn, a pastor in Pahrump, said that a group of residents in the county have been concerned about the brothels for some time and that when they heard about the Lyon County measure, they decided to pursue one of their own. They call their group CABINC, or Citizens Against Brothels in Nye County.
"It's been kind of an eyesore, and so we've been working on this for quite a while — how to do it, what we need to do to get people on board," Fairbairn said. "It's finally time especially with the things that are happening with Nye County. The citizens of Nye County have never voted about whether we have brothels in Nye County."
With four brothels in Lyon and Nye county each, if both measures qualify for the ballot and voters decide to ban brothels in both counties, about 40 percent of the state's 21 brothels will be forced to close.
Fairbairn said that he and four other community members — Keith Walker, Karen Cohen, Kermit Neal Owen and James Huntington — signed the initial petition to begin the signature gathering process. He said that while many in their group are involved in churches, the referendum is a broader, community-wide effort focused on the impact that the brothels have on the Nye County's reputation. He said that the group knows that there will be a fiscal impact of banning brothels from the county but suggested the brothels have a negative economic impact of their own.
"We know the money that the brothels bring in. But how many limousines come into our town, shop, buy and participate in what we do?" Fairbairn said.
Fairbairn said that Republican Assemblyman James Oscarson, who faces a primary challenge from brothel owner Dennis Hof, is not involved with the effort. Hof owns two of the four brothels in Nye County.
Hof, reached by phone Tuesday, said that if Nye decides to ban the brothels, it will have to spend additional money on a vice squad to combat illegal pimps and that the rates of sexually transmitted diseases are likely to increase.
"Prostitution is not going away, and you either put it in the hands of the professionals like liquor, marijuana and gaming, or you have it in the hands of the criminals," Hof said.
The group asked lawyer Jason Guinasso to help draft the Nye measure, as he did for Lyon, and will use the website started by the No Little Girl Campaign, the official name of the community-led group formed to back the Lyon County effort, to promote their efforts. Guinasso and victim advocate Kimberly Mull will also help educate the Nye group on the signature-gathering process.
Nye County Commissioner Lorinda Wichman directed staff at a March commission meeting to look into the possibility of putting the question of whether the county wants to continue to allow legalized prostitution on the ballot. Fairbairn said the CABINC effort is separate from Wichman's proposal.
The Lyon group submitted its referendum petition with the goal of spurring economic development in the area, worried that employees of tech giants such as Apple, Tesla and Switch won't want to live in their community if brothels remain legal. However, Hof, who also owns the only four brothels in Lyon, told The Nevada Independent earlier this month that he believes the county will have a difficult time making up for lost tax revenue if it bans legal prostitution and noted the way the brothels give back in other ways, such as fundraising efforts for the high school and a local dog park.
"We're very big on giving back to the community," Hof said earlier this month. "Without our money they wouldn't have police cars and numerous other things. We are the big taxpayer."
Brothels have existed in Nevada since the 19th century, and Nevada has formally regulated them since 1971. Any county with a population under 700,000 is allowed to license brothels if it chooses to do so.
Prostitution is currently illegal in Clark County, Washoe County, Carson City, Douglas County and Lincoln County, and there are 21 legal brothels in Nevada as of February 2018, in Lyon, Nye, Lander, Elko, White Pine, Mineral and Storey counties. There are four brothels in Nye County: Love Ranch South in Crystal and Alien Cathouse in Amargosa Valley, Chicken Ranch in Pahrump and Sheri's Ranch in Pahrump. The Love Ranch, owned by Hof, temporarily closed earlier this year due to safety concerns over unapproved modifications but reopened last month.
Disclosure: Switch has donated to The Nevada Independent. You can see a full list of donors here.
The Nevada Independent is raising $200,000 by Dec. 31 to support coverage of the 2024 election.
Tax-deductible donations from readers like you fund this critical work.
If you give today,your donation will be matched dollar-for-dollar.
Give + Get Matched
Featured Videos