Officials worry about program deadlines as 194,000 remain on unemployment rolls
Nearly 194,000 people filed a weekly claim for Nevada unemployment benefits last week, leaving officials worried that the state is not getting people re-employed before major benefit programs are set to expire in just two months.
The Nevada Department of Employment, Training and Rehabilitation (DETR) reported on Friday that there were 193,735 continued claims filed last week across four unemployment benefit programs, about 3,600 fewer than the week earlier. Most of those were to the Pandemic Unemployment Assistance (PUA) and Pandemic Emergency Unemployment Compensation (PEUC) extension program, both of which are set to expire Sept. 6.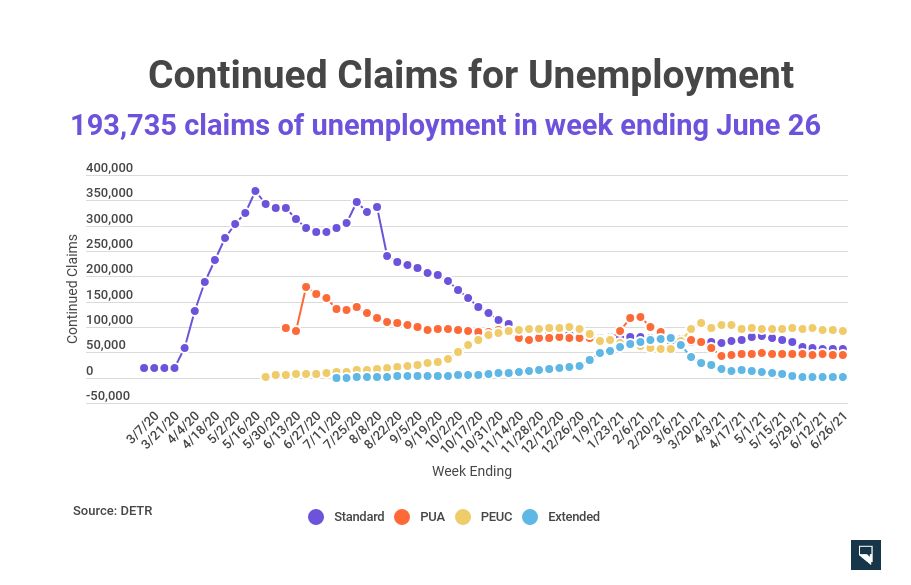 The number of continued claims is equivalent to about 12 percent of the state's civilian labor force.
"It's very concerning to me that we still have a lot of folks who are continuing to get benefits and can't find employment," DETR Director Elisa Cafferata said in an interview this week. "We're hoping that it's a really solid summer, especially in Las Vegas, which is where, of course, most of the numbers come from. And hopefully, we can continue to see the recovery sort of gaining steam, but we've got a little bit more of a ways to go in Nevada than a lot of other states."
Nevada's 7.8 percent unemployment rate in May is tied for the fourth-worst in the country.
The pace of new claims has leveled out, with 3,580 initial claims to the regular program last week and 221 initial claims to PUA — both among the lowest levels since the pandemic began. That is closer to pre-pandemic levels, when there were about 2,500 initial unemployment claims a week.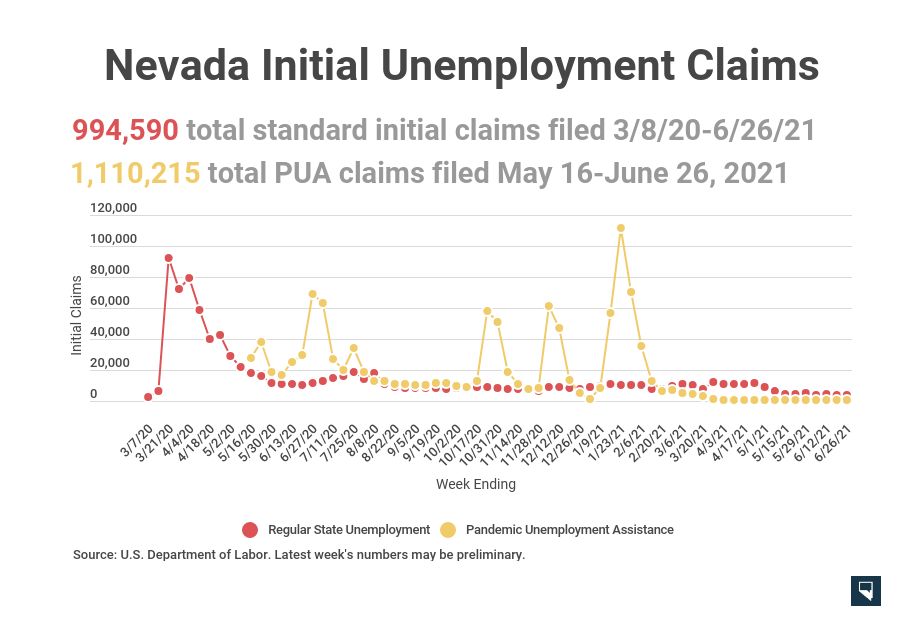 Although Nevada reinstated a work search requirement in May, requiring claimants to affirm that they are looking for a job to receive benefits, Cafferata said the rule hasn't greatly affected the number of claims.
"I don't think we saw any kind of change to the benefits other than ... slowly, we're seeing fewer and fewer claims," she said. "What we're seeing more of that's going to cause people to lose their benefits is they are earning wages. So they are working."
Claimants are required to report whether they are working, and whether they make enough in a given week such that they are not eligible for a benefits payment.
Cafferata said one barrier may be child care, and that mothers in particular may face challenges getting back to work while their children are out of school for the summer. She said the issue came up when Labor Secretary Marty Walsh visited Las Vegas last week and asked what Nevada needs most to address unemployment.
"We've seen a lot of women be very limited in what they can do to come back. So I think possibly that is something that gets addressed in the fall … if we see the schools reopening and ... those moms have a place for their kids to be during the day," Cafferata said. "I think that's something that's on the horizon, that if the pattern continues, we'll be in better shape."
She also said there's been no talk of Nevada withdrawing early from benefit programs that are on track to expire around Labor Day. More than half of the states have moved to curtail benefits early, but Cafferata pointed to how benefits help sustain consumer spending and the state's economy.
"We definitely have families and individuals that still definitely need these benefits. And in some cases, they're going to expire before they have found new jobs again," Cafferata said. "So I think there's a real commitment from all of the legislators we talked to and the governor's office to, as long as these benefits are allowable, to keep providing them to Nevadans who need them."
Addressing backlogs
During the worst of the unemployment backlog, the state brought on around 200 workers from the welfare division to work 20 hours of overtime each week to assist with handling claims. Nearly a year after the collaboration began, 107 of those employees are still working overtime to help.
The additional workers are pre-screening requests for appeals before they are scheduled, in order to determine whether they qualify for the full hearing process. As of this week, there are about 3,000 regular unemployment appeals and 17,000 PUA cases that need that review.
"We continue to really chip away at the backlog, but it's still there for sure," Cafferata said.
Once claims are approved for an appeal, the process can be still slow, Cafferata said. While the department has hired additional help, many of the cases are complicated by the person having potential eligibility for multiple programs.
"Some of these cases are very tricky," she said. "So they don't move quickly. But we are moving through them as quickly as we can."
As for a backlog on initial processing of claims, Cafferata said DETR is current on PUA applications and is processing new arrivals within 21 days. On regular unemployment, the agency is still looking at cases from March.
"We're down to about 100 days, which is a significant improvement from where we were," she said about the length of time it is taking to approve some first-time cases.
Legislative actions
The Legislature passed a bill, SB461, prioritizing $335 million in federal COVID-19 relief money to pay the federal government back what Nevada borrowed to keep state-paid benefits going, but Cafferata said there's not a hurry to make that disbursement.
Because the state's unemployment trust fund is replenished by employers paying quarterly taxes on wages toward the fund, the fund as of last week is about $277 million in the red.
"While we can borrow money interest free, there's not really a rush to repay it. So I think we're looking at September or December, when we would repay what's owed," she said.
Lawmakers also prioritized an overhaul of DETR's technology infrastructure, earmarking $54 million in federal money in the form of AB484. Cafferata said the National Association of State Workforce Agencies is helping DETR develop the request for proposals (RFP), but that the project is governed by the normal requirements of state purchasing "now that we're not in the heat of the emergency."
One open question, however, is what role the federal government may also play in modernizing state unemployment systems. DETR officials are actively communicating with the federal government about its plan to develop an open-source system to serve agencies.
"I think, probably the next two or three months, we're going to have to really get clear on what they are doing, what we need to do, how these things are all going to work together," she said.