On the Record: Republican attorney general candidate Sigal Chattah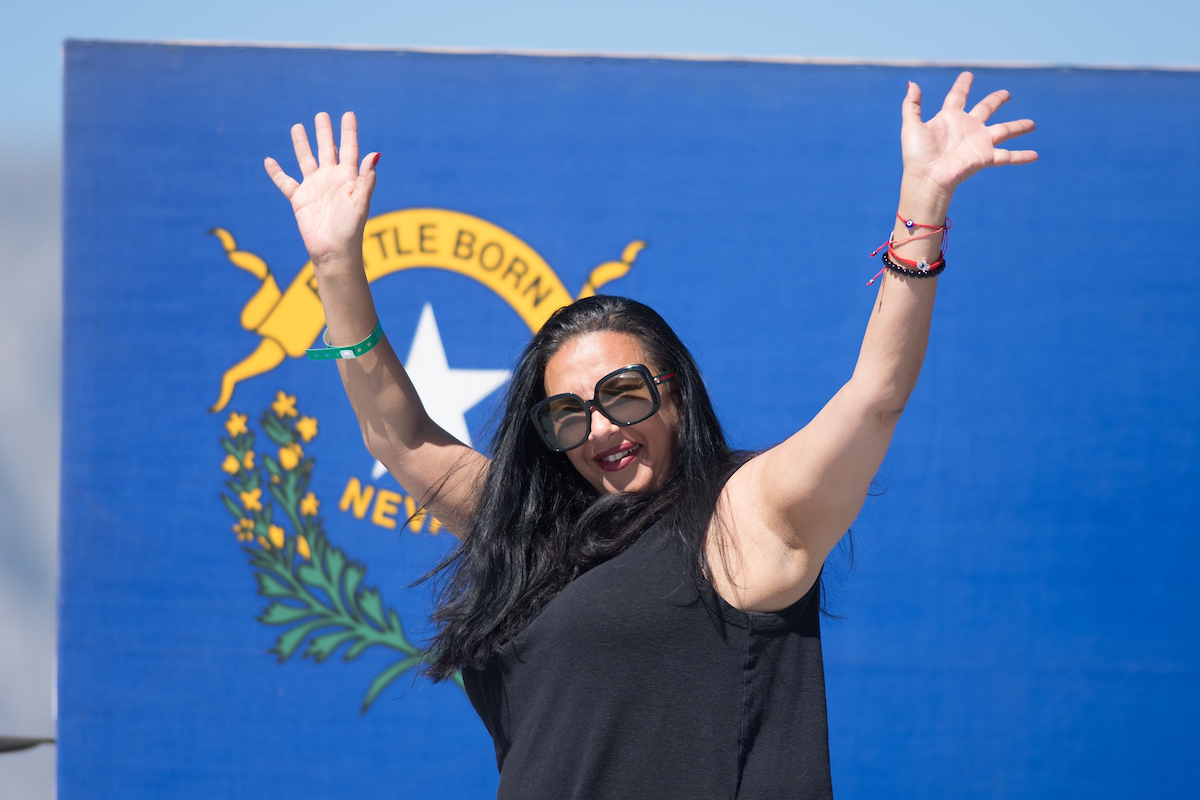 This is an installment in a series of "On the Record" pieces highlighting the policy stances of candidates running for major offices in the 2022 Nevada election. Check back in the coming days and weeks for additional coverage. For more information on the policy positions of Chattah's opponent, Democratic Attorney General Aaron Ford, click here.
After nearly 20 years spent as a civil and criminal defense attorney operating her own law firm, Republican Sigal Chattah is running to be the next top prosecutor in Nevada, with one key message: "Make crime illegal again."
Throughout her campaign, she has railed against recent Democratic-led efforts to reform the state's criminal justice system, including lessening sentences for certain nonviolent offenses, and she's cast herself as a crusader against government corruption.
Chattah declined to participate in an interview with The Nevada Independent, and her campaign did not provide answers to a set of questions seeking details about her policy positions as of Wednesday evening.
Chattah, who was born in Israel and moved to the United States at age 14, rose to prominence during the COVID-19 pandemic for leading lawsuits against administrative decisions made by Democratic Gov. Steve Sisolak.
She successfully challenged capacity limits imposed on indoor religious gatherings, and sued the state over its initial rollout of COVID-19 vaccines, pushing to prioritize doses for those 65 and older. That case was dismissed shortly after the state opened vaccinations to older Nevadans. Chattah has also cited pandemic-related restrictions and shutdowns among her reasons to run for attorney general.
In the general election, she is challenging Democratic Attorney General Aaron Ford, who is seeking a second term after he was first elected by a narrow 0.4-percentage point margin in 2018.
Below, we explore Chattah's policy positions, taken from public statements and media appearances. Or click on one of the following subjects to jump to a specific section:
Crime
Seeking the role of the state's top law enforcement officer, Chattah has made crime the tentpole issue of her campaign, often attacking Ford for his support of criminal justice reforms and reiterating her push to "make crime illegal again."
Central to Chattah's crime messaging is her opposition to AB236, a sweeping criminal justice reform measure passed by the Legislature in 2019 that aimed to reduce the state's prison population by lessening sentences for some nonviolent and lower-level crimes. The law also sought to increase access to "diversion" programs that substitute treatment and services for time behind bars.
She has tied the bill to increases in crime and heightened amounts of illicit drugs, describing Nevada as becoming "one of the unsafest states to live in," during Ford's tenure as attorney general.
Though Chattah has frequently highlighted specific cases of crime through her social media, typically violent crimes that occured in the Las Vegas Strip corridor, Nevada has broadly seen crime levels decline during Ford's time in office.
The number of violent crimes and property crimes recorded statewide were both lower in 2021 than in 2018, the year before Ford took office. And though Nevada historically has had higher rates of violent crime than most other states, that rate trended toward the national average in 2019 and 2020.
But Nevada has not experienced that trend across all types of crime. Chattah has said Nevada "businesses are helpless" because lawmakers approved an increase to the threshold for felony larceny. To qualify as a felony larceny, the value of the items must be $1,200, a jump from $650 after passage of AB236. Since that change, the number of thefts recorded statewide has moved little, with only a 1 percent decline between 2018 and 2021.
Through an anti-Ford website launched in September, Chattah also falsely claimed that "since Ford took office, Nevada's murder rate has RISEN 65.7 [percent]." In 2018, the state's murder rate was roughly 6.7 per 100,000 people, according to data from the Nevada Department of Public Safety and U.S. Census Bureau. By 2021, the rate had risen by 13 percent to 7.5 murders per 100,000 people.
Many of the crimes Chattah has flagged, including murders and larcenies, are typically handled by local law enforcement and do not fall under the purview of the attorney general's office.
In terms of partnering with local law enforcement, Chattah tweeted in July she would coordinate a joint task force with counties in an effort to minimize and eliminate evidentiary issues in criminal prosecutions. She didn't expand on how such a task force would operate.
As part of her push to "make crime illegal again," Chattah has identified several points of focus, including adjusting DUI laws amid a rise in traffic fatalities and rolling back recent bail reform efforts. If Chattah is elected, such changes could come through an "omnibus crime bill" that she would introduce as attorney general.
Corruption
Alongside her focus on crime, Chattah's priorities for the attorney general's office include investigating government corruption and "indicting and convicting" corrupt officials in Nevada.
Her fight for that goal involves bringing increased transparency to state government, she said during an interview in September 2021 on 8 News Now.
Through her social media, Chattah has highlighted particular cases she appears intent on investigating if elected, including financial issues with the tax-funded health insurance program for Clark County teachers and Northshore Labs, a politically connected COVID-19 testing company that had fast-tracked contracts across Nevada but had a selection of tests that missed 96 percent of positive cases.
"Indicting corrupt Union bosses and lobbyists who have stolen from Nevadans for way too long will be my legacy as [Nevada]'s next [attorney general]," she tweeted in July.
Guns
Chattah has portrayed herself as a staunch Second Amendment supporter, earning endorsements from top firearm groups in the country, including the National Rifle Association and Gun Owners of America.
When it comes to gun control, she has strongly pushed for the prosecution of "prohibited possessors." Under Nevada law, people convicted of a felony, domestic violence battery or stalking are among those prohibited from possessing a firearm. Violation of that law is considered a category B felony and could be punished with one to six years of imprisonment.
She also supports enforcing sentencing enhancements for people convicted of a felony found in possession of a firearm.
But her support for any other specific gun laws goes little beyond that.
"Let's start off with those two laws first, and then see how many more laws they need after that," she tweeted in May.
Police
Chattah has repeatedly described Ford as "anti-police," while garnering endorsements from several major police groups herself, notably including the Public Safety Alliance of Nevada, which is primarily composed of the Las Vegas Police Protective Association, the union representing Las Vegas Metropolitan Police Department officers.
In an opinion column published by the Reno Gazette-Journal in May, she denounced the "villainization of law enforcement," which she tied to the Black Lives Matter movement and a "new 'woke' America," and called Ford "the most hostile attorney general to law enforcement that Nevada has ever seen."
Describing her reasoning behind that label, Chattah pointed to his support for limiting police use of force and his interest in "oversight of our law enforcement" as hostility toward police.
She also took issue with efforts to "tamper with qualified immunity," a broad legal defense that shields officials, including police in some cases, from being sued for constitutional violations.
In a video released last year, Chattah said she was running to become "America's Number One conservative attorney general" and aimed fire at progressive Rep. Ilhan Omar (D-MN), who has backed the "defund the police" movement.
Opioid litigation
While hundreds of Nevadans die each year from drug-related overdoses, Nevada's state and local governments have pursued lawsuits against dozens of major drug manufacturers, marketers and distributors to secure funding to remediate the opioid epidemic.
Already, the state has secured nearly $330 million through settlements with some of the largest opioid distributors, and Nevada could receive hundreds of millions dollars more through other ongoing litigation.
But Chattah has repeatedly criticized Ford's handling of that litigation, from questioning the selection of his former law firm as outside counsel to framing the slow pace of allocating the funds as corruption.
During an August appearance on Nevada Newsmakers, Chattah said she finds it "extremely hard to believe" that the hiring of Ford's former private law firm Eglet Adams (formerly Eglet Prince) as outside counsel to lead the state's opioid-related litigation was "happenstance."
"I know the type of law firms we have in Nevada and I've litigated with those law firms. We've got some outstanding lawyers, we really do. So I don't believe for one minute that his law firm is the one that should have received it," Chattah said.
Ford has pushed back on such claims, saying that an independent committee selected the firm, and he recused himself entirely from the process.
Chattah also raised alarms about some financial aspects of the litigation — namely, legal costs paid to the firm and its undisclosed hourly billing rate.
When the state received its first funds from this litigation — $45 million from a settlement with consulting firm McKinsey & Company — $16 million went to Eglet Adams for legal "costs," which involved the handling of millions of documents, including collection and redaction as well as costs for experts. The firm also received more than $5 million in legal "fees," which are capped at 19 percent, per the state's contract with the firm.
Though those costs represented a sizable chunk of the initial settlement, they were also frontloaded as the law firm incurred those costs across litigation against dozens of defendants. For the $50 million Nevada received from a settlement with Johnson & Johnson earlier this year, the firm received $8.4 million for costs, according to a representative with the attorney general's office. Out of an additional $9.9 million received initially from another settlement, no legal costs were deducted.
An agreement between the state and more than two dozen local governments also stipulates that when the state receives any money through the litigation, legal costs are to be paid first to the lead litigator, Eglet Adams, before being distributed to the various governments.
Chattah has also questioned where the settlement money has gone since being received by the state.
During the 2021 legislative session, lawmakers passed SB390, which set up a state fund for recoveries from opioid-related litigation and gives the Department of Health and Human Services control over the fund. The bill requires the department to conduct a state needs assessment and draft a plan for allocating the funds before distributing them. Some local governments are also moving to allocate their shares of the funds.
Abortion
Chattah has described herself as "pro-life," and believes that "life begins at the fetal heartbeat," which is around five to six weeks into pregnancy, she said during a May appearance on Nevada Newsmakers.
In a blog post she released that month, she added that "if Nevadans want to change the law with a 'heartbeat' ballot question similar to what Texas has passed, I'm all for it."
But Chattah also has sought to distinguish her personal views on abortion from state law, which protects abortion up to 24 weeks and can only be changed by a majority vote of the people, and she has said she would uphold state laws regardless of her personal beliefs on them. Earlier this year, she told Vox that she would "never prosecute any woman for terminating a pregnancy," nor would she extradite someone to another state for prosecution "when an action is legal in Nevada."
Still, she has come under fire for her "pro-life" views. Ford recently launched an ad attacking her position on abortion and casting her as a "dangerous threat to the women of Nevada."
Elections
During an interview on 8 News Now in September 2021, Chattah said she does not "think that the 2020 election was stolen."
"Unless I see concrete proof that there was a steal, I don't believe it," she said. "Yes, we have evidence of voter fraud, but to take that and to make that leap from certain voter fraud to a stolen election — I'm a very pragmatic attorney, I need to see the proof."
Chattah did not identify the extent of voter fraud she believes occurred during that election. But the attorney general's office prosecuted only a single case of voter fraud stemming from that election, a Clark County man who voted twice using ballots in his own name and his deceased wife's name.
Still, she has been a strong supporter of requiring identification to vote, even representing a state political action committee that sought ballot measures in support of voter ID and opposing the state's universal vote-by-mail law.
Education
Though the attorney general does not oversee education in Nevada, Chattah has often attacked Ford for his opposition to education savings accounts (ESAs).
The program was signed into law in 2015 by then-Gov. Brian Sandoval, a Republican, and it aimed to provide parents with the option to choose how and where to educate their children using vouchers from the state. However, the program faced legal challenges and never received funding. Most recently, the state Supreme Court denied an effort to create such a program through a ballot initiative. Democrats have criticized the idea by arguing it would draw funding away from public schools.
During an August appearance on Nevada Newsmakers, Chattah tied Ford's support of ESAs to a previous inflammatory remark she made that Ford "should be hanging from a (expletive) crane," which came from a text leaked by Political.tips in January. Her preceding text referenced Ford's support for ESAs.
"He has demonstrated over and over, the level of corruption that we see warranted a comparison to a leader of Hamas," Chattah said on Nevada Newsmakers, referring to a Palestinian terrorist group. "Remember, this conversation all stems from the fact that he opposed ESAs."
Ford responded to the content of the text during a July appearance on Nevada Newsmakers, describing it as "racist" and saying he would not debate Chattah because "​she doesn't respect my dignity as a human."
Chattah has also said, if elected, she would champion "a Parents' Bill of Rights" in the Legislature. In a blog post from June, she expressed support for "barring instruction on sexual orientation and gender identity" in kindergarten through third grade.
"Public school teachers are government employees paid with tax dollars," she wrote. "And if parents decide they don't want certain things taught in the classroom, then teachers need to honor their wishes or go find employment elsewhere."
Featured Videos
Comment Policy (updated 4/20/2021): Please keep your comments civil. We reserve the right to delete comments or ban users who engage in personal attacks, use an excess of profanity, make verifiably false statements or are otherwise nasty. Comments that contain links must be approved by admin.