On the Record: Democratic attorney general candidate Aaron Ford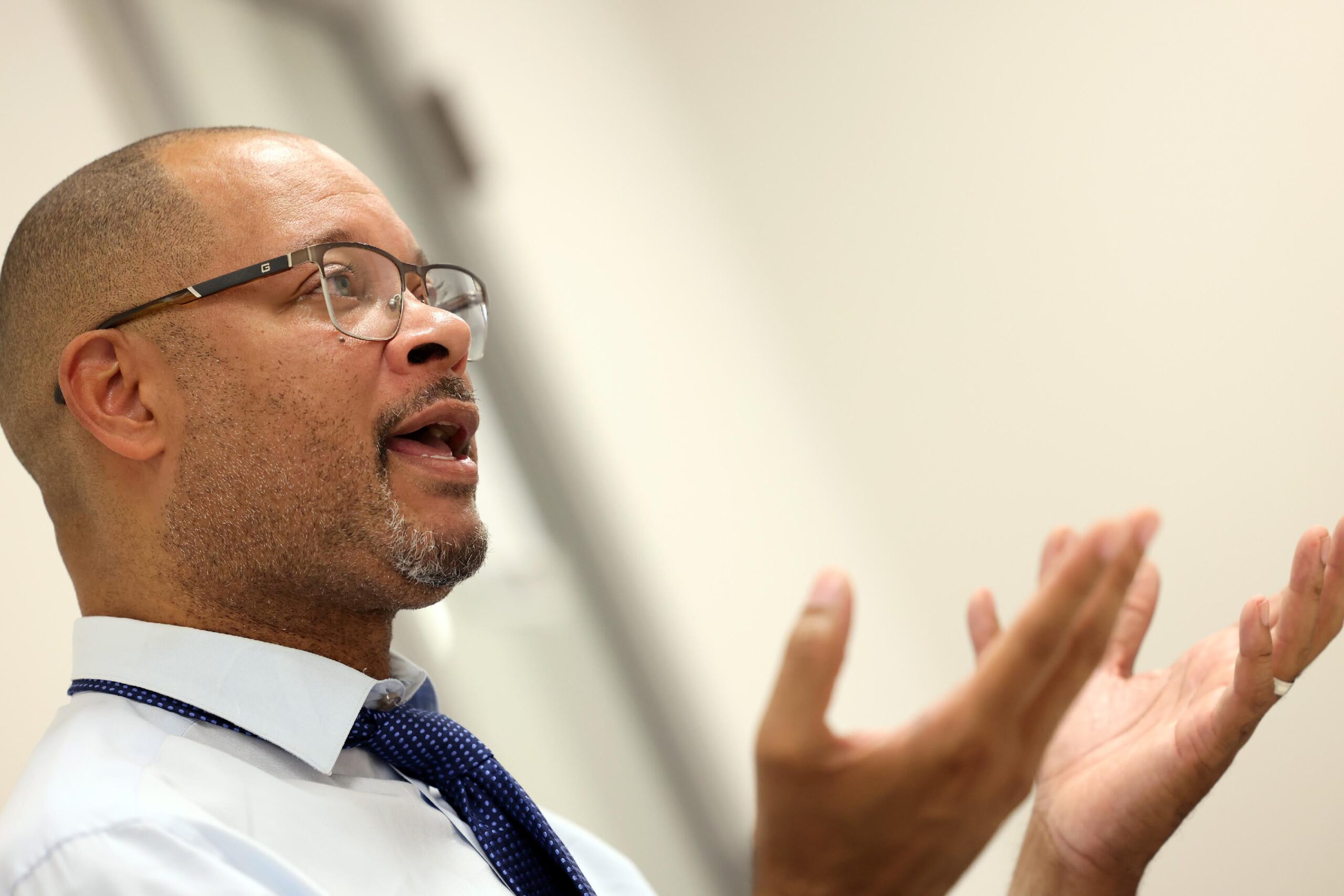 This is an installment in a series of "On the Record" pieces highlighting the policy stances of candidates running for major offices in the 2022 Nevada election. Check back in the coming days and weeks for additional coverage, including a look at the positions of Ford's opponent, Sigal Chattah, tomorrow.
As Democratic Attorney General Aaron Ford pursues a second term as the state's top prosecutor, his focus is set on justice, while ending gun violence and supporting law enforcement remain among his top priorities.
"We focus on justice in our office," he said during a wide-ranging, hour-long interview with The Nevada Independent. "And whether it's consumer protection, whether it's criminal justice, whether it's the protection of constitutional civil rights, we've done, in my estimation, a very good job, especially during the time of COVID, and we think we want to continue that work."
Ford began his first term as attorney general in 2019 after narrowly defeating Republican Wes Duncan, becoming the first African American to hold a statewide constitutional office in Nevada. Before that, Ford served as a state senator, including for two years as Senate majority leader. Ford also worked for years as a private practice attorney.
This year, Ford is seeking re-election to what has been one of the state's more competitive seats in recent elections. In 2018, Ford defeated Duncan by only 0.4 percentage points, and in 2014, Republican Adam Laxalt defeated Democrat Ross Miller by 0.9 percentage points.
In the general election, Ford faces Republican Sigal Chattah, a Las Vegas attorney who gained prominence through her lawsuits challenging several COVID-19 policies of Gov. Steve Sisolak's administration.
Below, we explore Ford's positions on a slew of policy and campaign issues. Click on one of the following subjects to jump to a specific section:
Justice
In April 2019, just a few months into Ford's tenure as attorney general, he sent an internal memo to all staff, providing them with details on a new progressive, criminal justice reform-focused outline meant to guide prosecutions and interactions led by his office. The outline came with an overarching message: "Our job is justice."
Ford said he has five priority areas — called the "Five Cs" — to support that justice focus, including constitutional rights, criminal justice reform, consumer protection, client service and community engagement.
Beyond that, Ford said "the protection of democracy" guides his work.
"We have spoken to people for the last two years after what we saw happen in the last election cycle, and people are quite frankly concerned about the existence and the external threat that is presented to our democracy," he said. "So we're going to continue to work toward preserving it and defending it at all costs."
Crime
Though the attorney general serves as the state's top law enforcement officer, many crimes — including robbery, murder, theft and assault — are typically investigated and prosecuted by local law enforcement.
Ford noted that his jurisdiction is limited to a select portion of crimes, including elder abuse and Medicaid fraud, meaning the attorney general's office often relies on partnering with local agencies and advocating for public safety when it comes to what Ford referred to as "run-of-the-mill crime."
One example of such a partnership is how Ford's office works with local jurisdictions to address sex trafficking, including task forces in the north and south and joint sting operations.
As a matter of ensuring public safety, Ford also described himself as a " staunch proponent of gun safety measures" and responsible gun ownership.
Since Ford assumed the role of attorney general, Nevada has broadly seen declines in the statewide levels of violent and property crime, though such crimes generally fall under the jurisdiction of local police.
Still, there has been at least one notable exception to the downward trend, as murders spiked in 2020 and 2021. Ford brought up "gun safety measures, like background checks, like prohibiting felons from owning firearms," as a means of addressing that rise.
Gun policy
Throughout his political career, Ford has made eliminating gun violence one of his top priorities. He has supported expanding background checks, banning bump stocks and keeping domestic abusers from being able to own firearms.
He has also supported a pair of high-profile gun control measures passed in the past two legislative sessions — one implementing a "red flag" law and another banning ghost guns.
"Those are types of things that we need to be supporting in this state to ensure that people who shouldn't own guns don't come into possession of those guns," said Ford, who noted that he is a gun owner. "I think that without those philosophies, you will see absolutely an increase in crime."
But since its passage in 2019, Nevada's red flag law, which allows police and family members to petition a court to temporarily take away the guns of someone deemed a threat to themselves or others, has seen little use.
Only 13 high-risk protection orders have been issued since January 2020, a small amount that may be driven in part by a lack of buy-in from local law enforcement.
But Ford did not offer any judgements on how local jurisdictions may be enforcing the law, instead saying law enforcement should work to remind people that the protection orders are available as an option under the red flag law.
"I won't try to judge whether it's too few or too many," he said. "What I will say is that if there are opportunities to take advantage of the law that the Legislature passed, it should be utilized."
The 2021 legislative session saw the passage of another bill aimed at curbing gun violence by banning ghost guns, which have been used more often in the commission of crimes in recent years.
Ford said he was concerned about the presence of ghost guns, noting that they are "generally untrackable and untraceable." Ghost guns are unserialized firearms often sold in kits that can be assembled at home. Nevada is home to Polymer80, one of the country's largest manufacturers of ghost gun kits and parts, which last year challenged the 2021 ban.
In December, a district court judge in rural Lyon County ruled in favor of Polymer80, vacating a key portion of the law, which would have made it illegal to possess and transport the components of a ghost gun.
Ford said the state may need to pursue "any legislative fixes that are necessary" to implement the bill if it's unable to prevail in court.
But Ford did not identify any specific ways of addressing enforcement of the previous ghost gun bill through new legislation, or other ideas for gun policy in the upcoming legislative session.
Criminal justice reform
At the center of political arguments over shifts in crime sits AB236, a sweeping criminal justice bill approved by the Legislature in 2019. It aimed to reduce the state's prison population, including through lessening sentences for some nonviolent crimes.
Ford supported that bill and other recent criminal justice reforms, describing their effect on public safety as positive, but the changes have drawn strong criticism from Republicans, including Ford's opponent, Chattah.
In one April blog post, Chattah listed her problems with Ford, including his support for "gun control" and "soft-on-crime 'social justice' reforms," and throughout her campaign, she has repeated calls to "make crime illegal again."
But Ford pushed back on such claims, noting that some key reforms did not take effect until as recently as July. That timing alludes to AB424, a major bail reform measure that requires that a pretrial release hearing happen within 48 hours.
"There isn't necessarily a causal relation between what was passed in 2019 at this point and the increase in violence," Ford added.
The 2019 bill, which passed on a 19-2 vote in the Senate and on a party-line 28-12 vote in the Assembly, raised the threshold for felony theft, prohibits authorities from revoking parole for technical reasons and revised drug penalties based on the amount possessed, among other changes.
Critics of the measure say such changes are lenient on criminals, and have incited increases in crime. But since its passage, Nevada has not seen any significant jumps in overall crime. Between 2018 and 2021, robberies reported statewide dropped nearly 40 percent, while burglaries ticked down by roughly 1 percent.
Ford also pushed back on arguments that the recently approved criminal justice reforms prioritize perpetrators of crime over victims.
"I don't think, again, that it's mutually exclusive to say that, we're going to protect victims, while at the same time fulfilling the purpose of the criminal justice system, which is to ensure that those who go in … are rehabilitated and restored once they return," he said.
In terms of making any adjustments to AB236, Ford said his office plans to put forward a bill in the next legislative session to "address fentanyl and the weight limits that are associated with being able to prosecute those who have fentanyl."
Policing reforms
Lawmakers also have approved several significant changes to policing in recent sessions, including a bill limiting no-knock warrants that was championed by Ford following the police killing of Breonna Taylor during a raid at her home in Louisville, Kentucky, in March 2020.
He spearheaded another bill passed in 2021 that provides his office with the authority to conduct "pattern and practice" investigations into civil rights complaints made against other agencies.
Ford said that with the passage of such bills, he felt the community has "appreciated being listened to."
"I think that we are certainly more well-received today than we were two years ago at the height of what we were seeing going on throughout the country," he said.
Body cameras for police
As a state senator, Ford led the passage of a bill requiring all police officers in Nevada to wear body cameras.
But despite that law, some police agencies have reported failures to comply with body camera requirements. A report from the Las Vegas Metropolitan Police Department showed that from January through October of 2020, the department's officers were cited more than 3,000 times for not meeting an 80 percent compliance rate for turning on their cameras, the Las Vegas Review-Journal reported.
"The Legislature absolutely needs to take a look at how better to enforce the body camera laws that we have in place," Ford said. "Clearly, those who are violating that policy need to be reprimanded, and things need to be addressed in that regard."
Though some non-compliance was linked to potential technical issues, Ford said the goal of the law was to ensure transparency between police and the community, "and when that transparency is lacking, then that in and of itself is the concern that we have to be worried about."
He did not suggest specific penalties for improving officer compliance with the law.
Death penalty
Ford said he has "always been opposed to the death penalty," and that he will "stand by [his] desire to have it abolished." But as attorney general, Ford's office is tasked with representing the Nevada Department of Corrections as it seeks to carry out executions.
"I enforce the laws even if I don't agree with them," he said.
Most recently, the Department of Corrections, represented by the attorney general's office, has defended an untried lethal injection protocol, while looking to carry out the execution of quadruple-killer Zane Floyd. But the department's lack of execution drugs has left Floyd's execution in limbo and the state's death penalty defunct, even as it remains legal in Nevada.
"It certainly prohibits the Nevada Department of Corrections and its lawyer, the attorney general, from fulfilling our duties as detailed in the order of execution," Ford said. "So it needs to be addressed, either legislatively or otherwise, but something needs to happen on that because right now we're at a stalemate."
Election fraud
Despite widespread 2020 election fraud claims promoted by prominent Republicans — including from former President Donald Trump and Ford's predecessor as attorney general, Adam Laxalt — Ford's office has prosecuted just one case of fraud stemming from that election.
Last fall, Ford's office filed charges against Donald Kirk Hartle, a Clark County man prominently featured by local and national Republicans as having evidence of voter fraud in the 2020 election. In November, he pleaded guilty to voting more than once in the same election after casting a ballot under his deceased wife's name.
Ford said his office has also played a role in investigating other claims of fraud, as "the legal adviser to the secretary of state." As attorney general, he has prosecuted one other instance of voter fraud, a man who voted in both Nevada and Arkansas during the 2016 election.
Following the 2020 election, the Nevada Republican Party brought forward what it claimed was evidence of nearly 123,000 fraudulent votes cast in the 2020 election, alleging they originated from deceased voters, duplicate votes and more. The secretary of state dismissed that evidence last year, saying in a report that her office did not find "evidentiary support for the contention that the 2020 general election was plagued by widespread voter fraud."
From those claims, Ford said there were a "miniscule" number of investigations because "there were no facts to support what had been alleged." He also argued for the importance of having someone in the attorney general's office who not only prosecutes voter fraud when it exists, but also pushes back against false claims that there was widespread voter fraud.
"I will prosecute voter fraud, but you have to prove that it exists," Ford said. "And what perturbs me and others is that you have … big liars out there who are continuing to perpetuate the 'Big Lie.' In that effort, they are likewise undermining the integrity of our elections and trust that we have in our elections."
Opioid crisis
Hundreds of Nevadans die each year from opioid-related drug overdoses. As states fight back against the national opioid crisis, Nevada is in the midst of litigation with dozens of drug manufacturers and other companies that have played a role in the opioid epidemic.
Ford said his approach to that litigation has been "to be aggressive in the pursuit of justice in this area of consumer protection."
In March 2021, he first announced a $45 million settlement with McKinsey & Company, a consulting firm that provided services to opioid manufacturers. That announcement came after Ford withdrew Nevada from a multi-state settlement against the company, which he said would have yielded just $7 million for the Silver State.
In January, Ford's office settled for an additional $285 million through multi-state litigation against three of the nation's largest drug distributors, and Nevada is still pursuing litigation against roughly three dozen more defendants. Ford said he is prepared to go to trial for that litigation by April, if settlements are not reached.
Still, Ford has faced fire from his opponent, Chattah, over the state's selection of Eglet Adams (formerly Eglet Prince, where Ford was once a partner) as outside legal counsel to assist in the ongoing opioid litigation.
Chattah, during an August appearance on Nevada Newsmakers, said she finds it "extremely hard to believe that this was happenstance," referring to Ford's former partner being selected, adding that she would not "speculate how that corruption worked." Ford, however, has said he was not involved with the decision to select that firm as outside counsel.
"I was completely recused from the selection process. There was a committee of several … that independently vetted the applications that came through the door," he said. "I had nothing to do with it, didn't see one application, didn't know who were the ones applying, and they decided who would be the outside counsel."
Ford also pushed back on attacks from his opponent about the amount of fees paid to outside counsel. Specifically, he clarified that the state's contract with the firm is a contingency contract and not an hourly billing contract, meaning there are no hourly rates charged by the firm.
The contract and agreement for distributing settlement funds, agreed to by a slew of local governments and the state, also stipulates that costs for legal counsel — which include all costs incurred to date for opioid-related litigation led by the state — be paid first before the funds are distributed to the state and local jurisdictions. That structure contributed to legal fees and costs making up $21 million of the $45 million recovered through the state's first settlement.
Trafficking
Ford described sex, human and drug trafficking as "international crimes that take an international approach."
Last December, Ford traveled to the Middle Eastern nation of Qatar on a trip arranged by the Attorney General Alliance and meant to tackle "some of the most serious criminal trends of our time, such as human trafficking and transnational financial crimes," he said in a statement in January.
During his tenure as attorney general, Ford has sponsored legislation to enhance crimes for trafficking, including a 2019 measure that enhanced penalties for soliciting a child for prostitution.
"I've continued … to ensure that we're able to treat victims as victims and not as perpetrators [and] to hold accountable those who are the traffickers," he said.