On the Record: Republican candidate for Congressional District 4 Randi Reed
With few to no debates and only scattered advertisements and social media posts amid the coronavirus pandemic, it can be difficult to distill what candidates stand for and what they'd like to do if they win the office.
That's why The Nevada Independent is taking a closer look at candidates in a few major races, sitting down for a one-on-one conversation and breaking down where they stand on a few of the most pressing issues of the 2020 election.
Today: An interview with business owner and Republican candidate for Congressional District 4 Randi Reed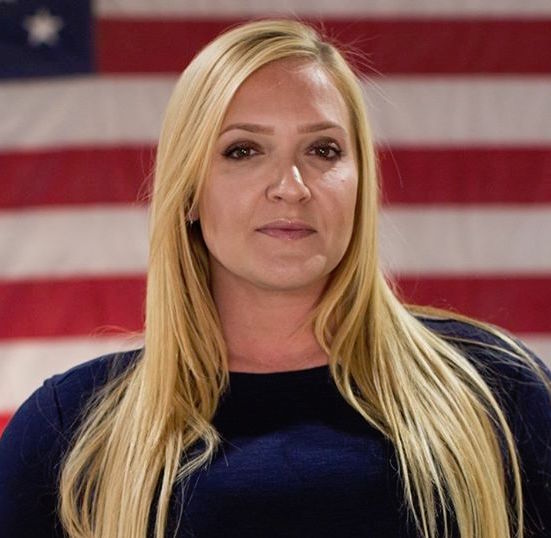 A long-time business owner in Nevada who has nicknamed her campaign "the Fury," Reed has mounted a campaign of "real talk" as she has sought to motivate voters on the economy, the 2nd Amendment, and other issues core to the Republican platform.
Since entering the race, Reed has hovered in the middle of the eight-way Republican race for District 4 in fundraising. She entered the final weeks of the race with more than $27,000 cash on hand, though she has since stopped accepting campaign contributions amid the economic fallout of the coronavirus pandemic.
---
WHY RUN FOR CONGRESS?
Reed said her driving motivation for her congressional run was that she didn't "see any representation on either side of the aisle at this point," noting specifically a lack of Republican women on Capitol Hill. 
"Women are the fastest rising demographic amongst voters and specifically in the Republican Party, we have zero representation," Reed said. "Especially if you look at the numbers of how many congresswomen there are on the Democratic side versus the Republican side. It's embarrassing, honestly."
CORONAVIRUS RESPONSE AND RECOVERY
Reed said, with the benefit of hindsight, she believes the best of the federal response to the coronavirus came in the decision of the Trump Administration to cut travel to and from China at the end of January. 
But she also criticized the delivery of federal relief packages through the CARES Act, calling it "mishandled and misguided."
"For two and a half weeks, we all had to sit there going, 'What's happening,'" Reed said. "Nobody knew and nobody was coming forward to give you any sense of relief."
Reed said she would have liked to have seen expedited discussions on the allocation of small business relief, specifically criticizing a $25 million loan to the Kennedy Center in March that did not prevent the eventual furlough of its employees.
"You look at the Democratic Party's spending, they're spending and they're spending and they're spending and they continue to spend, and we can't just do that," she said. "And so I think we needed more people to have the voice at the table to say what's really important on spending right now and what can we revisit at a later date. We need to get America going."
When asked if Congress should continue to authorize additional funds for expanded unemployment programs put in place as part of coronavirus aid packages, Reed said that the need for such an extension would depend largely on the state in question.
"On a state level, [Congress] has to determine the need of the state, and then Nevada's needs are going to be so much greater than a state in the Midwest that doesn't have gaming and hospitality reliance like ours does."
HEALTH CARE
Reed said that she did not believe the Affordable Care Act — long a target of a Republican Party that has sought to reinstate a free-market-based health care system — should have to be repealed in its entirety.
But Reed also said that she did not believe Medicare-for-All plans proposed by Democrats would provide an "easy fix" either.
"It can't be one-size-fits-all, we need to remain competitive and innovative," she said. "But we need to address the real issues, which is the pharmaceutical pricing, the surprise billing from the hospitals and being able to have premiums that you can actually afford."
IMMIGRATION
On the issue of addressing the millions of undocumented immigrants already living in the U.S., Reed, who called herself a "compassionate conservative," said she does not believe in "punishing children for the wrongs of their parents."
"There absolutely needs to be a pathway to citizenship developed for individuals who demonstrate that desire to become a responsible, law-abiding citizen and a law-abiding American," Reed said.
But Reed also said "every nation has a responsibility to protect their sovereignty" and that "open borders" create ill effects for Nevadans.
"We absolutely need to secure our borders," Reed said. "And we need to look at the process of who we are actually letting in, especially now with the COVID-19 pandemic. It's important that we know not only who, but what is coming into our country and what is coming across our borders."
Reed said the U.S. immigration system "can be controlled a little better," and that any legal immigration should be "built on merit-based consideration."
BIPARTISAN COMPROMISE
On the issue of bipartisan compromise, Reed said that she would work with Democrats on any issue.
"I've always been very fair, I always listen to all sides of the story," Reed said. "You're either at the table or you're on the menu, and if you're not sitting at the table, offering up other sides, other opinions, other points of view, other facts, how do you expect to find bipartisanship in anything?"
Reed also specifically called out the debates on infrastructure spending and health care, saying that voters are "sick of seeing people point a finger" as such issues become mired in gridlock.
THE TRUMP ADMINISTRATION
Reed said she supports the president "100 percent," and when asked if there were any issues where she differed from the Trump Administration, said "not at this time."
Reed also said she personally did not care about the ongoing fight between Congress and the White House over the president's tax returns, adding, "Frankly, I'm looking at job performance, and that's how I'm judging at this point."
For more on the 2020 primary elections, including maps, fundraising roundups, race breakdowns and more, visit our 2020 Elections page.