What to watch in the 2020 primary election: Congressional District 4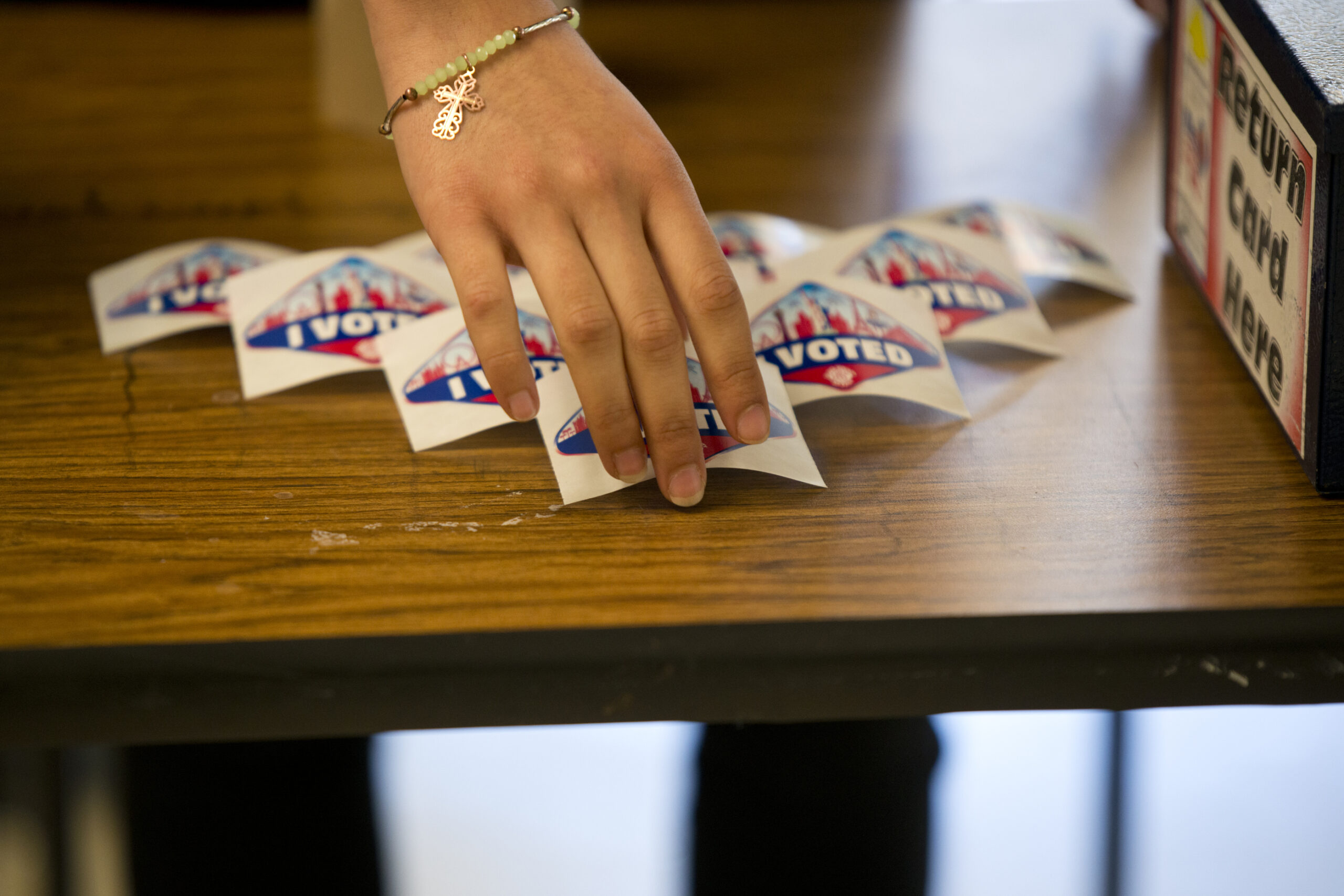 As the presidential caucus has drifted into the past and with no statewide offices up for grabs in 2020, a pair of hotly contested congressional primaries on June 9 may draw battle lines for the coming push by the major parties to take or keep control of the House in November.
That includes District 4, which early on drew a wide field of Republican challengers hoping to flip the seat away from Democrat Steven Horsford. The district, with a large Democratic registration advantage and rated "Likely Democratic" by the Cook Political Report, has for years been held as the tougher of Nevada's two swing-districts to pry away from Democrats as the GOP looks to retake control of the House.
That may have changed over the weekend, after Horsford acknowledged Friday carrying on a years-long extramarital affair with a former intern for Sen. Harry Reid. That intern, Gabriela Linder, revealed the relationship in a podcast, and Horsford later issued a statement to the Las Vegas Review-Journal confirming the relationship.
The admission has upended the political assumptions surrounding the race so far, and some Republican strategists and candidates now see 2020 as the best opportunity to flip the seat in the last four years.
Horsford has already drawn fire from the wide field of Republican hopefuls looking to unseat him, and some have called on him to be investigated or to resign his seat altogether. At least two Democrats running against him called on him to drop out of the race.
But with no well-funded or well-organized primary challengers on the June ballot, Horsford will likely avoid a referendum on the issue until November. And, among Republicans, the race to take on Horsford remains wide open. Five candidates have mounted well-funded operations, with three more hoping for an outside shot at a spot on the November ballot.
The Republican Primary
The Republican Primary for District 4 is the most crowded field for any major race in the state in 2020, boasting eight candidates on the June ballot. Among them, five have emerged as relatively well-funded efforts, with three more running smaller campaigns with far longer odds at victory.
And though the Republican field has so-far avoided direct attacks — so, too, have they rushed to occupy a similar ideological space in the era of the Trump White House.
Jim Marchant, a former one-term Republican assemblyman, staked a claim early on as a conservative stalwart who could oppose Horsford in a general election. In advertising and online, he has touted positive ratings from The American Conservative Union and National Rifle Association and claimed that "the liberal media can't stand him."
He's also sought to draw a close line between himself and Trump, frequently praising the administration and even circulating a gif of himself standing nearby the president after he flew into a Nevada air base for a visit in February.
Marchant has frequently led the fundraising push over the last year, raising more than $100,000 through the first quarter of 2020 and entering the final run to the primary with roughly $231,000 cash on hand. That number was buoyed early on in 2019 by more than $110,000 in loans to his campaign, though his campaign has since shifted to a reliance on individual donors.
He has also received key endorsements from high-profile House conservatives, including Arizona Reps. Andy Biggs and Paul Gosar and Ohio Rep. Jim Jordan — all leaders of the House Freedom Caucus. An outgrowth of the old Tea Party movement, the Freedom Caucus has provided a political force for the party's conservative wing for half-a-decade, and in recent years has moved in lockstep with the Trump White House.
But Marchant is not alone in his quest to prove himself as the "right" conservative for District 4.
Lisa Song Sutton, a former Miss Nevada who now runs her own business in Las Vegas, has stayed neck and neck with Marchant in the fundraising race. Song Sutton entered the home stretch of the campaign with $198,000 on hand, and boasted of having raised it all through individual donors and without candidate loans.
Running on a platform largely centered around the core GOP platform, including the protection of the 2nd Amendment, opposition to abortion and increased border security, Song Sutton has also prominently added the economic impact of the coronavirus to her personal platform.
Calling dependence on overseas manufacturing "dangerous," Song Sutton's website notes that she "stand[s] ready to help President Trump rebuild the economy and support the America First agenda."
Though her single most prominent endorsement has come from Texas Rep. Dan Crenshaw, Song Sutton has also received nods from a handful of state and local Republicans, including Las Vegas City Councilwomen Michele Fiore and Victoria Seaman and former state GOP Chair Amy Tarkanian.
Last among the top fundraisers is Sam Peters, an insurance agent and veteran who has been endorsed by the likes of former Speaker Newt Gingrich, conservative musician Ted Nugent and local conservative talk radio host Wayne Allyn Root.
Though FEC filings show Peters has raised more than $254,000 through his entire campaign, he began to lag behind Marchant and Song Sutton in the early part of 2020, raising just over $62,000, spending $90,000 and ending the quarter with just $60,000 on hand.
Asking voters to help him "fight the swamp" in Washington, D.C., Peters has prioritized the issues of the federal budget and immigration on his platform, calling for, among other things, a balanced budget amendment and proposing an 11-point plan aimed at "ending illegal immigration."
Peters also appears to be one of few candidates who have continued to campaign in-person into the pandemic, sharing several selfies this month of visits to a reopening rally in Mesquite and a campaign stop in Pahrump.
Nipping at the heels of the top three fundraisers are another two campaigns, those of businesswoman Randi Reed and former congressional staffer and veteran Charles Navarro, who entered the final weeks of the campaign with roughly $27,000 and $24,000 on hand, respectively.
Branding her campaign with her nickname, "The Fury," Reed has also mounted a campaign centered around the core party platform, including gun rights, immigration and health care. But amid the coronavirus, Reed has also taken aim at China, calling the virus "China's Chernobyl" and pushing for a greater separation between the American and Chinese economies.
Touting his time in the Navy and his work as a former re-entry manager for faith-based organization Hope for Prisoners, Navarro has, unlike his rivals, elevated the issues of public lands and education on his platform, amid other calls for reforms to the Medicare, Social Security and criminal justice systems.
There also are several cash-strapped campaigns, including that of Nye County Commissioner Leo Blundo, businesswoman Rebecca Wood and self-described entrepreneur Rosalie Bingham.
All have raised less than $10,000 through the first quarter of 2020, but all have continued to actively promote their campaigns online as they look to distinguish their efforts ahead of June 9.
About District 4
District 4's massive geographic boundaries are bigger than some U.S. states, encompassing not just parts of the Las Vegas metro area like Northwest Las Vegas and the City of North Las Vegas, but also a handful of the state's rural counties, including Nye, White Pine and Lincoln Counties.
That geographic composition has created a balance of voters where the urban and suburban voters of Las Vegas often outweigh the rural voters to their north. All told, 40.8 percent of voters in the district are registered Democrats, while 31.4 percent are registered Republicans and 21.9 percent are registered non-partisans.
That distribution of voters has created a predominantly Democratic stronghold over the four election cycles since the district was created in 2012. Horsford, then the state Senate majority leader, won the seat's inaugural election with just over 50 percent of the vote, defeating Republican candidate Danny Tarkanian.
But amid a historically low voter turnout in the 2014 year's midterms, Horsford would lose re-election by nearly 3 percentage points to Republican legislator Cresent Hardy. A coup for Republicans in a year where the party swept state, federal and local races up and down the ballot, Hardy's election would nonetheless be the last GOP victory in District 4.
In 2016, Democratic state legislator Ruben Kihuen bested Hardy by roughly 4 points, contributing to a near-total Democratic sweep of the closely contested federal offices that year alongside victories in the Senate and neighboring District 3.
Kihuen was forced to abandon a re-election bid in 2018, however, amid sexual misconduct allegations. But as his name and station become another entry among a long list of alleged sexual impropriety on Capitol Hill amid the escalating #MeToo movement, he resisted pushes to resign his post — which ranged from fellow Nevada Democrat Jacky Rosen all the way to then-Minority Leader Nancy Pelosi.
When the House later convened an ethics panel to review his conduct, Kihuen bowed out of the race and promised not to launch a reelection bid — an exit that would provide an opportunity for Horsford to reenter the seat that launched his congressional career six years earlier.
Fending off a handful of primary challengers in the open contest to replace Kihuen on the Democratic ticket, Horsford would eventually beat Hardy — the Republican nominee for the third cycle in a row — by more than 8 percentage points, as he once again garnered more than 50 percent of the vote.
Horsford has since kept a low electoral profile among the state's congressional delegation. With his seat more difficult to flip than Rep. Susie Lee's to the south, national Republicans have so far avoided pumping money and advertising into his district like they have in.
And among Democrats, Horsford has so-far skirted through 2020 without the need to actively campaign, amassing nearly $1.2 million in cash on hand along the way as he looked toward November.
He has since begun to take fire from his Democratic rivals, who have joined Republicans in the district in calling for Horsford to be investigated or step out of the race amid the revelation of his extramarital affair.
Whether or not those calls will amount to anything beyond campaign rhetoric, however, remains to be seen.
For a full breakdown of every race in the 2020 primaries, visit our Election 2020 page.