On the Record: Republican treasurer candidate Michele Fiore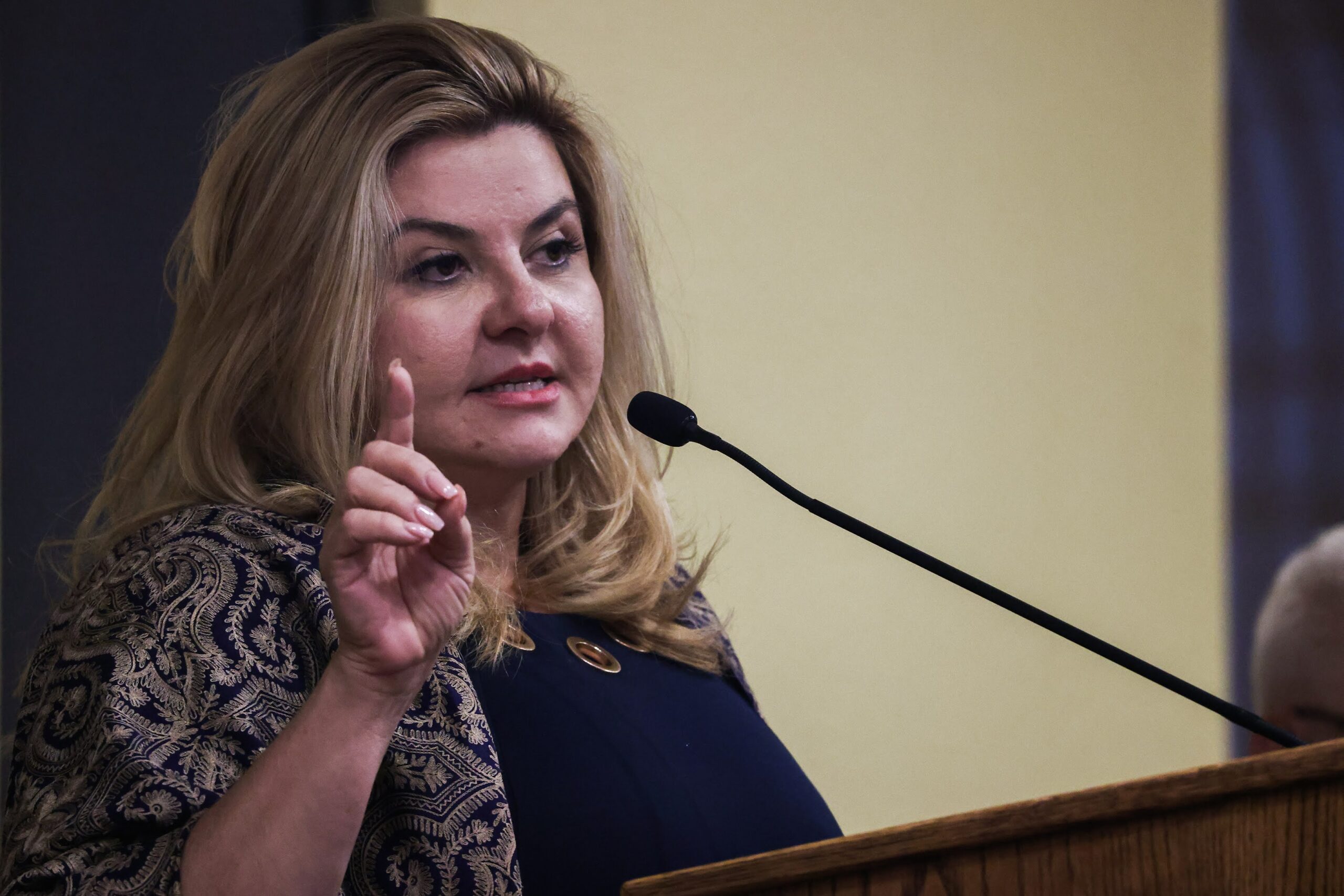 This is an installment in a series of "On the Record" pieces highlighting the policy stances of candidates running for major offices in the 2022 Nevada election. Check back in the coming days and weeks for additional coverage. You can find our coverage of Fiore's opponent, Zach Conine, here.
Las Vegas City Councilwoman Michele Fiore described herself as a "workaholic" during a Pahrump Valley Chamber of Commerce candidate forum last month.
She touted her decades of entrepreneurship — having been CEO of a construction firm, a home health care company, a consulting company, and a publishing firm — and experience as a former state legislator, from 2012 to 2016, and Ward 6 councilwoman for Las Vegas since 2017.
Fiore, a Republican, initially launched a campaign for governor last year but withdrew and switched races to challenge incumbent Democratic Treasurer Zach Conine in his run for re-election.
Her relationship with rancher Cliven Bundy and the Bundy family helped end a 2016 FBI standoff at Malheur National Wildlife Refuge in Oregon against an anti-government militia group led by Bundy's son Ammon Bundy. In 2014, she had been involved in Cliven Bundy's standoff with the BLM in Bunkerville.
Fiore is currently facing a campaign finance probe by the FBI, which raided her home last year.
Treasurers serve four-year terms with limits to two terms. The elected statewide officer is responsible for investing the state's money, financing community assets and facilities, processing payments for public agencies and managing numerous scholarship programs.
At the candidate forum in Pahrump, she said her top issues are transparency (specifically making the treasurer's website more user friendly) and auditing "everything that's going on."
"When I have a billion dollars of a portfolio to invest our taxpayer dollars in, you need to be able to get on the website, look at it, look at where our money is, and see where it's going," she said. "And then you're gonna know exactly what's happening with your money and what's going on in that treasurer's office."
Fiore's campaign did not respond to multiple requests for an interview for the Indy's "On the Record" series. A summary of her policy positions, taken from public statements and media appearances, is included below.
Economy
On Twitter, Fiore has blamed inflation on current Democratic leadership. She said they need to be replaced, and she called for "bring[ing] back common sense fiscal conservatism to fix the economy."
Much of her campaign messaging focuses on criticizing federal spending, including packages such as the Inflation Reduction Act, which she said is worsening inflation.
Most economic experts say rising inflation comes from a combination of sources, such as the pandemic stimulus and relief aid, lowered interest rates, and demand and supply (unable to keep up).
When it comes to diversifying Nevada's economy, Fiore suggested in a tweet that certain occupations, such as barbers and interior designers, should not require a license because it "prevents Nevadans from getting jobs doing things that shouldn't have a barrier to entry."
She has also said that reducing regulations in the mining and e-sports industries would help economic diversification efforts.
While Conine has led the charge in Nevada to divest from assault weapon manufacturers and sellers, Fiore said she would rather invest in those companies that could have a high return because of the large gun owner population in the state. An estimated 47 percent of Nevada adults have guns in their homes.
"As your next state treasurer, I'm looking to invest, not to divest … We don't pick and choose politics on the companies we invest in. We pick and choose what's best for you and this state," she said to the Pahrump audience.
Fiore has also claimed on Twitter that the state's multi-billion dollar budget is in a deficit, although the Nevada Constitution requires the state to have a balanced budget — revenues must equal expenditures.
During the candidate forum, Fiore boasted about her experience working on the state's budget as an assemblywoman and the City of Las Vegas budget as a councilwoman.
"And I'm going to tell you, there's a lot of wasteful spending, a lot of wasteful spending," Fiore said. "I'm a line item by line item girl. And I'll be questioning everything. And we'll be making sure everyone is held accountable."
Tax issues
Fiore's history of financial issues dates back decades.
In late 2014, reports that the IRS had filed hundreds of thousands of dollars worth of liens (charges for neglecting or failing to pay a tax debt) against her and her home health care business resulted in her being replaced as majority leader in the Assembly and removed from the taxation committee.
In May, the Reno Gazette-Journal reported that Fiore's campaign said she has paid her debts to the federal government but did not provide any documentation.
Since the start of her political career, Fiore never listed any of her debts to the IRS in her campaign financial disclosure forms, which candidates and elected officials are required to do.
Higher education
Fiore has been critical of the Biden administration's federal student loan forgiveness plan for not addressing "predatory loans," and said that it could result in colleges charging students more.
The price tag of student loan forgiveness, estimated at $24 billion a year or about $240 billion over a decade, would contribute to inflation, she said in a tweet.
The treasurer's office administers college savings plans, including what are referred to as 529 programs, made up of the Nevada Prepaid Tuition Program that allows parents to lock in the current in-state college tuition rates and make monthly installments into the fund. The office also oversees five programs administered through college savings plan partners, in which account holders can deposit after-tax money for future college savings.
Additionally, the office manages the Nevada College Kickstart initiative that awards every public school kindergartener a free $50 scholarship to encourage parents to start saving for the student's future education, and the Governor Guinn Millennium Scholarship that awards up to $10,000 in tuition to in-state students who attend a Nevada university or college.
Fiore said the state should also invest in older adults getting a higher education or going back to school.
"Innovation is something really important … Besides focusing on our children, we need to focus on adults going back to college," she said, recounting the experience of a UNLV graduate who earned her degree in psychology to start her own counseling business at 72 years old.
Fiore has also called for an audit of the state's K-12 budget, as well as increased parent involvement in curriculum and school spending.
The Nevada Independent is raising $200,000 by Dec. 31 to support coverage of the 2024 election.
Tax-deductible donations from readers like you fund this critical work.
If you give today,your donation will be matched dollar-for-dollar.
Give + Get Matched
Featured Videos