On the trail: Can a Democratic senator find rural support in 2022?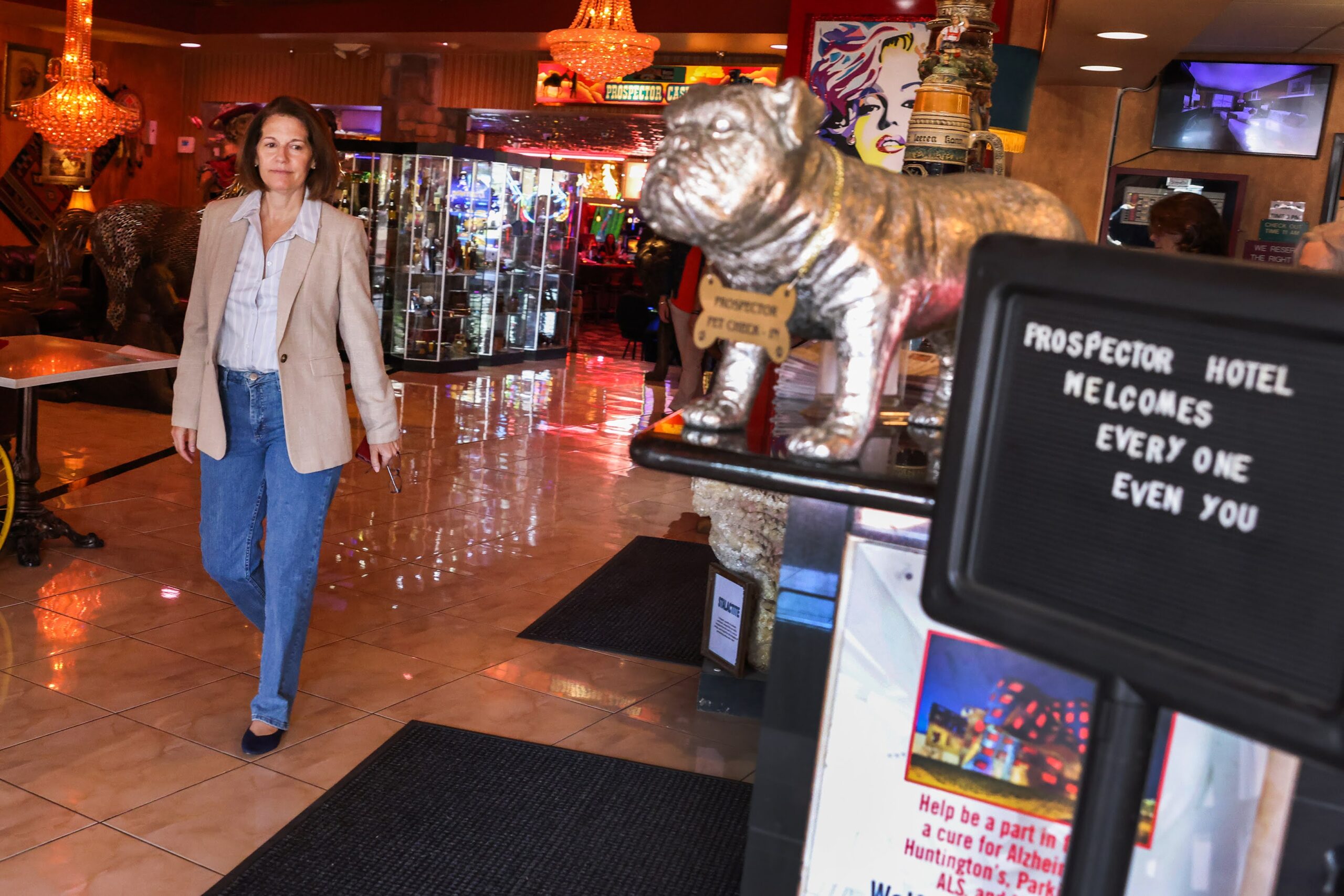 On a relatively cool summer's day, four hours removed from the sweltering heat of Las Vegas, Democratic Sen. Catherine Cortez Masto had a pitch for a room filled with Ely Republicans: First and foremost, "I am a Nevadan."
Cortez Masto had decamped for the afternoon inside the Prospector Hotel and Gambling Hall, holding court in a side room of Margarita's Mexican Restaurant. There, she set upon her task, floating from table to table, hearing the room out — and making her case.
"We are all in this together," she told a crowd of roughly two dozen Republicans. "And that's my priority and whether you voted for me or not and showing up I'm talking to you and I'm gonna fight for you."
It was a retail politics staple — the blue jeans senator, back from far-away Washington to parlay directly with her voters not on the tentpole issues of the day, but on the specifics, the nitty-gritty issues that tie people to the places they live.
But it was also notable in large part for its rarity, with rural politics long the purview of the GOP. Just after Cortez Masto finished her rural tour, the whole of the statewide Republican ticket took to the road for a tour of its own, including marching through a series of rural Labor Day parades.
The handful of votes Cortez Masto might secure out of the trip will likely exist on the margins of the margins — more likely than anything to be overshadowed by turnout trends in Las Vegas and Clark County, where a supermajority of Nevadans live.
But those margins could still prove pivotal in an election that remains within the polling margin of error, with a strong — or weak — rural performance changing the dynamics in urban Clark or Washoe counties.
Just how red are the rurals?
Any headway outside Las Vegas and Reno presents a statistical mountain for Democrats, who have long existed on the periphery of rural politics — a workable political position in large part because of the sheer size of Las Vegas and Clark County, where roughly three-quarters of the state's voters live.
In 2016, for instance, when Hillary Clinton won Nevada by a 3-point margin, Donald Trump carried more than two-thirds of the vote in 13 of 15 rural counties. By comparison, Cortez Masto won no county not named Clark, losing even Washoe County by nearly 2,000 votes.
Still, these numbers are only a slice of the broader pie. In 2016, Trump received only slightly more votes from every rural county combined (roughly 97,000 votes) than he did from Washoe — a county he lost by roughly 1 percentage point — where he received 94,700 votes.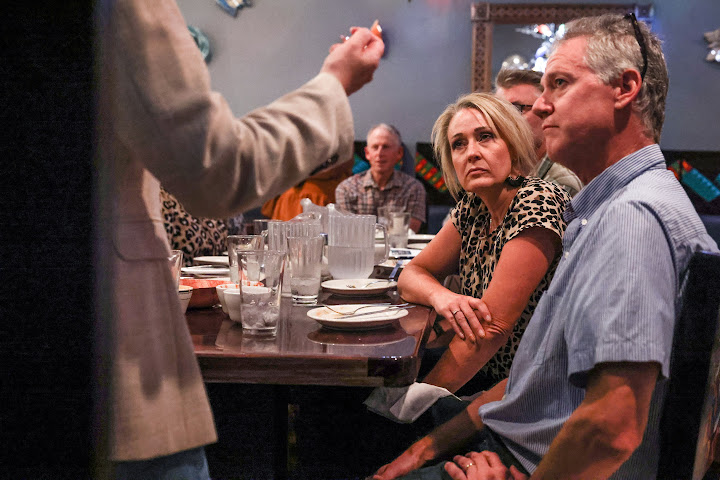 Recent polling data is sparse, and only a single public poll released in the last month — conducted by Suffolk University and sponsored by the Reno Gazette-Journal — published crosstabs with a region-by-region breakdown of candidate favorability among likely voters.
That Suffolk poll was also one of Cortez Masto's best of the cycle, showing her leading her Republican opponent, former Attorney General Adam Laxalt, by 6.4 percentage points. By comparison, another poll taken at the same time by the GOP-linked pollster, the Trafalgar Group, which did not release detailed crosstabs, showed Laxalt leading by 2.6 points.
According to the most recent Suffolk data, despite a 7 percentage point net favorability statewide, Cortez Masto remains underwater in the rurals, where her favorability is a net negative 43 points. In the inverse, though Suffolk found Laxalt at a negative 7 points net favorability statewide, his rural numbers sat at a net positive 41 points.
Still, Cortez Masto remains marginally more popular than President Joe Biden per Suffolk's numbers, which had the president sitting at a negative 49 point net favorability in counties outside Clark and Washoe.
Among some in the GOP, a public show of support for the Democrat
First elected to replace the retiring Sen. Harry Reid in 2016, Cortez Masto has spent 2022 locked in one of the tightest Senate contests in the country against Laxalt. Alongside similarly competitive races in Arizona and Georgia, Nevada could decide the critical battle for control of the Senate through the remainder of Biden's first term in office.
Stopping first in Ely, Cortez Masto spent the better part of a week winding around Nevada highways, meeting with Republicans (and some Democrats) in Elko and Winnemucca and Fallon. The events were as friendly a crowd as Cortez Masto would likely get outside Nevada's two major metros — often small, invite-only and tightly controlled.
Still, the trip occurred in the midst of Republicans, especially rural Republicans, throwing their endorsement behind the Democrat from Las Vegas. Since July, six Republicans have published op-eds backing Cortez Masto, including three ex-rural county commissioners, a high profile lobbyist and Reno's chief of police.
First among them, and the only elected Republican to endorse while still in office, was Ely Mayor Nathan Robertson. A fifth-generation Nevadan in a family which "has been Republican since before Lincoln," Robertson said he was supporting Cortez Masto because she took the time to "show up" for his community, even if "we won't make or break her in the election."
"The proof has just gotta be in the pudding," Robertson said in an interview. "And these last six years, she's proven where her motivation lies and what she's willing to do, and that she's not willing to let party politics and bigger interests get in the way of making sure that all people in her state are taken care of."
Republicans who spoke to The Nevada Independent or backed the incumbent through newspaper op-eds have most often pointed to hyper-specific policy decisions that pushed them toward supporting Cortez Masto.
Writing in the Nevada Appeal, former Lyon County Commissioner Bob Hastings, a Republican, cited Cortez Masto's push first to block an initial expansion of Naval Air Station Fallon because "it didn't represent all stakeholders fairly" and praised a push to loop rural communities into talks with the Navy.
And in an op-ed published in the Elko Daily Free Press, former Winnemucca Mayor Di An Putnam lauded the senator for blocking a federal mining tax backed by Democrats — a move that drew sharp criticism from environmentalists and her fellow Democrats. Putnam wrote that it was "clear she puts Nevada and our country over her party."
"When Democrats wanted to impose new mining taxes, Catherine single-handedly prevented them from passing to protect this industry that is so critical to our communities," Putnam added. "There are countless jobs, families, and businesses that are supported by our mining industry. She stuck her neck out for them, even when Democrats were attacking her for it."
Robertson, similarly, pointed to the pandemic, when he was able to get on the phone with Cortez Masto "when I had trouble getting through to anybody in Carson City," and praised her for securing millions in federal aid dollars for Ely.
Still, it's not just elected officials lining up behind Cortez Masto. Pam Harrington — another Republican who spoke to The Nevada Independent in a phone interview — lives out in unspecified Lander County, or as she put it, "off the grid." She has also unequivocally backed Cortez Masto in the Senate race, even traveling to Elko to meet with the senator for a "Republican sportsmen's" meet and greet at the Elko Fly Shop in mid-August.
"A lot of us that live out here feel like our voices really aren't heard very much," Harrington said. "And, I mean, part of me understands that because we're not the big voting base. But, you know, we're Nevadans, too and we have a stake in things."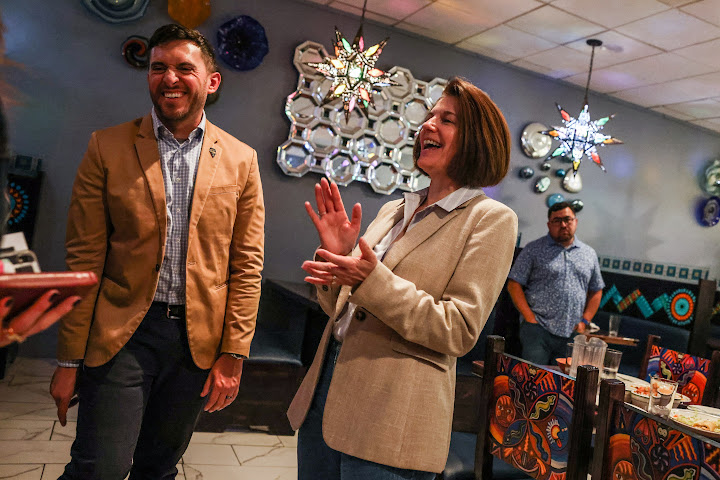 'This isn't Iowa'
In pitching herself to the small-town crowd, Cortez Masto leaned not only on her reputation for bucking the Democratic Party when her constituents called on it, but also on the often-dynastic nature of Nevada politics that simmers under the surface of most major races.
Laxalt, who lost the governor's race four years ago and grew up largely in and around Virginia and Washington, D.C, is the grandson of former governor and senator Paul Laxalt, once called the "first friend" of President Ronald Reagan.
And though her father, Manny Cortez, would become one of Southern Nevada's most influential politicians — winning four consecutive terms as a county commissioner in the '70s and '80s and later serving as the longtime head of the Las Vegas Convention and Visitors Authority (LVCVA) — the senator's stump often starts in the same place: with her dad parking cars at the now-demolished Dunes on the Las Vegas Strip.
It ended, however, with a different story, one in which Manny Cortez came to Ely to fish with friends. When Cortez died of a heart attack on Father's Day in 2006, Cortez Masto told the crowd, he had spent the day prior as he had many days before — fishing in Ely once more before driving the four hours back to eat dinner with his family. When they woke on Sunday, "he was gone." 
"I don't tell you that to say 'this is a sad story,' I tell you that to tell you that — even though we lost him, this was a special place for my father, and it is a special place for me," Cortez Masto said. "Because every time I come to this community, it reminds me of the good times and about my dad and what he loved about this state."
That connection to and knowledge of the state, be it from her childhood or via her political career, has proven a key selling point for her GOP backers.
"There's a shorthand," Robertson said. "Nevada is not your regular midwestern state, this isn't Iowa. We're a unique place with a unique culture with unique communities and having someone who knows how to navigate that is worth a lot."
Cortez Masto's institutional knowledge of the state's sprawling rural interior has long been a feature of her political career. In a 2019 interview, she told The Nevada Independent that she had urged her staff at the attorney general's office to hop in the van and travel out to Elko and Winnemucca and beyond.
"We're going to go to them," she said at the time, referring to conversations with her staff. "I want you to see Nevada."
Also critical to the race, especially for the Republicans now endorsing a Democrat, is Cortez Masto's Republican opponent.
For Robertson, "the proof is in the pudding" on Laxalt's record in office.
"It's painfully evident, I think, what his motivations seem to be," Robertson said. "And when he comes out here, and he has come out to Ely for a few things, but he doesn't stop to take questions, he doesn't stop to engage. And I think that that speaks volumes for people and voters around here."
For Pam Harrinton, the Cortez Masto supporter out of Lander County, it's a similar concern.
"I'm pretty sure from what I've read and when I talked to people — I don't know him, I've never met him — but from people that I've talked to that have worked with him, he'd be working for Adam Laxalt," she said. "So I've just gotta go with my gut."
Even so, whatever pockets of support exist for Democrats in rural Nevada remain small and scattered, and even among those Republicans who have publicly backed Cortez Masto, only one, the Ely Mayor Robertson, currently holds office.
In the hyper-partisan milieu of 2022, it remains unclear how this level of support may ultimately affect the most salient Nevada elections, if at all. But even among those backing Cortez Masto, the wider contours of modern American politics — defined by the remaking of Republicanism in the mold of Donald Trump — has hardened the two-party binary and opened the door to retribution for deviation.
Some local party groups have moved to censure or condemn Republicans who have endorsed Democrats. That includes the Washoe County Republican Party, which passed a resolution this week that said in part: "As Republicans, we will no longer tolerate those that would subvert the goals and ideals of the Republican Party from within."
That resolution also named Jason Soto, the Reno police chief who has endorsed Cortez Masto.
But beyond the partisan push and pull, some rural residents — especially the state's Native Americans — said it was the small things with big impacts that sometimes counted the most.
At the Shoshone Reservation in Ely, for instance, tribal chair Diana Buckner lauded Cortez Masto for securing the funds for a road and for the construction of four new single-family homes.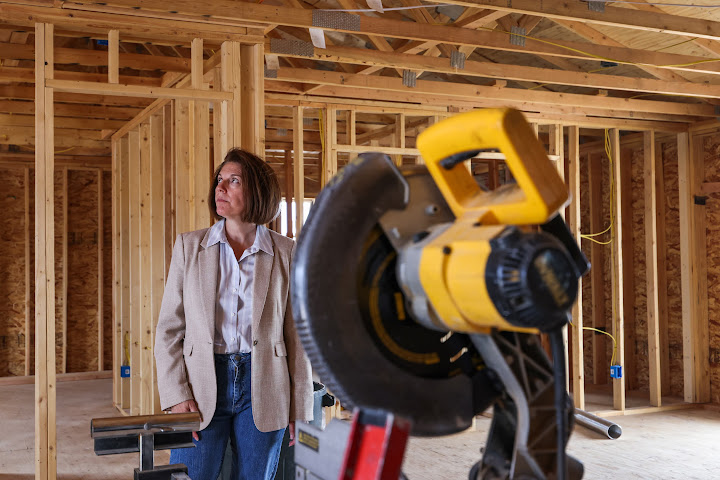 Now, Buckner is hoping that yet more federal money, provided through the American Rescue Plan Act (ARPA) and boosted by money from the nearby mining companies, can help get more construction projects off the ground, including more homes and perhaps even a gym.
"Our people are here, our children are here," Buckner said. "We want to provide what we can for them here. And we're so limited — they just can't jump in the vehicle and go on our way to another community where there's a gym or where there's a court to play ball. So we're trying to provide for those things, too."
The race so far
In the race so far, Cortez Masto has walked a fine line on the national image of her party, especially as rocky economic conditions and high gas prices in the early summer rang alarm bells for vulnerable Democratic campaigns.
In the spring, for instance, she campaigned on federal COVID aid provided by the American ARPA, and later cast herself as a defender of abortion access in the wake of the Supreme Court decision overturning the precedent set by Roe v. Wade. In the time since, outside Democratic groups have spent millions hammering Republicans on their opposition to abortion.
She has also spent much of her time — and millions of dollars — attacking Laxalt for a raft of issues. The senator sought to link him directly to "Big Oil" during the summer gas price surge and aired audio of Laxalt calling the legal reasoning behind Roe "a joke" in a bid to tie Laxalt more closely to his opposition to abortion.
On the flip side, Laxalt's campaign has sought to undermine Cortez Masto's bipartisan credentials, often referring to her as a "leftist," tying her directly to the Biden White House and calling her a "rubber stamp senator" for backing most of the president's agenda.
Even when Cortez Masto has opposed Biden-backed policies — such as the move late last month to partially forgive some student loan debt — Laxalt's campaign has either characterized the decision as a cynical political ploy meant to "save her skin," or simply tied her to the policy anyway.
On the margins, one remaining X factor could be the president's approval rating. Though it has steadily climbed since bottoming out in late July ahead of the whirlwind of Democratic legislative successes, it still remains generally low, hovering on-average just above 42 percent.
Republicans nationwide, including Laxalt, have tried to seize on those low approval numbers, linking incumbent Democrats to the White House at every available opportunity.
In that environment, Cortez Masto has avoided linking her campaign to the Biden White House. She was also among the majority of high-profile Nevada Democrats who was nowhere near a visit to Las Vegas from Vice President Kamala Harris last month.
That reticence has persisted, even as the White House began touting the Inflation Reduction Act — a piece of legislation that Cortez Masto has separately lauded herself. Last month, an anonymous Democratic strategist told NBC News that Nevada Democrats have deliberately sought to avoid "nationalizing" their races by campaigning with the president.
The continued push for distance between the White House and individual campaigns could matter for some, as Biden remains widely unpopular in rural areas despite a late-summer boost in approval polls.
Harrington, for instance, said she was "very unhappy" with Biden's job performance, despite her support for Cortez Masto.
"I'm not seeing anything good yet," she said.
And there remain few signs this distance will close before the November election. The day Cortez Masto toured through Ely was the same day Biden announced his student loan forgiveness plan. As her congressional office released a statement announcing her opposition to the executive action, she met one-on-one with Ely residents on mining taxes, public lands and wild horses.