Organizers believe Nevada Native turnout was historic, despite gaps in exit poll data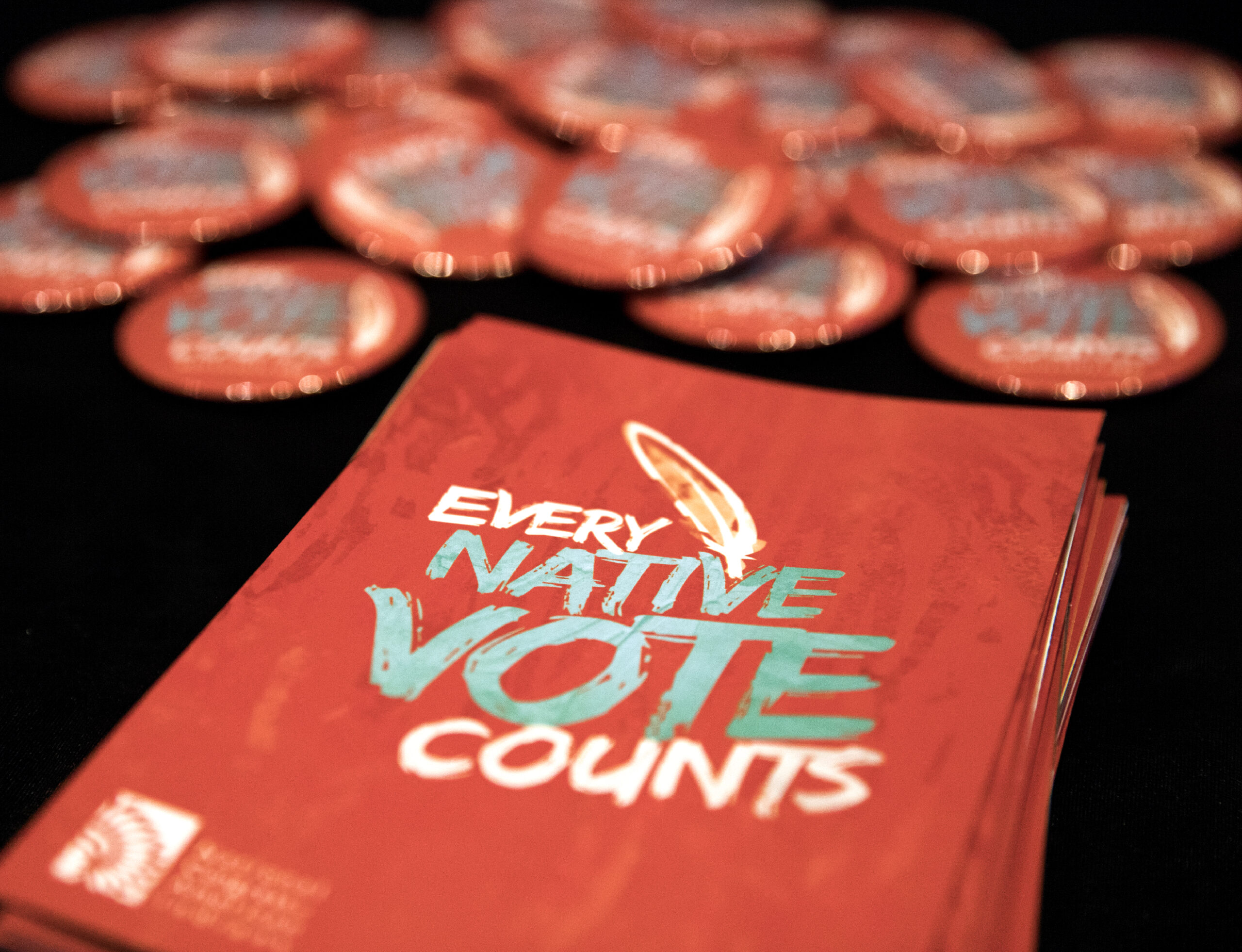 Tribal leaders moved into the 2020 general election campaign season with the same goal held by other organizers — to achieve high voter turnout and elevate the voices and concerns of their fellow community members.
It's difficult to quantify Native voter turnout rates because of the lack of data collection for the demographic, unlike for Latino, Black and Asian voters. But in spite of the data gaps, leaders behind the Native vote mobilization efforts in Nevada say they achieved their objective.
"Our goal this year was to have the largest Native voter turnout in Nevada's history," Teresa Melendez, vice chair of the Nevada Native American Caucus, said during a meeting with caucus members last week. "I'm confident that we met that goal. We had a ton of first time Native voters. And I think that our communities did a great job about creating excitement around voting, I think more than we've ever seen."
The Nevada Native Vote Project, a nonpartisan and nonprofit organization spearheaded by Teresa Melendez and her husband, Brian Melendez, organized get-out-the-vote events, advocated for increased polling locations and ballot drop boxes closer to remote reservations and put together Election Day events across the state's colonies and reservations.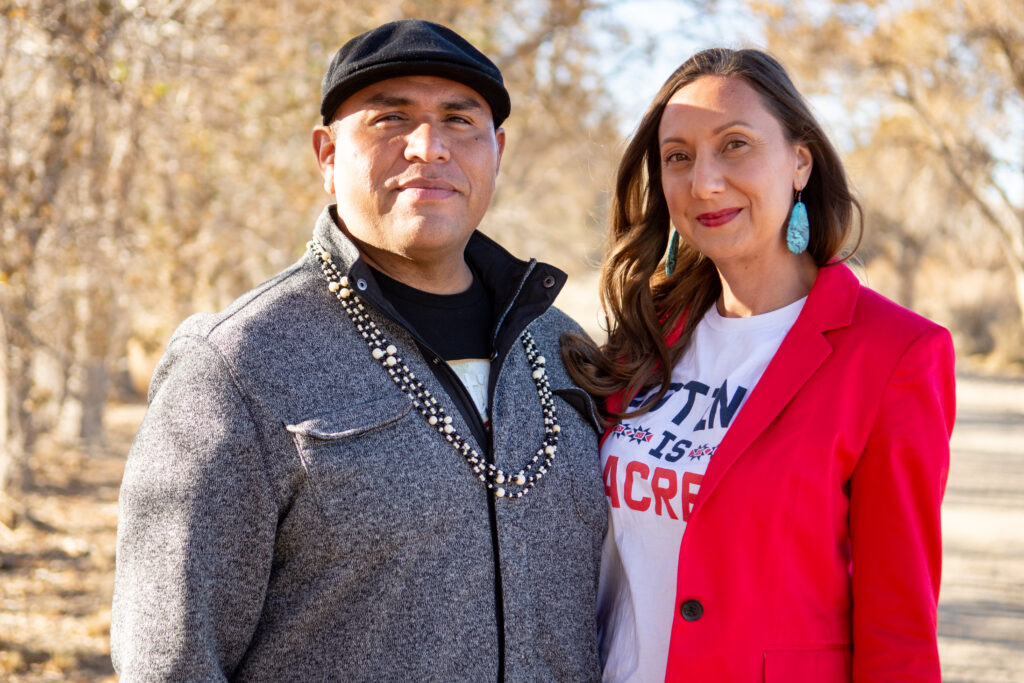 The organization also offered fuel gift cards to voters who needed to drive an hour or more to the nearest polling location in an effort to ensure tribal voters had greater access to the polls this year amid what the Native American Rights Fund called the "tyranny of distance" in a recent report.
That effort was scrutinized in the Nevada GOP's latest lawsuit against the state, in which it alleged that items offered at various events organized to mobilize voters, such as the fuel cards, T-shirts, stickers and face masks, created incentives for Native voters to vote specifically for the Biden-Harris ticket.
Ethan Doig, strategy coordinator for the Nevada Native Vote Project, said the GOP's claims are baseless, as the organization engaged with Biden and Trump voters "across the board."
Efforts were driven by the belief that Native voters have the potential to be a powerful voting bloc and electorate, he said, if only they could be reached and mobilized successfully — something the leaders of the Nevada Native American Caucus said neither the Nevada Democratic Party, Republican Party nor state government have taken the lead on.
After interacting with elected officials and candidates during the 2020 campaign season, it became clear to the Native American Caucus leaders that candidates lacked awareness of Native issues — and their status as sovereign nations. Teresa Melendez acknowledged that had to be a focus of organization efforts ahead of the election — to simply educate local and state leaders on the state's 27 tribes.
"So it was very clear that we have a lot of work that we need to do to build those relationships to have those conversations, but then also recognizing that the onus of responsibility is on our elected officials to understand the constituents they serve," Teresa Melendez said. "They need to take on that burden and educate themselves."
Making Native voters visible through data collection
Teresa Melendez's sentiment is echoed in the preface of the 2020 Indigenous Futures Survey, a recent effort to collect clearer and more comprehensive data on behalf of the Native Organizers Alliance, the Center for Native American Youth and Illuminative, a nonprofit organization focused on boosting awareness about Native people and issues.
The survey included more than 6,400 Native participants from 400 of the more than 500 federally recognized tribes across the country, including 269 Nevada Natives, who accounted for 4 percent of the survey sample.
The 2010 Census reported an estimated population of nearly 3 million Native people living in the U.S. across 35 states. Of those, 60,000 over the age of 18 were reported to reside in Nevada, with the caveat that the Native population is historically undercounted by the census. Tribal leaders such as Brian Melendez believe the number to be even greater.
"Many national narratives dismiss the Native vote as inconsistent, Native people as unengaged, or our population as too small to make a difference in elections. But the political power of Native peoples has been more visible in recent years," the report says. "As the 2020 election approaches, there is increasing awareness of the importance and potential impact of an engaged Native electorate, especially in seven swing states: Michigan, Wisconsin, North Carolina, Arizona, Colorado, Minnesota and Nevada."
In addition to the recent mobilization efforts on behalf of the Nevada Native Vote Project and the Nevada Native American Caucus, the early 2020 caucus season also saw the state's second-ever Native American presidential candidate forum where then-Democratic hopefuls including Tom Steyer, Pete Buttigieg and Elizabeth Warren appeared in-person and virtually to discuss Native issues.
Of the nearly 270 respondents from Nevada included in the survey, 67 percent reported having voted in the last local, state and national elections, in comparison to 77 percent of all respondents.
Nevada's respondents also identified the distance to the nearest polling location as too far away and the inability to access a polling location because of work hours as the top two barriers keeping them from voting.
Vast stretches of road between reservations and the nearest post offices require Native voters to drive long distances and spend extra money on gas, while many do not even own a vehicle.
Additionally, many homes on reservations do not have addresses or P.O. boxes. These points were illuminated by Nevada tribal nations earlier this summer, as they fought to preserve the right to vote by mail by joining a lawsuit on behalf of the state.
Brian Melendez noted the distance barrier in multiple letters sent to county election officials and to Secretary of State Barbara Cegavske ahead of the election asking for closer polling locations or ballot drop boxes for the Duck Valley and Fort McDermitt reservations in Northern Nevada near Elko.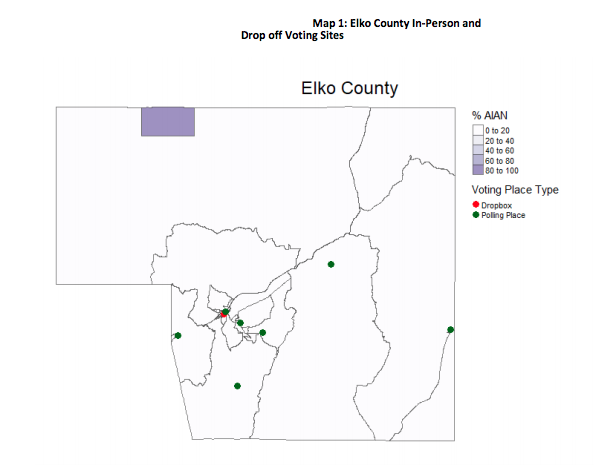 "It is important to take these commonsense and nonpartisan steps to guarantee that all of Elko County's Native voters have access to early voting sites and drop box locations, and to ensure that voters are not forced to choose between their health and their fundamental right to vote," Brian Melendez wrote in the letter addressed to Cegavske and the Elko County Clerk.
The expanded Nevada voting law, AB4, created a provision that allowed a voter's family members or friends to drop ballots on their behalf, which granted greater access to voting for those living in remote communities, enabling just one person to drive the hour or more to the nearest polling location.
As for the issues most important to residents of Indian Country, respondents diverged from the nationally popular issues of improving the economy, bridging racial inequality, containing the coronavirus pandemic and improving access to health care.
The top priority issue for Native respondents across the country was improving mental health, with 69 percent of survey respondents placing it at the top of their list. Caring for tribal elders came next at 65 percent, followed by addressing violence against women, children and LGBTQ+ individuals, with 64 percent. Preserving tribal languages was the fourth priority issue, with 63 percent of respondents saying it was a top concern for them.
Among Nevada respondents, the top two priority issues were caring for tribal elders, then improving mental health.
And while no racial or ethnic voting bloc is a monolith, including Native voters, the majority of Nevada's respondents identified as Democrat, at 52 percent. Thirty-two percent of respondents identified as independent, seven percent as Republican and three percent as Democratic Socialist.
Of those surveyed across the U.S., 60 percent identified their political stance as "liberal" and more than one-third identified as "moderate" or "conservative."
The national breakdown was slightly different from that of Nevada. Specifically, 51 percent of Native respondents identified as Democrat, 26 percent as independent, nine percent as Democratic Socialist and seven percent as Republican. Of those, Democratic Socialists and Democrats most often said they were likely to vote in an election at 89 and 86 percent, respectively, followed by Republicans at 76 percent and independents at 67 percent.
An Edison Research national exit poll showed the "other" race category, which included Native voters, swinging left this year, with 58 percent supporting President-elect Joe Biden.
First-time Nevada Native voters turned out to the polls
The leftward swing garnered national media attention in historically red states with large Native populations, flipping some for the first time in years in favor of Democrat and President-elect Biden. This included Arizona, where it is estimated there are more than 200,000 eligible Native voters and which saw more than 100,000 Native voters turn out to the polls.
Local news outlets for states such as Arizona, New Mexico, Montana and Wisconsin also highlighted the Native turnout and support for Biden, although Donald Trump won the electoral college votes for Montana.
However, Nevada Native voters who spoke with The Nevada Independent ahead of the election fell across the political spectrum.
First-time Native voters Larsa Guzman and Morgan Thomas, enrolled members of the Shoshone Paiute Tribe and the Pyramid Lake Paiute Tribe, respectively, both voted for President-elect Biden, saying Trump didn't seem very presidential to them.
"He doesn't talk as if he was a president," said Guzman, 19. "And just the way that his full party thinks they could treat other people like, he's the reason why all these nasty people get to come out and just think they can say what they want. In reality, it's rude and not humane."
She said her father cast a vote for Trump, though, citing what he saw as policy benefits to the economy. Her mother joined her in voting for Biden, and Guzman said she hopes Biden can make progress on issues such as preserving a woman's right to choose abortion afforded by Roe v. Wade, provide additional resources or forgiveness for student's college loans, increase funding toward education and address climate change.
Thomas, 19, had a different story — she had planned to vote for Trump but decided on Biden following the vice presidential debate that featured Vice President Mike Pence and Vice President-elect Kamala Harris.
"I really personally think she's a great lady. She's for the people. And I feel her and Biden teamed together, they can really help our people and not only like our people, but minorities in general," Thomas said.
Thomas said the way Trump spoke about minorities, specifically immigrants who are overrepresented in frontline and essential jobs amid the pandemic, upset her. But she also thinks Trump had a strong and positive influence on the economy.
Both Guzman and Thomas said they have many friends who chose not to participate in the election, despite being eligible to vote, and that those people cited a lack of engagement by and distrust in both presidential candidates as reasons.
Louis Afraid of Hawk, 18, took a different approach to supporting the Native vote ahead of the election that included Little Fly, a reddish-brown horse with a white streak on his nose.
Although he was eligible to vote, Afraid of Hawk didn't cast a ballot this year. Neither of the presidential candidates caught his attention, he said, so he didn't pay close attention to the election.
But he spent a few hours riding Little Fly through the Yomba Shoshone Reservation, about a three-hour drive east from Reno, carrying a few ballots that he delivered to the tribal director who then delivered the ballots to the polling location in Tonopah, which is a two-hour drive from the reservation.
He rode alongside Rusty Brady and Daniel Hooper, other Yomba Shoshone tribal members, and their horses, including KJ, a white horse with one white and one blue eye.
"It was pretty exciting and fun. I had a good time going out and interacting with the community and being able to use my horses, and ride around and pick up the ballots and make sure everything was okay," Afraid of Hawk said.
He said he's interested in participating in the voting process in the future, especially if it'll help his Native community.
Aiming for increased Native visibility: 'We're still very much in this election'
While Native voter mobilization efforts and turnout rates captured attention across the country, Native people celebrated historic wins in representation.
The 2018 midterm elections saw the first two Native women elected to congressional seats in Kansas and New Mexico — Reps. Sharice Davids and Deb Haaland, respectively. Davids is a member of the Ho-Chunk Nation Tribe and Haaland is a member of the Laguna Pueblo Tribe.
Both Davids and Haaland were re-elected to their seats in November, and so were Oklahoma Native Republican Reps. Tom Cole and Markwayne Mullin. In addition to those four congressional seats, November saw New Mexico Republican Rep. Yvette Herrell's election to the House and Hawaii Democratic Rep. Kaiali'i Kahele's election to previous Democratic presidential candidate hopeful Tulsi Gabbard's seat.
That's a record-breaking six Native congressional representatives across the country — three Democrats, three Republicans, three women and three men.
While Nevada tribal leaders say they are eager to continue their work to improve voting processes in their communities, they are now dealing with the latest allegation put forth by the state GOP, which accuses the Nevada Native Vote Project of offering incentives to vote for Biden during its voting drives.
"Offering something of value to a voter in exchange for his or her vote is a violation of Federal and Nevada law," states the lawsuit. "All such votes cast in exchange for the above described incentives are, therefore, illegal and improper votes."
The organization offered "Natives Vote" T-shirts, face masks, posters, stickers and other items. But group leaders say they did not try to require or persuade people to vote one way or the other in order to receive the items, or to even vote at all.
Nevada state law prohibits bribery to influence an elector in giving their vote or deterring their vote under NRS 293.
Deputy Secretary of State for Nevada Wayne Thorley said Wednesday the GOP's claims are "under review" at this time.
The Nevada Native Vote Project has since responded to the allegations with an official statement that clarifies the people wearing Biden-Harris apparel and buttons mentioned in the lawsuit were not "sanctioned, facilitated, funded" by the organization, nor did they belong to the organization as intellectual property.
The organization continues to call the GOP's attempt to invalidate Native voters' ballots "suppression," and their investigation "sloppy" and "racist."
"The Nevada Native Vote Project is determined to defend our communities against the precedent of voter intimidation and suppression this lawsuit is attempting to create," reads the statement. "Collective action from our communities has always been met by opposition and suspicion. Principally, this is because the equity of participation is a threat to people in a position of power."
The organization celebrates its success in turning out Native voters in what it called record numbers and closes its statement looking forward to the future.
"In America, we believe in upholding the democratic transfer of power and we are ready to move forward together to tackle our shared challenges and ensure a better future for every American."
With the election (mostly) over, the work to create lasting change for Indian Country is only beginning for tribal leaders leading the Nevada Native American Caucus, which has operated within the state Democratic Party since 2019. The group is preparing to advocate for Native issues in the 2021 legislative session.
"A great deal of our advocacy work comes from the fact that Nevada lacks critical infrastructure and visibility for Native communities in the state," said Doig, who is also the senior policy advisor and campaign committee chair for the Native caucus. "And so, a significant portion of our work right now is reallocating our time for data collection and analysis, which will better support our advocacy work moving forward into the legislative session here in February."
Although 2020 voting has ended, it remains a focus for the caucus, which will continue to advocate for voting reform and expanded access to polling locations and ballot boxes for voters living on remote reservations.
"Among other things that were made explicitly clear as a need for the community out of this election is a really an overwhelming and comprehensive reform of our voting infrastructure and process, which doesn't adequately support the unique circumstances of Nevada's geographic, financial and social circumstances that directly relate to the Native tribes," Doig said.
He added that the caucus is committed to the long run, so state political parties should take notice.
"We're in the game to change the landscape of Nevada," he said. "That's the goal. And so if they want to play ball, they're going to play ball and they're going to meet us where we stand."
Updated at 9:22 a.m. and 9:40 a.m. on 11/20/2020 to include a graph for Nevada Native voters political identity by party and include an image of the letter sent to the Nevada Secretary of State on behalf of the Nevada Native Vote Project.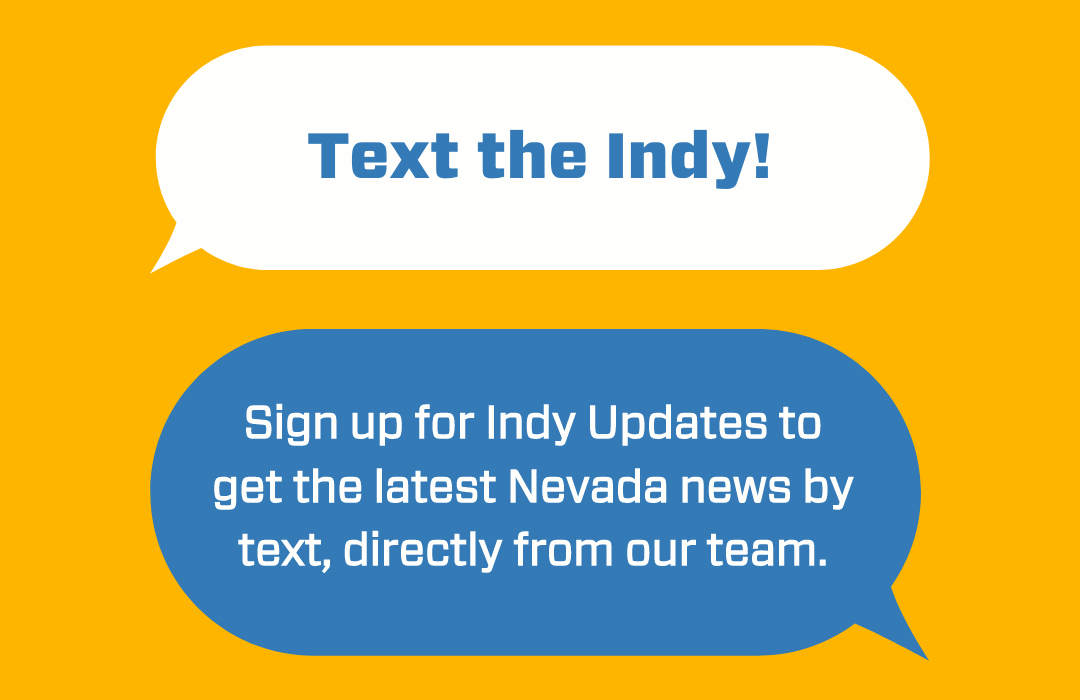 Featured Videos