Parents empathetic but anxious as school cancellations threaten to leave them in a lurch
Moms say they want teachers to be happy with their jobs but urge a quick resolution to the union dispute because of child care challenges.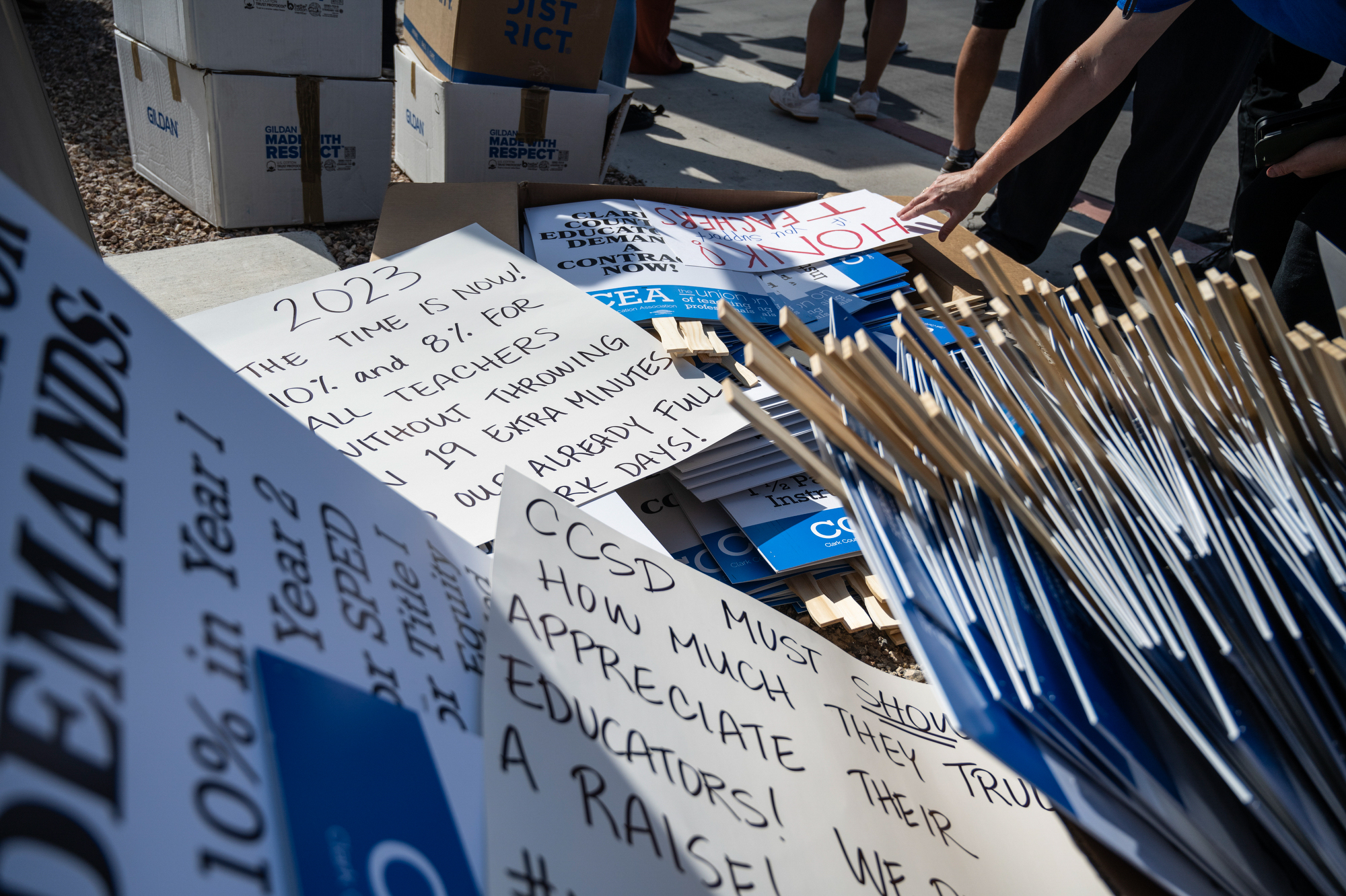 Laura Campos is a stay-at-home mom, and her children's schools have not experienced some of the school cancellations in Clark County recently caused by "unexpected" mass teacher callouts — a situation that a judge has declared is a form of a strike.
But she fears it could happen any day without notice. She said she has friends and neighbors who work during the day and are unable to call off, so she offered to take care of their children if their school cancels classes.
"We are making a plan B, just in case it happens," Campos said in an interview in Spanish. "It is the only option, because there is nowhere else. We know that daycare is very expensive to take care of children."
The Clark County School District and the teachers union, Clark County Education Association (CCEA), are at an impasse over how large teacher pay raises should be in the next two years, among other disagreements. While a Wednesday court hearing resulted in a preliminary injunction against CCEA over the unprecedented number of teacher absences, the judge did not outright discourage teachers from taking further actions that could be viewed as striking.
Teacher strikes are illegal in Nevada, and actions by teachers found to essentially be equivalent could result in a fine of up to $50,000 per day to the union; a fine of up to $1,000 per day for a union officer; imprisonment for contempt of court; and suspension, dismissal or pay deduction for any employee who participates in a strike. So far, about 10 schools have been affected by mass teacher absences, although it did not appear any more had closed on Thursday, a day after the injunction was issued.
For Patricia Castillo, a mother of seven, her high school-aged son is able to help with his younger siblings when she's at work but she said "it is not his responsibility" to become the caretaker if the elementary school cancels classes for the day.
Families are also dealing with disappointment as teachers cancel club meetings and after-school activities as part of the ongoing dispute about pay. In late August, CCEA Executive Director John Vellardita encouraged teachers to only work the 7 hours and 11 minutes per day required in their contract, although teachers are free to voluntarily work overtime if they see fit.
Evelyn Castillo's daughter was looking forward to participating in the robotics program at her magnet school this year, but the activity was short-lived after the teacher in charge notified parents the club was canceled indefinitely because of contract disagreements.
"[The teacher] told us that [CCSD] did not want to pay them for the hours they were going to invest in robotics classes, since the competitions are also on Saturdays and after school," Evelyn Castillo said in Spanish. "It was a disappointment for me, for my husband and for my daughter because we were really very excited … And now we are stuck because I can't change her to another school."
Despite the teacher shortages and callouts potentially affecting their children's school, the mothers agreed that they support teachers' decision to take action and speak up for a fair contract and compensation for everything they do in the classroom, including preparing for class and buying materials.
"[Teachers] are an important piece in the education of all children. They also have families and so the reality is that if they don't have a good salary, why would they want to be teachers?" said Rocio Medrano, a mom and member of the Parent Leadership Team, a group focused on empowering immigrant parents.
But schools canceling classes an hour before the first bell is a disruption to their routine, Medrano said.
"We perfectly understand that if they are on strike, they have their reasons — but also from a parent's point of view, it is inconvenient … schools canceling would completely disrupt our day," Medrano said. "It is very important to reach an agreement, both for the teacher and for the parents, because in the end all this is affecting both parties."
On Tuesday, CCSD declared an impasse in its negotiations with CCEA, the first step in beginning an arbitration process.
CCEA demands have included an 18 percent salary increase for all licensed educators over the next two years, a 5 percent increase for special education teachers and an additional $5,000 salary increase for all educators at certain schools with high numbers of vacancies and hard-to-fill positions.
The district, meanwhile, said its latest offer for teachers included a 9 percent pay increase in the first year of the new contract, although it's unclear whether the second year would include a raise. The district said it also proposed a $10,000 bonus for certain special education teachers and teachers in hard-to-fill positions.
Where to go when school is canceled
In response to the unexpected school closures, the City of Henderson opened its Battle Born Kids child care program at some of its recreational centers for students ages 5 to 14 whose schools canceled classes Tuesday and Wednesday — costing between $27 and $31 for the day. The youth program usually offers before- and after-school activities, preschool and a place for students to go on staff development days.
The City of Las Vegas also opened its "No School Fun Day" camp, which is usually intended for planned staff development days, at Veterans Memorial Community Center last Friday when Linda Rankin Givens Elementary School in Summerlin unexpectedly canceled classes. According to a city spokesperson, No School Fun Days cost parents $15 for elementary school students who had classes canceled but income-eligible families can have the fee waived. Last week, about 25 students from the school took advantage of the camp.
Sig Rogich Middle School canceled classes on Tuesday but a City of Las Vegas spokesperson told The Nevada Independent that it did not create an alternative for those students.
Although North Las Vegas has yet to have a school cancel classes because of teacher shortages, city officials said the Safekey program would be extended and can "accommodate additional programming" at recreation centers if needed.
But parents whose students' school is in unincorporated Clark County would have to find an alternative on their own if classes are canceled. County officials said that before- and after-school Safekey would "work as normal" but it is unable to offer all-day care at recreational centers "without more notice to plan for staffing and programming needs."
"If CCSD wanted to provide staffing to accommodate students at some of our locations, we could work to see if that would be possible. We haven't received a request of that sort as of now," the county spokesperson said in an email. 
The district, however, said it did attempt to coordinate with the county on Sept. 12 to accommodate high school students whose school was closed but communication dropped and the district decided to work with a library instead.
Education reporter Rocio Hernandez contributed to this report.
Updated Sept. 14, 2023 at 3:54 p.m. to add comment from Clark County School District.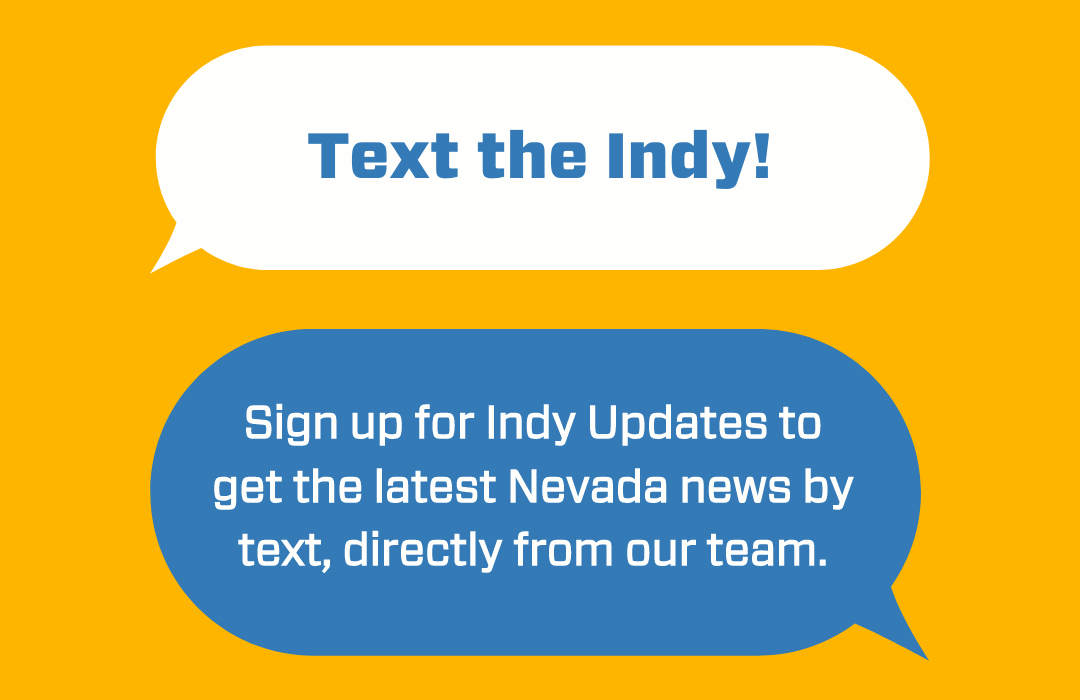 Featured Videos