Police dog using his nose to keep Washoe schools safe
Plus: Recapping Clark County teacher negotiations, a new community market and forums on Washoe school improvement plans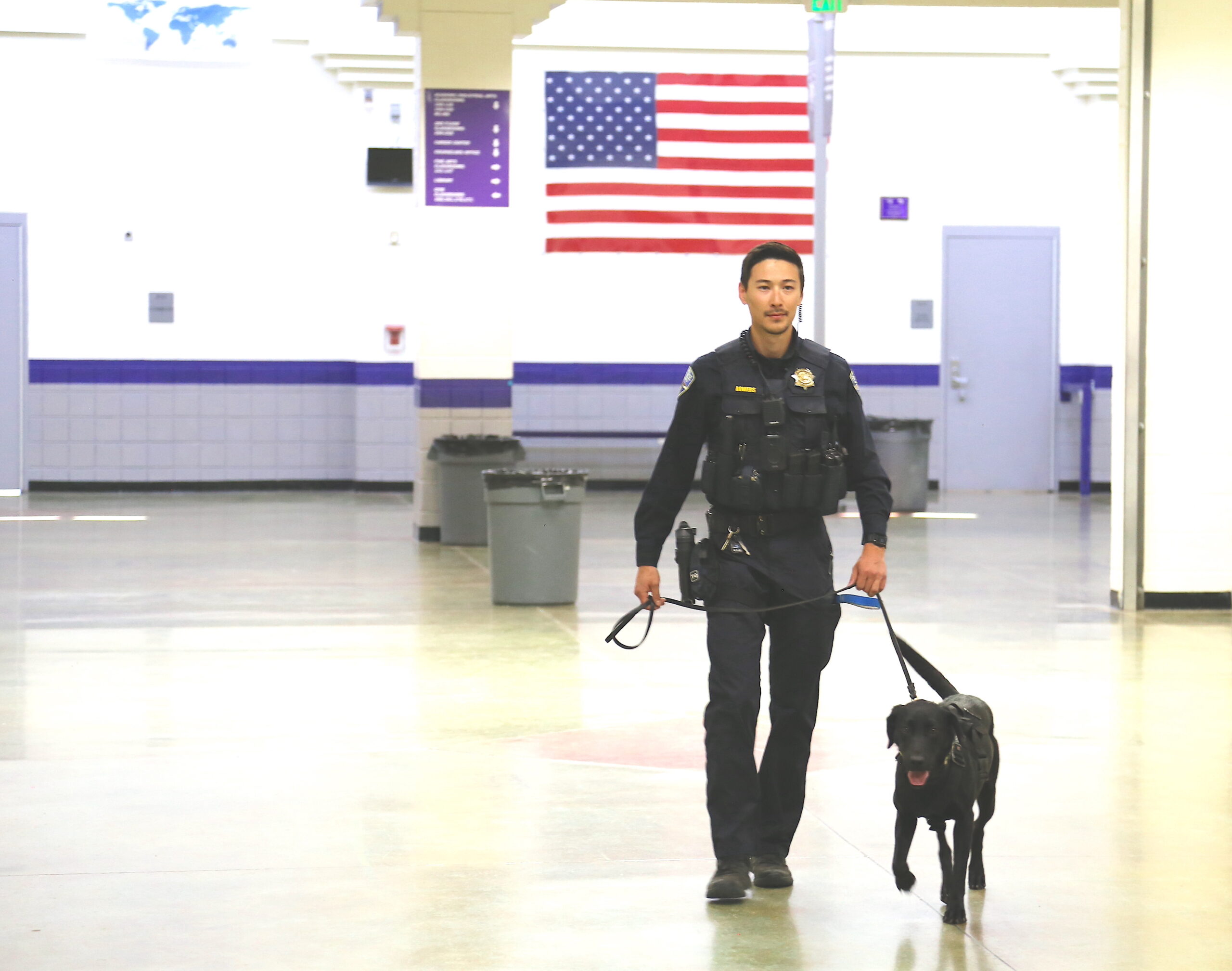 Good morning, and welcome to the Indy Education newsletter. I'm Rocio Hernandez, the K-12 education reporter.
This newsletter provides a recap of the latest education stories as well as highlights interesting educators, students, programs and other events and resources throughout the state.
Click here to subscribe to the newsletter and receive it each Tuesday via email.
I want to hear from you! Send questions, comments or suggestions on what I should be covering to [email protected].
News Briefs: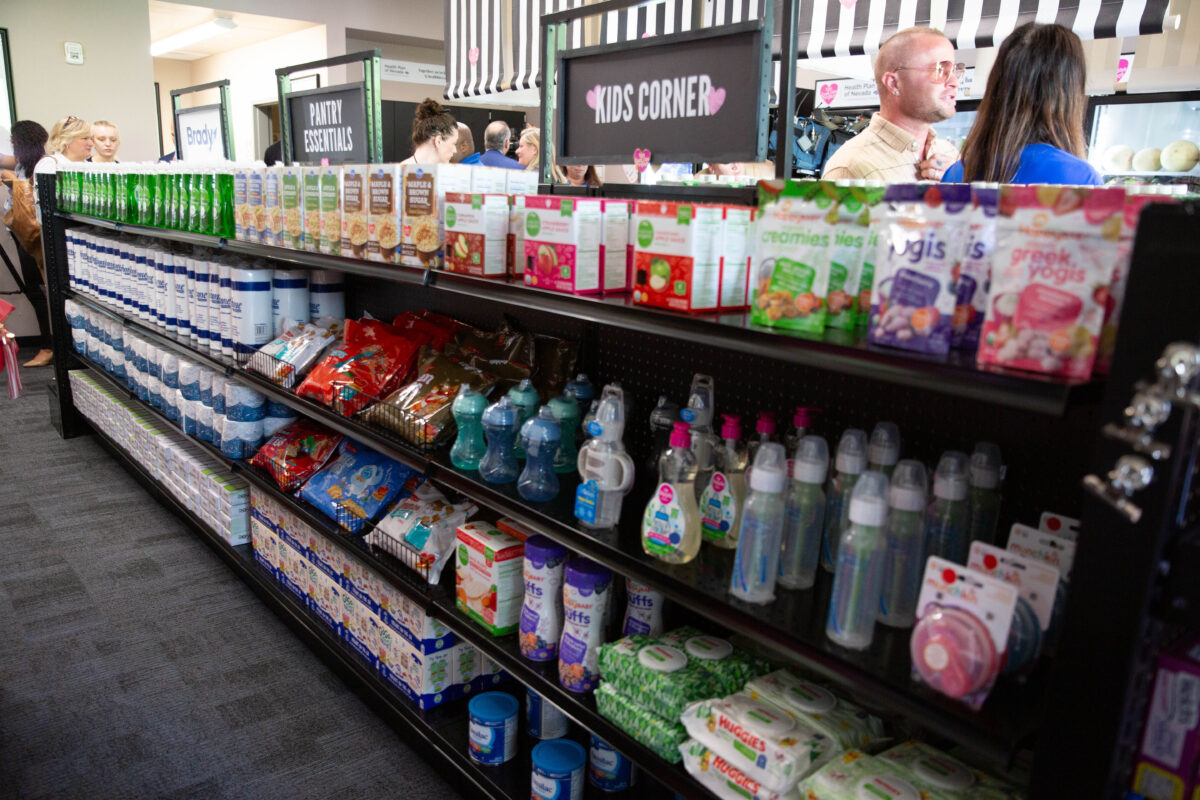 🍓New community market – On Thursday, The Just One Project nonprofit opened a new no-cost community market at the Clark County School District's (CCSD) Family Support Center in Las Vegas that provides free food and more. The Family Support Center Community Market is the first in a two-year collaboration between the nonprofit and Health Plan of Nevada, which has pledged more than $668,000 to support three no-cost markets at school district sites, including this one, and a "Groceries-on-the-Go" program, planned for later this year. The new market offers fresh groceries, produce, recipes, nutritional advice, household items and other resources such as homelessness prevention assistance.
The market will be open Monday through Friday, from 8 a.m. to 3 p.m., including through most school breaks with the exception of holidays. An appointment is needed to visit the market.
Those seeking assistance may make an appointment by calling the CCSD Family Support Center at 702-799-0072, extension 0072. They may also visit www.thejustoneproject.org for more information.
🧑‍🏫 Teacher of Tomorrow finalist – Chase LaCombs, a Las Vegas fifth grade teacher, is one of nine finalists selected for the Teachers of Tomorrow 2023 Teacher of the Year award. Teachers of Tomorrow is an alternative certification program that's focused on combating teacher shortages, and has placed more than 75,000 teachers in schools since its founding in 2004. Finalists will each receive $500 and a six-month membership to SimpleK12, which offers professional development courses. The winner will receive $5,000 and a yearlong membership to SimpleK12. Community members are invited to submit their vote through Sept. 1.
🖌️ Logo design contest winner – Luet Lobsien, a senior at Carson High School, was recognized for the logo he designed for the Nevada Department of Education's "Learning for the Future" education conference. Lobsien was rewarded with an award, an Amazon gift card, a certificate of appreciation and a framed version of his design. Lobsien's logo will be used on all the materials, including promotional items, signage and swag for the Dec. 2 conference in Las Vegas.
School Spotlight:
Meet the newest member of the Washoe County school police department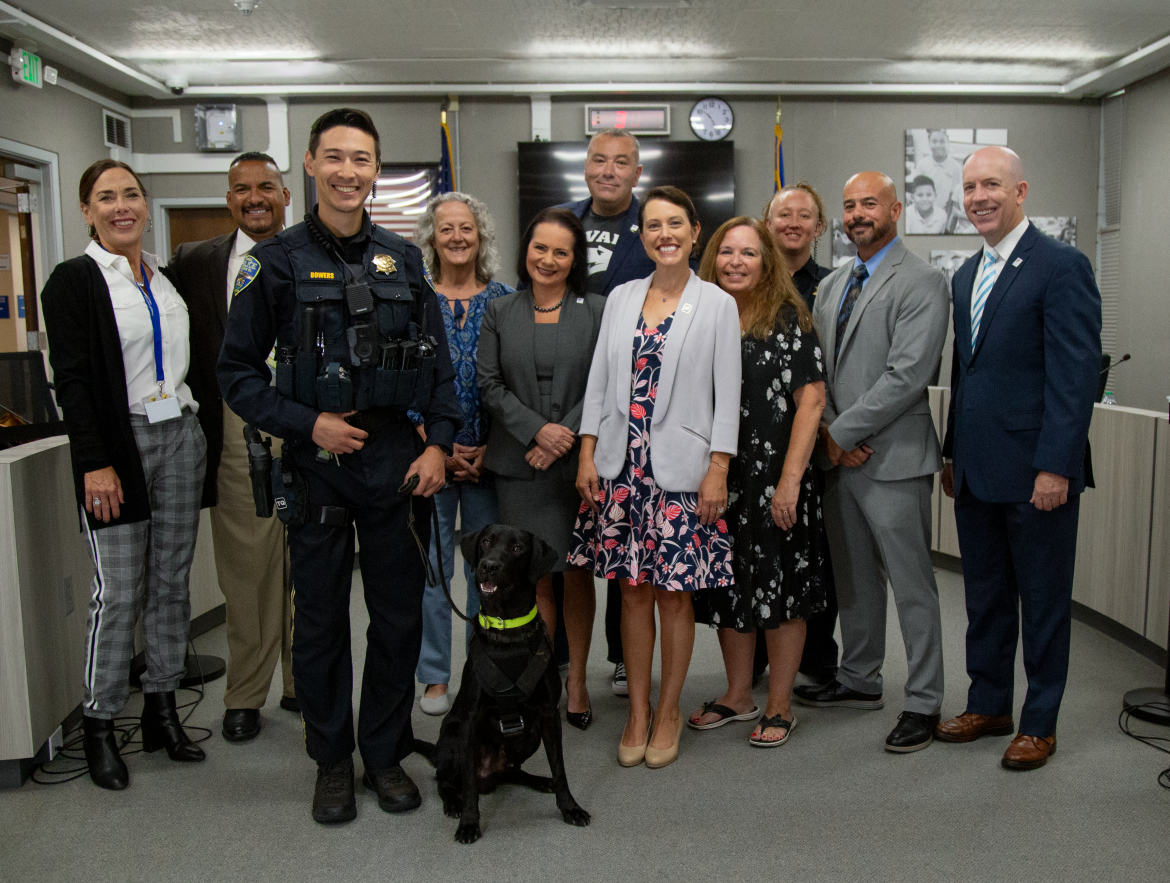 A new face has joined the Washoe County School District — and he's using his nose to keep schools safe.
Astro, an 18-month-old Labrador retriever, arrived at the school district in early July from Ireland, just north of Belfast, where he was bred and trained to be a firearms detection dog. Astro and his handler, officer Matt Bowers, spent the first weeks of the school year visiting different schools to get Astro acclimated to his new position as well as holding demonstrations to explain what Astro's role is to students, along with some actual searching.
"He's been just super well behaved, especially with the little ones," Bowers said. "They're all really happy to meet him and pet him."
Washoe County School District Police Department Sgt. Seana Baker said the school district was interested in bringing on a firearms detection dog amid the rise in violent crime throughout the country.
"We just kind of wanted to get ahead of that," she said. "We hope he never actually finds a gun at a school, but he is doing stellar in his training."
Baker said police dogs, such as Astro, typically have a career that on average lasts about five years, but they can go longer depending on the health and mobility of the dog.
"So we're never going to run the dog longer than what feels good for the dog," Baker said. "But they are happiest when they are working."
When he's off the clock, Astro is just like any other dog. Bowers said Astro enjoys going out for walks or playing in their backyard. Bowers said he hasn't seen a food that Astro doesn't enjoy.
"He scarfs down his dry food like it's nothing," Bowers said. "We have these bacon-type treats that I feed him when I'm also doing basic obedience like sit, lay down, shake, stuff like that."
He likes playing with toys and tennis balls, and recently, Astro's been fascinated with stuffed animals.
Have a student or staffer who we should feature in the next edition of School Spotlight? Share your nominations with me at [email protected].
Reading Assignments
Lombardo says he's 'eager to help resolve' Clark County teacher pay dispute
The governor's assistance is not unprecedented as former Gov. Steve Sisolak intervened in 2019 as the teachers union was preparing for a strike amid an impasse with the district.
Protest over teacher pay disrupts Clark County School Board meeting
It was the second time protesters have interrupted a board meeting this month as negotiations between the union and school district remain at a standstill.
Challenges emerge as UNR continues expansion of dual credit program into Southern Nevada As more high schools join the program that offers students college credits, questions still swirl over teachers' costs and qualifications.
CCSD will use $250M allocation to boost support staff salaries; teacher raises unclear
In contrast with union and lawmaker hopes, many districts want to treat the funds as a one-time bonus rather than commit it to permanent salary increases.
Judge: 'Not enough' evidence to stop potential Clark County teachers strike
The ruling comes days before a union meeting and threatened 'work actions' over a simmering teacher pay dispute.
Extra Credit
Why schools across America are building teacher housing
On their salaries, many teachers simply can't afford to live where they work, which can have repercussions on the quality of students' education, Axios reported.
Entering Week 3 of the new school year, Washoe County teachers still working on an expired contract.
The district is negotiating contracts that expired on June 30 with four of its five bargaining groups. Only the district's police department has a contract that goes through next year, the Reno Gazette-Journal reported.
Events:
Community forums on future changes to Washoe schools
The Washoe County School District is holding three community forums, two in person and one virtual, to gather community input on its strategy for improving older school buildings. These meetings will run through the end of September.
Forum details:
Community Forum 1:
When: Tuesday, Aug. 29, at 5:30 p.m.
Where: Hug High School, 3530 Sullivan Lane, Sparks
Community Forum 2 (Virtual):
When: Wednesday, Aug. 30, at 5:30 p.m.
Where: https://us02web.zoom.us/j/85681102793?from=addon
Community Forum 3:
When: Thursday, Aug. 31, at 5:30 p.m.
Where: Reno High School, 395 Booth St., Reno
📆 Labor Day – Monday, Sept. 4
A reminder: Schools will be closed for students on Monday, Sept. 4, for Labor Day.
🍏 State Board of Education meeting – Wednesday, Sept. 6, at 2 p.m.
The agenda includes reviewing draft regulations for school start times and a discussion on teacher licensing and the teacher pipeline.
👨‍👩‍👧‍👦 Family Academy – Saturday, Sept. 9, from 8-11:30 a.m.
The Clark County School District (CCSD) is holding a free Family Academy event for low-income families and students on Saturday, Sept. 9, at Rancho High School at 1900 Searles Ave. The event will include workshops on strategies to support learning at home and guidance on navigating the school system. Child care will be provided for CCSD students. Registration is required by Sept. 5.
The citation issued to Clark County kindergarten teacher Kristan Nigro at a protest during a Clark County School Board meeting on Thursday almost looks like a pageant sash.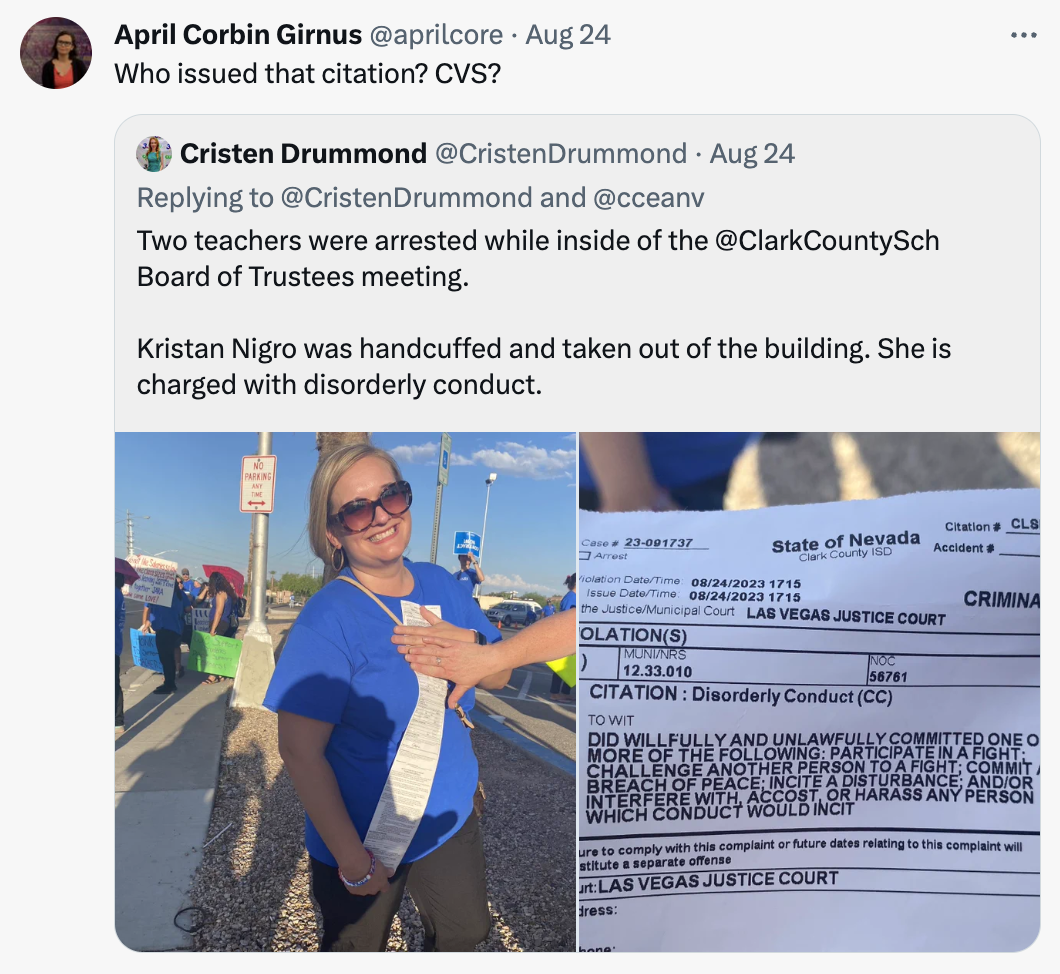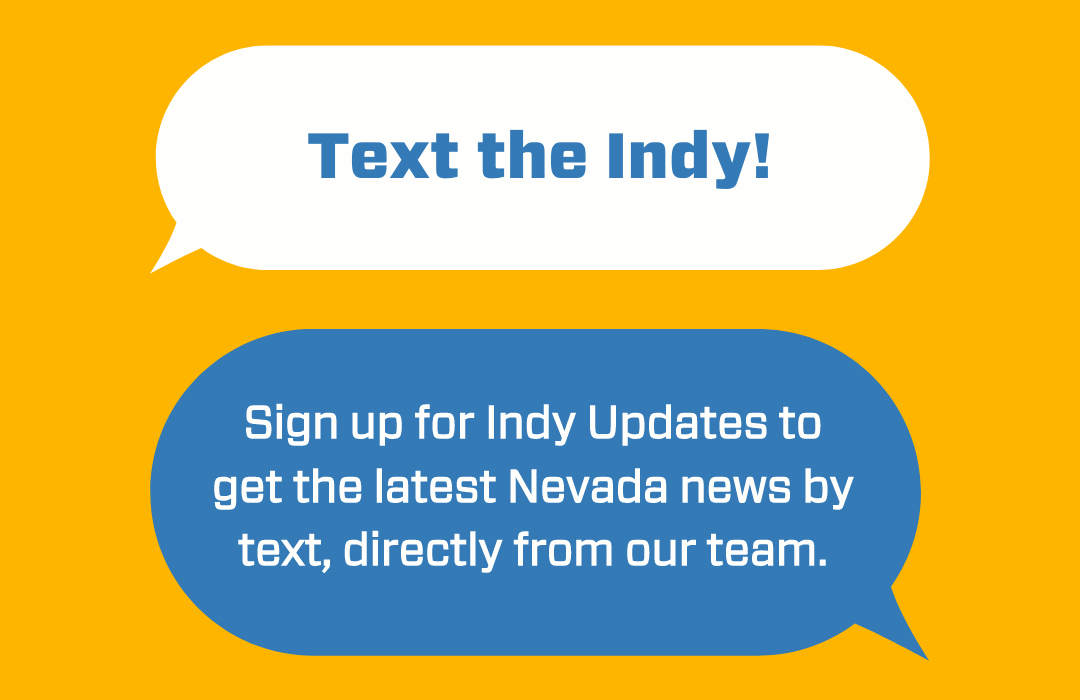 Featured Videos