Presidential race casts a shadow over two congressional races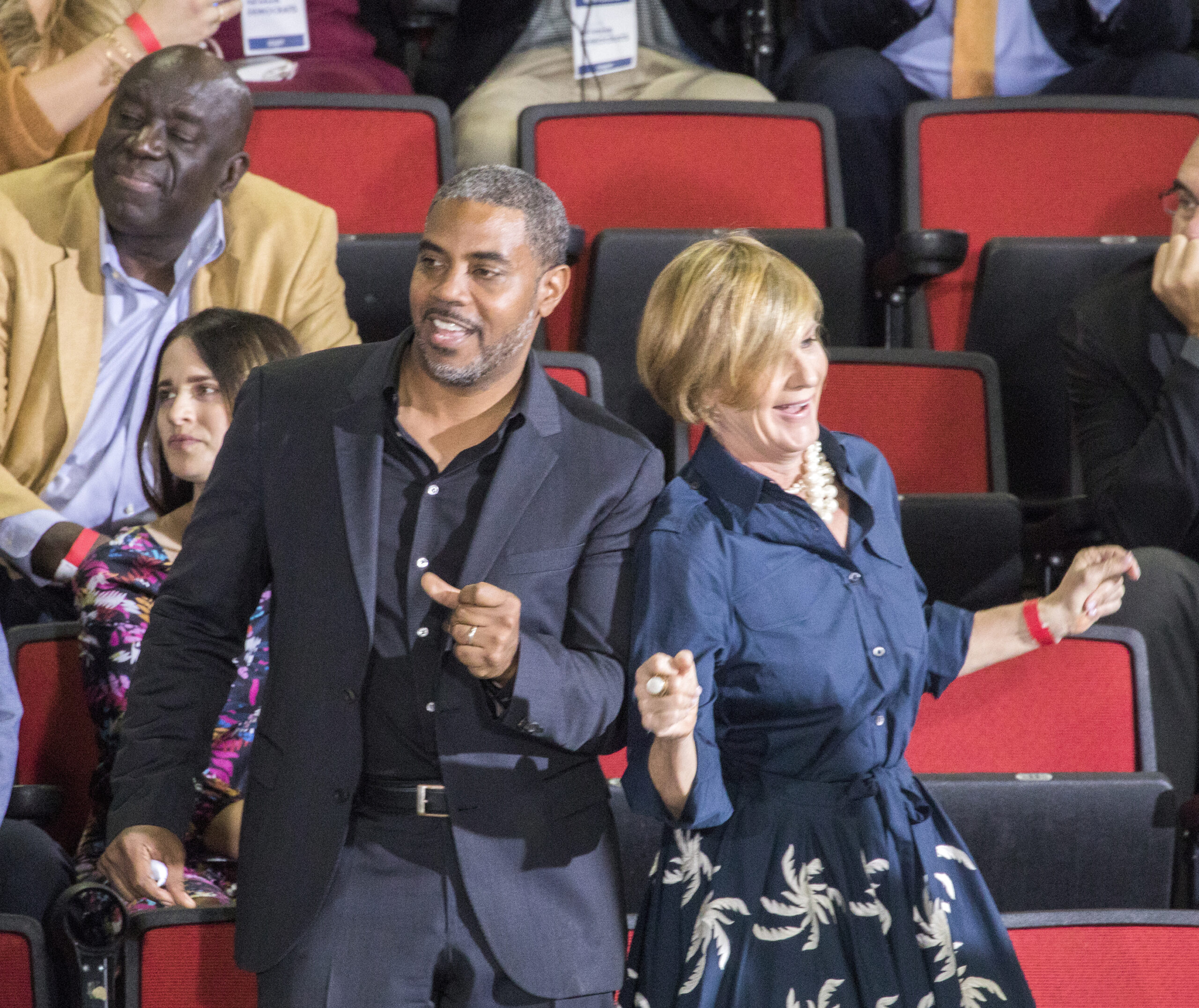 More than a year ahead of the 2020 election, Democrats and Republicans are already sizing each other up for the fight over Nevada's two competitive congressional districts.
The presidential race looms in the minds of both sides. Whether Rep. Susie Lee can hold on to the Third District seat, and Rep. Steven Horsford can hold his seat in the Fourth District, is the question at hand — especially for Lee because her district has a history of voting to the right of the state.
"Both districts are potentially competitive, I'd say, particularly Nevada Three, given that it's a district that the president carried, albeit narrowly, in 2016," said Kyle Kondik, managing editor of Larry Sabato's Crystal Ball at the University of Virginia Center for Politics. "I don't think that Trump would carry Nevada Four unless he was winning Nevada statewide."
For the moment, prognosticators see the Lee and Horsford seats as favorable to Democrats. The Cook Political Report rates Horsford's seat as "likely Democrat," while Lee's seat is rated "lean Democrat." Sabato's Crystal Ball rates both seats as "likely Democratic." 
Trump won the Third District by about one percentage point in 2016—one of the 31 districts now held by Democrats where the president was victorious. Trump's re-election campaign has said he plans to run hard in Nevada, which the president lost by about two-and-a-half percentage points.
The First District seat represented by Democrat Dina Titus and the Second District seat represented by Republican Rep. Mark Amodei are not considered to be competitive this cycle. There are no other statewide races in 2020, which makes the presidential race the top-of-the-ticket contest.
David Wasserman, who analyzes House races for the Cook Political Report, said the Third District is a suburban district that, like in other parts of the country, could have easily been won by Republicans, but for a lackluster GOP candidate, namely Danny Tarkanian, who also ran for and lost the Fourth District seat in 2012. In 2018, Tarkanian initially sought to primary former Republican Sen. Dean Heller. But he joined the race for the Third District seat after being asked to do so by Trump.
"It is a Trump Democrat seat," Wasserman said of the third district. "Unfortunately for Republicans, Danny Tarkanian has robbed them of opportunities in these suburban seats time and time again."
Although the identity of the Democratic nominee for president will play a role in the dynamic of the Third District race, as an incumbent, Lee will likely have an easier time raising money, which will help her flood the airwaves with advertising in the Las Vegas media market.
"So much depends on the identity of the Democratic nominee in 2020 and the results of the top of the ticket," Wasserman said. "But for now, she's in better shape than most other Democrats representing Trump districts."
Lee raised a respectable $450,000 in the first quarter of 2019, according to Federal Election Commission reports.
However, the advantages of being an incumbent are not what they used to be.
"The value of incumbency has gone down politically, relative to what it was a generation ago," Wasserman said.
"We don't see the same type of split ticket voting that we saw 10 or 20 years ago," he continued.
"Elections are more censuses of how many Democrats or Republicans live in a certain area; they are true contest between two candidates."
The two analysts see the Fourth District as safer for Horsford.
"It's a district that votes to the left of the state as a whole," Kondik said.
Wasserman pointed to the advantage in registration for Democrats over Republicans.
"The fundamentals of the district are very difficult for Republicans," Wasserman said. "This is a seat that has a considerable Democratic registration advantage."
The Fourth District contained more than 158,000 registered Democrats as of May compared to more than 123,000 registered Republicans, according to the secretary of state's office. The Third District had more than 160,000 Democrats and more than 153,000 Republicans. That district has more than 101,000 registered nonpartisans, though, as well.
Kondik also noted that it's not yet clear how intensely Republicans will contend for the two Nevada seats given the 2018 margins of victory for Lee and Horsford and the relatively slim margins for the president. Of the 31 seats that Trump won and that are represented by Democrats, Republicans need to win 18 to win back the House majority.
"It's something I'll get a better handle on later in the cycle: How seriously do the Republicans consider the Nevada seats to be part of their battle plan in the House," Kondik said. "My guess is that they probably may very well prefer seats in other places that maybe were more supportive of the president. But if you're trying to win the majority back you have to look near and far for targets. From that standpoint, I would certainly think that the two Nevada seats would be on their radar."
Lee won her seat in 2018 with 52 percent of the vote compared to Tarkanian's 43 percent. Horsford won his 2018 race with 52 percent of the vote, defeating GOP candidate Cresent Hardy with 44 percent. That race was a rematch from four years earlier when Horsford was the first-term incumbent and lost to Hardy.
Demographics also appear to favor Democrats. The Third District is growing more diverse with roughly a third of the population Latino, AAPI, or African American, according to the Census Bureau. Exit polling in 2016 showed that 60 percent of Latinos, 62 percent of Asian-Americans and 81 African Americans in Nevada voted for Democrat Hillary Clinton over Donald Trump. Lee has been doing a series of events in her district, which allows her to hear directly from constituents. She held her second town hall meeting on June 8.
The Fourth District is also diverse, with Latinos and African Americans making up roughly 40 percent of the district.
For their part, Republicans say they are eager to contend for the seats. They see a favorable trend in the recent past and will look to tie Lee and Horsford to the far left of the party.
"Horsford and Lee's allegiance to the socialist Democrats in Washington will definitely play a role in the race," said National Republican Congressional Committee (NRCC) spokeswoman Torunn Sinclair.
Although Trump won with 47.5 percent of the third district vote in 2016, not as many GOP voters showed up in the 2018 midterm. Republicans expect better turnout in a presidential year.
"This district leans Republican, and will continue to lean Republican," Sinclair said, citing the 2014 victory by former GOP Rep. Joe Heck who won the district by 24.6 percent.
The GOP also sees a favorable trend in the fourth district. GOP presidential nominee Mitt Romney lost the district by 10 percent in 2012, but Trump lost it by just 4 percent in 2016.
The early presidential nominating contest could also benefit the GOP by possibly forcing Lee and Horsford to take positions earlier in the process, which could hurt them as the presidential candidates in the crowded field move further to the left to win Democratic delegates.
Democrats expect Lee and Horsford to focus on issues such as health care, which proved successful for them in 2018. 
"From advancing bipartisan legislation to bring down the costs of health care and prescription drugs to cleaning up Washington's culture of corruption, Representatives Horsford and Lee are showing up and doing the work that matters to Nevada families," said Democratic Congressional Campaign Committee (DCCC) spokesman Andy Orellana.
Horsford introduced a bill, approved by the House Ways and Means Committee in April, that would require drug manufacturers to publicly justify large price increases and high prices when new drugs are first sold to consumers. The measure, which is expected to be taken up by the House this summer, is based on state legislation that became a law in 2017. But last month, he refused to back single-payer health care legislation, raising concerns at a hearing about the disruption to those with employer-provided health care, which applies to the majority of the population in Nevada.
Democrats have also sought to lay the foundation for the ground game, which they believe will be bolstered by the early organizing of the Democratic candidates looking to do well in the caucus.
Nevada will hold its Democratic caucus on February 22 and will be the third state in the nation to vote for a presidential candidate. Candidates looking to compete in the primary will have to have their teams and volunteers organized and ready to show up at the caucus by at least this fall, if not before. The early contest could help keep the election, and the Lee and Horsford campaigns, in front of voters.
In March, the DCCC announced that they were going to hire roughly 60 organizers in communities around the nation, including the suburbs of Las Vegas, to lay a foundation and defend and increase the Democratic majority in the House.
"Democratic engagement on the ground in Nevada was evident in 2018 and is only growing going into 2020," said Orellana. "That is why the DCCC recently made their first major investment of the cycle by bringing on March Forward Field Managers who are trained to execute a modern campaign strategy and harness that enthusiasm across Nevada in 2020."
IndyFest is proudly sponsored by:
Comment Policy (updated 4/20/2021): Please keep your comments civil. We reserve the right to delete comments or ban users who engage in personal attacks, use an excess of profanity, make verifiably false statements or are otherwise nasty. Comments that contain links must be approved by admin.