Pro-Lombardo 'dark money' nonprofit started as governor's inaugural committee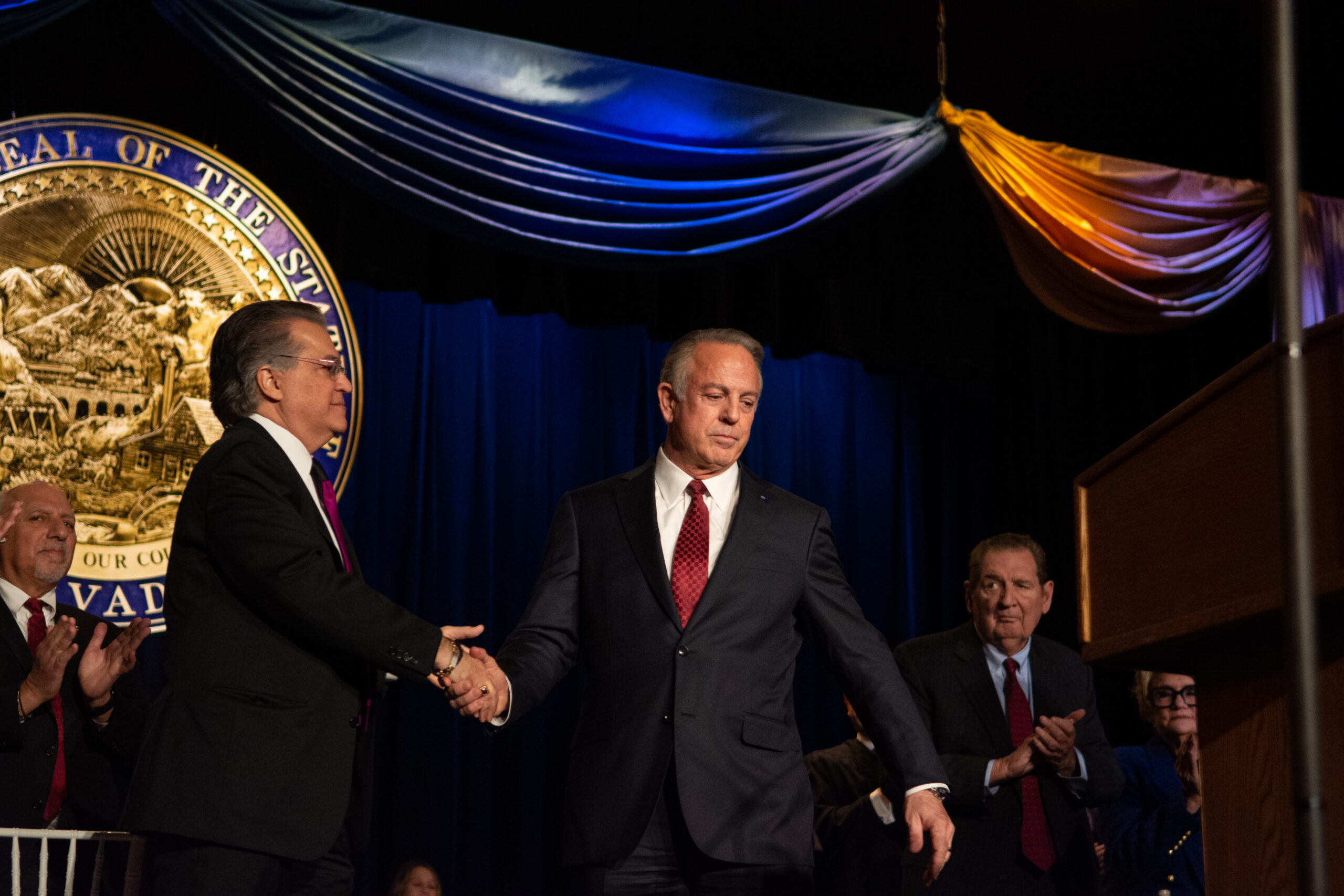 Like his predecessors, one of the first things Joe Lombardo did after winning the election for governor was start planning for inaugural balls.
But unlike his predecessors, Lombardo created a nonprofit organization — "Nevada Inaugural Committee" — to run the events, rather than register a political action committee (PAC) to do the job.
Nearly four months later, that nonprofit has shifted gears — moving from organizing $150-per-ticket black tie galas to functioning as an attack arm of Lombardo's political operation under the new name Service First Fund, including running digital ads targeting Democratic lawmakers opposed to his agenda.
While governors using leftover funds from their inauguration committees isn't unprecedented (former Gov. Steve Sisolak transferred nearly $687,000 in leftover funds from his inaugural committee PAC to a related PAC), Lombardo's use of a nonprofit to manage his inaugural ball marks a departure from past practice, and allows him to avoid disclosing donors.
The entity's most recent filing with the secretary of state's office indicates that it will operate as a social welfare 501(c)(4) nonprofit, a structure that is allowed to accept unlimited corporate and personal donations and can engage in political activity within certain limits, namely not engaging in express advocacy for or against a candidate for public office. PACs in Nevada are also allowed to raise unlimited funds, but are required to report their donors and comply with state campaign finance law.
In a statement, a spokesman for Service First Fund said the inaugural committee nonprofit was "repurposed for efficiency and cost purposes."
"It is far from uncommon for existing organizations to change their names and titles when they are repurposed," spokesman John Burke said in an email.
Burke added that 501(c)(4) nonprofit organizations are commonly used for inaugural committees, and that the nonprofit did not meet the IRS's definition of a political organization. He said Lombardo has not fundraised for the group or otherwise engaged with it outside of appearing at an event held by Service First Fund in April.
Bradley Schrager, an attorney who frequently represents Democrats and Democrat-backed causes, suggested that the creation of a nonprofit organization to run the inaugural committee was an effort to avoid transparency.
"Raising hundreds of thousands, if not millions, of dollars for your inaugural [committee] but refusing to disclose is a novel and arrogant way of cheating the public out of its right to know who's funding its elected officials," Schrager said. "Lombardo's predecessors, both Republican and Democrat, reported every dime they raised for this purpose."
According to paperwork filed with the secretary of state's office, the Nevada Inaugural Committee was registered Nov. 14, 2022, just three days after Lombardo was projected to defeat Sisolak in the state's 2022 election.
However, the entity filed for a name change to Service First Fund on March 10, 2023. It listed three officers with ties to Lombardo or state Republicans — former Lt. Gov. Mark Hutchison, Nevada State Bank Chairman Dallas Haun (a member of Lombardo's transition team) and prominent Northern Nevada developer Perry DiLoreto, a donor to Lombardo's campaign.
Service First Fund filed additional documents amending its articles of incorporation on April 4, which show the entity changing its board of directors — keeping Hutchison but adding Las Vegas real estate agent and former GOP state Senate candidate Tina Brown and Chrissie Hastie, the president/CEO of In Compliance Inc., a business that maintains campaign finance reporting and treasury operations for federal and state candidates.
Earlier this week, Service First Fund released a series of digital ads targeting six Democratic lawmakers for their lack of support for Lombardo's stalled education proposals. A spokesman for the nonprofit previously said the group planned to run ads in each lawmaker's respective district "until the Governor's bill is passed."
The ads instruct viewers to call their legislators and tell them "defending the status quo" is not OK. Such language seeks to avoid the so-called "magic words" first identified in the U.S. Supreme Court's 1972 Buckley v. Valeo case, which held that campaign finance laws are limited to candidates or entities that expressly advocate for the election or defeat of a candidate.
Nevada's Supreme Court reached a similar conclusion in 2015, ruling in favor of a conservative group that had distributed election flyers attacking a Democratic assemblyman without disclosing who paid for them.
However, Schrager argued that ads targeting specific candidates in swing or competitive districts, especially those not on the committees where Lombardo's legislative bills were referred to, met the state's legal definition of express advocacy — a threshold he said should require the entity to register as a PAC and disclose its donors.
"Targeting selected legislators with ads paid for with inaugural funds is express advocacy under Nevada law, and this phony nonprofit likely will be forced to register as a PAC and disclose all its activities," he said.
That distinction is likely key, as Lombardo is legally prohibited from fundraising for "any political purpose" for a period 30 days before and after regular legislative sessions.
Service First Fund also hosted Lombardo at a "Nevada Way Leadership Forum" in Las Vegas on April 29, which included panels of elected officials and GOP activists. It was described by conservative activist Chuck Muth as "designed to activate and engage supporters of his agenda and call on them to take the fight to the other side in the closing days of the current legislative session."
Past governors, including Sisolak and Brian Sandoval, registered their inaugural committees with the secretary of state's office as PACs. That structure allowed each inaugural committee organization to accept unlimited campaign contributions, but required them to publicly report all contributions and expenditures.
Sisolak's inaugural committee ended up contributing nearly $687,000 to another PAC, Home Means Nevada, which engaged in several political efforts designed to support the Democratic governor, including contributing to a separate PAC that attacked Lombardo ahead of the 2022 GOP primary.
The Nevada Independent is raising $200,000 by Dec. 31 to support coverage of the 2024 election.
Tax-deductible donations from readers like you fund this critical work.
If you give today,your donation will be matched dollar-for-dollar.
Give + Get Matched
Featured Videos