Reaching Latino Voters: A Q&A with Daniel Garza, head of The LIBRE Initiative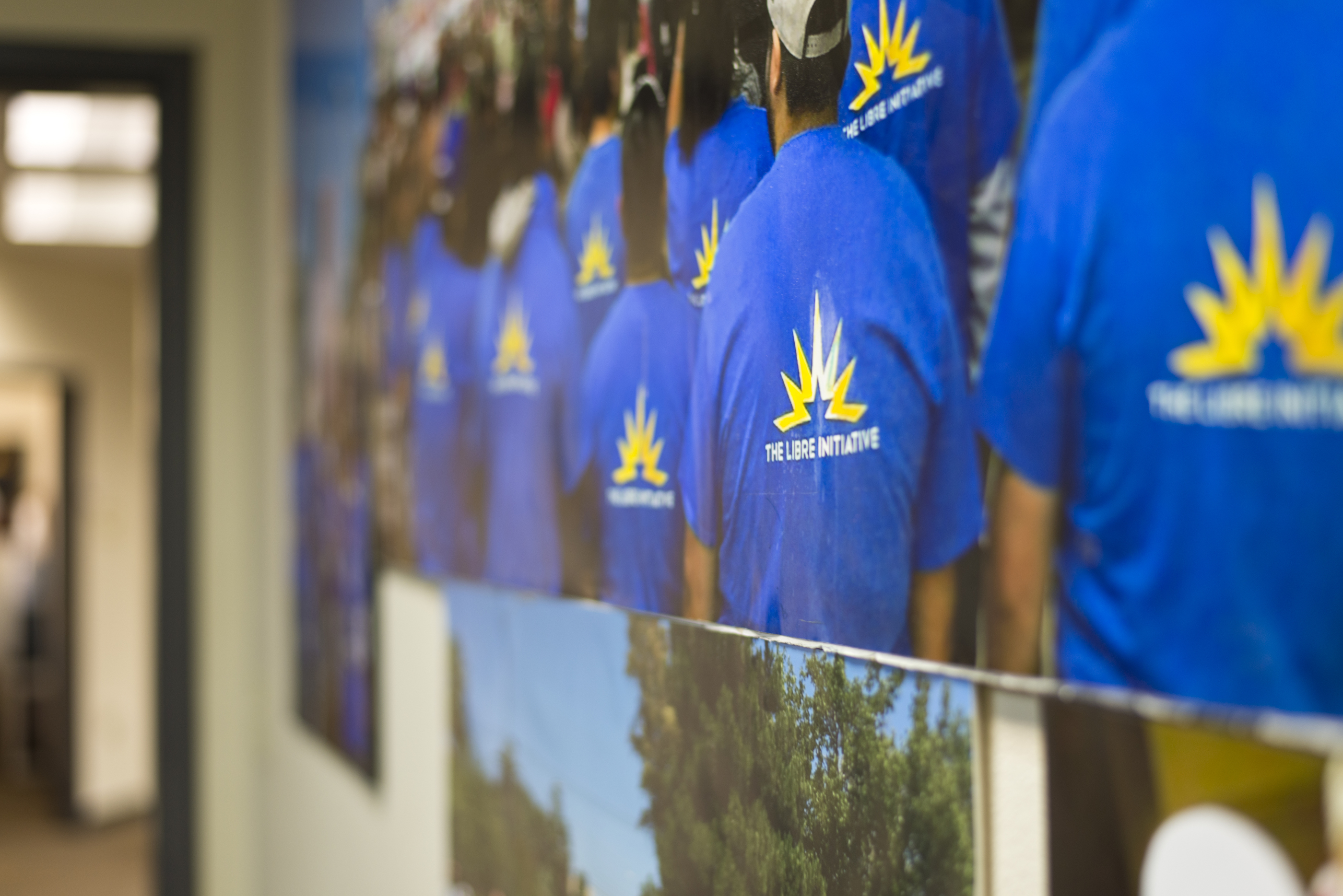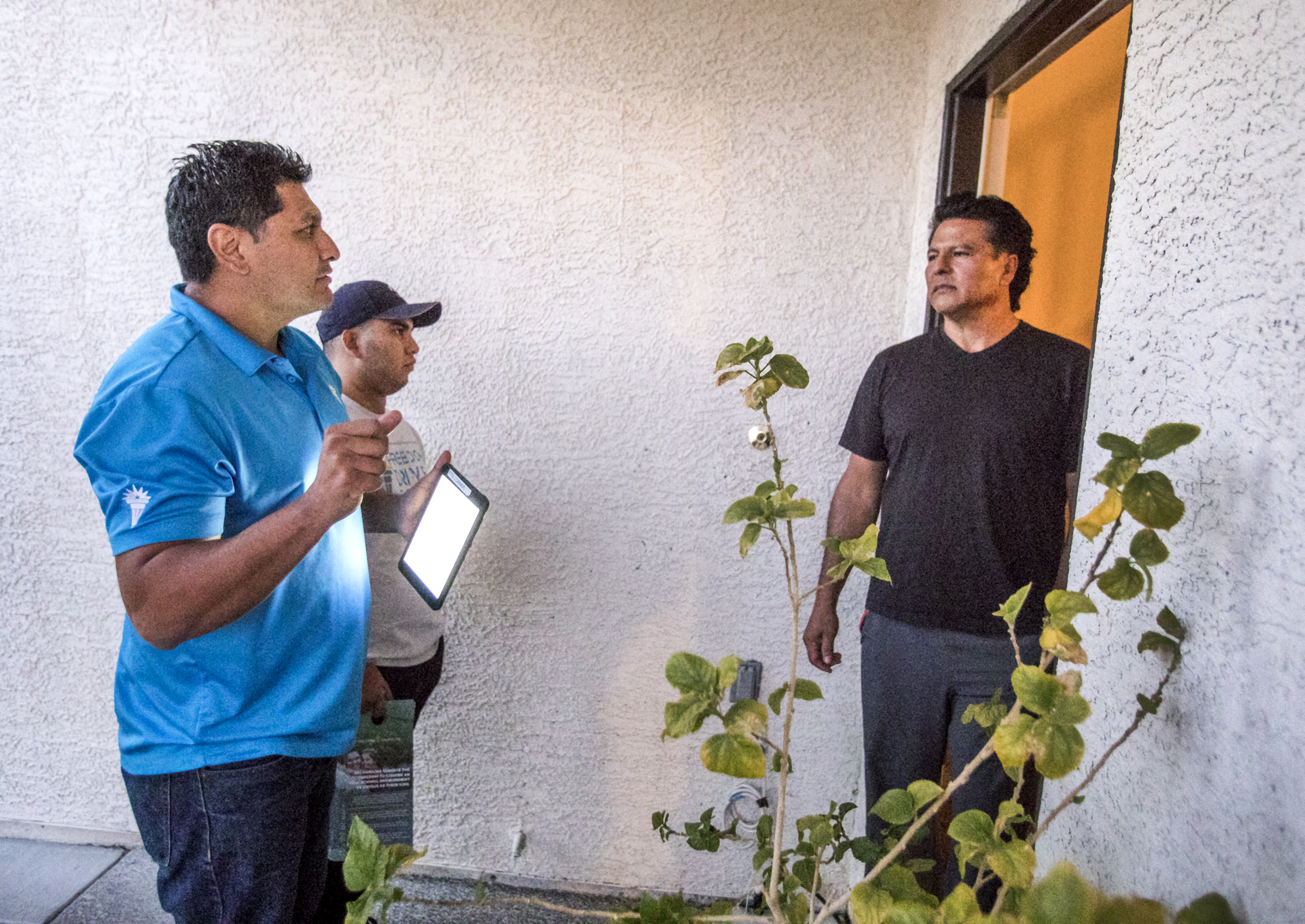 You might see their representatives at community events, clipboards in hand, waiting to talk with people going in and out of supermarkets or government buildings. At other times, they organize informational forums or go door to door.
They're organizations that focus on building a bridge between Latino immigrants and the social, political and financial structures of the U.S. that are often unfamiliar to those who have just arrived to the so-called land of opportunity.
Although they have different ideologies and platforms, these organizations share a common goal: To reach out to a Latino community that — while considered a pivotal political force in Nevada — also has needs they say are often overlooked.
Data from Census Bureau show that the population in the U.S. is steadily becoming more diverse, with nearly 58 million Latinos residing in the country in 2016. Latinos are the second fastest growing ethnic group in the nation, growing by 2 percent from 2015 to 2016 compared with a rate of 3 percent for Asians, according to the Pew Research Center.
There are an estimated 387,000 Latinos eligible to vote in Nevada; they make up 19 percent of the eligible voter population.
Many Latino-focused outreach organizations also believe that as the Latino population in the country grows, there's a greater need for more Latino representatives in high-profile positions.
The Nevada Independent en Español is sharing interviews with leaders from two prominent Latino outreach groups that have been active during election season and beyond, seeking their perspective on the Latino vote and what drives their work. First up, Ben Monterroso, executive director of Mi Familia Vota. Second up: Daniel Garza, president of The LIBRE Initiative, a nonprofit organization and part of the Koch network that draws its funding partially from the brothers and aims to expose Hispanics to fiscally conservative and socially libertarian viewpoints.
The following interview has been edited for brevity and clarity and translated from Spanish.
Question (Q): What is the history and the mission of The LIBRE Initiative?
Answer (A): The idea is to advance towards a free society, to preserve and defend the rights of individuals as they are enumerated in the Constitution; to fight tooth and nail on financial and welfare issues. The idea is also to mobilize the Latino community regarding these policies and these issues.
Q: How long has LIBRE been in Nevada?
A: We were founded in June of 2011 and Nevada was one of the states where we began almost at the start of 2012, so we have spent some time cultivating our relationship with the community, achieving the position we have, moving our agenda forward, our policies, putting together our team of volunteers to carry out our mission.
Q: How does LIBRE know which issues Latinos in Nevada are interested in?
A: All issues are Latino issues for us. There is no issue that, as we say, "is only a priority for the Latino community," or "we care more about this or this has less of an impact." All financial issues have an impact on us. We believe that, to be a stronger country, we need a stronger Latino community and vice versa.
That is why we are very concerned about what's going on financially at the federal, state and even local level, because everything that a politician or a bureaucrat does, sooner or later will affect us.
Q: What changes has LIBRE observed in terms of Latino participation in the polls and in general?
A: I would say it has increased. We know the electoral participation of the Latino community is bad. Disproportionately we aren't voting at the same level as other ethnic groups and it affects us in the sense that our vote and our voice doesn't have the same strength, and there are certain reasons for this.
One is that almost half of us live in two states: California and Texas, and those states have already decided on issues at the presidential level and therefore there isn't much of a campaign or motivation to build up the Latino vote, because campaigns focus on other states.
We are also very young. Our average age is 27 while in the rest of the country it's 37. What I mean is that a young person ... because of their age, indifference or whatever, tends to vote less, and we are not at the same financial level as other communities, such as the caucasian or the African American communities.
I think so far this has hurt the Latino vote, but I think recently there has been a lot of activity to mobilize the Latino community and that's good and great, and I think we are helping this cause.
Q: During the outreach efforts LIBRE made in the 2016 elections, which strategies worked and which didn't?
A: What happens is that there is a machine that exists on the left, that has existed for decades. I blame the right or the conservative side, as you want to call it, because for many years they ignored the minority vote. They didn't invest in it as the left did.
And over the years, conversations about politics within the Latino community, I think, leans a lot to the left because they made investments, liaisons, outreach efforts with Latino communities across the country.
So, they have benefited from this monopoly, from dominating the conversation within the Latino community as far as politics is concerned, and for us the position has been difficult because many Latinos are listening to the virtues or merits of free trade for the first time, to the conservative side for the first time, because the candidates, parties or other organizations never got the job done.
But we are seeing a lot of progress when we enter Latino groups that traditionally haven't heard our principles. We are seeing a very positive reaction from the Latino community and they begin to embrace ideas related to free trade, less government, less taxes, less regulations and to lessen the centralization of both power and control and money in Washington D.C.
I think this has worked very well for us. We have increased the ranks of volunteers and that motivates us a lot.
Q: What changes will LIBRE have to implement in its strategies to involve Latinos in politics during this election cycle in Nevada?
A: Doing more of the same, because what we are doing is working for us, to tell the truth. I think it's to penetrate these groups ... that traditionally have never heard our message. I think it's not only necessary to bring ideas to the Latino community but to know how, because we are very fragmented.
There are subgroups of Latino women, Latino youth, Latino entrepreneurs, Latinos of faith — I mean churches, whether evangelical or even Catholic, which are very different. And I also believe the messenger is as important as the message in that case. So, I think it's being able to communicate ideas to different subgroups and that has worked very well for us.
At the same time, I think one of the hardest groups to penetrate is youth. But we have seen that since January, we have increased our ranks of volunteers, and 70 new young volunteers have helped us a lot to advance regarding DACA, which is very important for them and I think that by mobilizing them around this issue, we are also instructing, informing about our other ideas.
Q: What are the differences between the Republican, conservative and progressive electoral strategies?
A: I think that, first of all, the left uses unions a lot, which is a great advantage. They can use the money from employees ... and use these funds to promote their ideas.
Other groups like La Raza or LULAC, which supposedly are non-partisan, use government money to promote their programs, their benefits, and then they use the information they gather to communicate about politics with these same Latinos who receive those benefits. That is a great advantage we don't have.
We don't spend a penny of government money. We don't receive concessions to do our job — it's all private money, and that's a great disadvantage, frankly.
At the same time, I think the media leans towards the left and they can use these media outlets to advance their views better than we can, and that's another big disadvantage we have.
At the same time, in universities, teachers are also more liberal, more socialist, collectivist, so they tend to lean more on that side. What I mean is that they use other resources we don't have, and I think that's the big advantage they have that we don't have.
Q: From your point of view as president of The LIBRE Initiative, is it true that Latinos don't vote?
A: I think that part of that is because some of us who are first-generation immigrants, these institutions are new to us, we are learning what the democratic system of the United States is all about and that's why we have a bit of resistance. We are very young, we live in states where this decision has already been made.
I think all that is a combination of factors that keep us well below the national average as far as voter turnout goes, and that's where I think organizations like La Raza and LULAC and Univision and Telemundo, and us, frankly, should be much more active in mobilizing the Latino community to vote.
I'm not fighting against these other organizations so they won't do their job. What I want to see is more participation. Although I don't agree with their ideas or views, I do agree they should activate the Latino community, but they also have to allow us to do this, and win based on the merits and ideas that we are making progress with, not trying to censor one group over another or quieting the voice of one to raise the voice of another group.
I think that supporting each other as organizations that are activating the Latino community will be very important to make the Latino community advance collectively.
Q: What are the positions of LIBRE regarding education in Nevada?
A: Our position regarding education is the same one everyone else has — it's to provide quality education to each of our children. How we can reach that objective — that is where the left and the right diverge.
We think more options should be given, more freedom, more power to parents to control decisions about where they will educate their children, than the left, which says that public schools are it and nothing else.
We are saying, why not use the same resources that you pay for with taxes so that parents can be empowered and decide the fate of the child and where to send the child to be educated and receive a good education, not just sent the child to a public school?
If the public school is working, well that's great! The child should stay there, but if the school is failing, if they aren't providing attention to the child, to the individual, like they should, then parents should have the opportunity to send their child to their school of choice. Not the school a politician or a leftist prefers, but what parents choose for their child. That's the big difference.
Q: What is the position of LIBRE regarding immigration, specifically the building of the wall, and DACA?
A: We feel that while security should be expanded or strengthened in the border area of ​​the country, it doesn't necessarily have to be a wall. But in this case, the president is saying "I will give you DACA if you give me the wall." So why not do that?
Although I think our preference would be that a wall won't necessarily strengthen border security, why not use it as a concession to give 1.8 million of our children the security of having citizenship? It's something huge that is transformative for the lives of these people.
And it's not that we are in favor of the wall, or not, or whatever, but I'm in favor of giving citizenship to 1.8 million of our children, and if you have to agree to a wall, we must do that. But we know there is nothing. The negotiation was broken and we're back to square one, where the same people are using the same arguments, with the same poor result.
Q: What is the ideology of Iniciativa LIBRE: Conservative, progressive, or Republican?
A: We reject outright ... centralizing more power, more control, more money in Washington, D.C. What we want to do is lessen the imposition of having so much government, so many taxes, regulations and laws that block our economy, which at the same time is putting barriers in front of opportunities individuals have.
Individuals want to start a business, and sometimes government blocks them. They require too many certifications, licenses, fines, and I think we have reached a point where they are blocking the growth of individuals. So our position, simply put, is to limit government and empower individuals.
Q: If someone from the Latino community who isn't familiar with LIBRE asks you how you can define the ideology LIBRE has, is it conservative, progressive, or Republican?
A: There is a term that isn't used much, but it's "classical-liberal." And liberals who today describe themselves as "liberal" aren't. They call for more presence of the state, more laws, more control. I think it's contradictory to call yourself a liberal.
"Classic-liberal" is to be a little conservative, a little liberal, in the sense that we believe in a free society, an individual and a free country where people decide the fate of their life, while of course always living … within what is known as the rule of law. It's property rights, while limiting the government.
Emiliano Zapata said it well: "Land and freedom." What does that mean? Land is property rights, and freedom to be individually, financially, religiously and expressively your own self.
Q: What are the five priorities of LIBRE this year?
A: It is to defend the tax reform which was very important. I think the president made a great achievement in advancing that law.
Also, it will be the nominations of conservative judges to the Supreme Court or federal judicial positions.
School choice. To have a choice when it comes to schools was very important for us.
At the same time, we will continue advancing and promoting immigration reform. DACA will come first and then the second phase will be 11 million people currently living here without legal status. I think it's something we have to address and solve in a way to give certainty to these people who deserve it. They contribute to our country and they contribute to our economy and I think we have to solve that situation.
Fifth, it's to defend the right of expression, free speech. That's a high priority. If you don't have free speech, freedom of the individual is curtailed, and I think right now there are many people who don't grasp the importance and the primacy of what is free speech.
Q: The 2018 election isn't a presidential election. What will LIBRE do differently to encourage Latino voters to participate?
A: I know your questions have been about everything related to political issues, but that's not our primary focus. We insist that to push society forward, the Latino community, it's not always about politics.
You have to work directly with the community, providing services and …  resources, so they can start a business, learn English, get a driver's license, improve their welfare. … There are many things we do at the community level.
Q: Tell me about those other things that aren't focused on politics.
A: If we are participating in the political process, it's to achieve policy outcomes, and those policy outcomes are for the welfare of the community and that is the main focus. What are we doing with politics and policies to improve the lives of individuals, of our community, and sometimes we don't have to deal with policies, or a politician or a bureaucrat, we have to deal directly with the community.
We know that to improve our country's financial system there is no better way than free trade. Now, there are many people who don't have access to free trade to improve their lives. It's a huge barrier if a person doesn't have a driver's license, a diploma, to get a good job, if a person isn't healthy, if at the same time that person doesn't have legal status.
We are working with churches, with businesses, nonprofit organizations, that help us to provide services to people who are in need.
We have offered workshops, coordinated events about how to run a business, manage your finance … We've had experts ... to instruct them on how to get a driver's license, to improve their lives in terms of health.
So, we also have that sense of community. That's the kind of work we do, and I think this separates us a bit from the left.
***
IndyFest is proudly sponsored by:
Comment Policy (updated 4/20/2021): Please keep your comments civil. We reserve the right to delete comments or ban users who engage in personal attacks, use an excess of profanity, make verifiably false statements or are otherwise nasty. Comments that contain links must be approved by admin.