Reid won't place blame on Trump for spread of anti-Semitism, says Biden explanation on Flores 'pretty well accepted'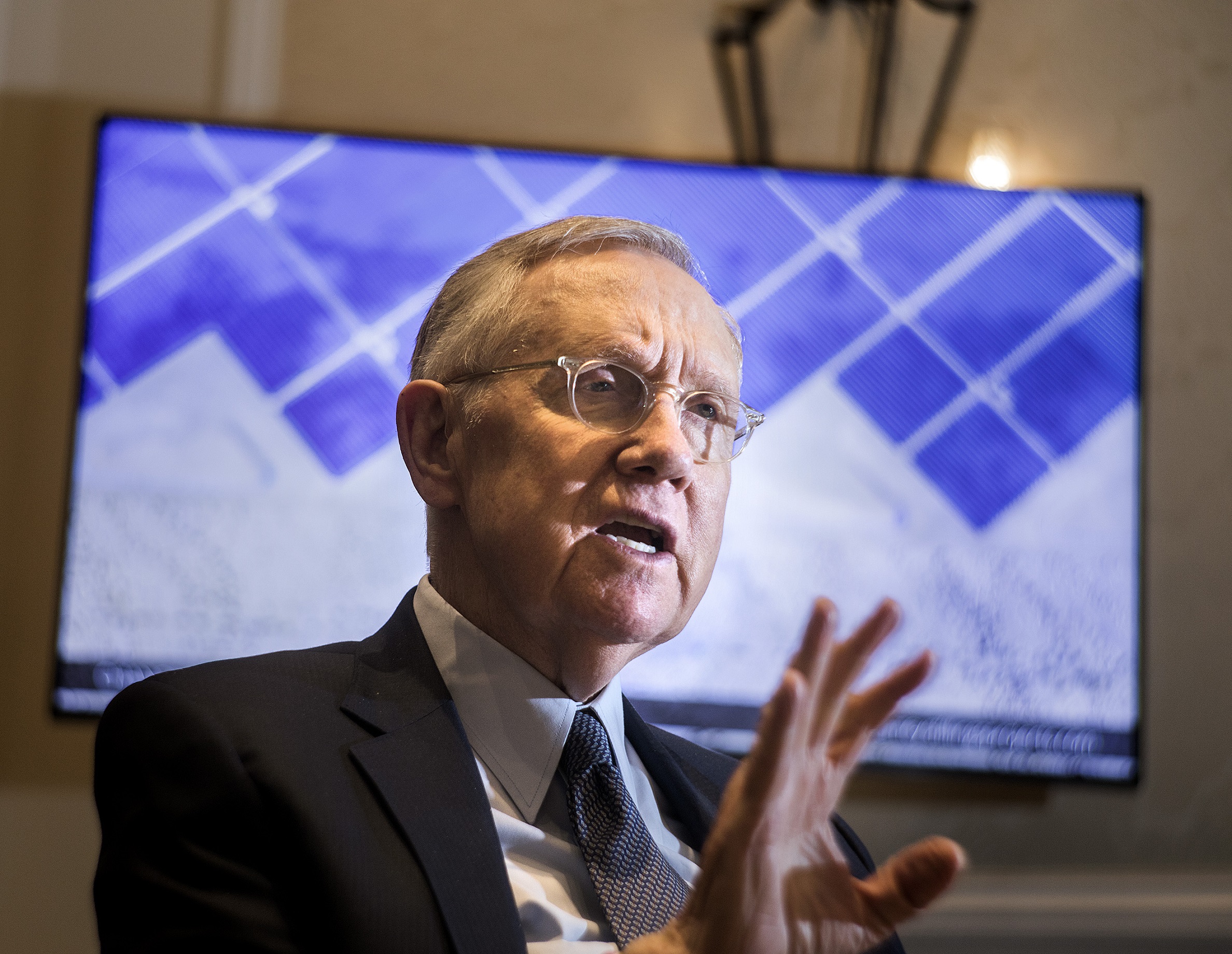 Former Sen. Harry Reid is concerned that anti-Semitism is back.
Three of his uncles fought in World War II. His wife, Landra, is of Jewish descent.
"To think that this issue is back now is really hard to accept," Reid said in an interview with The Nevada Independent.
The former Democratic leader is so concerned that he's hosting a discussion on the topic at UNLV on Thursday with author and historian Deborah Lipstadt and journalist Jonathan Weisman. The event has long been in the works, he said, but seeing a photo of a protester with a swastika sign at Sen. Bernie Sanders's recent presidential campaign rally in Henderson underscored the need for the conversation.
"What the Bernie Sanders swastika event did, proved to me that I was absolutely right in what I was urging, to start talking more openly about hate and how we have to understand how a large part of that hate is anti-Semitism," Reid said.
Reid was unwilling to blame any one person or party for the recent rise of anti-Semitism. He wouldn't say whether he believes Democratic Rep. Ilhan Omar's recent comments on Israel were anti-Semitic — "it's been debated, debated, debated; my saying anything about it now is just a big waste of time" — or even point the finger at President Donald Trump, who as a candidate told Jewish donors they expected control in exchange for donations and has said he doesn't see white nationalism as a rising threat.
"One of the reasons we have so much hate is people are passing blame and trying to make this a partisan issue. I refuse to do that," Reid said. "I don't think anti-Semitism is anything caused by Democrats or Republicans. I think it's an issue that Democrats and Republicans and independents need to join hands and do everything we can to wipe it out."
In a brief but wide-ranging interview, Reid touched on a number of other subjects, including accusations by former Assemblywoman Lucy Flores that former Vice President Joe Biden kissed her on the head during a 2014 campaign rally, whether there's a 2020 frontrunner in Nevada yet and his support for a Nevada brothel ban. Here's what he had to say.
On Lucy Flores and Joe Biden
Asked whether he believed Flores — the woman he once called the "perfect" candidate during her 2014 bid for lieutenant governor before snubbing her in her congressional race in 2016 — Reid deflected, calling Biden a "friend" and noting that the two worked together in Congress for 34 years.
"He faced the camera and gave an explanation that has been, what I've seen, has been pretty well accepted," Reid said. "But it is Joe Biden's issue. It's not something that I think that my piling on or piling off is not going to help."
Asked whether Biden should be less handsy, Reid said that Biden has "a huge campaign staff to help him with this."
"He's been vice president of the country. He's traveled the world," Reid said. "He doesn't need to listen to an interview of you and me to determine what he's going to do."
On the 2020 presidential race
Reid said he doesn't yet see a frontrunner in the race for president in Nevada.
"Not one that I can see. I get calls from the candidates themselves. They've been to see me," Reid said. "My former staffers talk to me quite often about their candidate, so I don't think there's a favorite in Nevada at this time. I don't see one."
(Several former Reid staffers are now serving on presidential campaigns including, prominently, Sanders' campaign manager Faiz Shakir and Sen. Elizabeth Warren's communications director Kristen Orthman.)
Asked whether Sen. Kamala Harris has a leg up in her 2020 presidential bid here because she's from neighboring California, Reid said that "she's going to have to make her case to the people in Nevada and around the country, just like everybody else."
He reiterated his plans to stay neutral in the race until Nevada's first-in-the-West caucus in February.
"I told Kamala Harris, I've told Joe Biden, I've told everybody that has contacted me, I'm going to be neutral in that race, the particular race, president," Reid said. "That's the way it has to be. It would be unfair for me to join hands with one of them. It would not be giving other candidates a fair shot."
He said the changes the Nevada State Democratic Party is making to its caucus process, including adding early and virtual caucusing, "will improve our caucus participation and make things better for the people in the state of Nevada and the country."
Despite an overwhelming number of visits to Iowa and New Hampshire already, Reid doesn't feel like Nevada is being ignored.
"Having spent a lot of my time in Washington, where most of these people are based, it's so much easier to go to New Hampshire, go to Iowa, than it is to fly across our great country. I think we're being treated as well as we have been anytime in the past. People know it's important, and Nevada represents demographically the rest of the country. We have a strong labor movement in Nevada and so people need to come here because it's an important state."
On a brothel ban
Reid famously urged Nevada lawmakers in a speech before the 2011 Legislature to ban the state's legal brothels. Now, he's praising both legislation and a federal lawsuit that aim to do exactly that.
"We not only have a legislative approach, now we have an approach by people who believe that how women are treated in brothels is really unconstitutional, and so I'm glad that lawsuit was brought," Reid said. "I'm anxious to see the results of it."
On Gov. Steve Sisolak:
Reid said that Sisolak, who became the state's first Democratic governor in two decades when he took office in January, has "been doing a stupendous job, a good job, a great job, outstanding job."
"I think he's just able to convey his sincerity to the people of Nevada," Reid said. "I've been very impressed with him."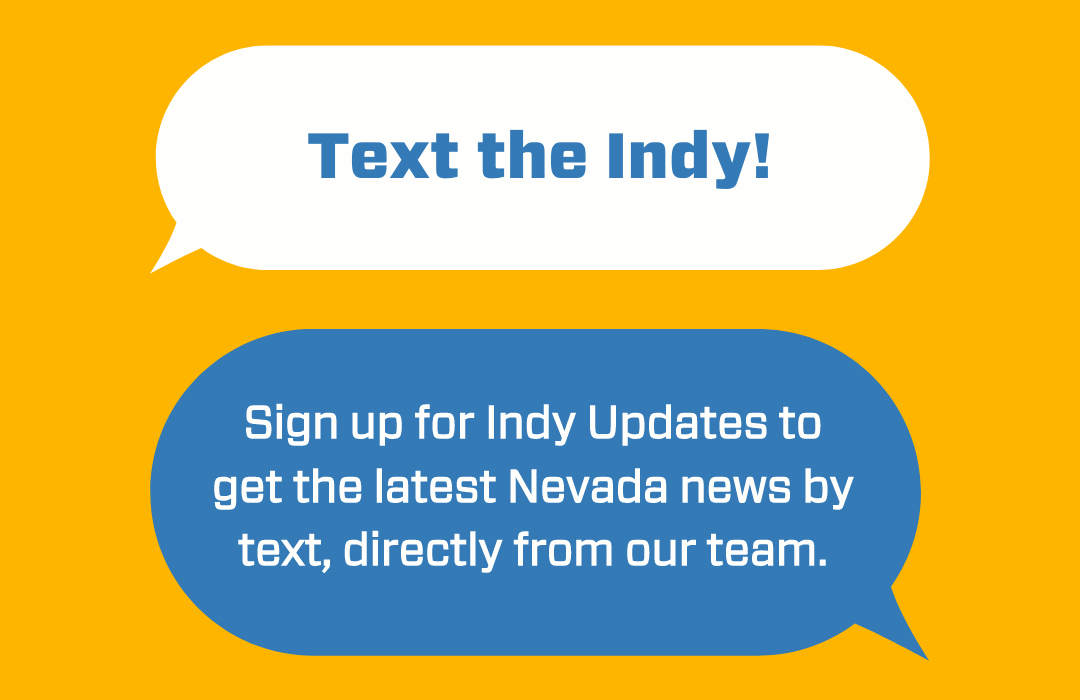 Featured Videos
Comment Policy (updated 4/20/2021): Please keep your comments civil. We reserve the right to delete comments or ban users who engage in personal attacks, use an excess of profanity, make verifiably false statements or are otherwise nasty. Comments that contain links must be approved by admin.