Las Vegas City Councilman Bob Beers, left, and challengers Christina Roush and Steve Seroka during a candidate forum Tuesday, March 14, 2017 at Temple Sinai, 9001 Hillpointe Road. Photo by Jeff Scheid.
Republican former Vegas councilman, lawmaker Bob Beers announces run for state treasurer
August 10th, 2017 - 9:38am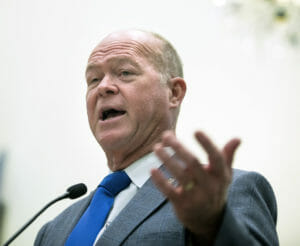 Republican former Las Vegas City Councilman Bob Beers says he's running for state treasurer.
Beers confirmed the news, which was first reported by the Las Vegas Review-Journal, in an interview Thursday with The Nevada Independent.
"The position is vacating, the treasurer is not running for reelection, and I have a pretty strong resume for the job," Beers said, adding that his goal would be to "continue to provide integrity and stability to the state's financial processes as well as bring my collected experience with the process of government, both in my time at the state Legislature and in the City Council, to the office."
Staff for Treasurer Dan Schwartz confirmed that he doesn't plan to run for a second term. Schwartz has indicated that he's seriously considering a bid for governor, although he was unavailable for an interview Thursday on his plans.
He did issue a brief statement on the matter: "The next State Treasurer needs to be someone willing to stand up for the people of Nevada, even when it means standing up to their own party."
In June, Beers lost a bid for reelection to Steve Seroka, who captured 54 percent of the vote. Beers had come under fire over a contentious development plan for the closed Badlands Golf Club.
A certified public accountant by trade, Beers had served on the council since 2012. Before that, he served 10 years in the Nevada Legislature and also made an unsuccessful bid for governor in 2006.
He said he thinks Schwartz, also a Republican, has done a good job in the office. Beers said he will carry out the will of the Legislature on the issue, but strongly supports the Education Savings Account program that was under Schwartz's office's purview but remains unfunded.
"I support anything it takes to destroy the monopoly," he said. "It's massively unhealthy for a teacher to have no employment alternatives."
No Democrats have formally announced a challenge. One politician thought to be considering the race, Democratic Assemblywoman Irene Bustamante Adams, didn't immediately return messages seeking comment on Thursday.
Another potential candidate — Democratic Assemblywoman Teresa Benitez-Thompson — said she's not running and instead will seek reelection in her Reno district.

"I have no intention other than to continue to serve in the Assembly," she told The Nevada Independent.
This story was updated at 10:35 a.m. on Aug. 10, 2017 to add comment from Treasurer Dan Schwartz. It was also updated at 2:20 p.m. to confirm that Schwartz doesn't plan to run for re-election.
Comment Policy (updated 3/21/19): We welcome reader comments on our stories. However, in keeping with our general policy of transparency, accuracy and accountability, we do not accept comments from anonymous accounts. Anonymous accounts are those without a valid first and last name. Any such comments will be deleted, and anonymous users will be blocked from commenting further. We also will block commenters who use offensive language, engage in personal attacks or state things that are verifiably false.
get our morning newsletter, The Daily Indy
INDYMATTERS PODCAST
CAFECITO CON LUZ Y MICHELLE
@TheNVIndy ON TWITTER