Attorney Wes Duncan, who announced his decision to run for Nevada Attorney General, is seen during an interview on Friday, September 29, 2017. (Jeff Scheid/The Nevada Independent)
Republican Wes Duncan, former Laxalt deputy, jumps into attorney general's race
November 2nd, 2017 - 8:01am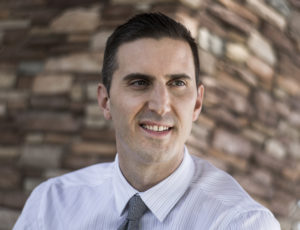 Wes Duncan traces some of the roots of his political career to his six-month deployment to Iraq, when his unit was helping the war-torn country rebuild its court system and establish the rule of law.
It was 2008, and the young Air Force judge advocate general was helping counterparts in the Iraqi court system detain prisoners, transport witnesses to Baghdad and start to integrate modern technologies like fingerprinting into their evidence-gathering. He saw in Iraq what is rarely seen in the U.S. — witnesses who were afraid to testify in a case, and others who did but knew they were risking their lives by taking that step.
"At the end of the day you realize that whatever culture you come from, you want to have safe communities," the Republican lawyer said in an interview with The Nevada Independent. "What an important element of society to have safety. Everything flows from safety."
Duncan, 36, announced Thursday that he's officially in the race for attorney general less than 24 hours after his former boss, Republican Attorney General Adam Laxalt, launched a bid for governor on Wednesday. Duncan hasn't hidden his interest in the office, telling The Nevada Independent in April that he would run for attorney general if Laxalt decided to run for governor and making constant stops at political events and clubs around the state.
Duncan said his overriding goal is to make Nevada the safest place in the country to raise a family. While he hasn't unveiled specifics about what he hopes would be his signature initiatives as attorney general, he said he wants the office to be a clearinghouse for training of law enforcement — how they should respond to sexual assault victims or new court rulings, for example.
Barring a serious primary on either side, he'll face off with Democratic Senate Majority Leader Aaron Ford, a lawyer and former teacher who's expressed interest in higher offices than the state's top prosecutor job. Though other officeholders — including Sen. Catherine Cortez Masto and Gov. Brian Sandoval — have run for and won higher positions after taking office, Duncan insists he's interested in the attorney general position for its own sake.
"I'm running for attorney general because I want to be the attorney general," said Duncan, who recently moved into private law practice with Lt. Gov. Mark Hutchison after nearly three years as Laxalt's first assistant attorney general. "I want to invest deeply into the office. And If I do one term or two terms as the AG and that's as far as I go in politics, I'd be satisfied with that."
He also takes some positions contrary to Ford, who used his leadership role to usher through criminal justice reform bills that made it easier for those with criminal records to regain voting rights and find government employment following their release. Duncan said he'd like to focus more on elevating victims rather than perpetrators and said he opposed measures such as a "sanctuary city" bill that, at Ford's discretion, ended up never getting a hearing during the 2017 legislative session.
"Sanctuary states make people less safe," Duncan said, adding that he didn't think any Nevada  jurisdictions would be considered such. "But the way [the bill] took discretion away from law enforcement — you want to empower law enforcement. We trust them to make the right decisions on the ground. It took away their discretion to communicate."
Duncan's roots
Duncan was raised in the small Sierra foothill town of Sonora, California, an only child born to parents who didn't graduate from college. His father worked for UPS for 42 years (and was a member of the Teamsters union) before retiring recently.
"I always saw my dad getting up very early in the morning, working very hard, but he was still there to coach my baseball games," he said. "I just grew up in a great family environment where they really instilled in me that if you work hard and do the right thing, you can go far in life."
He lived at home and attended community college for two years before transferring to the University of California, Berkeley, where he majored in political science. Then he went on to Moritz College of Law at The Ohio State University (coincidentally, the same law school that Gov. Brian Sandoval and Ford attended).
"I'd never been east of Reno for 22 years of my life so I thought it would be neat to take on a new challenge," Duncan said.
While he was studying for the bar in Arizona, where he'd accepted a prosecutor job, he learned he'd been accepted into the Air Force JAG Corps. Twenty months into his time there, he was deployed to Iraq as part of Task Force 134, the same multi-branch unit that Laxalt himself was part of at a different time.
It was shortly after the 2007 surge, during which the U.S. ramped up troop levels to try to quell ballooning violence.
"It was a very tough place to be at the time," he said. "The police system was corrupt, sometimes people worried that the judicial system was corrupt. You come to appreciate how the rule of law and our criminal justice system — even though there are flaw and there are mistakes made, on the whole it's a system that tries to do and seek justice."
After his tour, he returned to the U.S. and Nellis Air Force Base, where he met his future wife Jennifer, an Air Force nurse. They married in August of 2012, just after she completed an overseas deployment and as his first political campaign was in high gear, and now have two young boys.
He's still a reservist and is the top legal adviser for 1,500 people in his Air Force "wing," a unit that is spread across multiple states including California, Utah and Nevada. If he's elected, he still plans to continue his Air Force duties.
Off hours, he said he enjoys early-morning workouts and teaching Sunday School at his church, Summit Ridge, in Las Vegas.
Running for office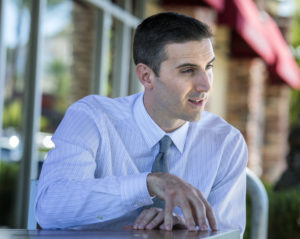 While he was vaguely interested in politics before, his interest piqued after getting to know some community Republican activists who encouraged him to run for office after districts were reapportioned in 2010. He eventually singled out Assembly District 37, located in Summerlin and held at the time by Democratic Assembly Majority Leader Marcus Conklin, who was destined to be the top Assembly member in the next session.
"Even though Marcus Conklin had been there for 10 years and was slated to be the speaker, I felt that with a lot of hard work and a critical amount of money, I could give it a good shot," he said.
It was Republican and then-Assembly Leader Pat Hickey who got behind him in the uphill battle and gave him the prescient advice needed to win a Nevada Assembly race: "If you walk, you win. If you don't, you won't." So, Duncan said, he personally knocked on 20,000 doors that cycle and devoted his evenings to writing thank-you notes to people he met at the doors.
"He really stuck his neck out for me," Duncan said of Hickey, who could have stirred up a hornet's nest for himself by provoking the high-ranking Democrat during the campaign. "He put his money where his mouth was."
The legislative race was hard fought; Conklin spent more than $700,000 in his efforts to keep the seat and even ran TV ads — a rarity in Assembly races because the districts are so much smaller than the TV market itself.
"There was a two-week span there where there were 17 hit pieces on me," Duncan said. "I think it was the most expensive Assembly race in history."
Come election night, Duncan's 673-vote win over Conklin was one of the few bright spots for Assembly Republicans, who lost other races and dropped into a 15-27 seat minority — Duncan called the night "bittersweet."
As a member of the Republican minority during the 2013 session, Duncan introduced a handful of bills with only one — allowing 16-year-olds to donate blood with parental permission — signed into law. Other bills, including measures allowing the state to create "charter" agencies, developing a state auditor, tax credits for school tuition program and revising construction defect law failed to advance far during the legislative session.
Attorney general's office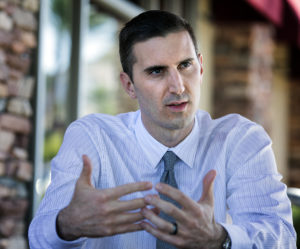 After cruising to reelection with more than 61 percent of the vote, Duncan was poised to enter the 2015 legislative session as one of the top candidates for coveted Assembly speaker after Republicans took control of the Legislature.
But he took a different route — deciding in late December to leave his Assembly position and take a top-ranking role with newly elected Attorney General Laxalt. He and Laxalt knew each other from their campaigns in 2014 but an invitation to join his office came out of the blue.
"Adam and I hadn't even had a coffee or a meal together before he asked me to come on as a first assistant," Duncan said. "There are just the moments in life when you completely get taken in the other direction."
In the role, Duncan has led the Southern Nevada office for the attorney general and been the point person for an initiative to send backlogged sexual assault evidence kits to labs for DNA testing.
During the 2017 legislative session, Duncan reached a compromise agreement with Assembly Democrats that would expand tracking efforts of the evidence kits and tighten up testing deadlines for agencies that receive the kits. The bill, AB97, passed unanimously out of both houses of the Legislature and marked a rare victory for the attorney general's office, given that many of the other bills proposed by the office failed to even gain a hearing during the 120-day session where Democrats set the agenda.
A junkie for leadership books, Duncan said he's looking forward to setting goals for the office if elected. With some 400 employees in a wide range of divisions from consumer protection to preventing elder abuse, he said the office is big enough to affect statewide change but small enough that the officeholder can pick a targeted initiative to work on.
And he's already been running a de facto campaign. He has a political consulting firm — November Inc., which has helped Sen. Dean Heller and Sandoval to victory — and has been meeting with a diverse array of community groups across the state in recent months.
"People know that an attorney general is an AG for everybody. It doesn't matter your ethnicity," he said. "I want people to know I'm going to reach out to everybody whether you voted for me or not."
Comment Policy (updated 10/4/19): Please keep your comments civil. We reserve the right to delete comments or ban users who engage in personal attacks, use an excess of profanity, make verifiably false statements or are otherwise nasty.