Residents fear loss of homes during disputed clean-up effort at Winnemucca Indian Colony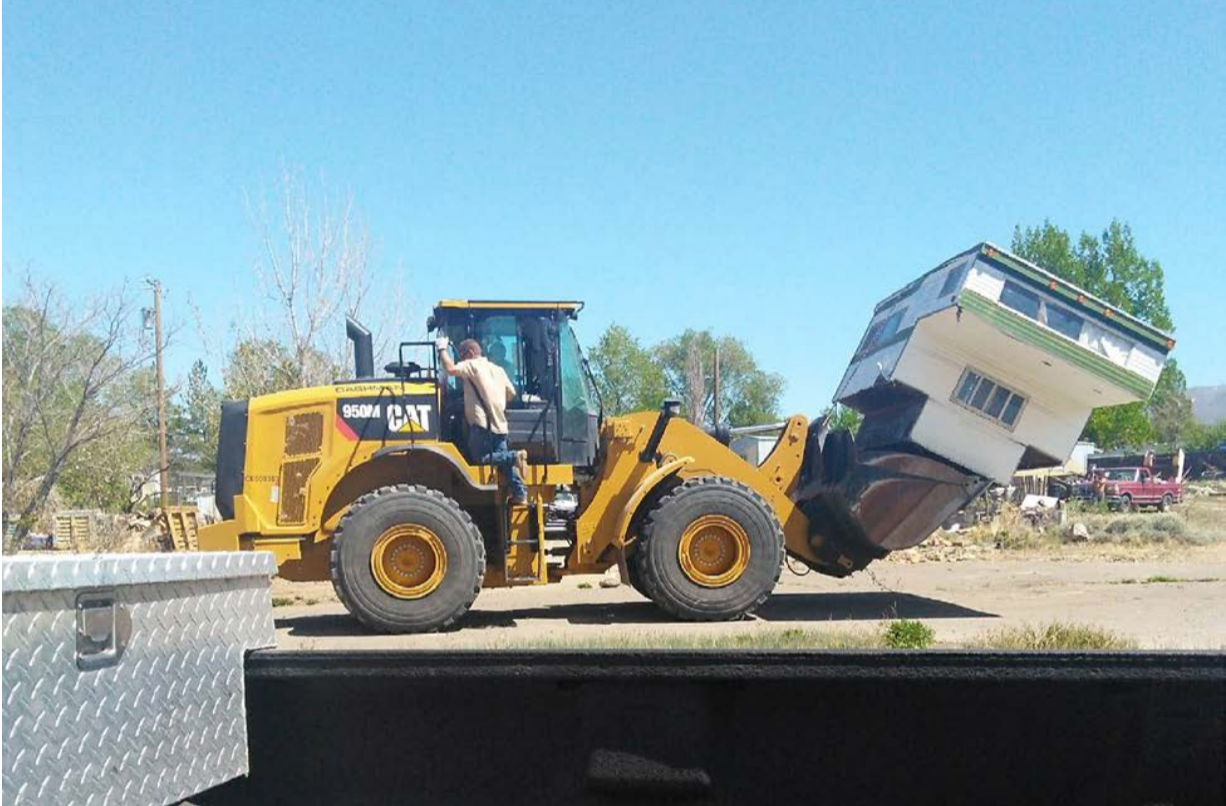 On May 4, Cassie Camas and her mother, Lovelle Brown, stood and watched helplessly as a group of men with a front end loader, a few dumpsters and a U-Haul demolished their travel trailer at the Winnemucca Indian Colony.
The colony's lands, including a 20-acre settlement of a few dozen people just outside Winnemucca, are at the heart of a decades-long fight involving the Bureau of Indian Affairs, the tribal council and colony residents. Disagreements over who is a valid member of the council and thus has authority over the land reach back to the 1916 census and then-President Woodrow Wilson's decision to grant a 320-acre parcel of land to homeless Paiute and Shoshone Native Americans. A more recent dispute between the council and residents over who has the legal right to live at the colony and who is subject to eviction is also ongoing as a lawsuit plays out.
"I'm scared because this morning, I woke up and I heard the big truck come down the street and I was like, 'Oh God,'" Camas said in an interview with The Nevada Independent on May 5. "You can't go to the store and get something to eat or whatever because you're afraid to leave and afraid to come back to nothing."
The demolitions and disposals that began this spring, funded by grants from the Bureau of Indian Affairs, are part of an effort by colony leaders to spur economic growth and clean up the area including what they say are abandoned trailers sometimes used as storehouses for illegal drugs. The colony council contends that the 20 acres of land Camas, Brown and other residents live on is unsanitary, has hazardous waste and that the pandemic necessitates cleanup sooner rather than later.
"No economic development can take place to better the lives and habitation of the residents while this violence, unsanitary practices and drug use continues on the twenty acre parcel," council members wrote in a resolution on March 8.
But a judge on the Court of Indian Offenses in the Western Region determined on May 5 that the property destruction early last week violated a recent restraining order prohibiting the council from entering residents' property and called for the removal of blockades placed at the colony's entrances.
The judge's initial order fined the council and its cleanup contractor, Robert McNichols, $500 for each day the blockades remain in place. The court said in an amendment on May 7, however, that the council would have until May 8 to submit an explanation as to why the blockades are necessary and how they relate to the pandemic. Fines will not be levied until the court reviews the explanation.
The council is also required to submit a plan for how it will proceed with the cleanups and could be liable for damages if found to be exceeding its scope of authority.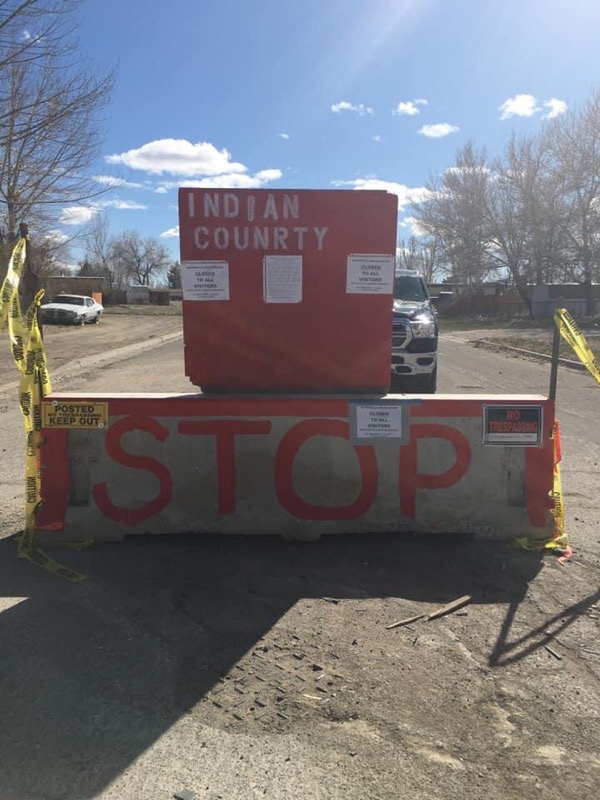 Disputed ownership
The colony borders the town of Winnemucca and lies within rural Humboldt County, one of the Nevada counties hit hardest by the coronavirus. The Nevada News Group recently detailed how residents and the Winnemucca Indian Council are in a longstanding dispute over who belongs to the colony and who should lead it because of a decision made more than 30 years ago by the Bureau of Indian Affairs.
The land for the colony came from two executive orders signed by then-President Wilson in 1917 and 1918. Together, the orders assigned 320 acres to Northern Paiute and Western Shoshone Native Americans without a home or reservation.
After Native Americans moved onto 20 acres of land owned by the Central Pacific Railway, the federal government bought the land and gave it to the colony in 1928. That 20 acres is where Camas, Brown and other residents live today.
According to the colony's Constitution and bylaws established in the 1970s, membership in the colony is based on percentage of Paiute or Shoshone blood and whether a person is a descendent of someone listed in the colony's 1916 census.
In 1986, the Western Nevada Agency of the Bureau of Indian Affairs determined that none of the council members met the criteria for tribal enrollment, and said the 62 residents belonged to other tribes such as the Ft. McDermitt Paiute Tribe. After decades of upheaval and confusion about who should lead the council, the U.S. District Court of Nevada ordered the BIA to recognize the colony council in Nov. 2014.
The most recent court order also determined that the colony land is held in trust by the United States on behalf of the Winnemucca Indian Colony tribe and that the residents live there on lease agreements. The BIA realty department does not have copies of these agreements, however, and a copy of the land title is on its way to the court.
According to Treva Hearne, an attorney representing the colony council, there are 33 legitimate members of the colony, but none of them live on the colony's land. She said that members left after some violent incidents took place in the early to mid-2000s and the BIA would not recognize the council and intervene.
Hearne said the council members hope to move back to the reservation — and that the grants they applied for and received are intended to increase economic development and improve the roads. One of the attempts at economic growth include a marijuana dispensary the council opened in recent weeks.
But in interviews with The Nevada Independent, residents questioned the legitimacy of a council whose members do not live in the colony.
"I call them 'the fake council' because one, they don't live here, two, they don't even hold an office here or an election here," said Elena Loya, a 55-year-old resident and self-employed tattoo artist who is Paiute and Shoshone. "None of us have nominated or voted for them so I don't know how they get off saying they're a council."
Alexandra Rawlings, an attorney with Nevada Legal Services and a representative of some of the residents in the eviction case, said that although the majority of residents are Shoshone and/or Paiute, many do not meet the eligibility criteria laid out by the colony's Constitution.
"However, the issue of who qualifies for membership and who has the proper authority to make membership decisions is an open legal question," she said.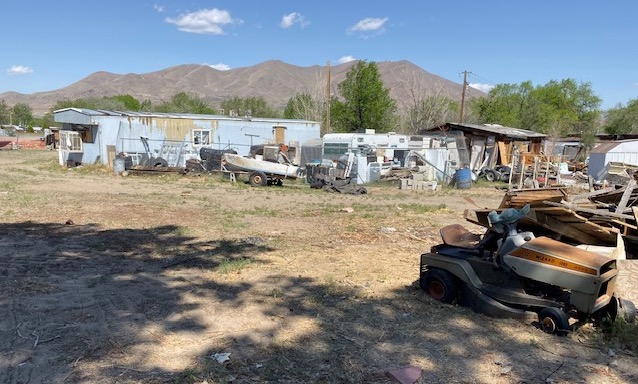 Cleanups
In May 2019, the council issued eviction notices to residents and threatened to bulldoze homes as part of a long-warned cleanup effort. Residents filed restraining orders in response.
The subsequent courtroom proceedings centered on questions about land ownership, due process and who has the authority to govern the colony land. Those questions extended the lawsuit out to March and then April of 2020. When COVID-19 reached Nevada, a judge postponed the legal proceedings from April 23 to June 25.
On-site events came to an apex on March 31, when cleanup crews arrived at the colony, demolished some residents' property and threatened to remove some residents. It was the same day Gov. Steve Sisolak ordered a statewide eviction moratorium.
The colony has tribal sovereignty so the moratorium does not apply, but Hearne said the council declared a state of emergency on March 25 and was not pushing people out of their homes during the pandemic.
Residents have pointed out, however, that work crews tried to get them to leave on March 31 and again on April 1, and said that the most recent cleanup was part of a broader effort to evict them. Hearne disagreed.
"What they're doing is cleaning up. They are not evicting anyone except people who ran into these abandoned trailers and said, 'Oh, we live here.' And we go, 'no, you don't,'" Hearne said, explaining that inheritance rights do not apply. Once an original lessee is gone, the property reverts to the tribe.
Hearne added that because the federal grants come with a set timeframe and the pandemic requires cleanliness, the cleanups are essential. She also emphasized that people without a legal residence claim can apply to live at the colony under the colony's housing ordinance adopted on March 25, which includes residency permits and sets rental terms for lots. The ordinance delineates that the residency permits are revocable and the council can cancel them at any time without cause, however.
Camas, 27, said she and her mother were lucky that the travel trailer that McNichols and his crew destroyed last Monday was one her family mainly used for storage rather than as a primary residence. However, she said her family lost heirlooms and a special chair to help disabled people get up the stairs, items they will not be able to replace.
Camas works two jobs in Elko and rents an apartment there. She drove to the reservation after she was notified about the cleanups through a Facebook post by McNichols.
Brown, Camas' mother, who is of Paiute, Shoshone and McDermitt heritage, says she moved to the colony when she was about 12 years old, and does not know where else she would call home if she is forced to leave.
"This is my home, this is where I grew up … I mean, it's not much, but really it's really just our home," Brown said. "My mom, she lived there for a long time. She raised us plus all of her grandchildren. Plus she took care of foster children. So she raised a lot of people through that house."
Brown said that she and her daughter almost lost that home when cleanup crews came on April 1. She arrived at the trailer after the crew had removed skirting from the house and had torn down the porch. She said the crews would have demolished the home if she had not managed to get there when she did.
"[My mother] told me to take care of the house and it seems like I failed her," she said.
After the council conducted the cleanups on March 31 and April 1, Rawlings filed a court motion saying that the efforts included eviction threats to residents.
A judge in the Court of Indian Offenses issued a temporary restraining order on April 2 prohibiting tribal council members from entering residents' property.
Rawlings filed another motion on May 5, saying that the cleanups the day before had violated the restraining order.
"Despite Petitioner's claims that they must remove 'solid and hazardous waste,' the necessity of such action is not supported by evidence," Rawlings wrote in her motion. "Rather, Petitioner's activities on the Colony appear to be for the primary purpose of intimidating Colony residents, destroying their dwellings and other property, and forcibly evicting them from their homes."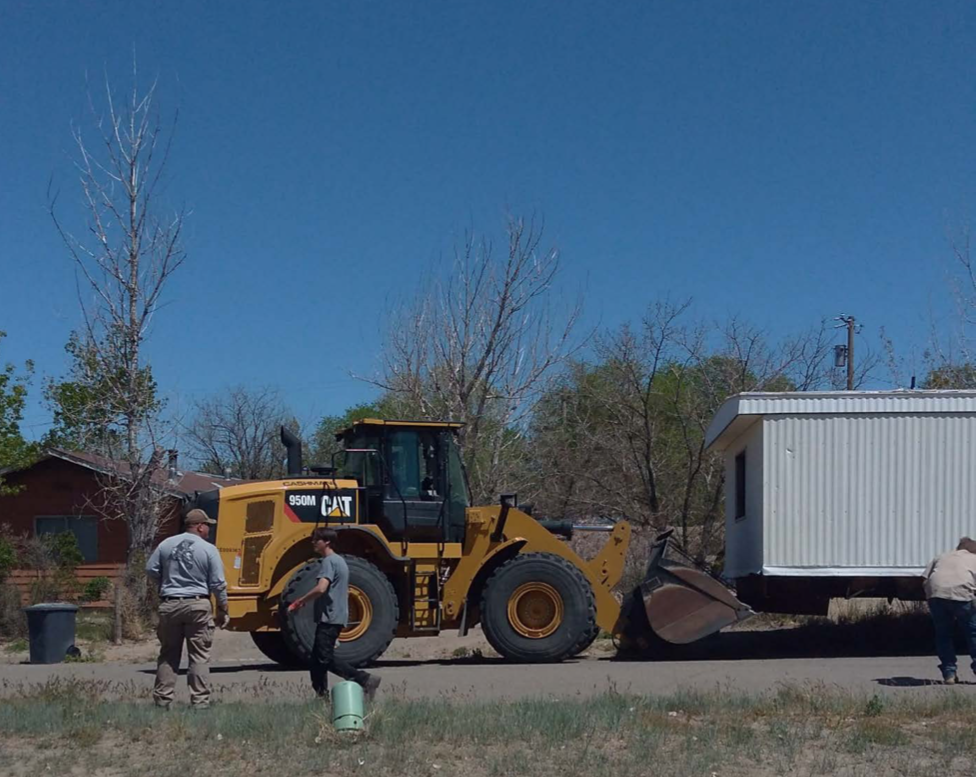 Loss of home
Elisa Dick is a 34-year-old colony resident of Shoshone and Paiute descent. She lives in her father's trailer on colony lands, where she grew up, but workers have told her to leave because they are going to tear it down.
The cleanup crews have so far torn down Dick's fence, cut utility lines and removed access to water, gas and electric utilities. She and her fiancé are staying with his mother for a bit, but that is only a temporary solution. The recent court decision allows her to move back for the time being, and she said she is working to repair damage to the trailer.
"We really don't have many options," she said. "A lot of the ones that are on the same list as me and the ones who are not ... they're getting threats. There's quite a few of them that do not have anywhere to go if they do get kicked out of here. And then with the virus here, nobody's accepting anybody."
In a court statement, McNichols argued that the trailer Dick says she is living in was abandoned and Dick is neither a member of the colony nor a legal resident and therefore has no right to be there.
He and Hearne agree that the properties are not passed along to family members — even though Dick's father might have been a resident, that does not make her part of the colony.
Dick and Camas pointed out that many young people rent apartments in Elko or Winnemucca because there is not much work available near the colony, but come home when they can. They said that could make a trailer appear abandoned when it is not.
Doreen Brown, 69, who is part Shoshone and Paiute, said that she and other residents are scared and not sure who to turn to for help.
"Everybody's living in fear over here. They're afraid. Who knows who's next? We don't have no protection from anybody," she said. "Nobody's saying anything these days. They're doing as they please. They make their own laws."
When asked whether she has seen drugs in the colony or knew about a drug problem, Brown said that she knows of only one family that had drug charges.
"No drugs over here or anything like that," she said. "That's what they say. That's just one of their excuses to move everybody out of here."
Loya and Brown said that when they moved to the colony for the first time in 1979, it was because they had nowhere to go and the land was designated for 'homeless urban Indians.'
"When the government was going to take the land away, they asked people to move up here," Brown said. "Besides, there was a council, they had a council that approved us to come here and live."
Loya moved to the colony with her mother when she was young. She said that her family already went through a court battle establishing their residency when they first moved to the colony. She said she is raising her two grandchildren, and her daughter's ashes are scattered around the property.
"It's sacred ground for me," Loya said.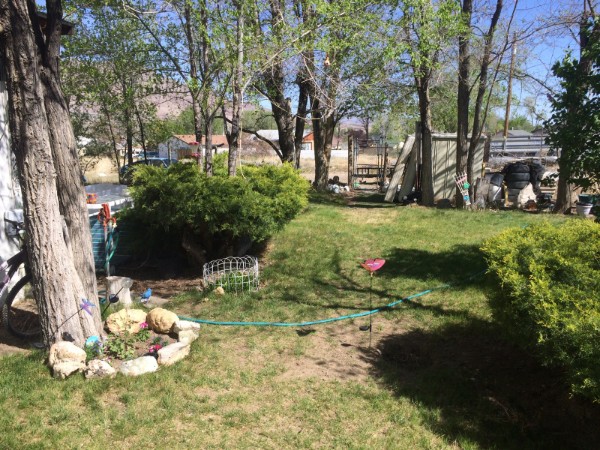 Claim to residence
Even though there were no residency restrictions in place when people moved into the colony in the 1970s, the council can place restrictions in the present, Hearne wrote in a court document submitted on April 17.
"Portraying these persons as homeless if they aren't living on the colony's lands is pitiable. These persons are members of other tribes and can go live on their lands or simply move off the reservation into other housing," she wrote. "There is no testimony whatsoever that these residents were anything but residents of the City of Winnemucca who decided to move on the reservation at BIA's invitation more than fifty years ago."
The court order from May 6 noted that a trial to determine the ownership status of the colony lands, the rights of the residents who live there and the power the council has to regulate the land, is pending.
"Each of these issues remains outstanding, as no trial has been held due to the ongoing national pandemic," the order said. "This court understands the desires of the Winnemucca Indian Colony Tribal Council to move expeditiously; however, to be clear, this court will not be tolerant of any individuals or entities, including the tribal council, ignoring its orders."
Rawlings told The Nevada Independent that even though the council is saying it is not evicting anyone, residents are still afraid, and people are being forced to leave.
"I think it's just really scary for folks watching all this heavy machinery and trucks and all these white people out on the colony, literally tearing people's homes apart," she said.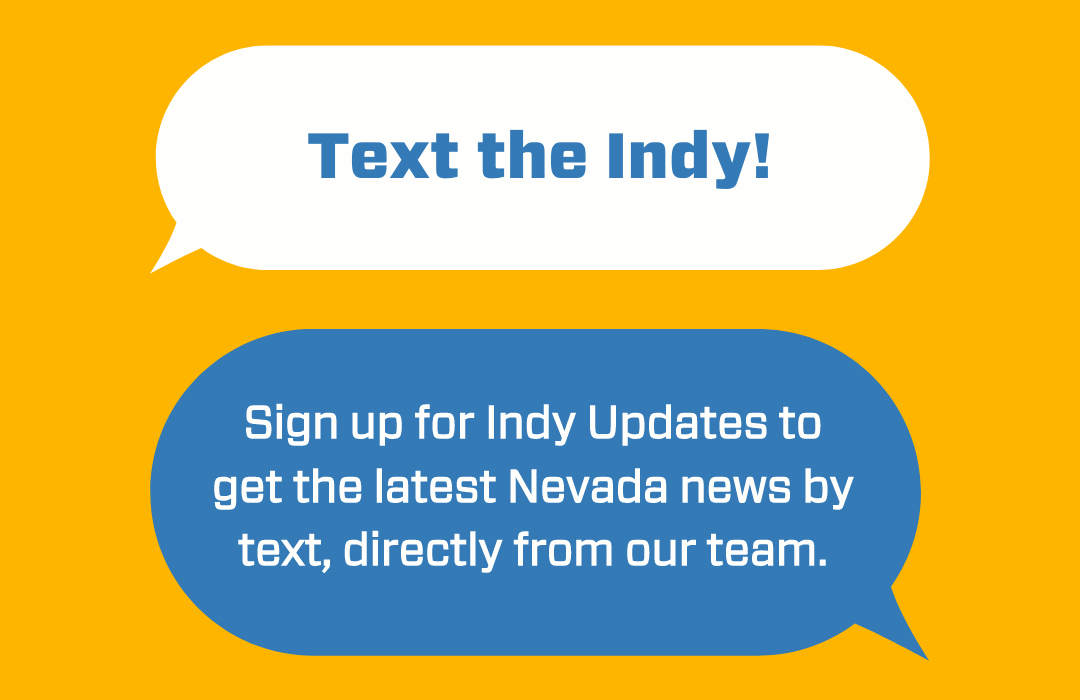 Featured Videos