U.S. Attorney General Jeff Sessions addresses law enforcement officials at the U.S. Attorney's Office in downtown Las Vegas on Wednesday, July 12, 2017. (Jeff Scheid/The Nevada Independent)
Sessions promises review of Las Vegas 'sanctuary' label, stresses cooperation with local authorities
July 12th, 2017 - 11:15am
U.S. Attorney General Jeff Sessions said that Las Vegas police are "very cooperative" with immigration authorities and that Clark County's place on a list of sanctuary jurisdictions may not be accurate.
The former Republican senator said in an address to state and local law enforcement Wednesday morning that he met with Las Vegas Metro Police Department Sheriff Joe Lombardo Tuesday and learned "a lot more" about the department's participation in a federal program that allows local law enforcement officers to carry out certain immigration-related functions.
Metro has been fighting the sanctuary jurisdiction label after being included on several lists of uncooperative departments, arguing that it can't be a sanctuary if it is voluntarily participating in federal immigration enforcement.
Sessions called the department's so-called 287(g) program with Immigration and Customs Enforcement (ICE) a "very cooperative system." Metro entered into an agreement with ICE in 2008 to implement a jail-based 287(g) program to identify criminals booked into the Clark County Detention Center that are also in the United States illegally.
In spite of the 287(g) program, the county has been repeatedly labeled an uncooperative jurisdiction by the federal government because of a 2014 statement from then-Sheriff Doug Gillespie, who announced Metro would no longer detain anyone without an immigration detainer in the wake of constitutionality concerns raised by a federal court ruling. Metro was included on lists of uncooperative jurisdictions under both the Obama and Trump administrations, though it was omitted from the most recent list.
"You know there's some list that was prepared before I became attorney general of cities and areas that are not — they're sanctuary cities and not in compliance," Sessions said. "We are reviewing that. I'm not sure that was accurate and we're going to get on that quickly."
Earlier this year, the Justice Department sent Clark County and eight other jurisdictions letters asking for proof of compliance with federal immigration laws or else risk losing federal grant dollars they receive. The county responded in a May letter sharply rebuking the suggestion that it is out of compliance with federal law and acting as a sanctuary jurisdiction.
"Sometimes — especially when we work through the different layers of the federal government — things take a long time, and we've been pushing our message for quite a significant period of time," said Metro's government liaison Chuck Callaway. "I think they've realized that what we've said is accurate and that they're willing to listen to us, and so I thank them for that, for the attorney general taking time to sit down with the sheriff and listen to why we had concerns about being listed as uncooperative."
Metro has found itself caught in a game of tug-of-war the last few months between the federal government, which under President Donald Trump has sought to mandate local jurisdictions' cooperation with federal immigration authorities, and some Democratic state lawmakers, who tried to to restrict the law enforcement's ability to cooperate with federal authorities or inquire about individuals' immigration status during the last legislative session. The department has tried to balance protecting public safety with ensuring all members of the community feel coming forward to report crimes to law enforcement without fear of deportation.
The attorney general also listed a number of areas that he urged local and state police to cooperate with the Department of Justice on, including finding and eliminating sources of opioid abuse, ending human trafficking and combating "vicious gangs" throughout the nation.
Sessions highlighted Nevada's particular struggle with the opioid epidemic, with doctors in the state writing 94 prescriptions for painkillers for every 100 Nevadans. Both Republican Gov. Brian Sandoval and Attorney General Adam Laxalt have prioritized combating the opioid epidemic, with Laxalt recently announcing an investigation into how drug companies role.
"We've got a nationwide problem with opioids," Sessions said.
Las Vegas police have also been working to address the uptick in violent crime in recent years, something that Sessions said his office is working to combat nationwide. The attorney general highlighted the recent death of 18-year-old football star Eric Brooks, who was shot multiple times in a park in the southwest Las Vegas Valley earlier this month.
"We cannot accept this status quo. We cannot accept it. This Department of Justice will not accept it," Sessions said. "Every American has the right to be safe in their own homes and in their neighborhoods."
Sessions was introduced by Laxalt, a likely Republican gubernatorial contender, who lauded Session's efforts to combat "dangerous sanctuary city policies." In late June, Laxalt filed a brief along with 10 other states supporting the president's executive order withholding funding from "sanctuary" jurisdictions.
Sessions notably did not mention Nevada's recent legalization of recreational marijuana, omitting the topic just 12 days after the state began retail sales of the drug. The Republican was a stringent opponent of efforts to decriminalize the drug during his time in the U.S. Senate, but has yet to crackdown on states such as Nevada that have approved recreational sales.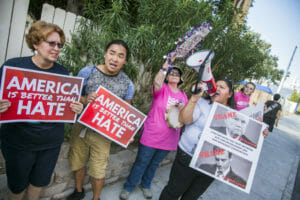 Protestors from progressive groups crowded the streets outside the federal attorney's office before the event, holding signs that read "Defund ICE" and crowded outside a diner in downtown Las Vegas where Sessions ate breakfast ahead of the event.
"The Nevada community wants our families to be together, and trust between the police and the immigrant community," activist Kenia Morales said in Spanish.
Prominent immigration activist Astrid Silva said that although Metro is doing a good job in working with immigrant communities, threats to defund sanctuary jurisdictions are "scare tactics" being used by the federal government to appease "anti-immigrant people" and have the real effect of driving communities apart.
"We're losing more by immigrants being afraid," she said. "If your neighbor is undocumented and sees somebody breaking into your house, and they're not going to call the police, you're the one who's going to end up dealing with that."
Reporter Luz Gray contributed to this story.
Comment Policy (updated 4/20/2021): Please keep your comments civil. We reserve the right to delete comments or ban users who engage in personal attacks, use an excess of profanity, make verifiably false statements or are otherwise nasty. Comments that contain links must be approved by admin.