Sisolak, former AG Eric Holder talk criminal justice reform, recidivism at Las Vegas roundtable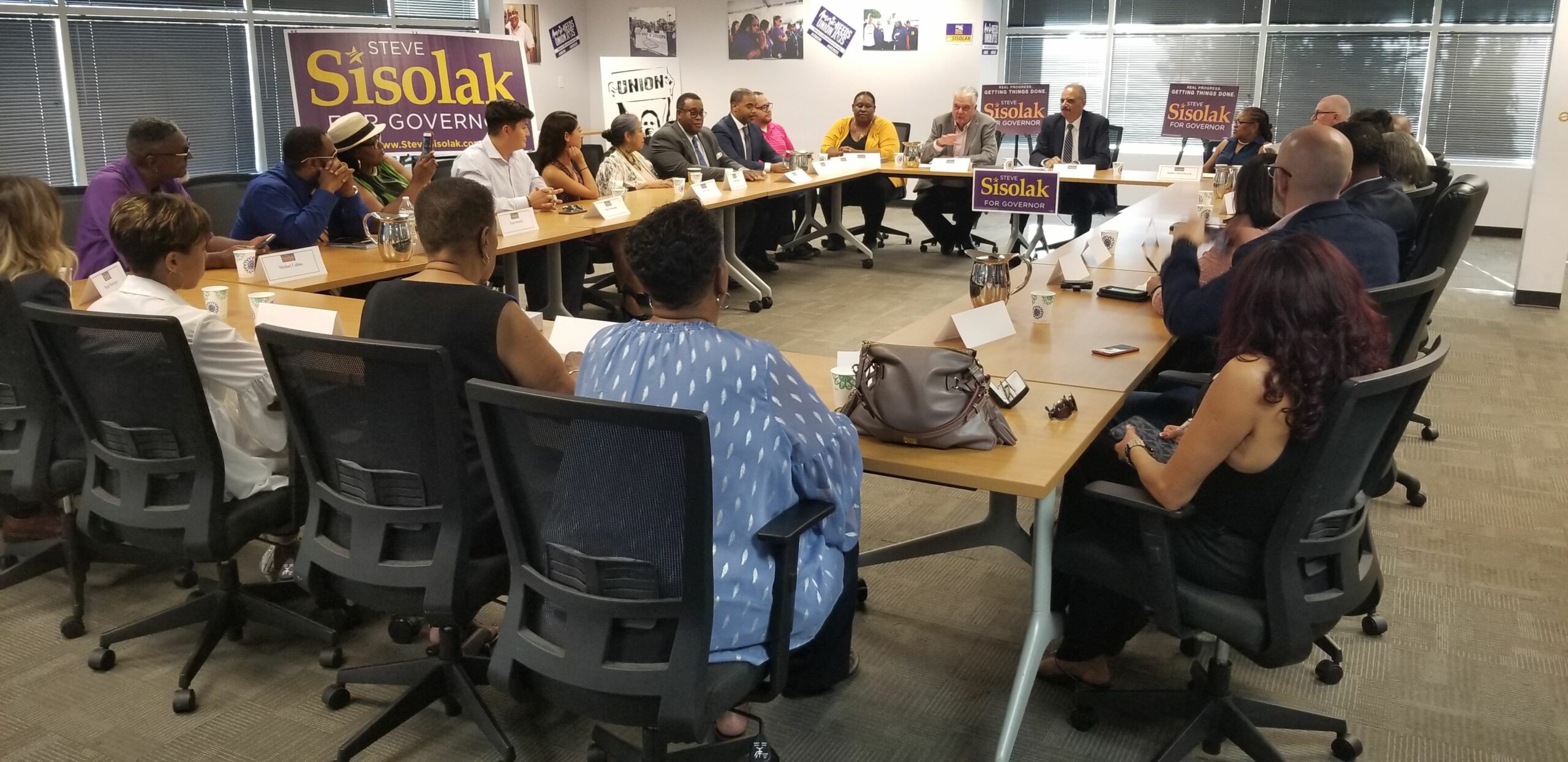 Leslie Turner's son was four months old when she was jailed for a week and a half over unpaid traffic tickets and a broken taillight. She'd been breastfeeding, and the time apart caused her breast milk to go dry.
She's now an activist for the Mass Liberation Project at the Progressive Leadership Alliance of Nevada, where she — among other things — teaches people how to fix their own taillights so they don't end up in her position. On Thursday, she was one of about two dozen people gathered in Las Vegas to share their stories about the criminal justice system as part of a roundtable with Democratic gubernatorial candidate Steve Sisolak and former U.S. Attorney General Eric Holder.
"The safe thing, in a lot of ways, is to be tough on crime," Holder told attendees. "What we tried to do in the Obama administration is to be smart on crime … You can keep people safe while having a more fair criminal justice system."
Before listening to some attendees' stories of harsh treatment in the criminal justice system, Sisolak laid out some goals on the topic. He said he wants to reduce the prison population and address a disproportionately high female incarceration rate, and wants to work on bail reform so people don't lose what they have as a result of prohibitively high bail.
"It's not uncommon that the bail is so high, that the economically disadvantaged or oppressed can't make bail," he told reporters after the event. "So as soon as you can't make bail, you lose your job, then you lose your apartment, then the family's got nowhere to go. And it just, the dominoes start falling, and we need to stop that from happening, especially on minor offenses."
He said he wants to expand to private businesses a "ban the box" law that prevents public sector employers from asking about an applicant's criminal history until they've made a conditional job offer, and supports a law that would erase misdemeanor marijuana convictions now that the drug is legal for recreational use.
Another topic that emerged was traffic tickets, which can turn into an arrest warrant in Nevada if left unpaid and have been in the headlines recently in two major Nevada races. Republican gubernatorial candidate Adam Laxalt just recently paid off an unpaid Maryland traffic ticket that was 15 years old, according to the Las Vegas Review-Journal, which roundtable participants contrasted with attorney general candidate Aaron Ford's arrest in the 1990s for an unpaid Texas traffic ticket.
"It's clear that some people are treated differently when it comes to the traffic ticket issue … and there needs to be consistency there. We incarcerate far too many people," Sisolak said.
Immigration activist Leo Murrieta pointed out that the criminalization of traffic tickets can have a life-changing effect on immigrants in the country illegally. With no other criminal record, immigrants brought into jail on traffic tickets can be sent into deportation proceedings.
Murrieta asked Sisolak if he'd looked into decriminalizing tickets.
"I look forward to working with the Legislature who will hopefully address the issue of criminalization and we'll move forward in a way that's fair for everybody," Sisolak said.
Laxalt has also expressed admiration for Texas' efforts to reduce recidivism and to help former prisoners re-enter society, but has largely steered clear of the topic on the campaign trail and interviews outside of comments made in January to the Reno Gazette Journal.
"The mentality of lock up and throw away the key isn't effective, it's not going to work," he said at the time. "We need to find ways to make sure that these prisoners are going to be able to come out, be able to gain jobs, and be productive members of our community."
While Sisolak sung the praises of many popular criminal justice reform policy ideas, such as eliminating cash bail or avoiding charge "stacking," — where prosecutors file multiple charges in the hopes of enticing a defendant to take a plea deal — he stopped short of outright promising to implement the policies if elected governor, saying he wanted to first see the details in the legislation.
Although Sisolak said during a May primary debate that he would "definitely" support the abolition of cash bail, he took a slightly more measured approach to the question on Thursday.
"It's something that I would certainly entertain, especially on a minor offense that you know, might be too severe," he said.
Sisolak was unwilling to go as far as some Democrats, including attorney general candidate Aaron Ford, in suggesting that incarcerated persons be able to cast a ballot, which is currently only allowed in Maine and Vermont.
He also expressed notes of support for a further expansion of restoring voting rights to felons, just a year after state lawmakers including Ford and Assembly Speaker Jason Frierson pushed through new laws in the 2017 Legislature making it easier for some ex-felons to vote.
Holder formally endorsed Sisolak's gubernatorial bid prior to the roundtable and said at the event, "He will not be a good governor. He'll be a great governor."
He also endorsed Democratic former Rep. Steven Horsford, who attended the event and is running again for Nevada's 4th Congressional District.
The former attorney general also said the redistricting-focused group he founded, the National Democratic Redistricting Committee, would financially support Sisolak's candidacy and other Democrats in the state. A spokesman for Holder later said the group had transferred $250,000 to both the Nevada State Democratic Party and a PAC called "Nevada Families First" that will make independent expenditures in the governor's race.
The group seeks to elect Democratic governors in order to have more control over redistricting, the decennial process in which voting districts are redrawn and often favor the party that holds gubernatorial and legislative control.
Raiders, Clark County & Right to Work
Sisolak also defended himself from Republican criticism stemming from a Las Vegas Review-Journal report that the county didn't act on a memo from former District Attorney David Roger outlining allegations of sexual harassment against county Public Defender, Phil Kohn.
"It certainly didn't get to my desk," he said. "I talked to our then county manager, Virginia Valentine, and she didn't get the letter. So the people that he said he sent the letter to, none of them got the letter. So no one saw the letter and I can't comment about a letter that at the time I didn't see, eight or 10 years ago."
The county finished its investigation into Kohn last month and found it "substantiated" claims that Kohn had made sexually-charged comments and engaged in "inappropriate physical behavior" with employees. The county refused to release the report against Kohn, who is retiring in January 2019.
Questions have also been raised about whether Sisolak would reverse Nevada's status as a "right-to-work" state. Under current law, Nevadans are not required to join or pay dues to a union that represents people at their workplace.
Sisolak, who has support from a variety of unions, was noncommittal.
"I think it's premature to talk about that at this point," he said. "There's been a lot of things written about it and people are trying to stir emotions. I'll address when I see when it's written and how we'll move forward."
Sisolak also said that he'd spoken as recently as Wednesday with members of the Oakland Raiders about potentially moving the team to Las Vegas prior to the team's $1.9 billion stadium being fully constructed, after news emerged that the Oakland City Council had authorized a multimillion-dollar antitrust lawsuit against the team and NFL over the pending move to Nevada.
He said team officials have discussed leaving Oakland at the conclusion of the current NFL season and either becoming a "vagabond" team with games played in various cities including Phoenix or moving to a site in Las Vegas, though he admitted either suggested site would require an immense amount of preparatory work.
"We've identified two facilities that are potential to play in," he said. "They both have their challenges, let's put it that way. They'd both be costly to get up to par. But it's possible to play there. It's not an ideal situation."
Disclosure: Steve Sisolak has donated to The Nevada Independent. You can see a full list of donors here.
Updated at 8:55 a.m. on Sept. 7, 2018 to clarify that Holder formally endorsed Horsford and to add Sisolak comments on "right-to-work" laws.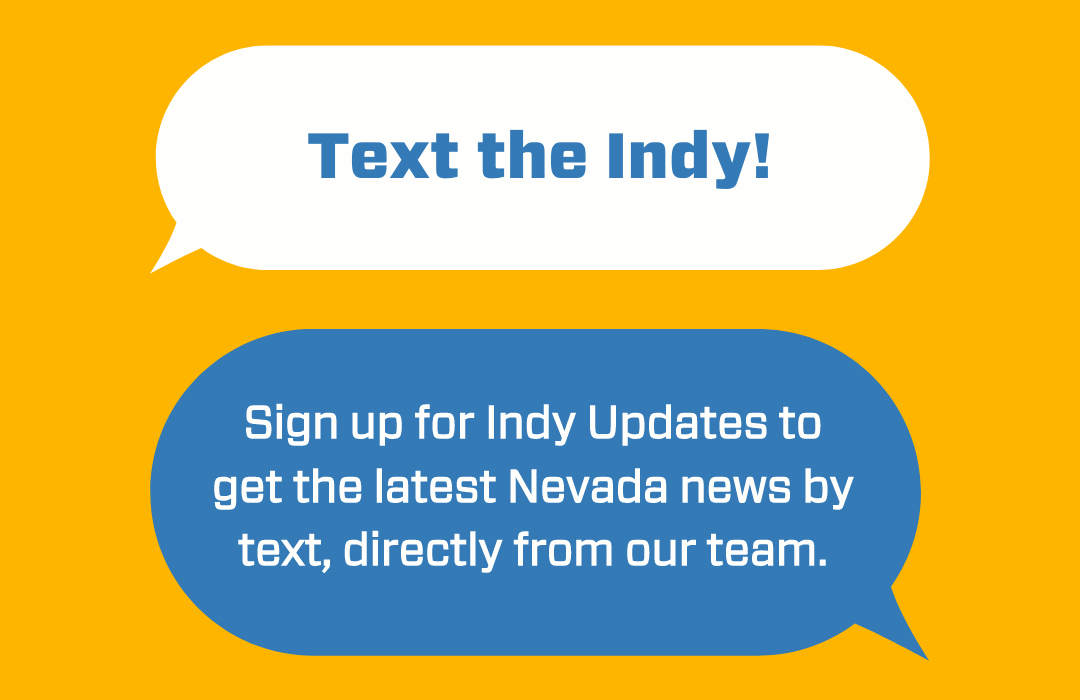 Featured Videos