Sisolak raises record $4.5 million in 2021, has more cash than all GOP foes combined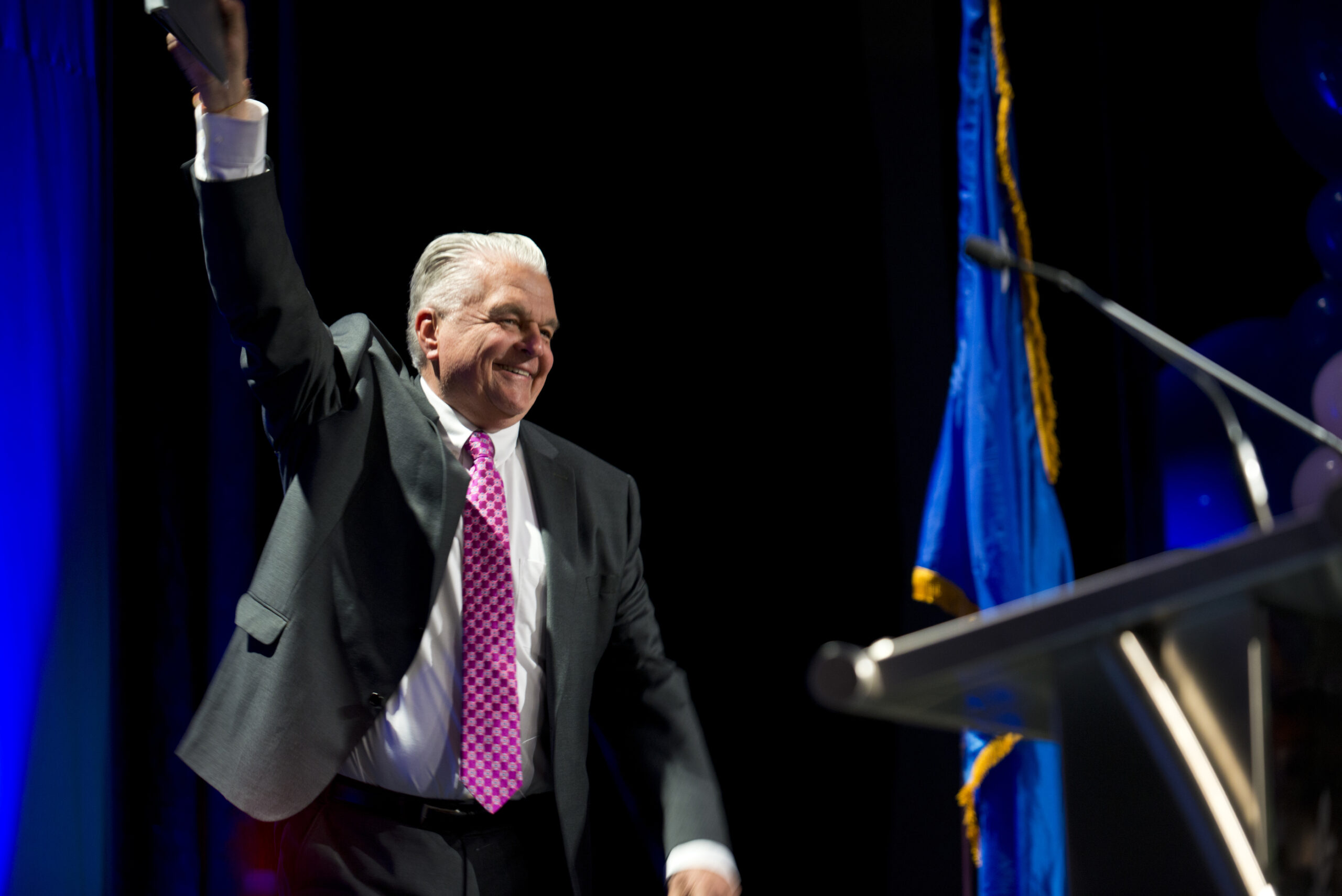 Gov. Steve Sisolak has stockpiled more money than all other governor candidates combined in 2021 as he heads into a tough reelection campaign season, but several Republicans in a crowded primary have posted formidable totals as well.
Sisolak announced on Tuesday that he has raised $4.5 million in the calendar year 2021, and has $8.28 million cash on hand. That's in spite of the fact that for more than half of the year, he was barred from fundraising because of "blackout periods" in and around legislative sessions.
The second-biggest fundraising haul in the contest was from Clark County Sheriff Joe Lombardo, a Republican who raised $3.1 million since launching his governor campaign in June and has $2.65 million cash on hand. A Nevada Independent poll from the fall identified him as the most likely to beat Sisolak among Republicans if he makes it past the primary; he has been a chief target of Democratic groups seeking to head off such a matchup.
When announcing its totals last week, Lombardo's campaign touted the haul as "more than any Democrat or Republican candidate in Nevada history has ever raised in a non-election year," although that record was broken with Sisolak's announcement Tuesday.
Campaign finance reports reflecting contributions and expenses for 2021 are due by the end of the day on Tuesday, though many campaigns announced topline fundraising totals before the full, detailed reports were made available. Candidate filing — the official step state candidates must take to appear on the ballot — is not until March.
Under Nevada law, candidates are not allowed to receive contributions in excess of $10,000 ($5,000 each for the primary and general elections) for any one campaign cycle.
Former Sen. Dean Heller, considered one of the frontrunners in the crowded Republican primary, reported raising a little more than $650,000 and having more than $265,000 cash on hand. Heller transferred more than $176,000 in leftover federal campaign funds to his gubernatorial bid, and also personally loaned his campaign $100,000.
In spite of his three decades in Nevada politics as a Republican, Heller said in 2016 he was "99 percent" against Donald Trump, a stance he later reversed but paid for with voters who disapproved of his late-breaking devotion to Trump, even drawing boos from a crowd at a Republican debate in Reno earlier this month.
Venture capitalist and political newcomer Guy Nohra announced that he would be reporting $1.3 million in funds raised in 2021. He had previously promised to put at least $1 million of his own money into his race.
North Las Vegas Mayor John Lee reported raising nearly $1.6 million throughout 2021, though he reported loaning his campaign $1 million. Lee also reported spending nearly $1 million, and ended the year with $798,000 in cash on hand, much of which was left over from his previous bids for public office.
Las Vegas City Councilwoman Michele Fiore, who announced her governor campaign in October, announced she had raised nearly $700,000 in 2021, but didn't disclose how much cash on hand she has. The former assemblywoman also noted that her announcement video, which featured her drawing her handgun and shooting beer bottles to illustrate her "three shot" policy plan, had 2.7 million views.
Reno-based attorney and former boxer Joey Gilbert reported raising about $325,500 throughout 2021, spending just over $260,000 and ended the year with $65,000 in cash on hand.
Another candidate, Dr. Fred Simon, has reported raising a little more than $183,000 in 2021. About two-thirds of that is money that he donated to himself.
Republican Tom Heck, who has run unsuccessfully in U.S. Senate primaries in Nevada in the past, reported raising nearly $97,000 and ending the year with more than $14,000 on hand.
The next filing deadline for contributions and expenses will come on April 15, when candidates need to report their fundraising and spending totals between Jan. 1 and the end of March.
This is a developing story and will be updated with further detail on fundraising as it becomes available.
The Nevada Independent is raising $200,000 by Dec. 31 to support coverage of the 2024 election.
Tax-deductible donations from readers like you fund this critical work.
If you give today,your donation will be matched dollar-for-dollar.
Give + Get Matched
Featured Videos