Son of controversial Nevada rancher Cliven Bundy announces run for governor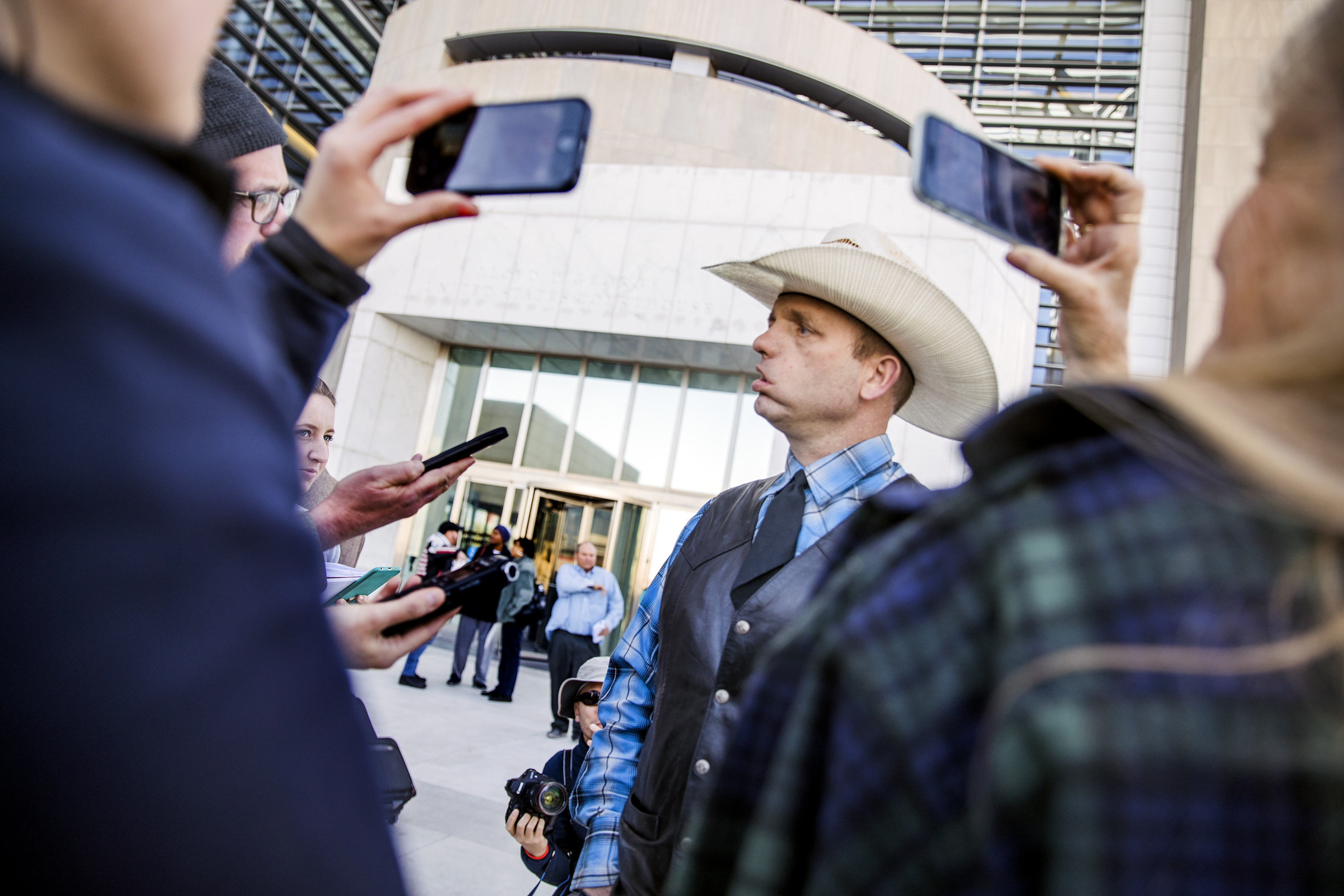 Ryan Bundy, the son of controversial Mesquite-area rancher Cliven Bundy, plans to run for governor in 2018.
Bundy told The Nevada Independent in an interview on Thursday that he plans to file to run for governor as an independent on March 14, and will run on the same state sovereignty principles that made him and his family household names during a 2014 armed standoff with the federal government over unpaid grazing fees.
"The state of Nevada needs someone who will stand up for statehood, and recognize that Nevada is a sovereign state, not just a province of the U.S.," he said.
Bundy, who was acquitted and released from an Oregon court in November following charges that stemmed from the takeover of the federally owned Malheur National Wildlife Refuge, said he didn't believe any of the current candidates for governor would enforce Nevada's "constitutional" right to all land and resources within the state.
Although the federal government owns roughly 85 percent of the land mass in Nevada, Bundy said his main priority as governor wouldn't be to transfer control of the land, but to "enforce" what he called the constitutional right of the state to control land independent of the federal government.
"Land is already appropriated to various users, but it needs to put into production for the benefit of the people of Nevada," he said. "I fully intended to make sure that happens."
He said he plans to go on a speaking tour of Nevada after filing to support his candidacy.
Cliven Bundy and the federal Bureau of Land Management have been at odds since the early 1990s, when Bundy stopped paying grazing fees. He doesn't recognize the authority of the federal government over his land in Bunkerville and instead believes local authorities have jurisdiction — a theory that many legal experts and courts have dismissed. A legislative effort to enshrine his position into state law in 2015 fell flat after legislative lawyers said the federal government has clear authority and the measure wouldn't survive court scrutiny.
But his cause drew national interest in 2014, when the feud culminated in an armed standoff between Bundy's supporters and law enforcement officials who had come to impound some of his cattle.
Charges stemming from the standoff were filed in 2016 against several defendants. But in January, a federal judge dismissed charges against Cliven Bundy and two of his sons (including Ryan Bundy), declaring prosecutorial misconduct.
After his release, Cliven Bundy criticized the governor, the Clark County Commission, the sheriff and the state brand inspector, saying they aided and abetted the federal government in stealing his cattle.
"I either have to forgive these people, or I have to hold them accountable," he said at a press conference in January.
If Ryan Bundy indeed files, he will face off with the winner of a contentious Democratic primary that includes two prominent Clark County commissioners and, likely, Republican Attorney General Adam Laxalt, who is being challenged by state Treasurer Dan Schwartz.
Laxalt's office has recently come under fire for not intervening as the Bundys' case made its way through federal court. In a candidate forum Tuesday at the Republican Men's Club in Las Vegas, candidate Craig Mueller criticized his primary opponent, former Assistant Attorney General Wes Duncan, for the attorney general office's stance.
"On at least 3 occasions federal officials were caught lying to a federal judge," Mueller said in a statement in response to a follow-up question from The Nevada Independent. "The federal government's behavior was appalling and the Nevada attorney general's office had no public comment during the course of the proceedings and did not seek to intervene. How could any Nevada official remain silent in the face of federal dishonesty on one of our biggest issues, the land ownership of so much of our state?. They could have asked for declaratory relief and gone to court over the ownership of the land."
Mueller conceded that he didn't know the full scope of the matter.
"I don't know what access to information Mr. Laxalt had," said Mueller, a longtime attorney. "Laxalt has been the best attorney general in a long time, however, there are a lot of steps on that ladder to climb. I was specifically criticizing Mr. Duncan, who refuses to enforce the sovereignty of the state of Nevada against federal overreach."
Updated at 10:50 a.m. March 8, 2018 to correct reference to Republican Men's Club.
The Nevada Independent is raising $200,000 by Dec. 31 to support coverage of the 2024 election.
Tax-deductible donations from readers like you fund this critical work.
If you give today,your donation will be matched dollar-for-dollar.
Give + Get Matched
Featured Videos