Sources: Sisolak to lift Nevada mask mandate amid decreased COVID spread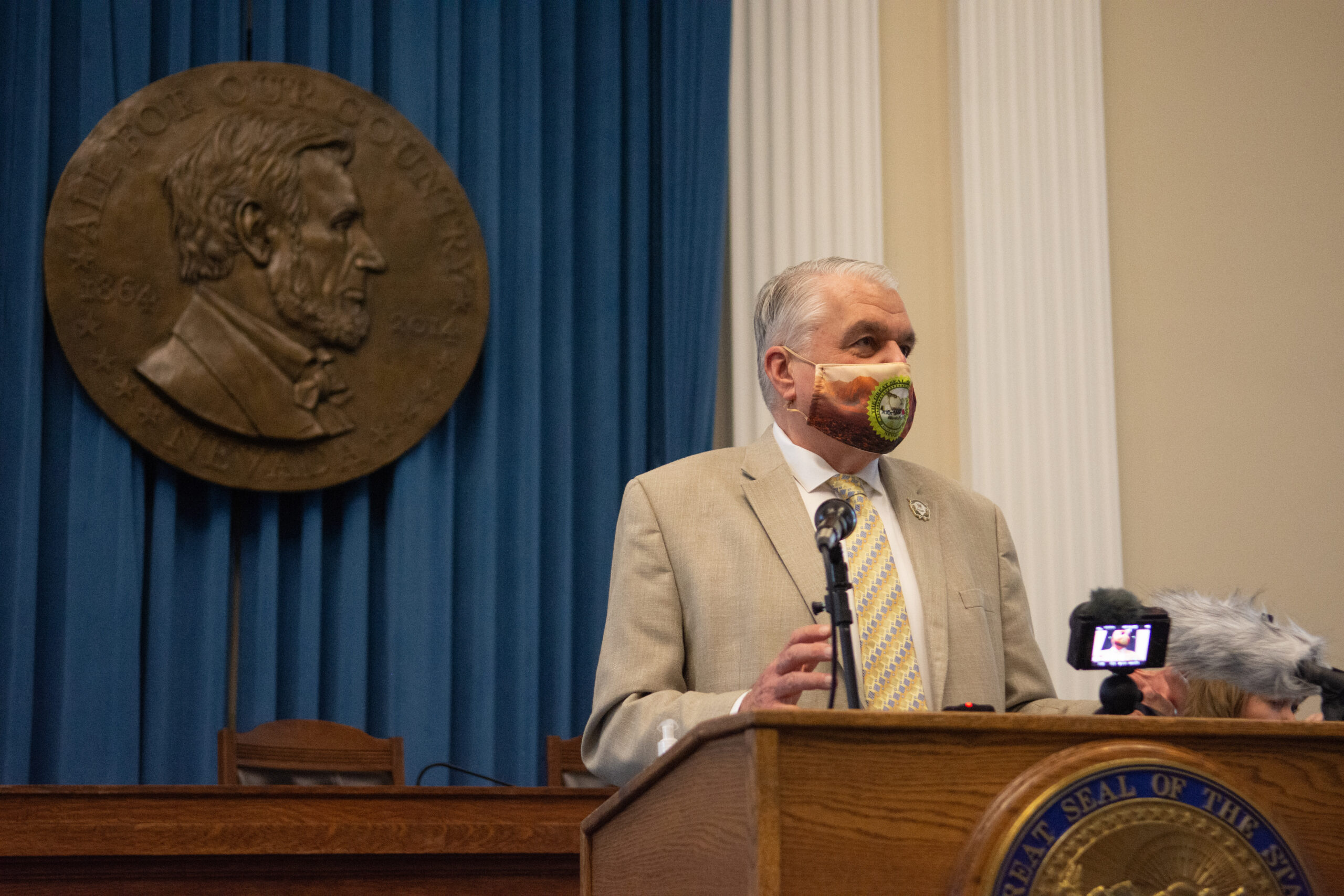 Gov. Steve Sisolak is expected to lift the state's mask mandate amid a nationwide decrease in COVID cases, joining a parade of states, including California, that have announced recent plans to lift their mandates.
The governor's office announced he would hold a virtual press conference on Thursday to provide an update on "COVID-19 cases and hospitalizations, along with the availability of test kits and therapeutics." An announcement of the mask mandate being lifted is expected to be delivered at the press conference, sources with knowledge of the governor's plans told The Nevada Independent.
Implemented on July 30, Nevada's mask mandate followed a recommendation from the Centers for Disease Control and Prevention that fully vaccinated people should wear masks in indoor public settings when they are in areas of substantial or high transmission. Though the new federal policy was only a recommendation, an emergency directive issued by Sisolak in May automatically makes any guidance offered by the CDC binding in the state of Nevada.
The current guidelines for individual counties, which require masks at indoor public places for people regardless of vaccination status, are in place through Thursday. Federal guidelines, which include mask-wearing on airplanes, will continue to remain in place regardless of any announcement from the state.
Under existing policies, counties automatically are subject to a universal masking mandate if they have two weeks of "substantial" or "high" transmission; those mask mandates are automatically removed after two weeks of "low" transmission. Since the mandate was implemented at the end of July, the vast majority of the state's population (outside a handful of rural counties) has been subject to masking requirements.
For the first time in six months, the Nevada Department of Health and Human Services did not send out a press release Tuesday offering updated masking guidelines for the coming week in line with Centers for Disease Control and Prevention recommendations.
The Southern Nevada Health District canceled its weekly press call Wednesday, citing scheduling conflicts. But Washoe County Health District's press call is still scheduled for its usual time on Wednesday morning. As of Wednesday, all of Nevada's 17 counties are experiencing "high" or "substantial" transmission levels, per the CDC.
If the mask mandate is removed, the Nevada Gaming Control Board will have to draft a new emergency directive based on any changes to the state's health and safety protocols. Removal of the mask mandate before the weekend could be viewed as beneficial for Strip resorts, which are expected to see a large spike in visitation because of Super Bowl LVI on Sunday. Analysts are predicting the event could be a record sports wagering event for the state.
MGM Resorts International CEO Bill Hornbuckle appeared to foreshadow a lifting of the mask mandate during his prepared remarks Wednesday on the company's fourth-quarter earnings conference call.
"I expect that given positive COVID trends in Nevada, we will start to see meaningful lifting of COVID restrictions in the very, very near future consistent with what we have seen in other states," Hornbuckle said.
The bulk of the Omicron COVID-19 surge in Nevada is essentially over, though test positivity and case rates remain higher than the pre-Omicron wave. As of Tuesday, 1,530 new cases were reported each day over the last seven days on average, down from the highest point of the Omicron wave when the state was reporting an average of around 6,300 cases a day.
Vaccination rates, meanwhile, remain at a little more than 73 percent across the state. In Carson City, which has the highest rate of vaccination in the state, a little more than 61 percent of residents are fully vaccinated, compared to only 53 percent in Clark County. Nationally, Nevada ranks 32 for fully vaccinated individuals.
States with Democratic governors who have historically taken a more cautious stance on COVID have shed their mask mandates in recent days.
On Monday, California Democratic Gov. Gavin Newsom announced that the state's indoor masking requirement would expire on Feb. 15, aligning with Delaware's decision to phase out its masking mandate by Friday. That same day, the Oregon Health Authority tweeted it would lift indoor masking requirements by late March — noting that the period would be "when health scientists expect a return to the level of Oregonians hospitalized with COVID-19 before the Omicron variant began to spread."
In New York, Democratic Gov. Kathy Hochul said she would allow her state's mandate to expire on Thursday. Illinois Gov. J.B. Pritzker is also poised to unveil a plan to roll back its mask mandate and revealed Wednesday he hopes to lift the mask mandate for the state by the end of the month.
Sisolak — who is facing a tough re-election campaign this year — has been staunchly criticized by potential Republican opponents about the mandate. A recent Nevada Independent/OH Predictive Insights poll showed a narrow margin between those who would support a candidate pushing for mask mandates and those who would not.
Almost 31 percent of respondents said they would be more likely to throw their support behind a candidate in favor of mask mandates, compared to 38 percent who said they would be less likely to support such a candidate. Twenty-two percent said the stance would have no effect on whom they chose to support, and 9 percent said they were unsure of how the stance would affect their support.
Washoe County Health Officer Kevin Dick told reporters during a press call on Wednesday morning that he would withhold comment until the governor makes an official announcement.
"I believe it's been important that we've kept the mask mandate in place," he said. "I think people need to be prepared, that if we are eliminating those mandates, we should expect to be seeing more effects of those and some increased transmission."
Though cases have dropped off in Washoe County, the region is still experiencing high transmission levels with the Truckee Meadows Risk Meter registering "very high risk."
The number of deaths has increased, which Dick said health officials expected because of the record-setting number of cases reported in January. Since the beginning of the month, 12 people have died from COVID-related issues and 81 people have died since the year began.
Reporters Howard Stutz and Jazmin Orozco Rodriguez contributed to this story. This is a developing story. Check back for updates.
Updated at 3:09 pm on 2/9/2022 to include remarks from Bill Hornbuckle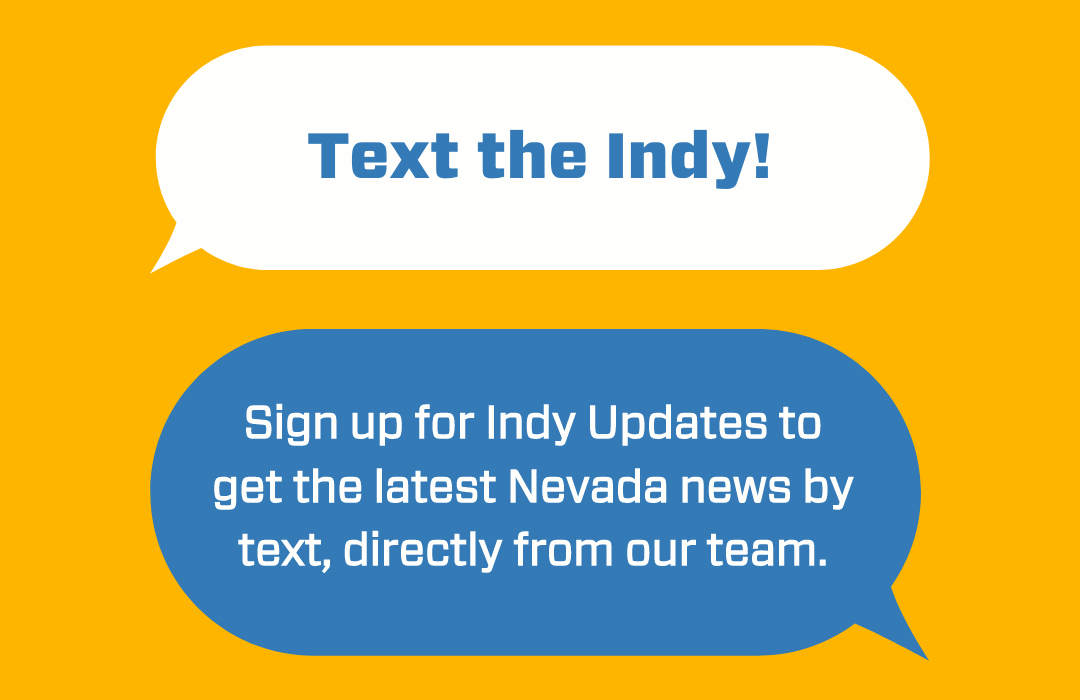 Featured Videos
Comment Policy (updated 4/20/2021): Please keep your comments civil. We reserve the right to delete comments or ban users who engage in personal attacks, use an excess of profanity, make verifiably false statements or are otherwise nasty. Comments that contain links must be approved by admin.