COVID in Context: Poll shows Nevadans supportive of vaccine, but split on mandates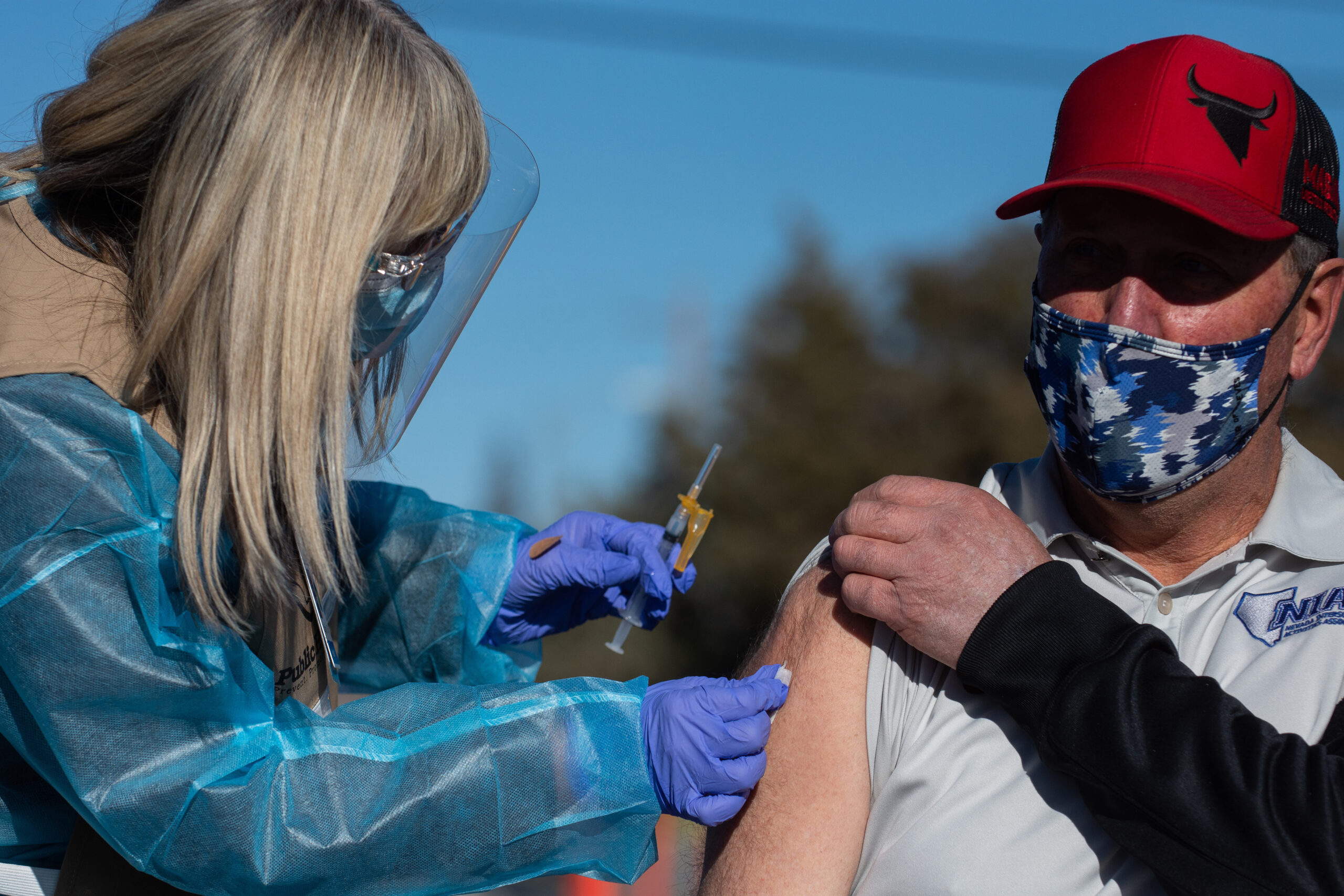 Welcome to COVID in Context, where staff at The Nevada Independent provide context and clarity on what's happening with COVID-19 in Nevada.
We're working on adding graphs showing wastewater sampling data to our COVID-19 dashboard. We're waiting on one more dataset and then we'll make those available to you.
COVID in Context will change depending on the situation at hand. If you have any questions, thoughts or suggestions, please reach out to [email protected] or send me a direct message on Twitter, or submit them using this form.
For daily updates check out our constantly updating data page and follow @nvindycovidbot on Twitter.
— Tabitha Mueller
***
Understanding the numbers:
Two years into the pandemic, public leaders and health officials still wonder when the population might reach herd immunity — a feat that could be difficult to accomplish considering recent OH Predictive Insights/The Nevada Independent polling indicating more than a fifth of Nevadans say they will not get the vaccine.
To achieve population-wide protection from COVID-19, experts estimate around 80-90 percent of the population needs to be completely vaccinated or have immunity from repeated prior infections. Health officials say efforts to reach population immunity should focus on increasing vaccinations and warn that attempts to reach herd immunity through exposure "will lead to unnecessary infections, suffering and death".
Of the 755 registered Nevada voters sampled between Jan. 16-26 via the online opt-in survey, 65 percent of respondents indicated they had already received the COVID-19 vaccine and another 8 percent said they would get the vaccine "right now at no cost" if they had the opportunity.
Chief of research for OH Predictive Insights Mike Noble said the 22 percent of poll respondents who indicated they would not get vaccinated is consistent with other surveys, adding that the likelihood of those voters getting vaccinated is slim-to-none.
"Basically this group is not going to move," Noble said. "And that's why I think that you're seeing some of the strategies change from trying to get the herd immunity to ultimately this testing and kind of adapting to the new normal."
Though polling only reached out to registered voters and did not include people under the age of 18 or those who are not registered to vote, the results largely tracked with the state's actual reported vaccine numbers — as of Thursday, close to 73 percent of Nevadans have been either partially or fully vaccinated against COVID-19 and almost 23 percent of eligible Nevadans have yet to receive a COVID-19 vaccine (4 percent of Nevadans under the age of 5 remain ineligible to receive a vaccine).
Around 30 percent of poll respondents identified themselves as Republican, 35 percent as Democrat and 34 percent as independents — aligning with state voter registration numbers.
A higher percentage of rural registered voters indicated they would not take the vaccine as compared to their urban-residing counterparts — 37 percent of rural respondents indicated they did not want to be vaccinated, compared with 21 percent in Washoe County and 20 percent in Clark County.
Rural independent or nonpartisan voters made up the largest demographic group by percentage opposed to getting vaccinated, followed by rural Republicans and rural Democrats. Looking only at respondents living in rural communities, 33 percent of Republicans said they would not get the vaccine compared with 57 percent of independent or nonpartisan voters and 15 percent of Democrats.
Geography plays a significant role in how people vote, Noble said. Rural voters, including rural independent voters, tend to be much more conservative than urban or suburban voters, and that extends to perspectives surrounding COVID-19. In line with Noble's observation, Nevada's rural vaccination rates lag behind those of more urban counties, with tiny Storey County having the lowest vaccination rate — only 21 percent of its population is fully vaccinated.
"Geographic density has been a massive indicator in the last four years for these political shifts," Noble said.
As vaccines have become accessible at a mass scale, administrations at all levels of government, including the state of Nevada, have taken a stance of balancing "lives and livelihoods," urging people to wear masks, get vaccinated and receive a booster shot if eligible. But officials have shied away from implementing temporary shutdown measures seen early on in the pandemic, citing the need to keep the economy afloat and the reality that the virus is on its way to becoming endemic, meaning it will continually persist in the population.
"We have to be mindful to take care of each other, but we also have to keep our economy going," DuAne L. Young with the governor's office said during a press call in early January. "We are not considering any measures to shut down. What we are considering is to continue that support and fortification of our system."
Though the federal government and other states have pushed for the adoption of vaccine mandate policies, such requirements at least on a statewide level are unlikely in Nevada. Following a U.S. Supreme Court ruling blocking vaccine-or-test mandates that were implemented by the Biden administration for large U.S. businesses, Democratic Gov. Steve Sisolak said he was "disappointed" by the decision, but would not consider a statewide vaccine mandate.
"We don't want to force things through mandates," he said. "What I would prefer to do is just encourage people to get the vaccination and get the booster."
Public opinion on vaccine mandates appears to side with the governor, but only by a slim margin.
Only 46 percent of respondents support a vaccine mandate compared to 47 percent who oppose such a measure. Seven percent said they had no opinion on the matter.
Out of those who indicated support, 31 percent said they "strongly support" vaccine mandates, compared with 15 percent who said they "somewhat support" the policy. Thirty-eight percent of those who opposed implementing a mandate said they "strongly" opposed it, compared with 9 percent who "somewhat" opposed it.
As for candidates in support of mask mandates, 31 percent of respondents said they would be more likely to throw their support behind a candidate in favor of mask mandates, compared to 38 percent who said they would be less likely to support such a candidate. Twenty-two percent said the stance would have no effect on whom they chose to support, and 9 percent said they were unsure of how the stance would affect their support.
Two years into the pandemic, Noble said COVID-19 policies will continue to play a significant role in elections.
"If things are spiking and things are going bad, especially if you're shutting things down, voters are going to sour," he said. "If the spikes are happening, that is typically going to negatively impact whoever's in charge's numbers, whether they're Republican, Democrat."
Though poll results indicate that Sisolak leads his likely Republican opponents and more than 50 percent of poll respondents have a favorable view of his administration's COVID-19 policies, Noble said that could quickly change.
"Being an incumbent governor right now, with this pandemic still going on — no one's safe," Noble said. "[Sisolak's] in a good position right now. However, a lot can change from now until Election Day."
Health officials have pointed out that cases appear to be plateauing in the state as the virus runs its course. As of Thursday, 2,773 new cases were reported on average each day over the previous seven days, down from 5,119 last week. At the highest point of the Omicron wave, the state was reporting around 6,300 cases a day on average.
— Tabitha Mueller
Case counts drop sharply from mid-January Omicron peak
Following a January surge of COVID-19 cases, Washoe County health officials announced Wednesday that the county is experiencing a "significant" downward trend in COVID-19 cases but warn that case levels remain high.
At the height of the Omicron surge in Northern Nevada on Jan. 22, the county reported 1,162 new cases on average each day over the previous seven days. As of Thursday, that average had dropped to about 567 cases, a 51 percent decrease.
Despite the declining caseload, Washoe County District Health Officer Kevin Dick clarified during a media briefing on Wednesday that current numbers remain high compared to previous surges. The January Omicron peak was 225 percent greater than the previous peak in November 2020. Though declining, the current case numbers are still 135 percent higher than those recorded during the November 2020 peak, Dick said.
"We still have incredible number of cases occurring in the community," Dick said. "Our worst fear is that we plateau at some high level and don't continue with the decline."
With cases beginning to drop, health officials expect to see a rise in deaths in the coming weeks. In January, the county reported 52 COVID-related deaths, with 39 in the last 17 days, compared with 38 deaths in December.
The Centers for Disease Control and Prevention (CDC) estimated as many as 65,000 people across the country could die from COVID-related issues in the next four weeks. The CDC also released a report this week indicating that Black, American Indian and Hispanic people are twice as likely to die from COVID-19 than white people.
"Vaccinations are the best protection to avoid hospitalization and death from COVID-19 and are readily available in our community," Dick said, adding that booster shots provide an added layer of protection.
Southern Nevada Health District officials also announced on Wednesday that COVID-19 cases have continued to decline in the past two weeks, but Omicron subvariants such as BA.2, which was recently reported in Clark County, could "create a longer tail with our existing cases."
The Omicron BA.2 subvariant does not appear to cause more severe disease than the original Omicron variant, SNHD officials said, adding that vaccinations still provide protection against severe illness and hospitalization even if many vaccinated people test positive for COVID.
On Wednesday, SNHD reported 971 positive cases and 20 deaths. From Jan. 16 to Jan. 29, the seven-day average for cases in the county dropped from 3,998 to 1,357, a 66 percent decline.
"Although we are well within the high transmission category, a 66 percent reduction over two weeks, that's a really good sign," Dr. Cassius Lockett, SNHD director of disease surveillance and control, said in a press briefing Wednesday. "However, we need to see the test positivity rate continue to decline and fall below 10 percent."
The single-day test positivity rate on Jan. 30 was 25 percent, which is a 42 percent decline from the single-day test positivity rate of 43 percent reported on Jan. 9.
"We're all keeping our fingers crossed that the rate continues to go down. We do have to remain vigilant however, because we do have BA.2 out there," Lockett said. "We don't have a crystal ball, but we don't think the BA.2 is going to lead to a subsequent large surge in cases."
— Jazmin Orozco Rodriguez & Jannelle Calderón
College student vaccine rates
At least three-quarters of all college students enrolled at Nevada System of Higher Education (NSHE) institutions have received the COVID vaccine, according to data shared with the state this week in a memo from NSHE.
However, that data stops on Dec. 21 of last year — the day that the Legislative Commission effectively ended a vaccine mandate for college students after the body, split six Democrats to six Republicans, deadlocked on the permanent approval of that mandate.
Vaccination rates also varied from institution to institution. The two universities, UNLV (91 percent) and UNR (87 percent), were by far the most vaccinated, followed by Truckee Meadows Community College (76 percent) and Nevada State College (65 percent).
Other community colleges, especially the state's two rural colleges, generally had the lowest vaccination rates. That includes Great Basin College (59 percent), the College of Southern Nevada (58 percent) and Western Nevada College (45 percent).
However, those rates may be lower than the "true" vaccination rate of students on-campus, as any students with an online-only course load never had to prove their status even under the mandate, and community colleges generally provide a much higher proportion of their classes online, compared to four-year institutions. These numbers also do not include any students who received a valid waiver for the vaccine mandate.
— Jacob Solis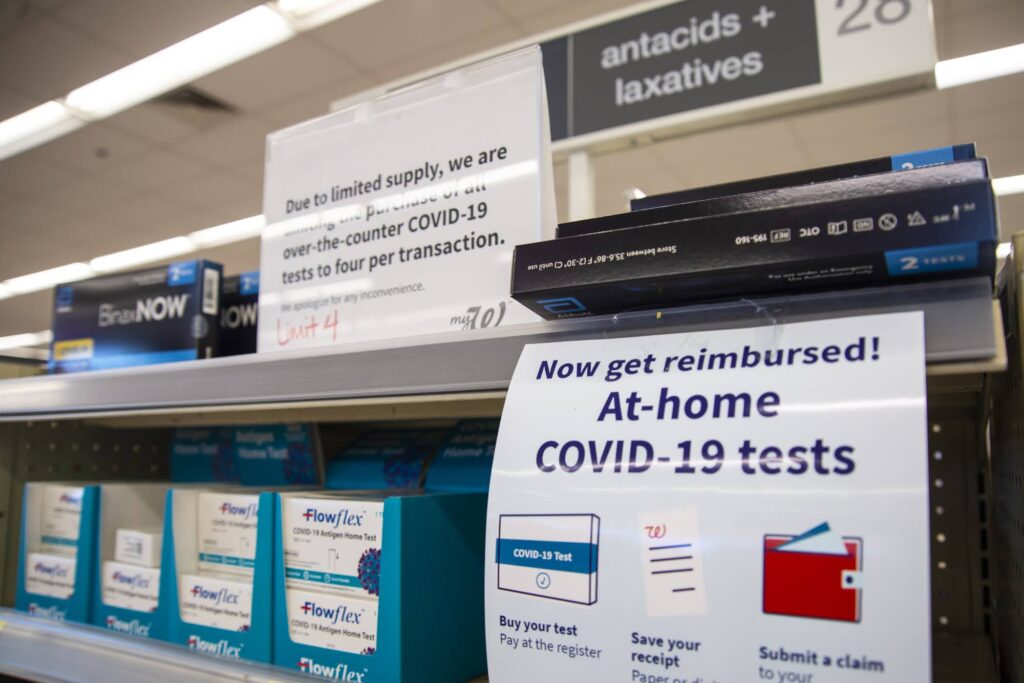 News you can use
Mask mandates
For the week beginning Friday, Feb. 4, all counties remain subject to universal indoor masking precautions regardless of vaccination status.
Counties automatically become subject to a universal masking mandate if they have two weeks of "substantial" or "high" transmission; those mask mandates will automatically be removed after two weeks of "low" transmission.
Updated masking guidelines are announced every Tuesday. For the most up-to-date information on masking mandates by county, click here.
Proof of vaccination
If you got your vaccine in Nevada, you can now access and download your COVID-19 vaccination records through the state's immunization information system here.
If you receive an error message as you try to sign into the system, call 1-800-401-0946 or email [email protected].
According to the state, a patient may access their record, or a parent or guardian can retrieve a record for a minor child. Two-factor authentication is used to protect patient information.
Here's a Twitter thread with a more detailed walkthrough of the process.
Searching for COVID-19 testing sites?
The Nevada Hospital Association is still reporting a staffing crisis in hospitals across the state, but said in its latest weekly report that "some constraints are lessening as ill employees recover and return to work. Workers returning to work is coupled with a marked decrease in hospital COVID-19 demand. If this trend continues, staffing could be lowered to an alert level."
The association emphasizes that individuals should get tested at testing sites, not hospital emergency departments.
To find a testing site in Nevada, including pharmacies, head on over to the state's COVID-19 test site finder.
For testing from the Washoe County Health District, click here.
For a complete list of testing sites in Southern Nevada, follow this link.
Rapid Tests
Here's the link to order free at-home COVID-19 tests through the United States Postal Service.
Residential households can order one set of four free at-home tests. There's a limit of one order per address and orders began shipping for free in January. In a statewide press call last week, health officials said many of the issues surrounding difficulties ordering because of a P.O. box or apartment address have been resolved.
The state received 600,000 test kits and is expected to post pick-up locations within the next week or so.
As part of a federal effort, private insurance companies will cover at-home test kits purchased at pharmacies. Companies will cover up to 8 kits per month, depending on the number of people on a health plan.
Here's a guide for getting your over-the-counter COVID-19 test reimbursed.
Trying to buy an effective mask?
Since the arrival of the Omicron variant, health experts have urged Americans to upgrade their cloth masks to an N95 or KN95 because the new variant is so transmissible. These higher grades tend to be costly and difficult to find.
This guide to masks from NPR has everything you need, including where to find N95 masks, best practices for reusing a mask and how to spot a fake mask.
The Biden Administration announced that the federal government will provide 400 million free N95 masks to citizens from the Strategic National Stockpile. Nevada officials are still figuring out how to implement the distribution of masks and ensure they reach areas where there is a high risk of spread, such as schools.
N95 masks are becoming available to Nevada residents at some pharmacies and health centers, including Walgreens and CVS. The Las Vegas Sun had a breakdown of where to find masks last week, and state officials promised more complete information soon.
Reporter Tabitha Mueller stopped by a Walgreens in Reno which had individually wrapped N95 masks in a bin near the snack aisle and cash registers. The bin had a sign on it saying, "take up to 3 free masks per person."
Readers have reported that CVS stores in Southern Nevada have N95 masks available, but people need to request them from cashiers. That was not the case for reporter Jackie Valley, who shares her tale here:
Sometimes in life, things come to you when you stop looking for them.
I had wandered into my local CVS in Henderson on the hunt for the free masks. After a brief pass through each aisle, I gave up. No such luck. So I turned to the next best thing: the card aisle looking for something to send my grandpa. But when I turned around again, an employee suddenly appeared brandishing three plastic-wrapped N95 masks.
"Ma'am, get your free masks from the government," he said, handing them to me before I could get a word in edgewise.
I tried to take only one and give two back, but my offer was swiftly rejected.
"The government wants us to have three," he said.
Point taken. I left with three.
Quarantine and isolation guidelines
If you are exposed, and you don't have a positive test, the CDC is asking you to monitor your symptoms, wear a mask, and then get tested if you're symptomatic. If you are sick or test positive, the CDC recommends you stay home for five days and isolate yourself from others. You can end isolation after five full days IF you are fever-free for 24 hours without medication. Once out of isolation, wear a well-fitting mask for 10 full days when around other people.
For complete guidelines and recommendations head over to the CDC's COVID-19 Quarantine and Isolation page.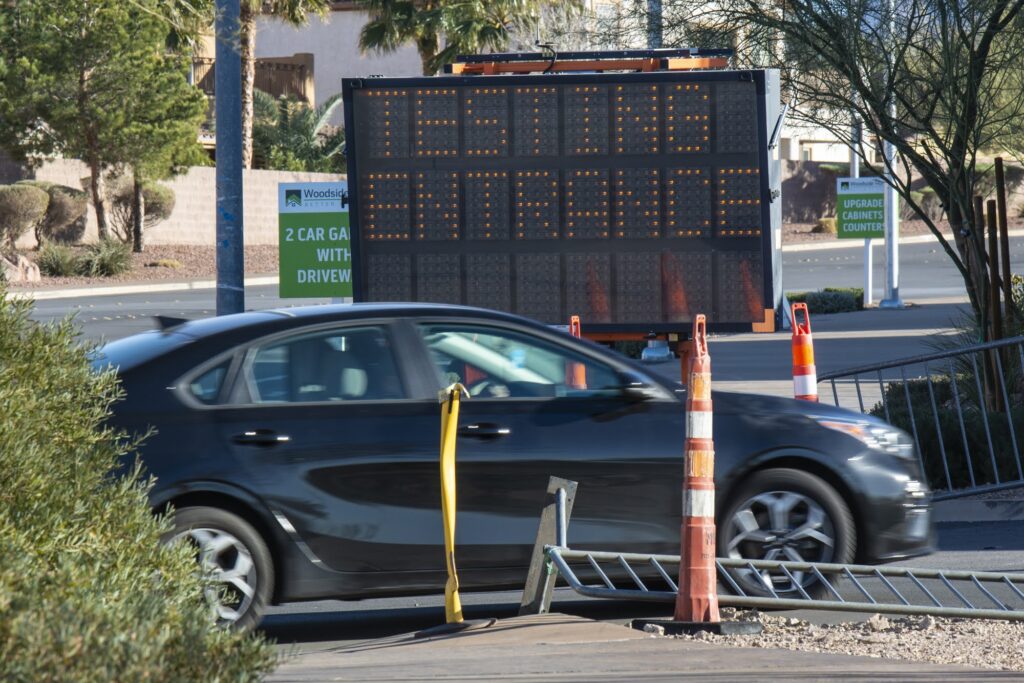 What we're reading
KRNV reporter Ben Margiott has been keeping tabs on an ongoing state investigation of Northshore Clinical Labs, a company providing COVID-19 testing at four pop-up locations across Washoe County. Though state officials would not provide details on the investigation, a whistleblower who recently quit working for the company told KRNV the lab did not have the capacity to test 1,600 people a day as demand for testing spiked during the Omicron surge. He added that he was directed by higher-ups to throw test results away before they were reported, ration PPE and sanitize gloves between uses because the company was overwhelmed. Northshore Labs responded to KRNV, saying that the company follows all standard safety protocols.
Though UNR terminated its contract with the company on Monday, citing "dissatisfaction with Northshore's service," Washoe County continues to maintain a contract with the lab. In an emailed statement, county officials told The Nevada Independent that the lab said they were unable to provide PCR testing because of overwhelming demand, and have only offered antigen rapid tests.
"We continue to review licensing status with the State of Nevada to make sure that the testing in our community meets the necessary requirements," officials wrote in an email on Thursday. "The supplemental testing conducted by Northshore Clinical Labs got our community through an unprecedented spike in COVID-19 infections, and we are beginning to see a steep drop in demand for tests."
This is a beautiful piece from The Associated Press taking a look at two warring perspectives of COVID-19 in a small midwestern prairie town.
In this community-focused piece featuring a Reno-based sweets manufacturer and a Las Vegas restaurant owner, Nevada Independent reporter Jannelle Calderón details how staff shortages are vexing small businesses.
It looks like the first vaccine shot for children between 6 months and 5 years of age could be available by the end of February.
The Washington Post debunks the claim that athletes have dropped dead from COVID-19 vaccines in this piece explaining how the falsehood spread and why it continues to exist.
If you're interested in understanding mental health issues related to the pandemic and how to address them, then give this piece by UNR's associate professor of counseling and educational psychology Kristina DePue a read.
Finally, here's a heartbreaking piece from Refinery29's Molly Longman discussing how Omicron is pushing health care workers to their breaking point.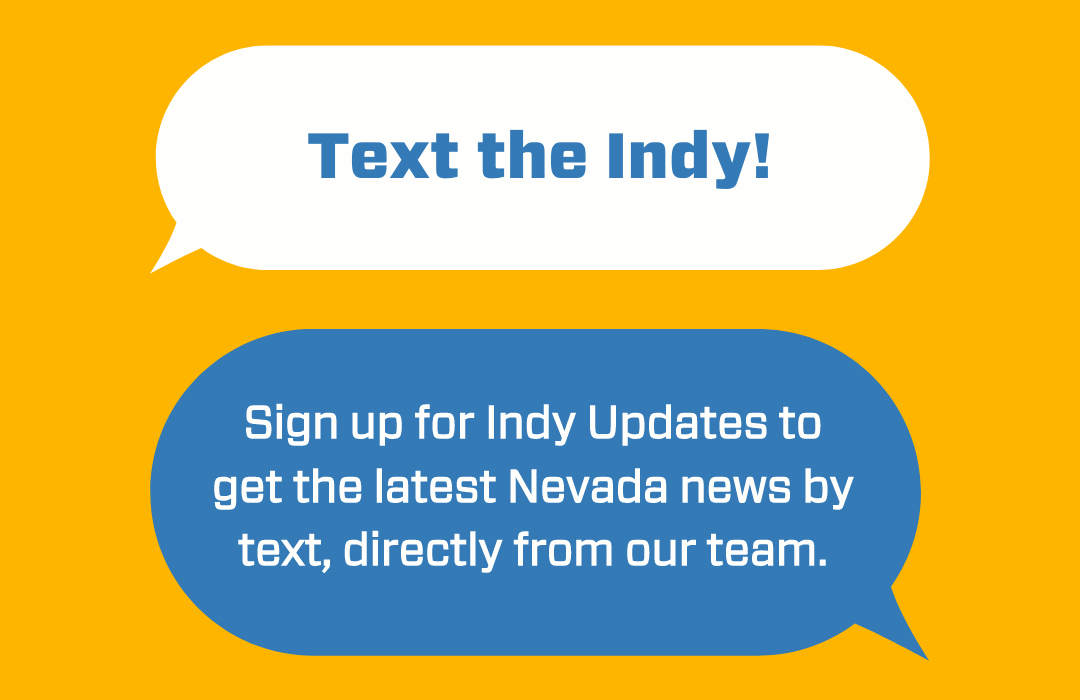 Featured Videos