South Carolina Sen. Graham urges support for Heller to make Democrats 'pay a price' for delaying Kavanaugh confirmation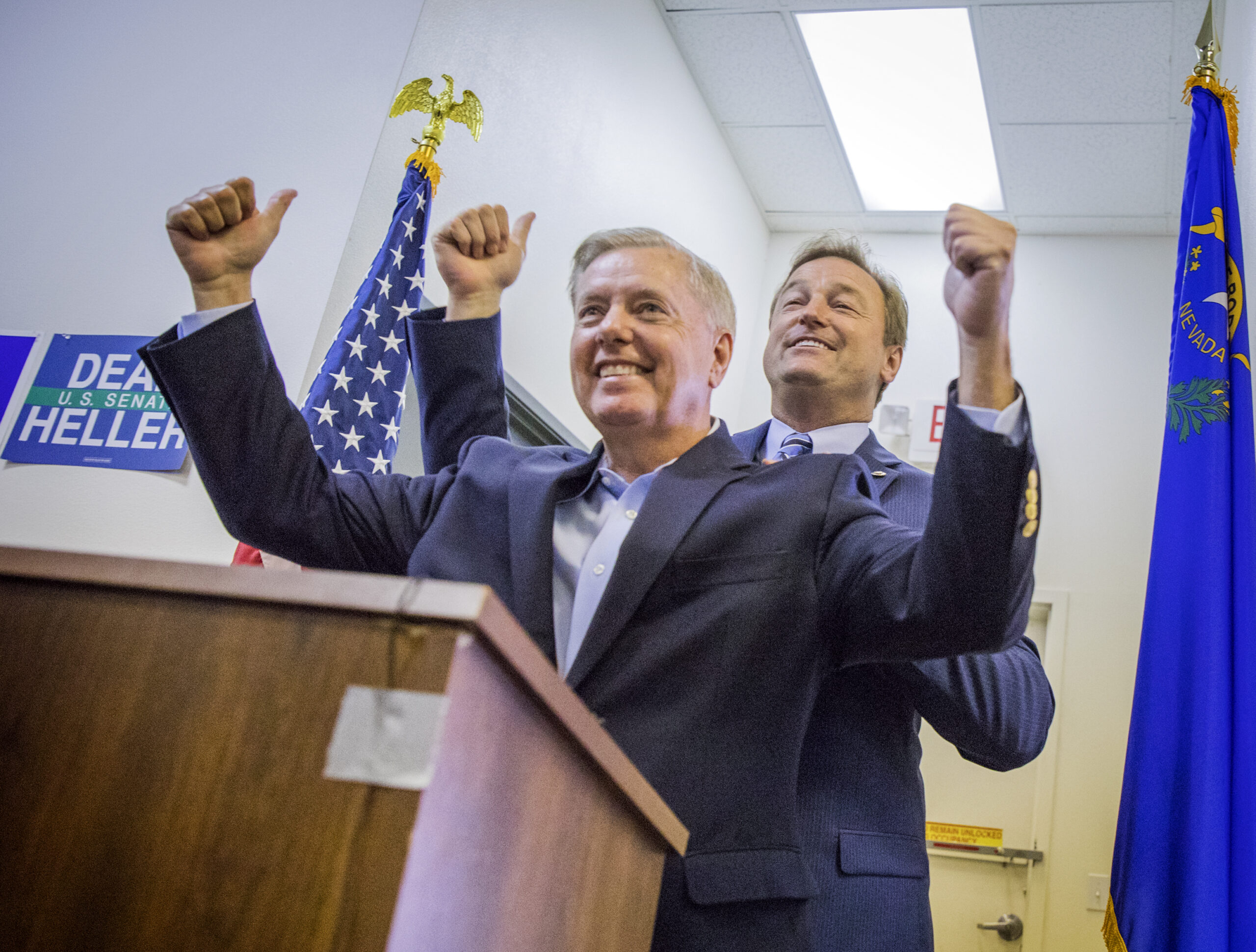 U.S. Sen. Lindsey Graham, a Republican from South Carolina, said it "took like five minutes" for his Republican colleague, U.S. Sen. Dean Heller, to commit to backing Supreme Court Justice Brett Kavanaugh and urged voters to make Democrats "pay a price" at the ballot box for stalling the nomination.
Graham, at a small rally of about 100 people at a Republican field office in Henderson on Thursday, said that Democrats "played dirty and they lost" with Kavanaugh's nomination, referring to a delay in the confirmation process after a woman came forward to accuse the judge of sexually assaulting her when they were both in high school. The South Carolina senator framed Heller as a strong and eager supporter of Kavanaugh's from the beginning despite the fact that each of his votes in Washington, D.C. is "under a microscope" as he faces a tough re-election battle here at home.
"He goes with what he believes is best for Nevada and the country, and he's willing to take heat. I went to Dean to tell him about Kavanaugh 'cause I've known Brett for 20 years," Graham said. "So I started down the road. He says, 'Don't worry, Lindsey. I got it. He's highly qualified. I'm okay with Brett Kavanaugh. I'm proud of President Trump's nomination. You have my vote.' It took like five minutes because he understood that President Trump chose wisely."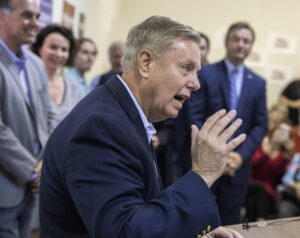 The South Carolina senator said he was "pissed" about the confirmation process and suggested that Democrats would do anything to take back control from Republicans. Graham added that he would "never" do to a nominee what Democrats had done to Kavanaugh and that they "literally need to pay a price for this at the ballot box."
"If there's no limits, you're not much good to the American people," Graham said. "If you want power so much that you'll ruin a good man's family, then you don't need it. You don't deserve it."
For that reason, Graham urged Nevadans, including independents, to vote for Heller, who he said is "getting the crap beat out of him" in his run for re-election. Heller, who has served in the position since 2011, is facing a tight battle against first-term Rep. Jacky Rosen, a Democrat; if she loses, there is little to no chance of Democrats wresting control of the Senate from Republicans this year.
"If you're an independent and you want to stop this crap, deny them the thing they wanted most — power. Tell me how they get the Senate back if [Heller] wins. They can't get there from here," Graham said. "So if you want to send a clear signal to America about who we are and the way we do business and how you play the game still matters, elect him."
Graham praised Heller, who he said he has known for two decades, as "always optimistic" and said that "if you could turn his smile into a solar panel, you'd be in good shape."
"So I like him. Vote for him. We need him. I don't know her," Graham said, referring to Rosen. "But I know who she hangs out with."
In an interview after the event, Graham defended a repeal-and-replace Obamacare  proposal he authored with U.S. Sen. Bill Cassidy from Louisiana that Heller has also signed onto that would take current Affordable Care Act dollars and allocate them to states in the form of block grants. Heller has been lambasted by Rosen and other Democratic groups for supporting the legislation.
Though analyses have said that Nevada would actually receive fewer dollars under the legislation than it is currently projected to under federal law and Republican Gov. Brian Sandoval also opposes it, Graham reiterated his belief that the legislation would result in "a bump up" for Nevada under its block grant formula. He added that the legislation could move forward "without Medicaid reform" but that Congress eventually would have to tackle the issue because Medicaid is "growing so fast it's eating up the states' budgets."
"The best way to save money in Medicaid, I think, is to give the states more control so they can actually deliver dollars more efficiently to the patient," Graham said. "So I think the key to Medicaid is getting more innovation and flexibility."
Graham also said in the interview that he believes Heller has established a "pretty good relationship" with President Donald Trump and that the president listens to Heller. But, he said, Heller will ultimately do what's best for Nevada.
"He will cross the party and he's got the scars to prove it," Graham said.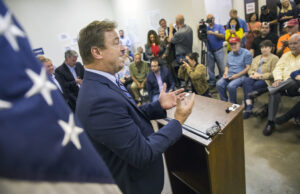 Heller was complementary of the president during brief remarks that preceded Graham's during the event, touting the size of the crowd that Trump attracted to a rally last weekend in Elko.
"Last week he was up in Elko. He had 9,000 people, 9,000 people in Elko," Heller said. "If you've ever been there it's a hard place to find 9,000 people. Obama comes to Las Vegas, he has 1,500."
He told the crowd that there were clear differences between himself and Rosen on the economy, judicial appointees, and the military and veterans.
"I am thrilled to be here in Las Vegas today having this conversation with you because these differences are so high," Heller said.
At the rally, U.S. Sen. Cory Gardner, a Republican from Colorado and the chair of the National Republican Senatorial Committee, said that Heller would take the "Western values" and the "Western way" back to Washington, D.C. with him. Businessman and congressional candidate Danny Tarkanian, who also spoke at the rally, noted that all the top races this year would be close and urged voters to find five friends to bring with them to the polls.
Graham, in his remarks during the event, even urged Democrats to "say something" if they believe their party is "going down the wrong road." To "the radical left" who Graham said is "trying to destroy this country," the South Carolina senator had a different message: "You can kiss my ass."
The Nevada Independent is raising $200,000 by Dec. 31 to support coverage of the 2024 election.
Tax-deductible donations from readers like you fund this critical work.
If you give today,your donation will be matched dollar-for-dollar.
Give + Get Matched
Featured Videos