Sphere has only 200 on-site parking spots at opening; more options expected after F1
Lots near the venue are being used for the Las Vegas Grand Prix; parking for U2 concerts and shows will be available at nearby resorts.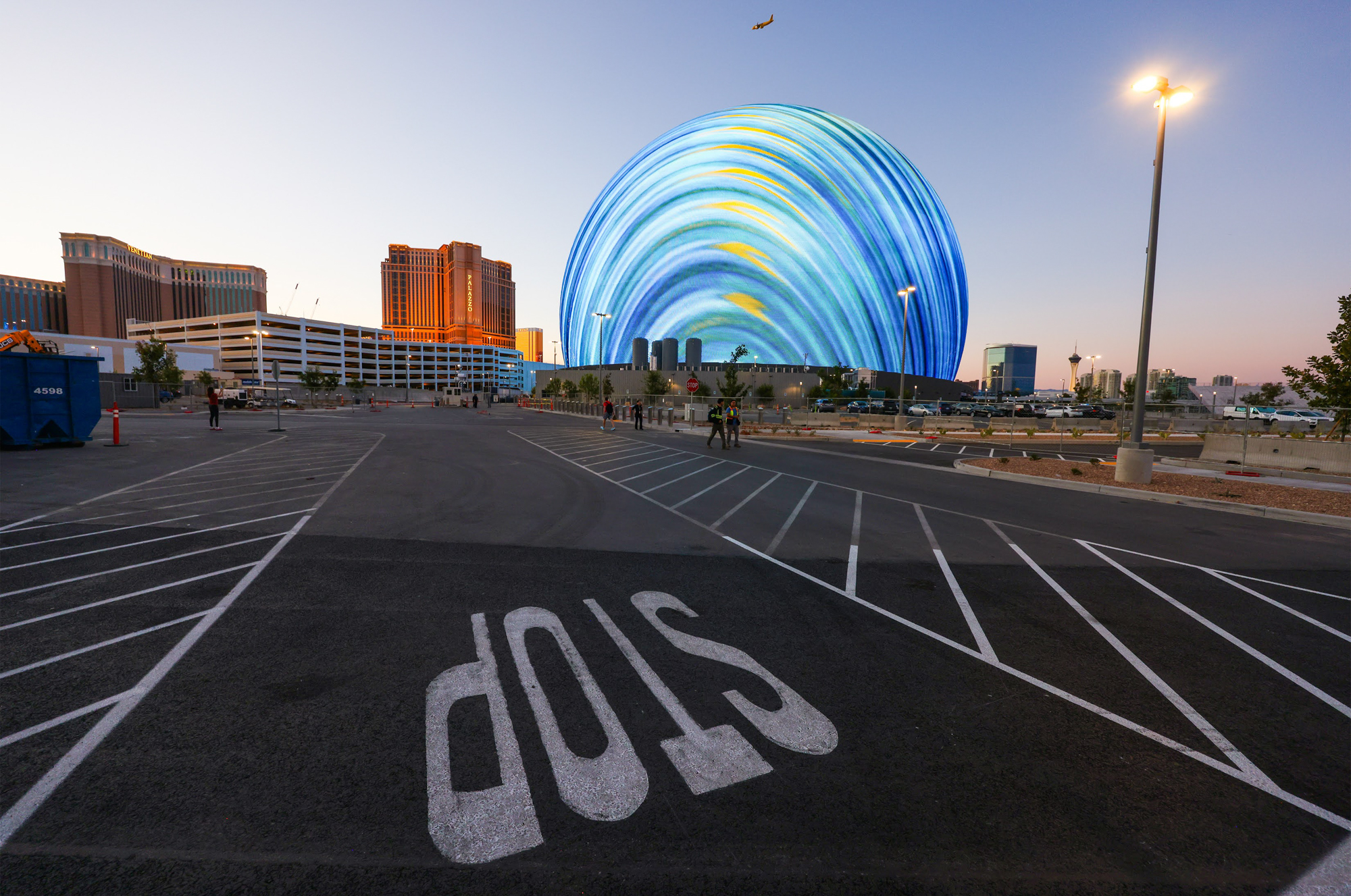 The $2.3 billion Sphere in Las Vegas officially opens Friday with the first of 25 performances through December by U2 for the band's "U2 UV: Achtung Baby" shows.
The hourlong film "Postcards from Earth" by Oscar-nominated director Darren Aronofsky opens Oct. 6 at the venue with multiple shows running twice or three times a day several days a week.
However, parking at the 17,500-seat venue is limited to just 200 spots at least until after the Las Vegas Grand Prix clears the finish line in the middle of November, meaning attendees will either have to be dropped off at the venue or park off-site at nearby resorts owned by other companies — many of which charge fees.
Although expansive on-site parking has never been contemplated for the Sphere, the situation is more complicated than planned because of the elaborate logistics of the Formula One race and changes in the business models of parking garages on the Strip, whose cooperation was key to accommodating more than 12,000 attendee cars when Clark County officials approved a parking plan five years ago.
Several lots south of the venue are being used by race organizers for support services for the Nov. 16-18 racing weekend. After the race, the sites will be available to Sphere visitors for parking through Ticketmaster, which handles all ticket sales for the attraction.
For now, according to Ticketmaster, self-parking at Sphere costs $100 or $125 for valet parking for the U2 performances. Parking on-site for "Postcard from Earth" costs $47.50 for self-parking and $72.50 for valet, according to Ticketmaster.
Sphere has roughly 200 parking spaces for events, according to venue representatives who declined to answer parking questions. There is also a designated rideshare and taxicab drop-off and pick-up point at the venue.
Sphere visitors have several options at nearby paid parking garages at The Venetian, Palazzo and Wynn properties. The plaza entry for Sphere is connected to The Venetian by a covered pedestrian walkway above Koval Lane.
Also, spaces in the Howard Hughes Center parking garages off Sands Avenue are on sale through an agreement with Sphere and will soon be available on Ticketmaster.
Parking for Sphere was established in February 2018, when the Clark County Commission approved development plans for the venue.
At the time, Las Vegas Sands Corp. owned and operated the 63-acre Venetian, Palazzo and Venetian Expo site and the Sphere's 19 acres across Koval Lane, which was leased to New York-based Madison Square Garden, developers of the venue.
Commissioners approved a required 12,405 parking spaces for the entire complex — 304 parking spaces at the Sphere and 12,101 spaces at the two resorts and the convention facility.
In the five years since the approval, the landscape has changed.
Las Vegas Sands sold its Strip holdings 19 months ago in a $6.25 billion transaction in which real estate investment trust VICI Properties paid $4 billion for the two sites and Apollo Global Management paid $2.25 billion for the operations.
Earlier this year, Madison Square Garden spun off Sphere into a separate public company that operates the venue.
Apollo pays VICI $257.5 million in annual rent, which includes the Sphere.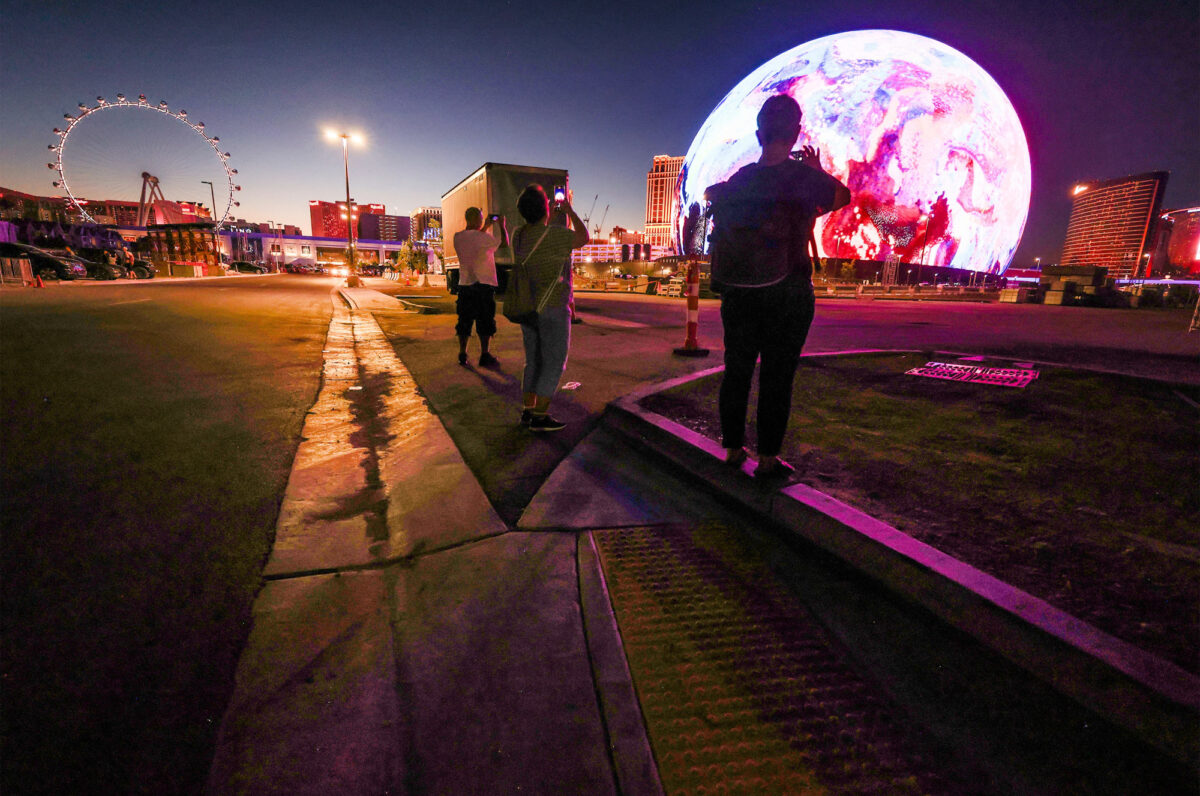 An updated parking plan
As part of the agreement with Clark County, the Sphere's operator is required to submit a three-year time review and report on parking for the venue "no earlier than six months after the first concert."
Also, to avoid parking conflicts, the county required that Sphere and the Venetian Expo do not schedule "major concurrent events at the same time. Major events must be scheduled for different times and or dates."
A U2 concert on Oct. 11 falls on the second day of the Global Gaming Expo at The Venetian complex. However, the band's performance begins at 8 p.m., several hours after the tradeshow and conference ends.
Both Venetian-Palazzo and Wynn Resorts have since implemented paid parking at their facilities. When Clark County approved the parking plan, The Venetian offered free parking. Wynn Resorts had paid parking but ended its two-year-old plan in June 2019. The program was restarted last week.
Under The Venetian's parking program that began in August, Nevada residents receive three hours of complimentary self-parking by scanning a valid Nevada driver's license at a self-parking kiosk at either Venetian or Palazzo. The company's rewards program members still have free parking privileges.
Registered hotel guests pay $18 per day for parking. Non-registered hotel guests pay between $15 to $18 per day for stays Monday through Thursday and $23 per day on weekends. Valet parking is $35 per day.
Venetian officials said the change in policy came "after evaluating operations and business demand."
Wynn restarted its paid parking policy on Wednesday for both Wynn and Encore. The daily parking fee is $20 per day, with the first four hours free, according to a statement from Wynn Resorts. Valet parking is $40 per day. Complimentary parking is still available to rewards program members.
"The new parking policy is a result of the anticipated increased demand for parking at nearby attractions and a higher volume of city-wide events," Wynn Resorts said in a statement.
There is still free parking available near the Sphere at Treasure Island and the Fashion Show Mall.
Construction of the Sphere in Las Vegas cost more than the 65,000-seat, $1.9 billion Allegiant Stadium, as well as the proposed 33,000-seat retractable roof Oakland A's baseball stadium, which has a preliminary price tag of $1.5 billion. Unlike the two sports venues, the Sphere was built without public financing.
Allegiant Stadium has limited parking options on-site but uses paid parking garages at locations including nearby properties operated by MGM Resorts International.
F1 attraction
During Formula One weekend, the Sphere will be a visual centerpiece for the race where the 3.9-mile circuit transitions from the Koval Lane straightway onto Sands Avenue and makes a quick left turn at the Strip.
The Sphere's exosphere is expected to display scenes from the race and other images as the venue is transformed into the T-Mobile Zone with two separate three-day ticket packages. One plan, still available for $2,000 per ticket, offers grandstand seats and includes complimentary food, water and soft drinks provided by Wolfgang Puck Catering.
A sold-out $500 package is standing-room-only but also includes complimentary food, water and soft drinks from Wolfgang Puck Catering.
"This will be a high-profile opportunity to showcase the venue to the millions of race fans watching around the world," Sphere Entertainment Chairman and CEO James Dolan said in August.
Updated at 3:49 p.m. on 9/29/2023 to clarify the parking agreement between Sphere and the Howard Hughes Center.
The Nevada Independent is raising $200,000 by Dec. 31 to support coverage of the 2024 election.
Tax-deductible donations from readers like you fund this critical work.
If you give today,your donation will be matched dollar-for-dollar.
Give + Get Matched
Featured Videos