The Attorney General office in Carson City as seen on Monday, Aug 14, 2017. (Jeff Scheid/The Nevada Independent)
Top Laxalt lieutenant, expected attorney general candidate Wes Duncan departs AG's office for private law firm
September 8th, 2017 - 3:50pm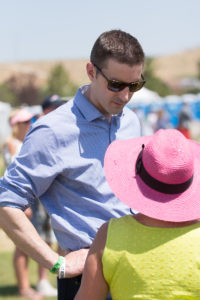 Likely attorney general candidate Wes Duncan is moving into private law practice after more than two years as a high-ranking deputy in state service.
Duncan, a Republican, spent his last day in the office as Nevada's first assistant attorney general on Thursday and will take a job as a partner at Las Vegas-based law firm Hutchison & Steffen. The firm is led by Lt. Gov. Mark Hutchison — who announced his decision not to run for reelection in August — and its team of prominent Republican attorneys also includes Gov. Brian Sandoval's former general counsel Daniel Stewart.
The firm is working on a series of recalls of three Nevada Senate Democratic Caucus members, but Duncan said he will not be involved in those efforts.
Duncan served one session in the Assembly before taking the job as Republican Attorney General Adam Laxalt's top deputy in 2014. He told The Nevada Independent earlier this year that he will run for attorney general if Laxalt jumps in the governor's race — something that's widely expected.
As a Laxalt lieutenant, the 36-year-old Duncan oversaw the attorney general's Southern Nevada office and spearheaded and effort to reduce a backlog of untested sexual assault evidence kits. He is a major in the U.S. Air Force, where he currently serves as staff Judge Advocate General (JAG) for the 926th Wing of Nellis Air Force Base.
"For the last two and a half years, Wes Duncan provided extraordinary service to the people of Nevada and this office," Laxalt said in a statement. "I am proud of the work we have accomplished. I thank him for his dedicated service to our State."
If he jumps into the attorney general's race, Duncan is likely to face Democratic Senate Majority Leader Aaron Ford, who is thought to be considering the post. Ford has scheduled a "campaign kick-off" fundraiser for Sept. 12.
This post was updated at 4:21 p.m. on Sept. 8, 2017 to reflect that Duncan is still in the U.S. Air Force and will not be involved in lawmaker recalls.
Comment Policy (updated 3/21/19): We welcome reader comments on our stories. However, in keeping with our general policy of transparency, accuracy and accountability, we do not accept comments from anonymous accounts. Anonymous accounts are those without a valid first and last name. Any such comments will be deleted, and anonymous users will be blocked from commenting further. We also will block commenters who use offensive language, engage in personal attacks or state things that are verifiably false.
get our morning newsletter,
The Daily Indy
INDYMATTERS PODCAST
CAFECITO CON LUZ Y MICHELLE
@TheNVIndy ON TWITTER