TPS canceled for Haiti, uncertainty in other countries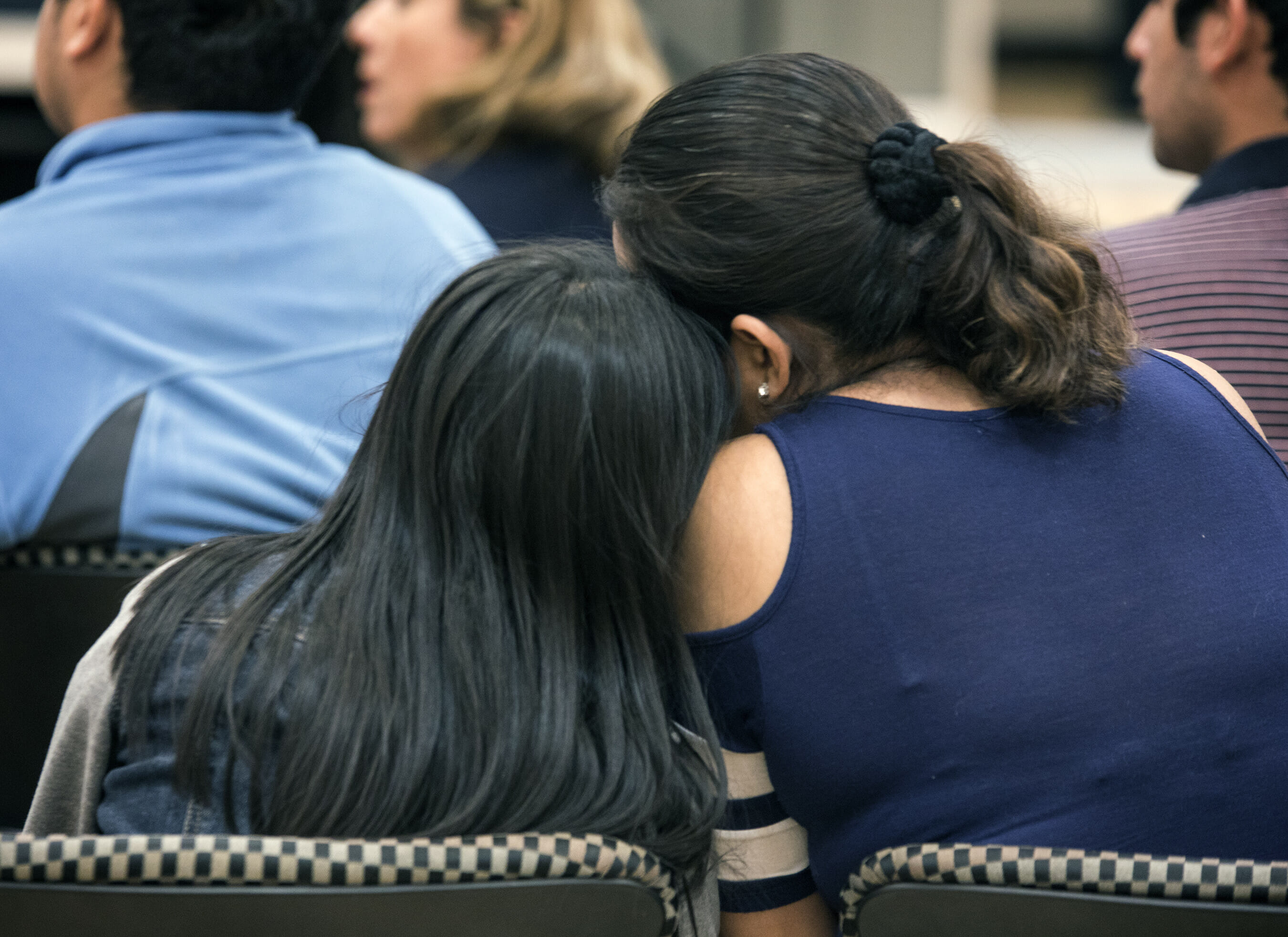 This story has been translated and edited from its original Spanish version.
Two weeks after the Department of Homeland Security (DHS) announced the end of a program that allowed thousands of Nicaraguan immigrants to work in the U.S. and avoid deportation, the agency on Monday stated that the Temporary Protected Status (TPS) program for thousands of Haitians has been canceled and recipients need to prepare to leave the country.
The developments are raising concern in Nevada, where 6,300 people from El Salvador, Honduras, and Haiti have legal status through TPS, according to a report from the Center for American Progress. The group says that approximately 5,200 U.S- born children in Nevada have parents from El Salvador, Honduras, and Haiti who have TPS.

TPS covers certain nationals from 10 hard-hit nations, protecting them from deportation and allowing them work authorization if it's too unsafe to return to their home countries. The status is granted or revoked by the secretary of the Department of Homeland Security.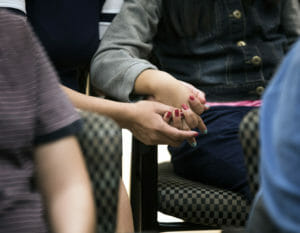 Families affected by the TPS decision are wondering what will happen. Parents don't want to leave their children alone in the United States, and children fear that their parents will be deported to their home countries.
That's the case for Teresa, who two weeks ago attended a community forum in Las Vegas organized by Hermandad Mexicana Transnacional, a non-profit organization that provides assistance to the immigrant community, to find out if she and her family have options.
Teresa, who asked that her last name be withheld, said after the event that because of recent directives from the Trump Administration regarding the DACA (Deferred Action for Childhood Arrivals) program and TPS, her family of five might not have options to stay in the United States, where they have lived for 20 years.
Teresa said she is an undocumented immigrant from Mexico, her husband is a Salvadoran who is covered by TPS, two of their children have DACA, and one of them, although she is an American citizen, cannot request permanent legal status for her parents because she's under 21.
"That is what I fear. What will happen if we are left without DACA and TPS?" Teresa said, rubbing her hands together nervously. "It is depressing and distressing. I now have anxiety. We have saved up a bit of money in case [my husband and I] have to leave, but we have to wait and see what they say."
The Haiti decision
In January 2010, Haiti was shaken by an earthquake that killed hundreds of thousands and displaced an estimated 1.5 million people. As a result, then-Homeland Security Secretary Janet Napolitano authorized the designation of TPS for 18 months for Haitian nationals who had been in the United States as of January 12, 2010.
Acting Secretary of DHS Elaine Duke released a statement Monday indicating that those temporary hardships caused by the 2010 earthquake have gone away.
"Based on all available information, including recommendations received as part of an inter-agency consultation process, Acting Secretary Duke determined that those extraordinary but temporary conditions caused by the 2010 earthquake no longer exist," the statement said. "Thus, under the applicable statute, the current TPS designation must be terminated."
The announcement means that for the last time, about 60,000 Haitians protected under TPS may extend their permit until July of 2019. In the meantime, they either need to leave the country or seek other legal options that might enable them to stay and work permanently in the United States.
The agency said that since the earthquake in 2010, the number of displaced people in Haiti decreased by 97 percent, and that because of the steps the country has taken to improve the stability and quality of life for Haitian citizens, and its preparations for when TPS comes to an end, the country offers conditions to "safely receive traditional levels of returned citizens."
According to the release, the United States Citizenship and Immigration Services (USCIS) offered workshops, panel discussions, forums and informational forums with TPS beneficiaries for Haiti this year and held meetings with members of the government of that nation.
The move was not unexpected. On May 22, John Kelly, then secretary of DHS, announced in a release that the extension of TPS for Haiti would only be for a limited period of six months.
"This six-month extension should allow Haitian TPS recipients living in the United States time to attain travel documents and make other necessary arrangements for their ultimate departure from the United States, should also provide the Haitian government with the time it needs to prepare for the future repatriation of all current TPS recipients," he said.
TPS has allowed immigrants from 10 countries — Honduras, El Salvador, Haiti, Nepal, Nicaragua, Somalia, Sudan, South Sudan, Syria and Yemen — to stay in the United States instead of returning to their places of origin, after they were affected by epidemics, armed conflicts or natural disasters.
Nicaragua, Honduras and El Salvador
Nicaraguans and Hondurans covered by TPS received news earlier this month about cutbacks in the program.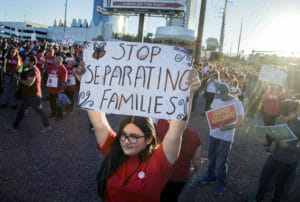 DHS reported on Nov. 6 that once the last extension for Nicaragua expires on January 5, 2018, there will be a 12-month delay to allow for an orderly transition before the designation terminates on January 5, 2019. During that time, Nicaraguans with TPS can seek legal options that might allow them to obtain permanent resident status if they are eligible, or, otherwise, prepare for their departure.
Duke also determined that the TPS designation for Honduras will be automatically extended for six months, from the current January 5, 2018 expiration date to July 5, 2018.
As was the case for Haiti, the agency noted that the decision to terminate TPS for Nicaragua was made after officials determined that conditions under which the protection was granted no longer exist. It added that the Nicaraguan government had not requested to extend the program.
For Honduras, Duke said more time is needed to obtain additional information and make a decision. Although the designation of TPS for the Central American country was extended until July 5, 2018, it may not be renewed beyond that.
"Given the information currently available to the Acting Secretary," the statement said, "It is possible that the TPS designation for Honduras will be terminated at the end of the six-month automatic extension with an appropriate delay."
The department also called Congress to enact a permanent solution not only for Nicaragua, but for the rest of the countries covered by TPS. TPS aims to provide temporary humanitarian relief but doesn't lead to a legal permanent resident status.
According to a report published this month by the Congressional Research Service, 57,000 Hondurans and 2,550 Nicaraguans are currently covered by this program.
Calls to extend TPS
Politicians, activists and labor groups have joined forces to request the extension of TPS, arguing that the thousands of beneficiaries are an important part of the state's workforce and have been in the U.S. for decades in some cases.
"This is not a Republican or a Democrat conversation," Democratic Assemblyman Edgar Flores said in a press conference with progressive groups Nov. 9 outside the federal courthouse in Las Vegas. "It is American."
Flores said that DREAMers are a key part of the labor force in this country and that the time has come to make sure Congress pass a law that considers a path to citizenship for DREAMers as well as for the beneficiaries of TPS.
"There is a group of people who are fighting for you and we will continue to do so until your temporary status changes to something that is real," Flores said in an interview with The Nevada Independent.
Geoconda Arguello-Kline, the leader of the Culinary Union Local 226 and a native of Nicaragua, highlighted the contributions of workers who are covered with TPS and said that a system that results in legal residency status must be found.
"Casino workers know how to provide a good service to the tourists when they come. They feel that any day, their work permits can be taken away," Arguello-Kline said in an interview with The Nevada Independent in Spanish earlier this month.
She also called the decision to eliminate TPS for Nicaraguans a massive attack on immigrants. She said she sympathized with beneficiaries because she left Nicaragua in 1979 for political reasons and obtained protection with a permit that she had to constantly renew. Later, she obtained political asylum and, finally, legal resident status.
"This decision is incredibly cruel," Argüello said. "And now wanting to destabilize those families… That is a great stress, to say to them 'we are going to get you out, we do not know if within six months, or a year.' How can that family sleep? They contribute to making this country stronger."
Congressional delegation speaks out
Nevada's Democratic congressional representatives have been vocal about the endangered  TPS program, calling recent decisions cruel and inhumane.
Sen. Catherine Cortez Masto sent out a release Nov. 7 calling for Congress to act so a permanent solution can be reached, and adding that "the Administration uses [the] Trump campaign playbook on TPS."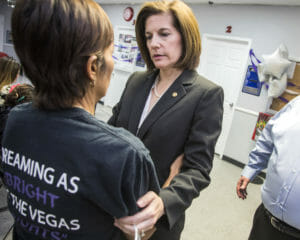 "The Trump Administration's cruel decision will tear parents from their American children, damage our economy, and threaten the lives of thousands in communities across America," she said. "It is long past time that Congress acted with a permanent fix to provide certainty for all those that have fled war, political turmoil, and natural disasters in El Salvador, Honduras, Haiti, Nicaragua, and throughout the world. I will not stop fighting until the thousands of families threatened by this decision are kept intact and protected from this xenophobic Administration."
Democratic Rep. Jacky Rosen said in a statement that the government's decision to cancel TPS for thousands of Nicaraguans "will separate parents from their American-born children and endanger the lives of thousands who have fled war, famine, political oppression and catastrophic natural disasters."
Democratic Rep. Dina Titus said in a press release on Nov. 7 that Republicans have been tearing the community apart instead of considering a comprehensive immigration reform plan to address TPS, DACA, and other programs.
"The Trump Administration continues with its insensitive anti-immigrant and inhumane actions with this latest decision," she said. "These people fled unimaginable circumstances; they built new lives and contributed to the communities in Nevada for almost 20 years, generating an estimated $269 million dollars annually for our economy."
This story was updated on 11/24 to clarify that approximately 5,200 U.S- born children in Nevada have parents from El Salvador, Honduras, and Haiti who have TPS.
IndyFest is proudly sponsored by:
Comment Policy (updated 4/20/2021): Please keep your comments civil. We reserve the right to delete comments or ban users who engage in personal attacks, use an excess of profanity, make verifiably false statements or are otherwise nasty. Comments that contain links must be approved by admin.