Five years of dreams: A retrospective on the anniversary of DACA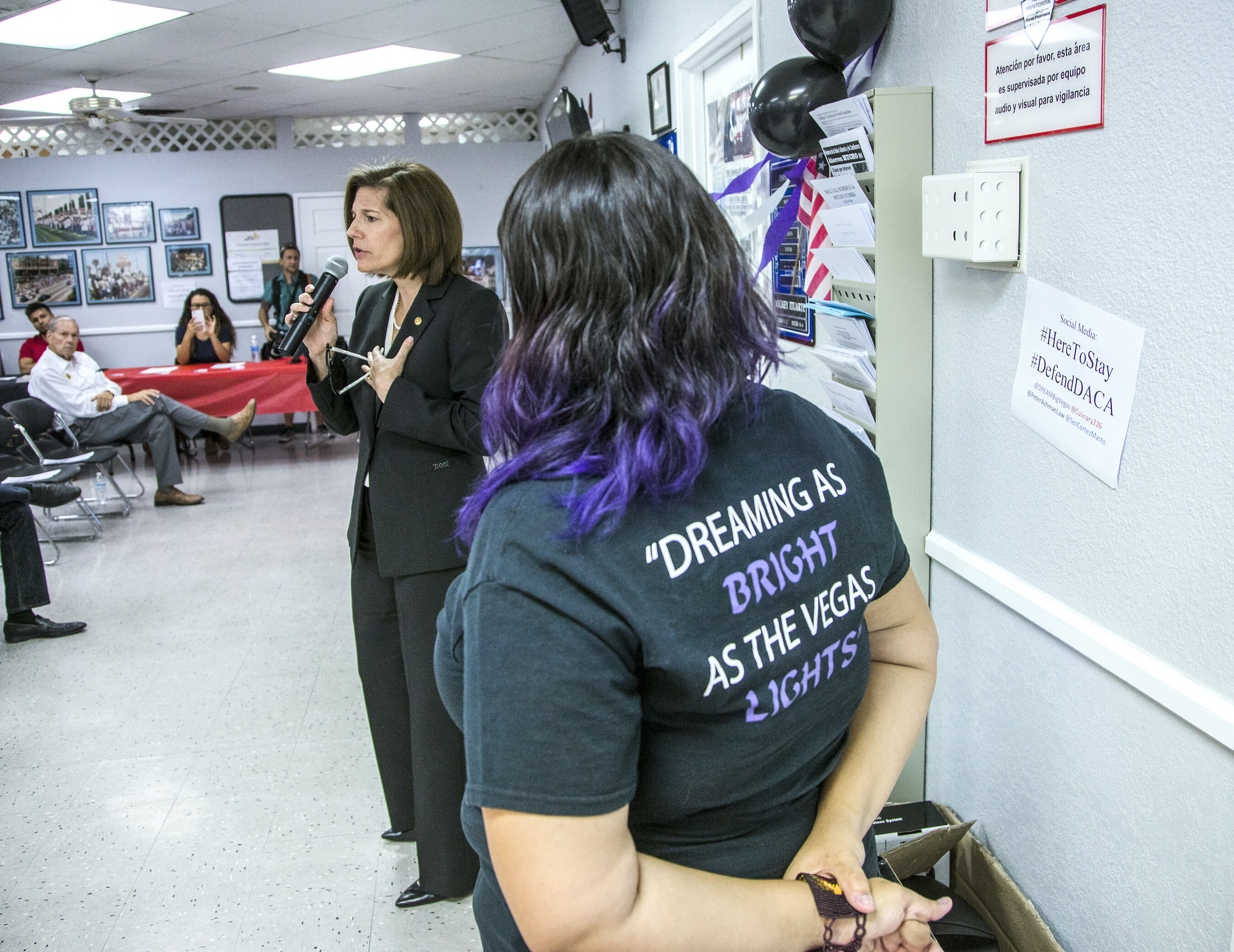 This story has been translated and edited from its original Spanish version.
They've set their sights on the future, undeterred by obstacles in their path. They're the hunters of dreams, makers of goals, undocumented youngsters who came to the United States when they were children and through no fault of their own.
President Barack Obama signed an executive order five years ago creating Deferred Action for Childhood Arrivals (DACA). It shields young undocumented immigrants brought into the country when they were children from risk of deportation and grants them a work permit, among others benefits. In recent days, several Nevada elected officials participated in events and sent out press releases commemorating the fifth anniversary of DACA.
Now, there are efforts to maintain the program -- and to eliminate it.
On June 29, Texas Attorney General Ken Paxton and Republican politicians from nine states sent a letter to U.S. Attorney General Jeff Sessions requesting the cancellation of DACA, adding they would turn to the courts if the government doesn't end the program by Sept. 5.
A month later, Republican Sen. Lindsey Graham and Democratic Sen. Dick Durbin introduced the Dream Act 2017, a bipartisan bill that would provide protection for young DREAMers.



Trump has not yet made a public decision to resolve the status of DREAMers, although some officials in his administration have suggested the president will not support the new version of the DREAM Act.  
In an uncertain political climate and with the future of immigration policy murky, The Nevada Independent asked how lives were changed in the five years since DACA was born.
A letter changed her life
Astrid Silva smiles when she starts thinking about the future. She wants to be an immigration attorney.
Silva came to the United States with her mom on June 22, 1992, on a makeshift raft prepared by a "coyote," or smuggler. She was four years old. The pair managed to cross the Rio Grande and meet her father, who was already in America. The family came from Gomez Palacio, Durango, Mexico, and entered the country without documents.
It wasn't until later in life that Silva encountered the hard reality of her immigration status. In an interview with Univision Radio Las Vegas in 2015, she said that she didn't fully understand what it meant to be undocumented, but knew that she couldn't go camping with her classmates and couldn't get a driver's license when she turned 16 like the rest of her peers.
Another date, June 2009, will always be seared into Silva's memory: her grandmother died that year in Mexico, and she couldn't go to the funeral.
"I understand they didn't want to give me a license because it's their document," Silva said about the U.S. government. "I understand they didn't allow me to travel, because the places belong to them. But my grandma is mine. Why didn't they let me go see her?"
That frustration prompted her to write a letter to then-Sen. Harry Reid, the first person outside the Latino community who Silva had heard talking about undocumented students.
Silva initially regretted handing the Democratic senator the letter, which revealed her family's story. But minutes later, the senator invited her to share her experience with a group of people.
"I started crying," Silva said, pointing out that Reid was more concerned about voiceless children than about pleasing potential voters. "The senator told them: 'This is why we have to fight. Not because of who is going to vote more, but because of these children, who can't see their grandparents.' Then I said that if he, who wasn't undocumented, was speaking on my behalf, then why don't I speak on my behalf. And that's when I got involved."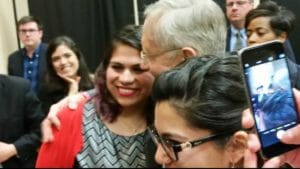 The encounter between the most powerful senator in the country and Silva was one of the most vulnerable moments in her young life. Her ties to her "abuelito" or Grandpa Reid, as she affectionately calls him, have been strong since then.
Silva was one of the earliest DREAMers to go public with her story on the national political scene, and she became one of the most prominent living symbols of the DREAMer movement.  She accompanied President Obama on stage in Las Vegas when he announced an expansion of DACA to DREAMers' parents in 2014, she spoke at the Democratic National Convention in 2016, and she made history earlier this year by issuing the first-ever official rebuttal in Spanish to President Trump's State of the Union address.
Five years later, Silva reflects on the importance of DACA's fifth anniversary. The date represents the beginning of her dreams and a milestone in the ongoing fight for legislation that will also protect her parents. Their fate is at the mercy of the Trump Administration.
On June 15, then-Homeland Security Secretary John Kelly announced in a memo that the Obama's embattled Deferred Action for Parents of Americans and Legal Residents (DAPA) program would be annulled, dashing hopes that Silva's parents would be in the clear.
"After the inauguration I think it was a very difficult moment," Silva said. "It wasn't a moment to remain silent, but to assess everything. I said to myself: 'I am putting myself in great danger. Not only for me but also for my family,' but the community was what pulled us through."
Silva told The Nevada Independent that after five years of DACA, she was happy to see colleges expanding opportunities for undocumented students. This is something she didn't even dream about when she started school.  

I wouldnt be here si no fuera por el esfuerzo de Mom&Dad ? they gave up everything 4 me 2b here #NSCgrad #UndocuGrad pic.twitter.com/5X1vjIgdOq

— Astrid Silva (@Astrid_NV) May 8, 2016
Silva graduated from Nevada State College last year. She is also the co-founder of Dream Big Vegas, an organization that will continue helping undocumented young people.
Her dreams won't stop. Her latest goal is earning a master's degree and becoming an immigration attorney.
"For me, that is hope," Silva said. "I think about the last five years, and what has happened. It has been a dream come true."
"DACA is my life"
At 17, Aranza Marmolejo already has a job, contributes to the family's expenses, volunteers in the pediatric unit at University Medical Center, studies nursing, and is saving up for a down payment on a car.
She enrolled in DACA early this year, convinced it was worth it, even though it is a long process. It's opened the door for employment and much more.
Interviewed recently during a break at the Movement Building Training for DREAMers, a workshop aimed at building the political power of undocumented students, Marmolejo smiled as she recalled receiving a full scholarship to attend Nevada State College.
"When I got the news by e-mail, I cried," she said. "I never would have imagined this."
Marmolejo is happy to reach goals that once seemed impossible, but she hasn't forgotten where she came from.
She flew on a plane from Nayarit, Mexico to be reunited with her stepfather and her mother. She was three years old and undocumented.
The family lived for a while in California and then moved to Las Vegas because her stepfather, who is an American citizen, got a better job here.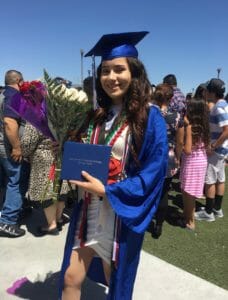 On the fifth anniversary, she says she's grateful for what she has and wants to help other young people like her.
"DACA is my life," Marmolejo said. "Many people take for granted what they have. Many American citizens are born automatically with the opportunities that, fortunately, I have now, and I'm going to take advantage of them."
Overcoming obstacles
Felipe Salazar was 10 years old when he arrived in Miami, Florida in 2001. Born in Villavicencio, Colombia, he came to this country with his parents and younger sister due to the violence caused by guerrillas.
Two weeks ago, Salazar participated in a conference call with reporters led by Democratic Sens. Catherine Cortez Masto of Nevada and Kamala Harris of California, and then spoke with The Nevada Independent.
Salazar, who is now 27 years old and the only one in his family who hasn't obtained U.S. citizenship, said his parents have already requested the adjustment of his immigration status, but the process has been very complicated.
Salazar's education situation was also complicated. Even though he graduated from high school around the time DACA was emerging and took classes so he could enroll in college, he later realized that he was going to need more than good grades to actually get into college.
The first obstacle he faced was the lack of information for undocumented students -- he couldn't find someone who could tell him if he was eligible to go to college or not. After knocking on several doors, he learned he would be admitted to college, but without any sort of financial aid.
Salazar was able to afford college thanks to the support of his grandparents. By the end of 2010 he graduated with honors in computer science and engineering, and in 2011 he earned a master's degree in electrical and computer engineering.
Covered by the so-called Morton Memo, Salazar was able to get a work permit that allowed him to explore the job market. His first job was at the university where he studied.
The Morton Memo is a guide created for immigration officers, instructing them to focus deportation efforts only on immigrants who represented a threat to public safety and national security. It allowed him to obtain a work permit before he applied for DACA in 2013.
Salazar worked at Microsoft for two years, and he's currently with a company that designs wireless headphones.
Along with the new job opportunities, DACA has helped Salazar realize another dream: stepping into an airport without fear of being questioned because of his immigration status.
"Something that caused me a lot of stress was being able to travel by plane," Salazar said. "I lived in Miami and I studied in Atlanta. I always traveled by car. So I traveled 10 hours at the start and at the end of each semester."
Salazar now has a driver's license and can better contribute to household expenses, including the tutoring that his sister needs at school.
"These five years of DACA mean the beginning of my professional life and as an adult," he said. "Thanks to DACA I was able to start working, to start a career, and now I can contribute to society. These have been the five most productive years of my life. I am doing what I dreamed of my whole life."
"We were not ready"  
The emergence of DACA brought hope but also changes for families, institutions, and immigration lawyers like Kathia Pereira, who remembers when she started working on DREAMer cases five years ago.
"Thousands of children knew they were going to come out of the shadows," Pereira said. "We were not ready for the amount of people who came here, but we wanted to help."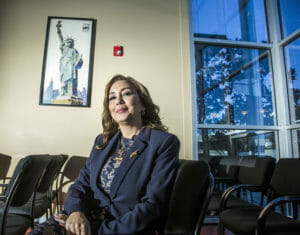 The immigration lawyer said that five years of DACA have proven that DREAMers are bettering their lives through education and opening their own businesses. She also believes that in spite of the uncertainty about the program's fate, there is no reason to be alarmed.
"If the worst should happen, if the president cancels DACA, I believe we would have several years of litigation," Pereira said.
A survey of more than 1,300 DREAMers conducted by several immigration-focused groups last September showed that 86.9 percent of DREAMers are currently employed, 90.1 percent are Latino, 62.5 percent have better-paying jobs than they did before the program, 90.1 percent obtained their driver's license for the first time, 47.3 percent opened a bank account, and 97 percent are bilingual.
The nonpartisan Pew Research Center, looking at a recent report from United States Citizenship and Immigration Services, found that more than 750,000 DREAMers have received their work permits and relief from deportation through the program.
The data also shows that 588,000 renewals have been granted since DACA was created.
Nevada's elected officials
Five years after DACA began, there's broad consensus that DREAMers are not to blame for their circumstances, and that there needs to be a permanent solution for their immigration status.
During a community forum organized by Dream Big Las Vegas in mid August at the Culinary Union's headquarters, Democratic senator Catherine Cortez Masto highlighted the benefits of the program.
She noted that thanks to DACA, DREAMers can attend college and become professionals, and that in Nevada there are 12,000 beneficiaries of the program who contribute a combined $500 million dollars to the state's economy.
"My dedication to fight for comprehensive immigration reform is unwavering. I will continue to stand side by side with DREAMers and I won't surrender until we fix our broken immigration system," Cortez Masto said.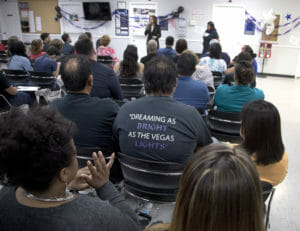 Interviewed at the end of the Latinx Congreso community forum held in Las Vegas last month, state Democratic senator Yvanna Cancela said that the federal government's next move is unknown, but she feels much better knowing the DREAM Act 2017 has bipartisan support.
"We have seen that support for DREAMers is politically there," Cancela said. "Nearly 70 percent of the country believes that, if someone came to this country as a DREAMer, and was brought by their parents, they deserve the chance to make the American Dream a reality here."
Some Republicans who support Trump and his recent immigration measures have spoken out in favor of a solution for DREAMers.
Danny Tarkanian, a Republican Senate candidate in Nevada who wants to build a border wall and has criticized his opponent Dean Heller for supporting "amnesty" for immigrants, said he would not be in favor of deporting children who were brought to the United States through no fault of their own.
In an interview with The Nevada Independent last week at a campaign event, Tarkanian said there should be some kind of solution so that DREAMers could stay in this country.
At the end of a recent meeting with the Hispanics in Politics group, Republican congressional candidate Stavros Anthony said he did not agree with the concept of sanctuary cities, but that the DREAMers' case deserved to be treated separately.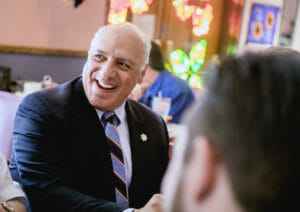 "The DREAM Act is a little more difficult," Anthony said. "It's something that I want to talk to a lot of people about and perhaps on a case-by-case basis … maybe we will just take people individually and decide based on certain criteria if they are going to stay here under some kind of resident status or not."
Democratic Assemblyman Edgar Flores attended the Latin Chamber's luncheon as well. Interviewed at the end of the event, he said that as an immigration activist, he was encouraged that the Dream Act 2017 had bipartisan support but doubted it would pass in the current political climate.
"We all have to start picking up the phone," Flores said. "We must start convincing those individuals who are not convinced, starting with Dean Heller here in Nevada. We must make calls, bother them with requests and point out that a lot of time has gone by and we have to do something about this."
Reporter Riley Snyder contributed to this story.
In March of this year, The Nevada Independent in Spanish published a series of interviews with Erika Castro, Karla Rodríguez, and Dulce Valencia, three young dreamers from Las Vegas, who shared a retrospective of their lives before and after the recent immigration measures imposed by the federal government.
The Nevada Independent is raising $200,000 by Dec. 31 to support coverage of the 2024 election.
Tax-deductible donations from readers like you fund this critical work.
If you give today,your donation will be matched dollar-for-dollar.
Give + Get Matched
Featured Videos