Tarkanian defends Trump, says both sides to blame for violence at Charlottesville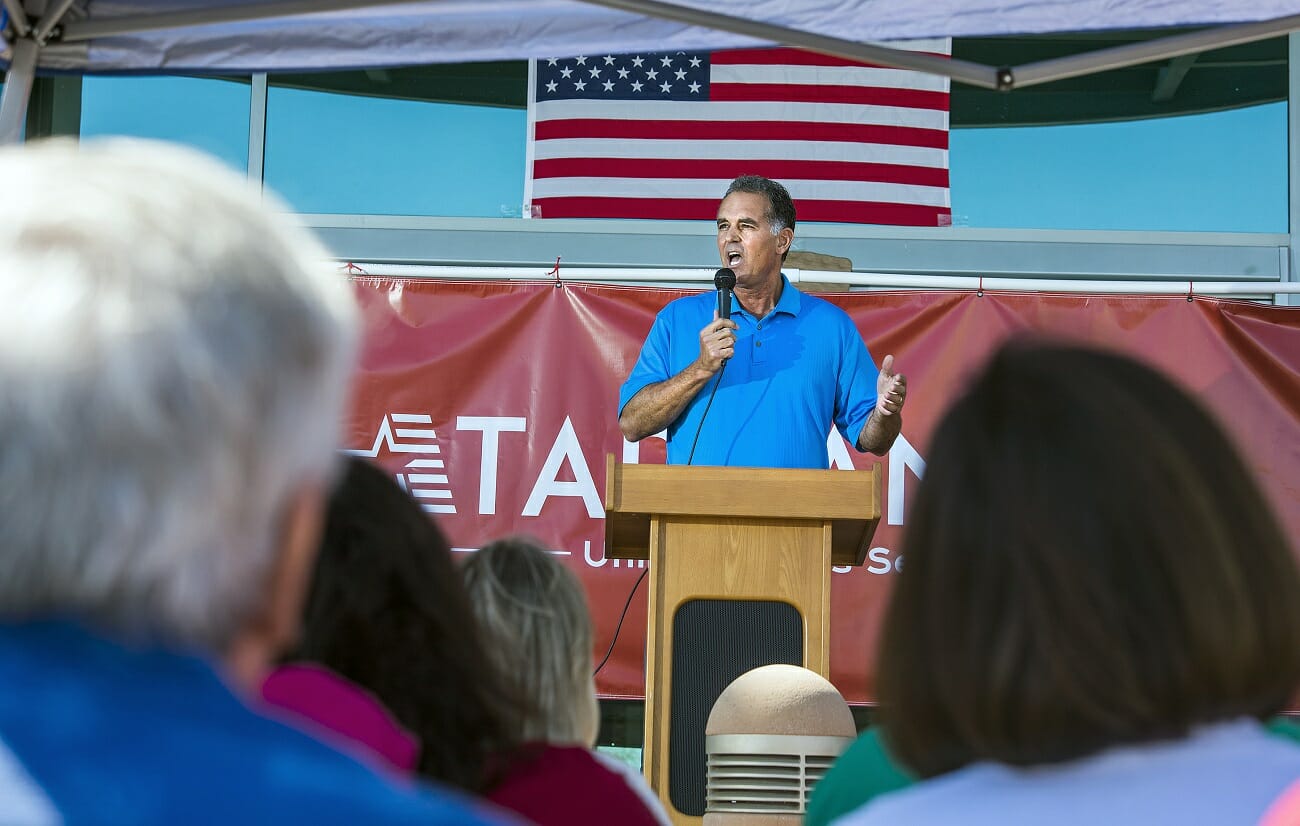 Following his wife and campaign manager's comments to Fox Business on Wednesday that Republicans should "just be quiet" if they didn't support Trump's response to violent demonstrations by white nationalist groups in Charlottesville last week, U.S. Senate candidate Danny Tarkanian said in an interview that he thought the president handled the situation "well" and blamed mainstream media for trying to manufacture a controversy.
President Donald Trump faced criticism from Democrats and several Republican senators including Lindsay Graham, Marco Rubio and John McCain after saying there was "blame on both sides" during a contentious press conference last week, blaming "alt-left" activists for part of the violence.
In an interview following his campaign kickoff rally on Saturday, Tarkanian said he agreed with Trump that both sides had some culpability in the violence that left one woman dead and dozens injured, referring to a viral photo of a man fending off demonstrators with an improvised flamethrower in Charlottesville as an example of violence on the other side.
"The people who instigated it, the ones who came in with riot gear and clubs and all that stuff, I'm sure they're at fault," Tarkanian said, while. "But the other side's at fault too, absolutely."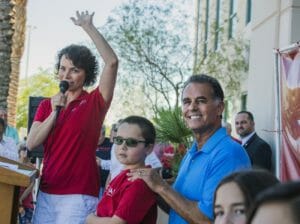 That issue was just one of many that Tarkanian cited to say he backed Trump during the kickoff rally attended by 60 to 70 people at the Tarkanian Professional Center in southwest Las Vegas. Tarkanian echoed many of the administration's priorities in a 15-minute speech, including tax reform, increased infrastructure spending, renegotiating free trade deals, congressional term limits, repealing the Affordable Care Act and building a border wall with Mexico.
But Tarkanian saved his sharpest barbs for Heller, whom he dubbed "D.C. Dean" and said had "sold his soul" to appease the liberal media.
"I was the only federal candidate in Southern Nevada that supported Donald Trump to the end of the campaign," he said. "And he was one of the first Never Trumpers that helped Hillary Clinton win the election (in Nevada), and he's the one who cost Republicans seats up and down the ticket."
In the speech and throughout the last two weeks of the nascent campaign, Tarkanian has sought to take advantage of the perceived distance between Heller and the president, tying himself to the goals and rhetoric of the Trump administration while his campaign handed out flyers directing rally attendees to a website filled with critical quotes from Heller about Trump.
He read direct quotes from Heller that the senator said during the 2016 campaign and even used a prop —  a blown up image of the rally (attended by Heller) where U.S. Senate candidate Joe Heck and Rep. Cresent Hardy denounced Trump and said they could no longer support his candidacy following the release of an Access Hollywood video of Trump making sexually inappropriate comments about women.
Tarkanian narrowly lost a congressional bid in 2016 against Democrat Jacky Rosen in Nevada's 3rd Congressional District and has mounted five unsuccessful bids for office.
He also directly addressed a joke made by Heller on conservative talk radio last week that there's only two guarantees when Tarkanian runs for office — that "one is he's going to lose, and number two is he's going to sue whoever he runs against."
"I was taught to fight back for yourself, you don't stand by and let people attack you," he said. "I sue the people who defame me, and I'm actually undefeated in my lawsuits." (Tarkanian sued then-state Sen. Mike Schneider, who eventually settled with him.)
Also attending the rally were congressional candidate and former Assemblywoman Victoria Seaman, and conservative radio host and Las Vegas Review-Journal columnist Wayne Allyn Root, both of whom endorsed Tarkanian. Root even went as far to invite a comparison between Tarkanian and another Republican politician who suffered multiple electoral losses before finally winning a major office — President Abraham Lincoln.
The Nevada Independent is raising $200,000 by Dec. 31 to support coverage of the 2024 election.
Tax-deductible donations from readers like you fund this critical work.
If you give today,your donation will be matched dollar-for-dollar.
Give + Get Matched
Featured Videos