Heller: Tarkanian will lose; I'm in a "pretty good place" with Trump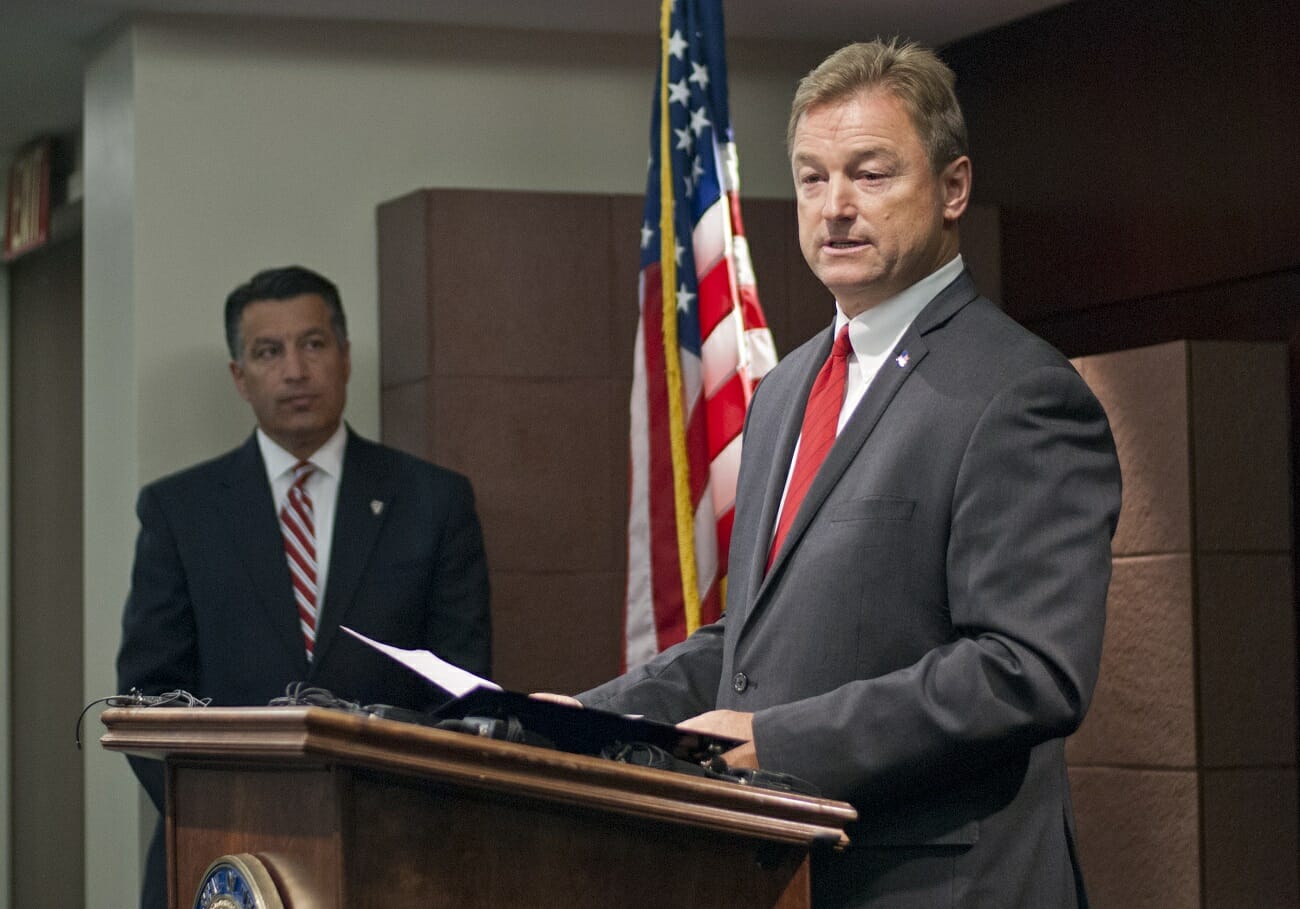 Republican Sen. Dean Heller — considered widely to be one of the most vulnerable senators up for reelection in 2018 — has taken some of his first public shots at his likely primary opponent Danny Tarkanian and reaffirmed his support for the president amid a swing of conservative talk radio appearances defending and explaining his votes on attempts to repeal the Affordable Care Act.
Heller tackled those topics and more in a 16-minute radio interview with conservative talk show host Kevin Wall on Tuesday, hitting on a broad range of topics from the need for Congress to focus on tax reform to his muddled position on federal funding for Planned Parenthood. He also dismissed a recent Daily Caller poll showing him neck-and-neck with Tarkanian as one of several "fake polls," and took some of his first public shots at his primary opponent.
"First of all, it was a Republican year, and he couldn't win in a Republican year," he said of primary foe Danny Tarkanian, referring to Tarkanian's loss in 2016 to Rep. Jacky Rosen in a district that swung toward President Donald Trump -- but also a year in which many Nevada seats went Democratic.
"He's certainly not going to win in an environment that's much tougher," said Heller. "There's only two guarantees when Danny Tarkanian runs for office: one is he's going to lose, and number two is he's going to sue whoever he runs against."
Tarkanian — who publicly announced his entrance in the Senate race last week — won a suit against former state Sen. Mike Schneider in 2009, winning $150,000 in damages over misleading advertisements used in a 2004 state senate race. He's also filed suit against his 2016 opponent, Democratic Rep. Jacky Rosen, for character defamation in a case that's still active.
Heller said that although Tarkanian is trying to make it sound as if he and Trump have a "chasm" between them, his relationship with the president is in a "pretty good place" in spite of his former criticism of then-candidate Trump.
"I supported the health-care legislation that he supported at the end, I supported his Cabinet, I supported his Supreme Court justice, I supported getting rid of all those eleventh-hour regulations from the Obama administration," he said. "So overall we do work together, we do have our differences and we'll continue to have our differences because I'm fighting for the state of Nevada, he's fighting for America. I get it, and inherently there's going to be some differences when you're doing that."
The senator also continued to push for the so-called "Graham-Cassidy-Heller" amendment, an alternative Affordable Care Act replacement that would effectively remove federal spending on Medicaid expansion and marketplace subsidies and transfer it into a block grant, giving states wider discretion on how to use the funds. Heller said the amendment could lead a 47 percent increase in federal health-care spending in the state, though other analysis of the bill have indicated it could have a varying effect on states due to the complex block grant formula.
Though the amendment never came to a floor vote, Heller called it the "one piece of legislation that really matters" on efforts to replace the Affordable Care Act, and promised to continue working to repeal the federal health insurance law.
"When we find that 50th vote, we'll be going right back to health-care reform, and I want to see something get passed," he said.
Although Heller said that Republican Gov. Brian Sandoval was on board with the concept, Sandoval's office has not returned multiple requests for comment on whether the governor supports the proposed change to federal Medicaid funding.
Heller also defended his vote on the "skinny repeal" bill, saying it fulfilled his promise to not touch the expanded Medicaid population under the Affordable Care Act while repealing many of the mandates for insurance coverage present in the existing law. The "skinny repeal" bill failed on a narrow 49-51 vote in late July after a last-minute reversal by Arizona Republican Sen. John McCain helped seal the measure's fate.
Heller also addressed an ongoing issue that's dogged him from both the left and right — his comments at an April town hall in Reno in regards to funding for Planned Parenthood. At the time, Heller said he had "no problem" with federal funding for the organization, but questioned whether federal funding should cover some of Planned Parenthood's activities. Heller had previous voted to defund the organization at least twice, and a spokesman for the senator flatly said in January that he opposed funding for the organization.
On Tuesday, Heller attempted to reiterate those concerns, and criticized the group for spending money to perform abortions and run television ads against their "political enemies."
"I want to be very specific — I do not support federal funds for abortions," he said. "That's the beginning and end of my statement. I do not support federal funding for abortions."
Federal dollars only flow to the operational arms of Planned Parenthood facilities, which are prohibited from spending money on politics. The group runs ads and supports candidates through another arm — the Planned Parenthood Action Fund Political Action Committee — which doesn't receive federal funds.
Looking ahead to the rest of the year, Heller said reforming the nation's tax code needed to be a top priority to help the economy "take off," and that a failure to pass a bill would be an ominous sign for the party.
"We have to get tax reform," he said. "Bottom line is we have to get comprehensive tax reform done by the end of the year. Then, if we can't do that, the Republican Party is doomed."
Comment Policy (updated 4/20/2021): Please keep your comments civil. We reserve the right to delete comments or ban users who engage in personal attacks, use an excess of profanity, make verifiably false statements or are otherwise nasty. Comments that contain links must be approved by admin.