Tribes fought for access to early voting. Now, they want more people to use it.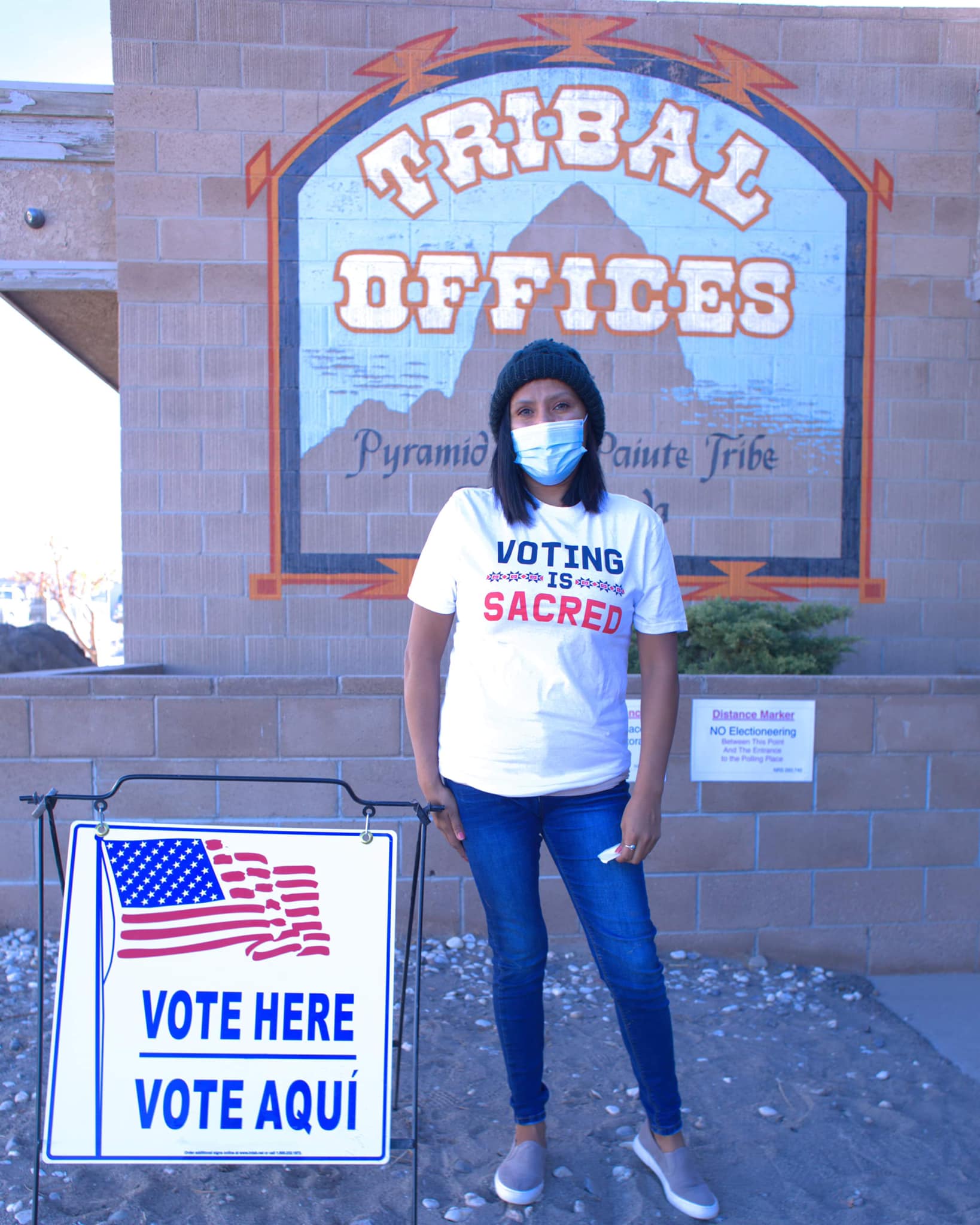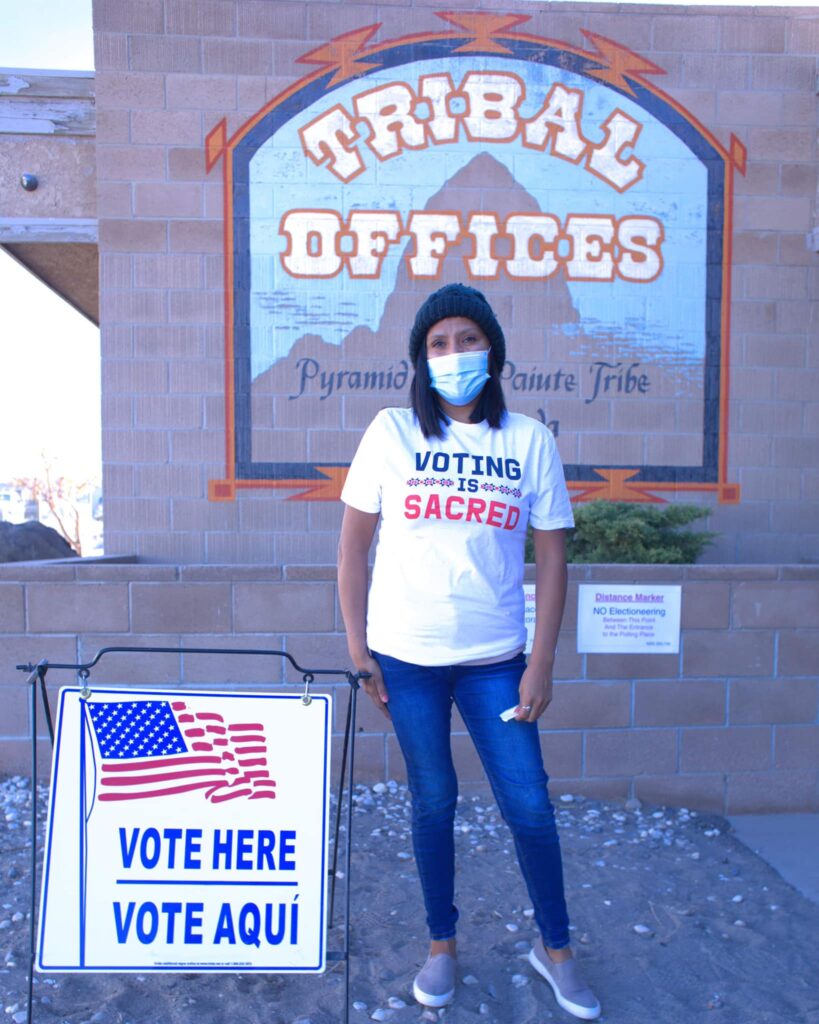 In the wake of their battle for equal access to the polls, the Walker River Paiute Tribe has been disappointed by low turnout during early voting — a trend seen across the state so far during the primary.
Walker River and the Pyramid Lake Paiute Tribe gained access to early voting in 2016 when they won a lawsuit against the state to provide equal access to voting on tribal lands. While Walker River has had an Election Day polling site for several decades, the tribe has only been able to offer early voting on the reservation — where about 1,000 people live — since the 2016 lawsuit.
"The 28th was our first early voting day we had. That was our best day so far. We had seven voters," said Elveda Martinez, a member of the Walker River Paiute Tribe.
Though Walker River tribal land is in sparsely populated Mineral County, Martinez had hoped for a larger turnout. Election officials on reservations and in counties with high Native populations also reported low numbers.
The trends come against the backdrop of a long history of obstacles to Native people casting a ballot. Congress approved Native people's right to vote in 1924, but it wasn't expanded to every U.S. state until 1962 — just 58 years ago.
Other barriers persist. Long distances between reservations and travel time to polling places, as well as a lack of transportation, mailboxes, home addresses, secure internet connections and state-issued identification cards disproportionately affect Native voters.
Misprints, staff changes
Low turnout for primaries is happening statewide, according to Deputy Secretary of State for Elections Mark Wlaschin. About 171,092 out of 1,821,058 active voters, about 9 percent, have participated in early voting for the primary election as of June 8. The current cycle is not only a midterm without a presidential race to drive interest, but also a primary rather than a general election, which historically makes it a lower priority to voters.
But Martinez also said the sample ballot initially came out with incorrect information, indicating that all early voting in Mineral County was mail-in and having the incorrect address for Walker River's polling location. Representatives of the Walker River Paiute Tribe called a county commissioner and got their early voting polling location listed on the revised sample ballot, but even that still wrongly said all Mineral County voting was mail-in.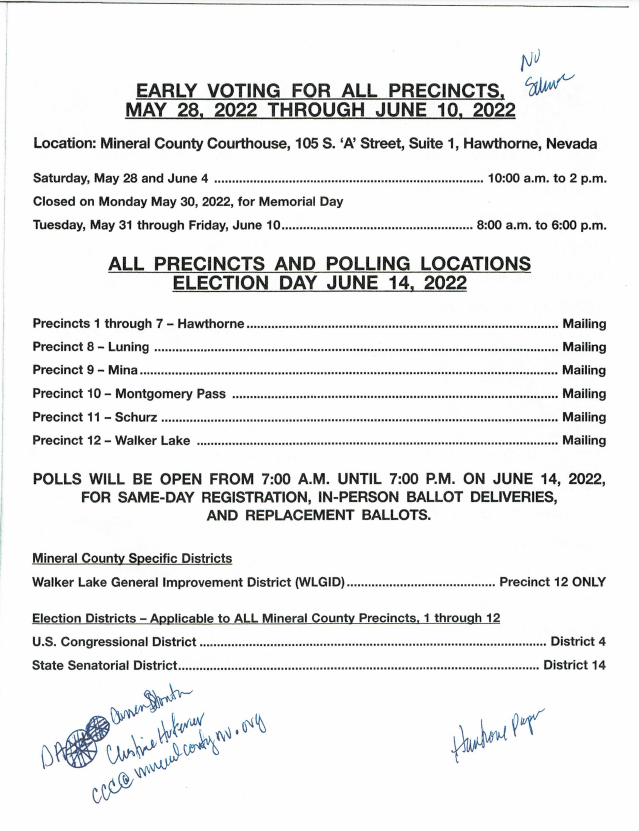 Turnover among staff who run elections has also been a hurdle. Martinez said Walker River Paiute Tribe members had a good relationship with the last county clerk, Christopher Nepper, so it was a disappointment when he left for another job.
Even so, Walker River Paiute Chairwoman Amber Torres said that while there can be issues with new staff, it is usually remedied very quickly.
"It's just a matter of educating the new staff on what we've already established, and what we already have in place … via the lawsuit. But they seem to jump on it quickly," Torres said. "Ultimately, it's just making sure that our people have access to everything that they're entitled to."
Similar to other segments of the workforce since the pandemic, government staff have experienced huge turnover. Wlaschin, who was appointed in October 2020, said many election officials retired or resigned early during the pandemic.
"We're going from some very experienced individuals across the state to other individuals who are eagerly learning and diving headfirst into the statutes to make sure they can understand and apply all the federal and state laws that they need to," Wlaschin said.
Wlaschin said the state was able to prepare for the turnover as they saw retirements and resignations happening more frequently. Though there are still vacancies and new staff, they are quick to respond if any issues arise, he added.
Pyramid Lake Paiute Chairwoman Janet Davis agreed that while she was hoping for more of a turnout for primaries, the transition of county staff has gone smoothly.
"A lot of the challenges were mitigated when we opened up our own polling site. And I would just like to say … the choice now is our community to come out and take advantage and cast their votes," Davis said.
The 2010 Census reported 60,000 Native people over the age of 18 living in Nevada. That number is equivalent to about 3 percent of active registered voters in the state. Additionally, Native populations have been historically undercounted and many tribal leaders believe the number of eligible Native voters in Nevada is actually higher.
Tribal leaders want their communities to participate and exercise their potential great power during the primary election.
"As Native people, we were the last ones to get the right to vote," Martinez said. "People fought for these things."