Tributes pour in as Las Vegas' McCarran airport renamed after Harry Reid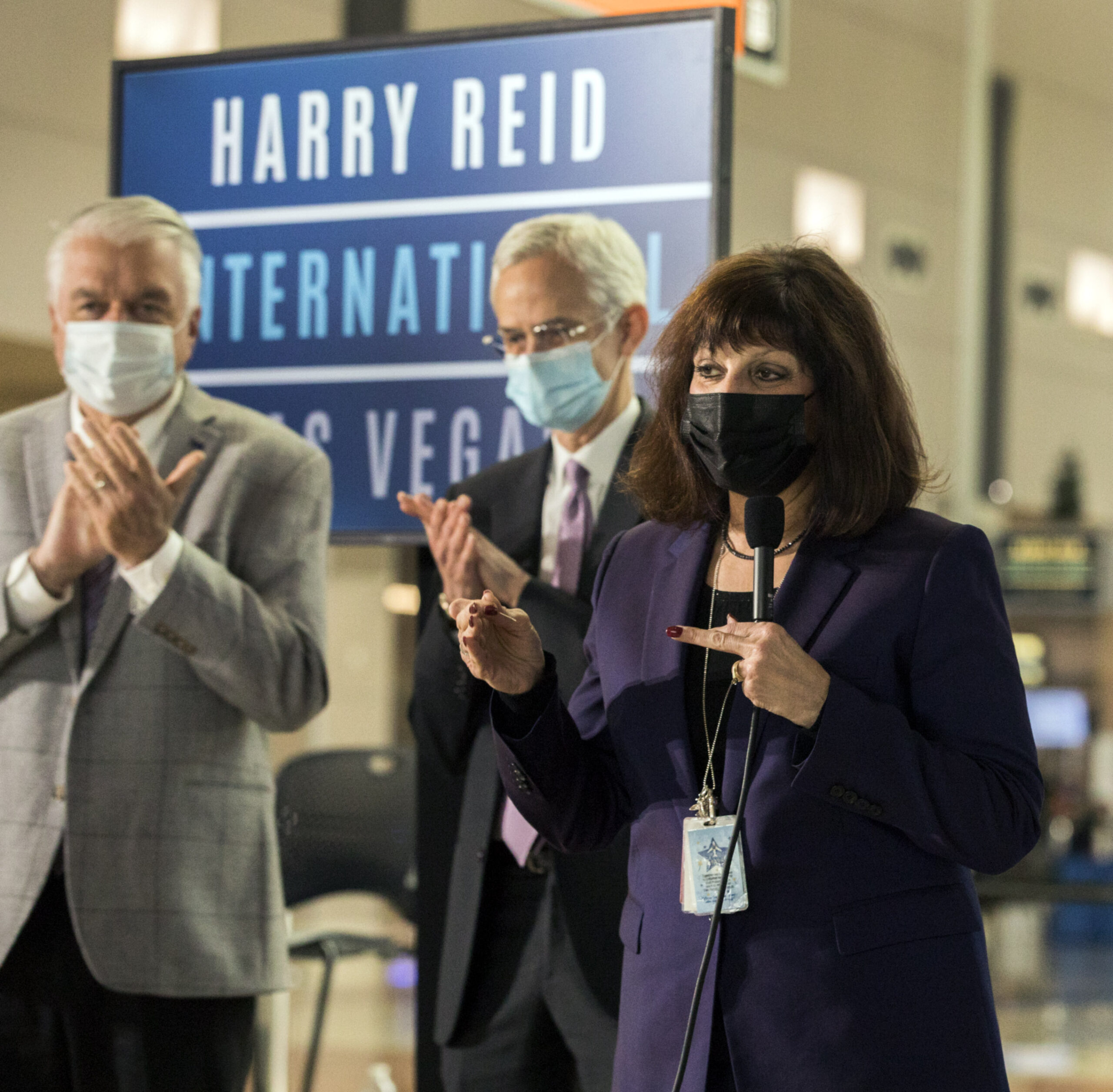 Several speakers at Tuesday's half-hour ceremony to officially dedicate the Las Vegas airport's new name – Harry Reid International Airport – said the facility's tremendous growth wouldn't have happened if it wasn't for the longest-serving U.S. senator in Nevada history.
Clark County Director of Aviation Rosemary Vassiliadis said the airport's Terminal 3, which houses international flights and allowed the facility to expand Las Vegas' connection to new markets, wouldn't have happened without Reid's efforts in Congress.
"During the Great Recession, when there was serious questions as to whether this $2.4 billion project could be completed, Senator Reid worked to ensure the American Recovery and Reinvestment Act of 2008 included the alternative minimum tax reliefs that in turn allowed the construction to continue on schedule, maintain jobs, and later save this millions of dollars in debt service costs," Vassiliadis said.
She also credited Reid with helping secure the $111 million in funding for the airport's air traffic control tower, the second tallest in the U.S.
Vassiliadis said Reid was her "one-call solution" when an issue that could affect Southern Nevada air travel came up.
"I would leave those conversations knowing the airport had an amazing and powerful ambassador," Vassiliadis said.
The Clark County Commission unanimously approved the name change in February, which was quickly followed by the Federal Aviation Administration. Prior to the event, all of the airport's social media channels and the website were changed to reflect the new name.
Airport officials said in October that more than $4 million in private donations had been raised to pay for the initial phases of changing the airport's name. The push started with a $1 million donation from businessman and Democratic donor Stephen Cloobeck. Other $1 million donations came from professional gambler Billy Walters and his wife Susan, and Boyd Gaming Executive Chairman Bill Boyd and his wife, Judy.
Vassiliadis said additional changes, including designations throughout the facility and airport operations, such as uniforms and vehicle decals, require another $3 million in private donations.
Reid, 82, who was diagnosed with pancreatic cancer in 2018, did not attend the event at the airport, which included recorded remarks from prominent Nevada Democrats including senators Catherine Cortez-Masto and Jacky Rosen, Gov. Steve Sisolak and Clark County Commissioner Tick Segerblom, who helped champion the name change. Under Secretary Carlos Monje from the U.S. Department of Transportation also attended the event.
In a statement released by the Reid family, the former senator said the name change was "one of the greatest honors of my life. The airport is a very special place to me. I worked hard during my years in Congress to help build and grow the airport, and it is a source of tremendous pride to me."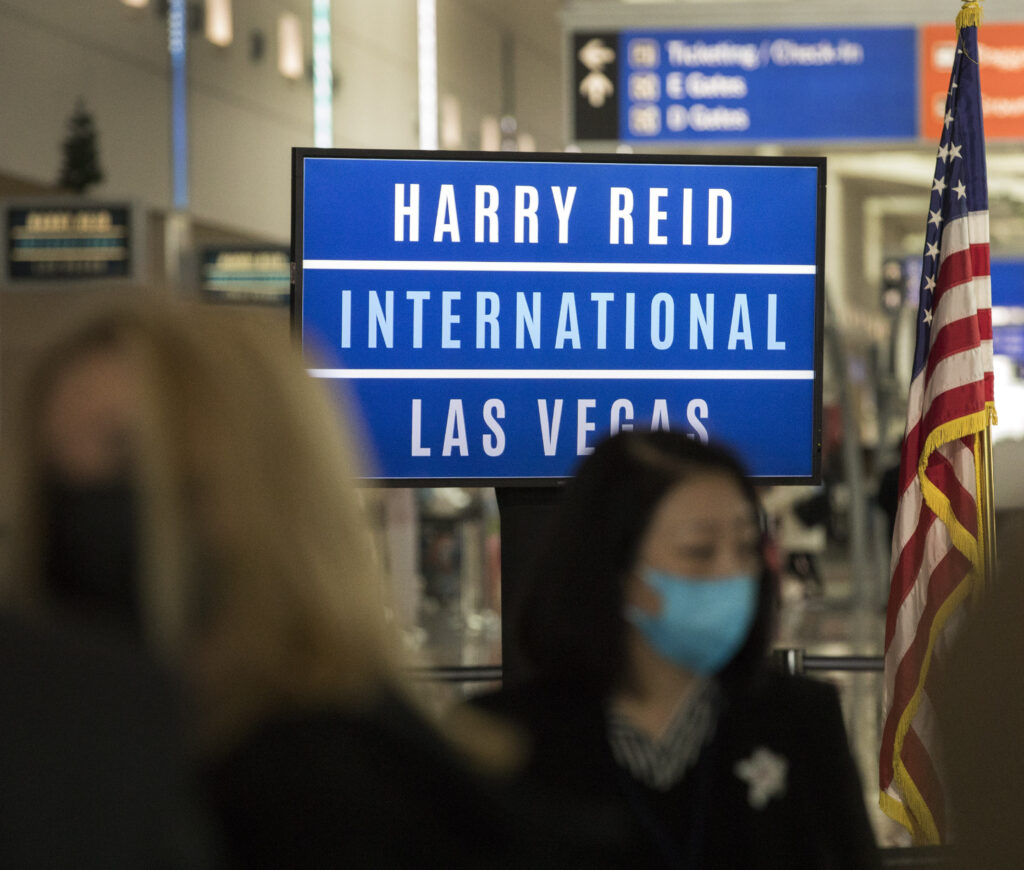 Reid joins eight former U.S. presidents – Abraham Lincoln, Dwight Eisenhower, John F. Kennedy, Gerald Ford, Ronald Reagan, George H.W. Bush and Bill Clinton – along with a U.S. Supreme Court justice, two former secretaries of state, governors, mayors and entertainers, whose names also grace U.S. airports.
His eldest son, former Clark County Commissioner Rory Reid, was the only family member to attend the ceremony.
"My dad was born in a two-room shack in a lonely spot in the Southern Nevada desert," Rory Reid said. "All he had was a work ethic and a small circle of people that loved him. Despite that, he rose and became a prominent national political figure unlike any other in Nevada's history."
Rory Reid said his father, like Las Vegas, "relied on the grit and determination of a small circle of people that believed they could create a future. And because of them, this is the entertainment capital of the world."
He said the family "was eternally grateful" for the airport name change.
The Clark County Department of Aviation spent the past 10 months planning out the change, which will include a new monument sign and new signage at the airport's main terminal entrance. Renderings of the two designs were unveiled Tuesday.
Vassiliadis said some online content requires updates by outside parties, such as Facebook, Google Maps and the websites of airlines that fly in and out of Las Vegas. Signage surrounding the airport, including those along Interstate 15, the 215 Beltway and roads surrounding the facility, will also need to be changed out.
The airport code, "LAS," will not be changed.
Sisolak said he was happy one of the first comments airline passengers will hear as they arrive in Las Vegas is the name Harry Reid International Airport.
"While some passengers may or may not know this outstanding national leader, the state of Nevada will never forget his legacy," Sisolak said. "And we're more than proud to build the name of a person that has done so much for the entire state of Nevada."
Reid spent 30 years in the Senate, including eight years as majority leader.
Clark County approved the name change away from another former Nevada senator, Pat McCarran, whose name has graced the airport since 1948. The airport was named after McCarran following his work to further the aviation industry in the U.S., which helped evolve civil aviation.
However, Segerblom said he headed the renaming push because of McCarran's history of racist, antisemitic and xenophobic stances. Segerblom, who as a state senator first tried to rename the airport after Reid in 2017, said Tuesday that he "wanted Harry Reid to know that Nevada appreciates what he did [and] how he made us an international place."
Harry Reid International Airport was first known as Alamo Airport, which opened in 1942. It took on the name McCarran Field in 1948 after Clark County purchased the airport. In 1968, the airport gained its international designation after the facility was expanded and the first international flight from Mexico arrived.
The airport welcomed a record 51.5 million passengers in 2019, but the pandemic caused a nearly 57 percent drop in 2020 passenger volume, including a nearly 80 percent decline in international travel.
Through October, Reid International has seen 31.8 million passengers, which is down 26.1 percent compared with 2019.
The airport, which once had direct airline service to and from 11 different countries, saw its first international flights from the United Kingdom and other foreign destinations in November after the White House eased international travel restrictions.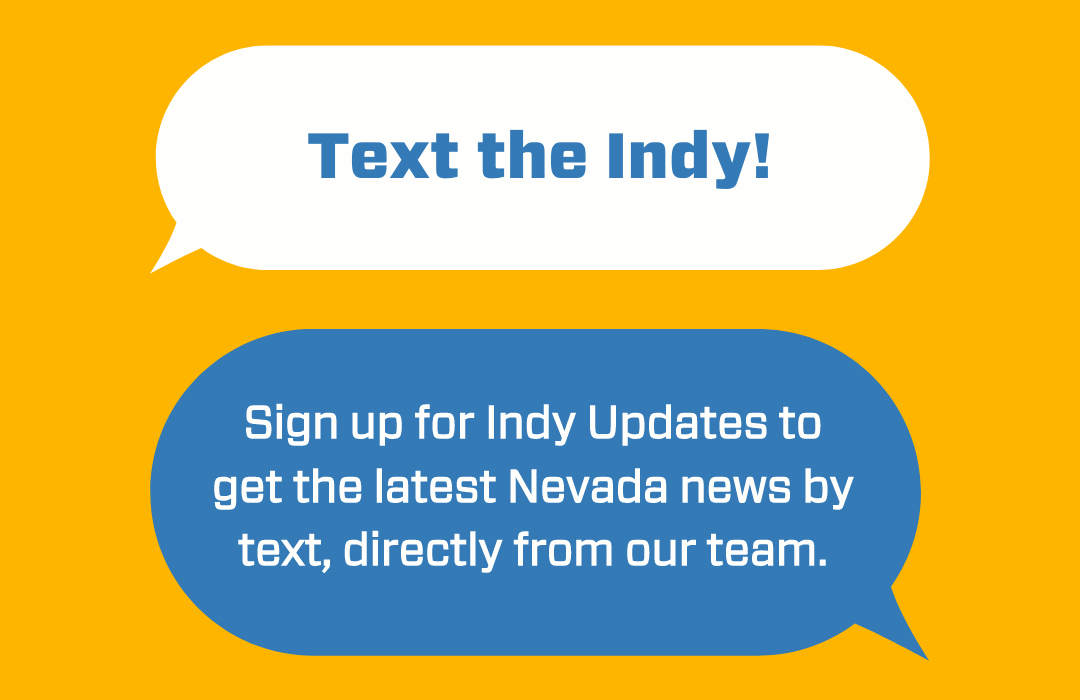 Featured Videos