Trump Jr. touts importance of electing Republicans to 'keep this winning going' at fundraiser benefitting Tarkanian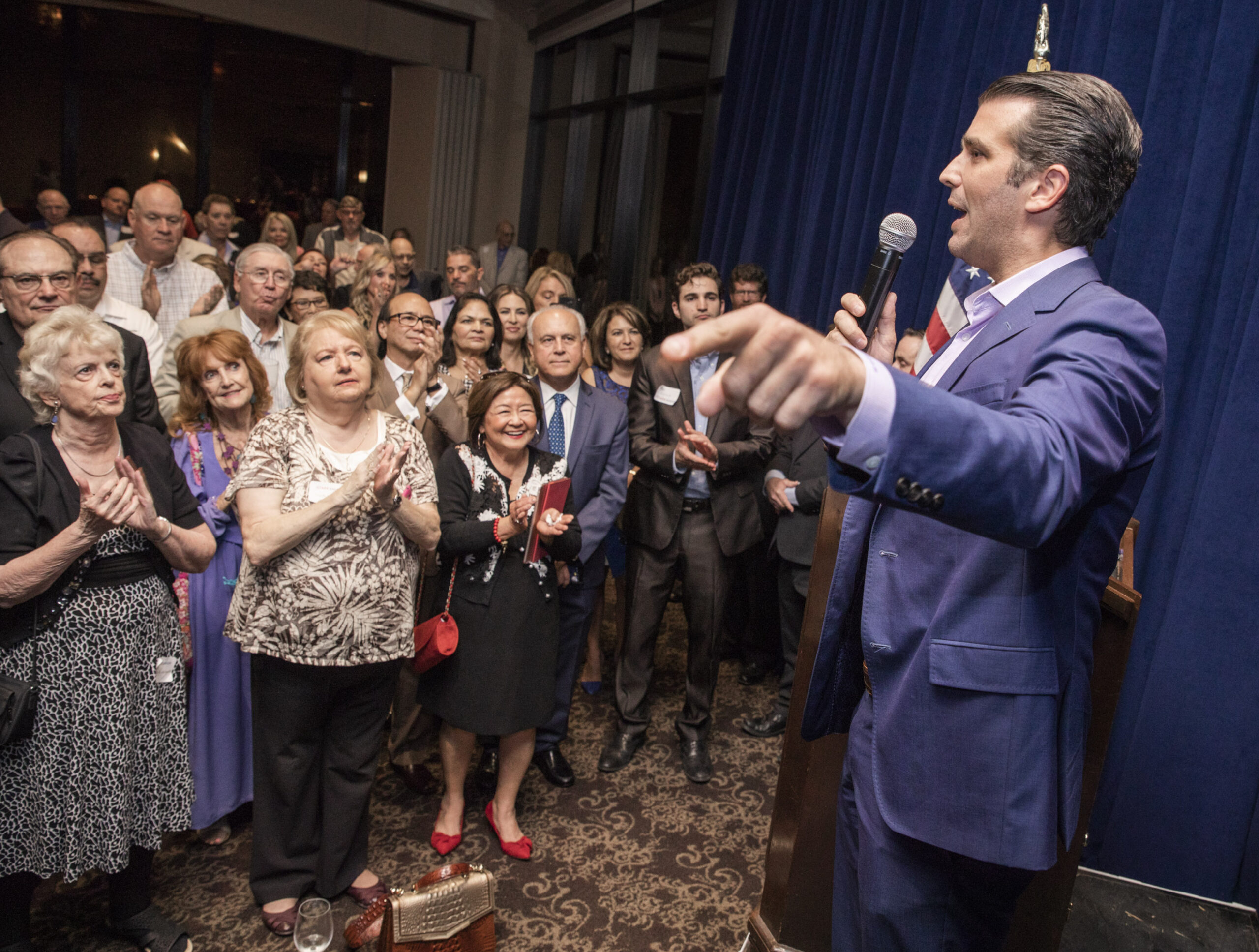 Donald Trump Jr. said Wednesday that his father and "all of the winning that you are not sick of" are on the ballot in November, urging Republicans to show up to the polls to vote for businessman Danny Tarkanian for Congress, Attorney General Adam Laxalt for governor and, generically, "Republican senators."
His remarks came during a brief, 20-minute speech at an evening fundraiser benefiting Tarkanian, who Trump Jr. described as supporting his father "early and often and when it wasn't necessarily politically expedient," a nod to the fact that the businessman stuck by Trump during the 2016 campaign as many other Republican candidates in Nevada and across the nation withdrew their endorsements. Trump Jr. also broadly stressed the importance of electing Republican candidates to "keep this winning going for at least six years."
The fundraiser, held at the Spanish Trail Country Club, was attended by about 260 people and raised roughly $100,000 for Tarkanian's campaign, doubling the campaign's goal for the event, according to Tarkanian's spokesman. The fundraiser cost $500 to attend per person, or $2,500 a head for an invite to a pre-fundraiser VIP reception with a photo opportunity with Trump Jr.
Laxalt made a brief appearance in the VIP room at the beginning of the fundraiser but left before the main event. Nevada Republican Party Chairman Michael McDonald and a handful of Assembly candidates, including Assemblyman James Marchant, Glen Leavitt, Paris Wade and Linda Cannon, also attended the event.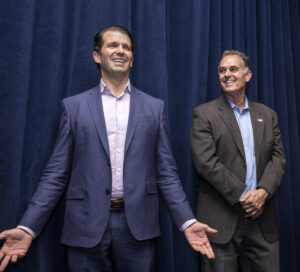 During his speech, Trump Jr. told the crowd that his father's supporters are "fat and happy" but that they shouldn't be. He said that he talks to people daily who tell him that they are excited to vote for Trump in 2020 but ask him, "Well, what about November?"
"We can't be complacent. Donald Trump is on the ticket in six weeks because all of the winning that you are not sick of, never will be sick of, is on the ballot," Trump Jr. said. "Donald Trump, those policies are on the ballot."
He said that the Democrats are running on the platform of hate for his father and that "hate's a good motivator." Trump Jr. urged Republicans to support Tarkanian, Laxalt and "Republican senators" but did not specifically name U.S. Sen. Dean Heller, whom his father campaigned for in Nevada last week.
"Get Danny in Congress. Get these wins in there," Trump Jr. said. "Elect Governor Laxalt. Get Republican senators because my father cannot keep winning alone. He needs people that will help him. He needs people that have been loyal from day one."
Trump Jr. spent most of his speech touting his father's work since taking office a little more than a year and a half ago, including taking steps to improve the economy, moving the U.S. embassy in Israel to Jerusalem and working to better relations with North Korea. He also recounted a story from the day his father announced his campaign for the presidency, saying that his father told him, "Now we find out who our real friends are."
"You know what? It's very Trumpian, but truer words have not been spoken," Trump Jr. said. "And Danny was one of those early guys, so it's an honor to be out here to support him and to really just rally up the troops."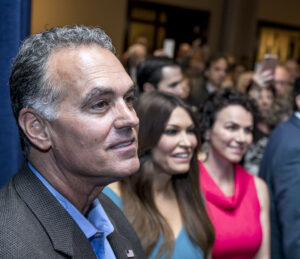 Tarkanian, speaking before Trump Jr. at the event, said he received calls from political consultants across the state urging him to join other Republicans in abandoning Trump in 2016. He said one consultant told him that he would lose his race if he stuck by Trump and that his political career would be over.
"I said there's absolutely no way I'm going to do it. My father would roll over in his grave if I did that because he knew it wasn't the right decision," Tarkanian said, referring to his father, Jerry Tarkanian, the late, legendary UNLV basketball coach.
His wife, Amy Tarkanian, and Trump Jr.'s girlfriend, former Fox News host Kimberly Guilfoyle, also spoke at the event. Guilfoyle asked the crowd if they wanted Tarkanian's opponent, Democrat Susie Lee, who she referred to as House Minority Leader Nancy Pelosi's twin, to "make a slot machine out of Nevada" and "just keep putting money back in the swamp."
"No, you don't. That's why you turned out for President Trump," Guilfoyle said.
During her opening remarks, Amy Tarkanian stressed the importance of turning out to support all Republicans on the ballot, Heller included. The Republican senator was briefly locked in a primary battle against Tarkanian until the president nudged the businessman out of the U.S. Senate race and into the one for Nevada's 3rd Congressional District.
"I don't know if you guys realize how important CD3 is. Now hear me out. Yes, I know that it's important because my husband's name is on the ticket. I get that. We're working tirelessly," Amy Tarkanian said. "But I don't know if many of you understand Dean Heller cannot win U.S. Senate unless he wins CD3 by 3 to 5 percent. Adam Laxalt will not be your governor unless he wins CD3 by 3 to 5 percent. These are facts, cold hard numbers that are facts."
As she went through the names one by one, there was wild applause for Tarkanian and a solid peppering of applause for Laxalt. No one clapped for Heller.
Disclosure: Susie Lee has donated to The Indy. You can view a full list of our donors here.
The Nevada Independent is raising $200,000 by Dec. 31 to support coverage of the 2024 election.
Tax-deductible donations from readers like you fund this critical work.
If you give today,your donation will be matched dollar-for-dollar.
Give + Get Matched
Featured Videos